Opinion |
Trump Supporters' Violence Is Real. Ask American Muslims
Commentators warning of post-election violence seem to have a blind spot to the horrifying Trump-triggered race hate, threats and attacks already here: against American Muslims.
Republican presidential candidate Donald Trump, left, looks on as a Trump supporter reaches for a sign that reads "Islamophobia is not the answer" at a rally in Oklahoma City, Friday, Feb. 26, 2016.
Credit: AP
Did you see last week's story about the terrorist with nine guns, thousands of rounds of ammunition, arrested just before he could attack a house of worship? Oh, that's right, you didn't. Because the attacker was a white guy, and his target was a mosque. Nothing to see here, apparently.
Forty-year old Mark Feigin was arrested for making terrorist threats against the Islamic Center of SoCal, but once he posted bail - he was released. Apparently you can use secret evidence to detain a Muslim indefinitely, but actual evidence doesn't count if the suspect is not a Muslim.
This isn't the first time violence against Muslims has been treated differently from violence by Muslims. As a country, we are still up to our necks in double standards. Had there been an attempted attack on such a scale by a Muslim, we'd suddenly see a shift in campaign coverage.
Both candidates would be expected to respond. Trump might surge in the polls.
Condemning Islamophobia – conditionally
As it is right now, even Hillary Clinton (in the second presidential debate) can't help but condemn Islamophobia as a kind of quid pro quo - by appealing to the critical role American Muslims play in the fight against terrorism, as if the rights, values and very human dignity of a person is contingent on whether they combat the violence conducted by others in their name. Of which there's more and more to go around.
In a recent, striking report, analyst J. M. Berger finds that while ISIS Twitter accounts are, like the movement itself (thank God), in precipitous freefall, neo-Nazi accounts are surging. While New York Times' columnist Ross Douthat might hope that Trump's election defeat will not lead to violence by his supporters, encouraged by the candidate himself, the evidence is already in.
We should be chary of underestimating the troubling recent spike in anti-Semitism online, credited to self-identified Trump supporters, as well as attacks against minorities generally, and of course the disheartening fact of what it feels like to be an American Muslim today. Violence by Trump supporters is a real thing. A really dangerous thing. They're out there, they intend harm, and they sometimes try to bring it about.
The white supremacist surge
Not only might you, and national media commentators, have missed the story about Mark Feigin, you might have missed many other stories.
For example, the headscarved Scottish tourist on New York's Fifth Avenue: A stranger walked up to her, and attempted to light her hijab on fire. While she was wearing it. In New York City. On a Sunday night, the fifteenth anniversary of September 11th. This might have passed underneath your radar entirely. But for American Muslims, it is horrifying. Even if Trump loses, Trump doesn't go away.
And at some point, sadly, one of these various plots will probably succeed. There is no such thing as perfect security. We are still vulnerable to jihadist terrorism, though we have devoted incommensurately greater resources to stopping Muslim extremists than white supremacists, whose numbers surge in response to an Obama Presidency and the "wink-wink-wink" Trump candidacy.
Maybe America doesn't cave to the far right, like parts of Europe seem dangerously susceptible to. Maybe, probably, Hillary Clinton wins. (Insh'allah.) But if you thought Obama had it bad, inheriting the mess of Iraq, Guantanamo, a war on terror gone badly awry, and a financial crisis that devastated the planet, Clinton inherits a far messier, deeper, more existential crisis: A debate over whether we are still committed to our democratic values. American Muslims inherit the same.
It may well be that American Muslims turn out to be critical to a likely Clinton victory. In this election, we flex our political muscles. We begin to mature as a small, determined, often beleaguered, but spectacularly talented community that has not yet begin to reach, let alone realize, its potential.
American Muslims and American Jews: Hesitant allies
But do we think that Islamophobia will just miraculously go away?
In my work with Muslim communities, I've often found some resistance to acknowledging anti-Semitism. There are many Muslims for whom anti-Semitism is not only alien to their worldview, but repugnant to it. But there are some who happily and enthusiastically indulge it. There are also others who simply could not understand how a community as successful as the American Jewish community could also face meaningful resistance or prejudice.
They don't deny anti-Semitism because they wish to cause offense, or because they are blind to injustice. They just have no experiential basis by which to understand an apparent paradox.
In their eyes, Jews have become white. The grandchildren of both major party Presidential candidates are being raised Jewish. If anyone has made it, Jews have. So if you're prospering, and not just prospering, but undeniably influential, what reality does bigotry against you really have? A hard concept for a community mostly composed of people of color, who are recently decolonized, new immigrants, African-Americans, or hailing from countries still occupied, bombarded, invaded, or simply manipulated with. They feel Islamophobia keenly.
A threat to one – a threat to all
If there is any silver lining to the Trump phenomenon, I can see at least this one.
Not only does Donald Trump force us to acknowledge the great distance we have to go as a country, but he inspires in people committed to the values of secularism, pluralism and democracy - what is otherwise known as America - the sense that all of us are in this together. A threat to African-Americans is a threat to Latinos is a threat to women is a threat to white men. But hopefully, beyond the perception of shared interests, we develop a deep and sincere sympathy for the kinds of threats that are leveled against different kinds of people.
Some of that takes an act of willpower. Some of that is experiential, and inevitable.
American Muslims' political coming of age
So I can see the American Muslim community becoming ever more active, engaged, and influential. A critical constituency that Democrats will do more and more to woo, and Republicans, should they find the moral courage to flush out the white supremacism infecting their party, might also reach out to again. But that doesn't mean anti-Muslim sentiment will go away. It might just mean it'll be harder to express, but no less pernicious, or dangerous. You might see the story of Mark Feigin on the front page of the New York Times, instead of buried somewhere it hardly goes mentioned.
You might see candidates respond to the alleged plot.
But you would know, too, that such plots continue to be planned. But you'd keep doing what you'd been doing, learning from communities that are farther along than yours is. Speak up. Demand inclusion, equal treatment, and respect. Institutionalize. Dedicate real resources to forward-thinking solutions. Expect protection. While extending protection, especially to those who might need it more than you do.
Haroon Moghul is a Senior Fellow and Director of Development at the Center for Global Policy. He is a President of Avenue Meem, a new media company. Follow him on Twitter: @hsmoghul
Click the alert icon to follow topics:
ICYMI
Ken Burns' Brilliant 'The U.S. and the Holocaust' Has Only One Problem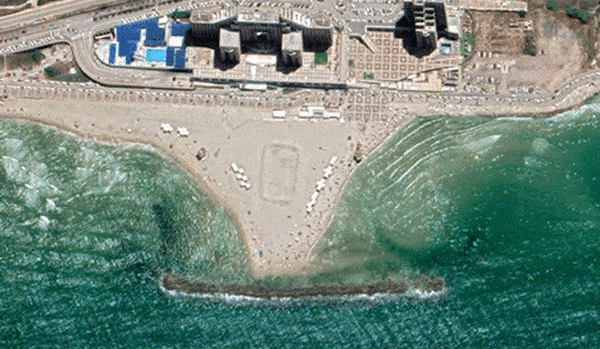 Facing Rapid Rise in Sea Levels, Israel Could Lose Large Parts of Its Coastline by 2050
As Israel Reins in Its Cyberarms Industry, an Ex-intel Officer Is Building a New Empire
How the Queen's Death Changes British Jewry's Most Distinctive Prayer
Chile Community Leaders 'Horrified' by Treatment of Israeli Envoy
Over 120 Countries, but Never Israel: Queen Elizabeth II's Unofficial Boycott