Opinion |
A President Trump Could Be Netanyahu's Worst Nightmare
Because hell hath no fury like a Donald scorned and because his election could dismantle the pro-Israel bloc in Congress.
Donald Trump speaks to guests during a rally at the airport in Dubuque, Iowa, Jan. 30, 2016.
Credit: AFP
This article was originally published on February 7, 2016
Imagine for a minute that a President Donald Trump would do something that upsets Benjamin Netanyahu as much as Barak Obama's Iran nuclear deal. Imagine that Netanyahu would deem the issue so important that he would break protocol, bypass the White House and address a joint session of Congress. Now try to compare Obama's relatively tepid reaction to the kind of thermonuclear reaction that a President Trump might unleash.
Hell hath no fury, after all, like a Donald scorned. Would he make do with "really pathetic," as he called Jeb Bush? Would Bibi turn into a "dummy", like John Kasich and John Sununu and John McCain? Perhaps a "dopey-clown," like Mort Zuckerman? Would Trump show the video clip in which Netanyahu tells Congress to "take out" Saddam Hussein and call him "Iraq war monger," like Charles Krauthammer? Would he ask "Is the Prime Minister insane?" as he did of Barack Obama?
If he got really angry, as Obama reportedly did, Trump could schlong Bibi all the way. He would question Netanyahu changing his name to "Ben Nitai" – "what was that about?" Trump would ask, in an insinuating tone. He might harp, Ted-Cruz-Canadian style, on Netanyahu's alleged pseudonym John J. Sullivan and the debunked myth of his work for the CIA. "I'm not saying, but somebody should probably look into that," he would periodically drop. And if he truly blew his top, he might even go for Bibi's jugular and zero in on Sarah: Will she be just "kooky" like Cokie Roberts or perhaps "dopey, with blood coming out of her wherever" like Megyn Kelly?
Because Trump is no wimp, as the Republicans like to describe Obama: he is a major-league championship brawler. He's always spoiling for a fight. He doesn't play by the rules but makes them up as he goes along. Even in the rough and tumble struggle of politics there are boundaries and regulations: Trump does Mixed Martial Arts with ear biting, eye gouging and ego crushing allowed.
Trump has no god but Trump himself. And as he has proven day in and day out throughout the election campaign, he is a spiteful and vengeful deity not given to mercy or forgiveness. The cardinal sin in Trump's bible is slighting Trump the almighty: His retribution is swift and it is crushing. Imagine if Netanyahu or other Israeli officials would call him an anti-Semite, or weak, or naive, or a Muslim sympathizer, as they have Obama. And then imagine them running to nearest bomb shelter as Trump steps up to the microphone.
Trump, don't forget, already has an unsettled account with Netanyahu. The Israeli prime minister gave him a cold shoulder when Trump wanted to come to Israel after his "No more Muslims" flap in December. Trump said he was unperturbed, but if I were Netanyahu I wouldn't be sleeping so easily at nights. Constrained by the imperatives of a GOP campaign, Trump made an exception to his usual modus operandi and restrained himself, but revenge, after all, is a dish best served cold.
But Trump is a Republican, you might respond, and Republicans wholeheartedly support Israel and Netanyahu lock, stock and barrel, no questions asked. That might be true of other Republicans, but it is certainly not completely applicable to Trump. He has pointedly refused to declare that he would rip up the Iran nuclear deal in his first day in office, like Ted Cruz or Marco Rubio; he recently pledged to move the U.S. Embassy to Jerusalem, but has not retracted his refusal to recognize its undivided unity, despite the boos he garnered at the Republican Jewish Coalition. "You can't go in with the attitude 'we're gonna shove it down your,' you've got to go in and get it and do and do it nicely, so that everybody's happy," Trump said. Thank god it wasn't a Democrat who said that, because Trump would have torn him to shreds.
In 2004, Trump reportedly said he could achieve Israeli-Palestinian peace in two weeks; last December it was up to 6 months. But Trump is certainly aware of what will be required in order to achieve peace in two weeks, six months or two years: 2 states, 1967 borders with swaps, shared Jerusalem. Perhaps that's why Trump has said he didn't know whether Israelis and Palestinians wanted peace; he was not only being evenhanded, he seemed to be placing more of the blame on Israel.
"A lot will have to do with Israel and whether or not Israel wants to make the deal — whether or not Israel's willing to sacrifice certain things," Trump said. "They may not be, and I understand that, and I'm OK with that. But then you're just not going to have a deal."
Just as he as in other areas, Trump has succeeded in swaying hard core Republicans to come to his side - without adhering to their hitherto sacred dogmas. He curries favor with right wingers by defaming Mexicans and Muslims and promising to make America great again, whatever that means, but his positions on issues such as defense, taxation, healthcare, and big government, to name but a few, stray so far from conservative mainstays that many of them have rallied against him, as the recent issue of National Review devoted to trashing Trump showed.
Trump has expressed general support for Israel but has steadfastly refused to join the pack of GOP candidates who routinely hand over the reins of America's Middle East policies to Netanyahu. Even Israel-loving Evangelicals are flocking to his side, despite the fact that he hasn't canonized Netanyahu as his patron saint. Trump hasn't promised to call "my good friend" Netanyahu first thing when he gets into the White House, like Carly Fiorina; he hasn't pledged to refrain from making peace or even "lecturing" Israelis, like Ted Cruz; he certainly hasn't endorsed the annexation of the West Bank, like Mike Huckabee, or described the Palestinians as "an invented people" as Newt Gingrich did in 2012.
Much has already been made of the fact that Trump isn't beholden to "right wing Jewish money", mainly that of Sheldon Adelson. He made that point rather rudely and crudely when he appeared before the RJC in December. "You're not going to support me because I don't want your money," Trump said. "Isn't it crazy?" He added, "You want to control your own politician."
But Trump is not only debunking the myth that Jewish money or support for Israel is essential for any aspiring GOP candidate: he might actually break the pro-Israel coalition that has been the mainstay of Netanyahu's support in Washington and has fueled Bibi's desire to see Mitt Romney replace Obama in 2012 and see Marco Rubio, Ted Cruz or even Jeb Bush go to the White House in 2016.
Not only is Trump not an interventionist or neo-conservative Republican of the kind that adores Netanyahu, it is this group that opposes his rise most vehemently and most vocally. Some of the neocons most closely identified with Netanyahu and right wing Israel, such as Bill Kristol, Elliott Abrams, John Bolton and former CIA director James Woolsey, have been gravitating towards Ted Cruz; Kristol has even floated the idea of forming a third party if Trump wins. If Trump gets into the White House, you can rest assured that this wing of the Republican Party will be one of the last to get invited.
Part of the resistance to Trump has hitherto been based on the assumption that he won't be the GOP candidate and he won't be the president. But the more Trump seems to be leading the pack, the more mainstream Republicans have jumped and will continue to jump on his bandwagon. As it moves forward, it will be leaving behind much of the GOP's pro-Israeli bloc, to Netanyahu's great concern.
A President Trump, in fact, might be worse for Netanyahu than a President Clinton or even President Sanders. If either of the Democratic candidates get too ambitious as Presidents in seeking peace with the Palestinians or expanding an alliance with the Iranians, Netanyahu can always count on the entire GOP, along with sizeable chunks of hawkish Democrats to stare them down, as they often did when Obama got too uppity and as they tried but failed to do with the Iran deal. If Trump is president, that pro-Netanyahu bloc will crumble: if a President Trump decides to make peace based on the 1967 borders, he will be supported by his loyalists in the GOP and a sizeable chunk of most Democrats. And Netanyahu will be left high and dry, hanging in the wind.
So will Jewish supporters of a two-state solution vote for Trump? Should J-Streeters switch to his wing of the GOP? Probably not: Trump's racist and nativist statements as well as his demagogic manner will repel them, no matter what. Being capricious, he might never get around to doing anything about Israeli-Palestinian peace anyway.
Nonetheless, if and when Trump is elected President, pro-peaceniks, Jewish or otherwise, will be able to console themselves with anticipation for impending days of glorious Schadenfreude when Trump will make Netanyahu squirm. They will remember how fervently Netanyahu prayed for Obama's ouster and how he yearned that a Republican take his place, forgetting the warning "Be careful what you wish for because in the end you are liable to get it."
Click the alert icon to follow topics:
ICYMI
Ken Burns' Brilliant 'The U.S. and the Holocaust' Has Only One Problem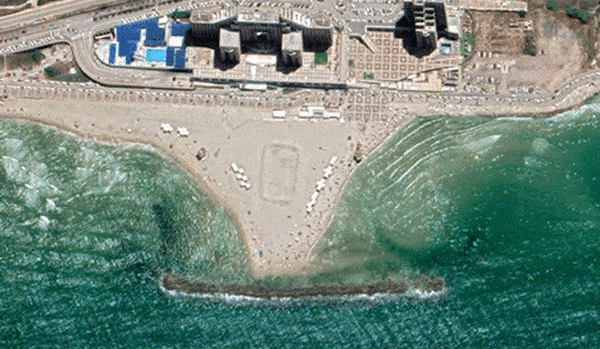 Facing Rapid Rise in Sea Levels, Israel Could Lose Large Parts of Its Coastline by 2050
Lapid to Haaretz: 'I Have Learned to Respect the Left'
The Mossad's Fateful 48 Hours Before the Yom Kippur War
As Israel Reins in Its Cyberarms Industry, an Ex-intel Officer Is Building a New Empire
How the Queen's Death Changes British Jewry's Most Distinctive Prayer