I Don't Need Jewish Historians to Tell Me About the Nakba
I obsessively follow Israeli news in hopes of one day learning that peace has broken out in the Mideast. But all I see are Jews arguing about 1948 and the occupation.
Illustration.
Credit: Amos Biderman
The grand, beautiful river in Northfield, Minnesota, runs past the hotel I stayed in. It's an impressive river with fine bridges that span the water from bank to bank. A boardwalk paved with old stones accompanies the river's flow through the center of this small, 160-year-old town. There's something comforting about rivers. For me, a river is always a marvel; I'll always be moved when I see or pass next to one. I'll always point to it and say to the kids (if they're with me), "Look, a river!" Even when I'm alone I'll whisper to them, "Here's a river."
I needed comfort that evening in Northfield, and I trusted the river abutting the hotel to do the job. There are good students in the college where I was a guest. They did their homework and came prepared with questions, thoughts and requests for clarifications that left me no choice but to return to the streets of Jerusalem and traipse through them together with the students – up and down, east and west.
When I visit prestige colleges, I tend to think they're preferable to the big universities for students. It's true that my visits are always short – no more than a day or two – but it's my impression that in these colleges it's the students who are placed at the center, not the honor, research and publications of the faculty.
Next year, my daughter will have to register for higher education; she's under tremendous pressure at home to get the scores that will ensure her a scholarship – otherwise we won't be able to pay the cruel costs. My daughter is a high-school junior (grade 11) and at that age, many decisions can change and nothing is predictable. But she's consistent with her decision to study in the United States.
"You can go back whenever you feel like it," she told us (at moments of crisis, I'm liable to announce that there's nothing for me here and that maybe we'll go back at the end of the year). "I don't need anything from you," my daughter will say, "but I'm staying here to go to school."
And I, a fellah and the son of fellahin, can't bear the thought of the children being distant – certainly not a whole day's flight away – and I don't want an ocean to separate me from my daughter. Sometimes, like the courts, I think about "the good of the children," in the hope of organizing my thoughts around a guideline that will help me draw conclusions. But in short order, I discover that "the good of the children" only makes things harder, more complicated and more confusing than an appeal to personal utilitarianism.
Where does the good of the children lie? Is it in their ability to assimilate completely? Does the dominant U.S. culture enable absolute Americanization, beyond citizenship? Are we to ground our children in pure individualism, as free as possible of historical and cultural residues? Or will we make them healthier people by emphasizing the national-historical-cultural framework, fragmented as it may be, that will shape them as adults with a sense of belonging, even if it's largely imaginary?
"We'll see" has become my and my wife's philosophy of life in an era of uncertainty and instability. "We'll see what will happen next year and then we'll decide."
Because of that "we'll see," and because of the good of the children, I follow the news from Israel obsessively, getting alerts and downloading new apps every five minutes – and waiting for a miracle. Every time anew, I yearn to see a headline announcing: "Occupation ends!" Without details, without formulae, without maps in different colors, without percentages and numbers. Just a report encapsulating the fact that the era of Jewish lordship is over.
That hopeful feeling reaches new heights of a morning, because many hours have passed since I last checked the news and while we are sleeping here in the United States, meetings and other matters are happening in Israel. So I know that when I turn on the computer, I'll find the headline I'm looking for – "Peace breaks out in Middle East" – and below it the weather forecast.
But until that definitive report arrives, I'm reading about stormy discussions over the Nakba [the Palestinian term for the formation of Israel in 1948]: did it happen or not? Old new historians, politicians and society folk are interpreting official Israeli documents and waiting for censored reports from committees whose goal was dictated in advance, in order to arrive at more conclusions about the expulsion and its character.
Until then, I'll just have to wait patiently for the Israelis to conclude their discussions in order to decide whether to believe or not to believe that my grandfather was killed while tending to grapes, and whether all the stories I heard about fierce attacks on Tira, my village – that were miraculously repulsed, thus averting massacre and expulsion – were fictions concocted by the Arab imagination. I'll have to wait until then in order to know whether my wife's family abandoned the village of Miska in 1948 of its own free will for a picnic.
In the meantime, I read about more settlements, killing and land theft – and all of it, to judge by the Israeli documents, as legal as the Nakba. The same stories, the same lies and the same machinery of self-justification. Just as there was no Nakba, there is no occupation, either. And if others claim there is, then the subject is open for discussion and will be decided by internal Israeli – in the Jewish sense of the word – colloquy.
Then as now, the voices of the victims are not valid; we have to wait for a definitive document in Hebrew.
Well, I'm waiting for that document, and despite everything – and because of my blind faith in people's goodness – I enter the hotel room after giving a talk to young students who wanted to hear about Tira and about Jerusalem and about my family history, and whose questions drag me into realms that leave the tears no choice but to choke my throat. With an effort, I get over it and go on telling my version, truncated because of fears of that hard hand whose grip I continue to feel, even at a distance of a day and an ocean, and I turn on the computer to read: "It's over."
Instead, I find that Habima Theater is going to perform in Kiryat Arba; that the prime minister is continuing to boycott; that two more Arab women were brutally murdered. Suddenly, I remember the river next to the hotel, run to the window, open the curtain and discover that I'm looking at the wrong "screen" again: instead of a flowing river, my window overlooks a backyard enclosed by a peeling concrete wall.
Click the alert icon to follow topics:
ICYMI
Ken Burns' Brilliant 'The U.S. and the Holocaust' Has Only One Problem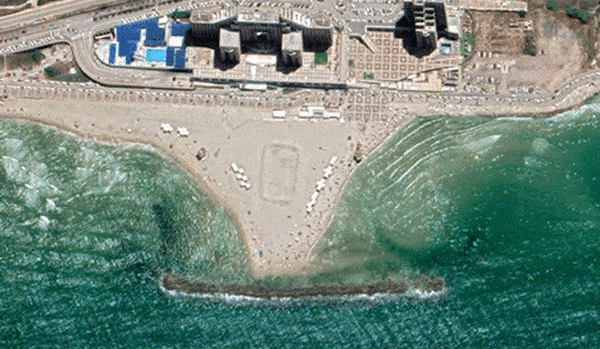 Facing Rapid Rise in Sea Levels, Israel Could Lose Large Parts of Its Coastline by 2050
As Israel Reins in Its Cyberarms Industry, an Ex-intel Officer Is Building a New Empire
How the Queen's Death Changes British Jewry's Most Distinctive Prayer
Chile Community Leaders 'Horrified' by Treatment of Israeli Envoy
Over 120 Countries, but Never Israel: Queen Elizabeth II's Unofficial Boycott