Opinion |
As an Israeli, B'Tselem and Peace Now Protect Me. Who Will Protect Them?
Lately, Netanyahu seems to be threatened by a lack of external threats. Which brings us back to his deepest fear: any challenge to the integrity and permanence of the settlement enterprise and its shield, the occupation.
Israeli soldiers restrain a Palestinian in Hebron, September 20, 2016.
Credit: Mussa Issa Qawasma, Reuters
At least once a month, I thank God for B'Tselem.
For Peace Now as well. Their people seek out, compile and publish facts and figures which nobody wants to hear. On subjects which make everyone uncomfortable. Like the occupation and settlements. I know that I don't want to hear them. But I need to. As Israelis, we all do. I could give you ten reasons why, but let's start with this one:
Sooner or later, what you don't know will hurt you.
That's one reason why NGOs like B'Tselem and Peace Now are so valuable. In working for rights for Palestinians, in revealing what is actually going on behind this wall or that, they are a last defense of what is so valuable and so fragile in Israeli democracy.
That's also why they are so dangerous in the eyes of Benjamin Netanyahu. But he needs to pay better attention.
Ignorance makes you vulnerable. And in a place like this, no one can afford to be vulnerable.
Least of all, Benjamin Netanyahu.
Something's come over Bibi lately. He seems to be threatened by a lack of threats. A lack of external threats, that is, of the kind posed by Iran or lone-wolf terrorists. Which brings us back to Bibi's deepest fear, the threat to end all threats: any challenge, no matter how ephemeral, to the integrity and growth and permanence of the settlement enterprise and to its shield, the occupation.
Nothing else can dislodge him. No one else has the power, the will, the leverage. Only the settlement movement and its pro-occupation supporters, here and abroad.
Which is why, when the prime minister reacted, frothing at the mouth, to the measured, well-reasoned, and informative speeches given earlier this month at a UN Security Council special session on settlements, he failed to respond to a single substantive point raised by B'Tselem's Hagai El-Ad and Lara Friedman of Americans for Peace Now.
It's not at all clear that Netanyahu read the speeches at all. He may have been too busy bellowing on Facebook about cancelling B'Tselem's National Service worker (they don't actually have one).
He may have been preoccupied offscreen directing his beefy marionette and coalition chair David Bitan to threaten El-Ad with revocation of his Israeli citizenship (the move and subsequent legislative threats had no hope of passage).
Or he may have been too busy misrepresenting what El-Ad and Friedman actually said – condemning it with the familiar malarkey catechism of the Zionism of Our Lady of the Sacrament of Settlement, a dog-whistle to those who repeat and repeat again that "There is no 'occupation.' There is no such thing as 'Palestinians.' The only 'occupation' is that of Arabs occupying Judea and Samaria. All the Arabs want is to kill Jews."
According to Netanyahu, El-Ad and Friedman "recycled the deceitful claim that 'the occupation and the settlements' were the cause of the conflict." A total lie. The speeches were overwhelmingly devoted to human rights, issues of democracy, and the mechanics and human consequences of settlement expansion and fifty years of occupation.
Branding B'Tselem and Peace Now "fly-by-night and delusional" organizations which "subvert democratic principles and which slander the Jewish State and the brave soldiers defending it," Netanyahu then went into an extended Facebook harangue about how "The democratic process is sacred," but that the NGOs having aired their opinions abroad was "anti-democratic."
The prime minister seems to have missed the part of Friedman's speech where she described herself as "someone who proudly and unapologetically cares about Israel and defends its existence."
"It would be unpardonable to allow ourselves to be silenced by the cynicism of some of this body's member states, whose hatred of Israel may blind them to Israel's legitimate needs and fears," she told the UN session. "And it would be inexcusable to allow ourselves to be silenced by the disapproval of some who today equate speaking unpleasant truths about Israeli policies with national betrayal."
The prime minister appears even to have ignored his own Facebook page, on which El-Ad wrote last week that "contrary to the complete overlap the Prime Minister establishes between the occupation and Israel, we insist on saying loud and clear: the occupation is not Israel, and resisting it is not anti-Israel. The opposite is true."
Here, in fact, is the crux of the matter. Netanyahu knows as well as anyone that in just over two months the world will begin to mark 2017 as the Year of the Occupation – the fiftieth anniversary of the 1967 Six Day War.
Netanyahu knows the simple and deadly algebra by which the occupation and the settlements serve as the taproot for delegitimization of Israel:
Israel – Occupation = Democracy.
Israel + Occupation = Apartheid.
It is nearly the Year of the Occupation and Netanyahu's got nothing to offer. No plan. No hope. No room left to pretend.
All he has left to offer – apart from whipping up one last dish of hatred against Barack Obama and a potential post-election "existential threat" against the settlement enterprise – is incitement against NGOs like B'Tselem, Peace Now, Breaking the Silence, Rabbis for Human Rights, the Association for Civil Rights in Israel.
All he has left to offer is allies like ultra-nationalist, Temple-crazed, settlement-obsessed Agriculture Minister Uri Ariel, who said that Israel would not become a "suicide state," calling the NGOs "groups that put a knife in our back."
I've lived here a long time. I've yet to meet a single Israeli – not one – who believes that Benjamin Netanyahu will do anything to the occupation except deepen it.
I've learned this much: The truly existential threat to Netanyahu's rule is hope. That's why the worst thing he could think of saying about B'Tselem and Peace Now were that they were transient phenomena. Unlike his settlements, which are eternal. Unlike his occupation, which is permanent. Unlike his rule, which is until the end of time.
Too bad, with all his smarts, he seems to have ignored this lesson: In governance, there is no such thing as forever.
He still has a lot to learn, Bibi does. As journalist Mairav Zonszein noted this week, Netanyahu and the Israeli right "have worked very hard over the years to make sure there is no daylight between Israel and the occupation — to erase any difference between Ariel and Acre, Hebron and Haifa. Ironically, this is the same thing Netanyahu accuses Palestinians of trying to accomplish. But the truth is, any distinction between the Israeli state and the occupation of the Palestinians has long been erased."
While this sounds like the end of hope, it may in fact be the beginning.
What if Netanyahu's wrong that all the Arabs want is to kill Jews all the time? The worst threat to the occupation, of course, is the possibility of extending rights to the Palestinians.
In a remarkable article this week, also in +972 Magazine, journalist and film maker Talal Jabari wrote:
"Quite frankly, and although this might make me very unpopular – not because people don't agree with it but because you're not supposed to discuss it publicly – but I'd rather live as a proud Palestinian who happens to be a citizen of Israel than continue the sham that we're living in now under the Palestinian Authority.
"I'd rather fight for equal rights in the courtroom and the ballot boxes, for a balanced immigration policy where Palestinians can apply and have a chance to live in their ancestral homeland which is now called Israel, but which we will continue in our hearts and in our minds call Palestine. It's time to demilitarize, is time to disband the police state, it's time to bring down the wall.
"It's time for us to stop giving Israel the excuse that we're fighting it when the overwhelming majority stopped fighting years ago."
Maybe things are finally starting to change. But we're not nearly there yet. In the meantime, as an Israeli, I've come to know that the work that organizations like B'Tselem and Peace Now do protects me. In working for the rights of Palestinians, they are defending the future of democracy for all Israelis.
But who, now, in this place of incitement, will protect them?
Click the alert icon to follow topics:
ICYMI
Ken Burns' Brilliant 'The U.S. and the Holocaust' Has Only One Problem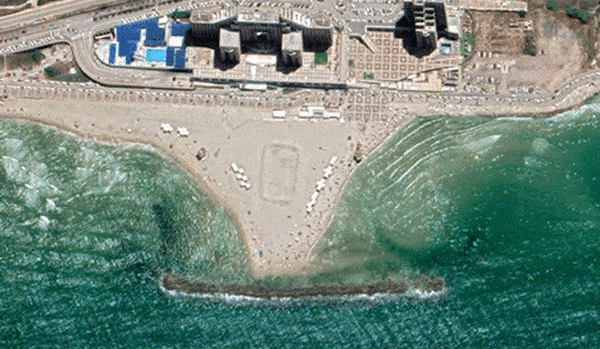 Facing Rapid Rise in Sea Levels, Israel Could Lose Large Parts of Its Coastline by 2050
As Israel Reins in Its Cyberarms Industry, an Ex-intel Officer Is Building a New Empire
How the Queen's Death Changes British Jewry's Most Distinctive Prayer
Chile Community Leaders 'Horrified' by Treatment of Israeli Envoy
Over 120 Countries, but Never Israel: Queen Elizabeth II's Unofficial Boycott