Israeli Filmmakers, Don't Pretend to Speak for Palestinians
I could identify with Culture Minister Miri Regev, who accused the leaders of the Israeli film industry of being a snobbish, exclusive club. If only she weren't so bent on shutting people up and dictating content.
Illustration.
Credit: Amos Biderman
"Why, Miri, why?" I found myself shouting at the computer screen as I watched Culture and Sports Minister Miri Regev deliver her speech last week at the Ophir Awards ceremony for achievements in Israeli cinema. "Why did you ruin it?" I fumed. "Yilan rabak ars," I railed, adding a choice Arabic curse in a burst of Mizrahi empowerment.
If Miri Regev were a little less Miri Regev, I would follow her through fire and water. Half the things she said in her speech were revolutionary in the Israeli cultural world, being uttered as they were by a minister at a state-sponsored awards ceremony. It was perfect: The feisty and incredibly talented rapper Tamer Nafar challenged Zionism on its home court, and for a moment Miri Regev seemed to be quoting Ella Shohat. But then came the unfortunate second half of the evening, violent and rife with racism, ignorance and Arab-hatred. It made you want to identify with the good old culture policy to the point where you see the local film funds and cinema industry as nothing less than revolutionary entities that are fighting for freedom of expression, human rights and civil equality in the face of an obscurantist, monstrous state.
Regev's attack on the Palestinians could paint "Sand Storm" – the big winner at the so-called Israeli Oscars ceremony – as a heroic act of subversion on the part of both its creators and its backers. As a movie that proves that, despite Regev and her government and the public that supports her, art refuses to bow to the right-wing consensus and battles vigilantly for freedom of creativity and expression on the part of the oppressed and the forgotten. But it's precisely here that my problem with the institutions of Israeli cinema lies.
If I were a script reader at one of the film foundations, I would have rejected "Sand Storm" [an Arabic-language film that focuses on the story of a Bedouin family] without even looking at the screenplay. I would have ruled it out solely on the basis of the names of the filmmakers [including writer-director Elite Zexer, producers Haim Mecklberg and Estee Yacov-Mecklberg]. Some will say that this is a superficial stance, based on a political and not an aesthetic approach, but I'm one of those who is unable to disconnect movies from their political, social and class context.
I would have rejected the film, however sensitive, delicate and courageous it might be, because I will always view it as violent and aggressive. My view is that an artist needs to be pretty patronizing to allow himself to speak in the name of the Other. (Sometimes I have the feeling that supreme courage is needed to purport to speak even in your own name.) And not any Other, but the Other who, according to the prevailing conception, is in an inferior position to that of the creative artist. The truth is that I might be far more forgiving of an artist who sets out represent an Other who, on paper at least, has a higher status than he does. I would be more forgiving of a woman who wanted to speak in the name of a man, than of a man who tries to speak in the name of women, and I would be forgiving of an Arab who wanted to make a movie about culture of Herzliya Pituah, assuming any Arab would dare to think he's capable of creating characters from there.
The oppressed individual is allowed the effrontery, if he so wishes, to occupy himself with those he perceives as the oppressors. After all, he is not really threatening them, nor is he pulling the red carpet from under their quite stable feet; and if he is, then more power to him. My gut feeling is that the weak will dare only to parody the strong, whereas the strong will allow himself to address cultural, social and behavioral aspects of the weak, on top of which he will have the gall to present them as authentic and credible, and full of compassion for the suffering of the enfeebled. Don't get me wrong: I'm not saying that Israeli filmmakers shouldn't occupy themselves with Arab characters, but that they should do so in the way that they perceive them. As far as I'm concerned, the Arab can be violent, dumb and primitive – that's better than the false representation in which the characters are supposedly speaking for themselves.
These persistently exploitative nature of these relations will not always be clear to Israeli viewers, and even less to foreign audiences to whom Israel's cinema industry would like to appeal. If indeed the story is a universal human one whose aim is to bring about the personal identification of viewers around the world, then the universal story could also take place in the filmmakers' childhood neighborhood, whose suffering, if any, they are familiar with. Then we would be able to see just how, in the name of universality, Bedouin are able to identify with the distress of Ashkenazi women.
I have yet to see an Israeli film that speaks in the name of the Palestinians that I thought was worth watching, including the movie for which I myself wrote the script, and others movies whose credits include Arab names. Anyone who is familiar with the world of cinema is aware that the director always has the upper hand, and that any semblance of cooperation between Palestinians and Israelis is a guarantee of international sympathy and a means for allowing festival organizers to contribute to promotion of fraternal relations among the nations. In fact, the Israeli director-Arab partner relationship only perpetuates the balance of powers preserved in Israeli cinema in general.
I know the Israeli film industry a little, and I know beyond any doubt that the heads of the film funds and cultural institutions have provided and want to provide substantial assistance to filmmakers from all segments of the population. So much so that they tend to prefer new voices and forgive novices their flaws in the name of multiculturalism and self-representation. The question is how feasible that self-representation is for the Mizrahi, and more especially for the Arab, filmmaker who applies to the funds for backing. To what extent does a writer submitting a script to a film-funding organization mold his work, whether consciously or not, according to what in his view will not exceed the bounds of the discourse permitted in Israeli cinema, which is subject to the favors of the government and the limits of tolerance of Israeli viewers?
I'm not claiming, heaven forbid, that an Arab director will necessarily make a better movie about Arabs because he is an Arab. I am only saying that it will be more legitimate, and that the development of a cinematic tradition of that kind is the only way to learn from mistakes, to improve and to accept internal criticism, which can be cruel. The aim is to hope that the next movie will be more successful, if only in the sense of forging a public dialogue.
I could identify with Minister Regev, who stood there before the leaders of Israeli cinema and accused them bluntly of being an exclusive club that decides what is worthy through an elitist prism even as they are doling out money to the poor. Artistic independence requires economic independence: He who controls the resources also controls the spirit of the work. But Regev ended up being a wrecker: Her goal is not self-representation without a sense of gratitude toward the cinema establishment; her goal is to shut people up and dictate content in a nationalist spirit.
If only she hadn't been a wrecker, I'd have liked to hear her say that enough is enough, that the representatives of the film foundations, who occasionally invite an Arab to serve as an honorary script reader, will no longer be allowed to decide what is produced and what is not. I'd have liked her to declare that she was allocating equal funding for establishment of an Arab film fund that will occasionally invite a Jew to be an honorary script reader – and afterward to announce that she was leaving the government because she understood at long last the white exploitation she is perpetrating with her Mizrahi stance.
Click the alert icon to follow topics:
ICYMI
Ken Burns' Brilliant 'The U.S. and the Holocaust' Has Only One Problem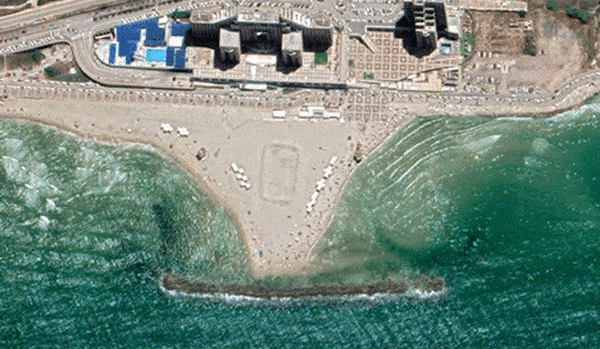 Facing Rapid Rise in Sea Levels, Israel Could Lose Large Parts of Its Coastline by 2050
As Israel Reins in Its Cyberarms Industry, an Ex-intel Officer Is Building a New Empire
How the Queen's Death Changes British Jewry's Most Distinctive Prayer
Chile Community Leaders 'Horrified' by Treatment of Israeli Envoy
Over 120 Countries, but Never Israel: Queen Elizabeth II's Unofficial Boycott