Jeremy Corbyn Is a Bully, Bad for Democracy, for Britain and for British Jews
The Labour leader wears a kind face in public while using authoritarian means and his Momentum bullyboys to complete the far left's hold on Labour. And Corbynistas' real enemy target? British Jews like me.
Britain's Labour Party leader Jeremy Corbyn delivers a speech on Labour's anti-Semitism inquiry findings at Savoy Place, London Thursday June 30, 2016.
Credit: Jonathan Brady, AP
It was the title that caught my eye; an Israeli newspaper with an unedifying identifier "Jewish Millionaire trying to oust Labour's Corbyn." I thought the headline was a spoof. The author ridiculed me, a rich (noch) Jew, for writing in a U.K. newspaper that, 70 years ago, had owners who supported the German invasion of Sudetenland. Clearly, to gain the widest and most effective online media coverage for an opinion is to publish first in a mainstream newspaper, as was my intention in writing for The Mail on Sunday, and I have no regrets in having done so.
The article I wrote covered my personal tussle with the Extreme Left in Britain, which by a quirk of fate, last year secured one of their own as leader of the opposition Labour Party. Now they are "democratizing" the established Labour Party by swamping the old membership with more radical, more vocal, more socialist, more Green, more anti-establishment middle class and working class supporters. Old and young, they expound a creed of public sector socialism we all experienced as having been completely discredited by the dark economic stasis of the 1970's.
It is not as if this "new, kinder, more democratic politics" is attracting back the traditional working class voter who first founded the party over 100 years ago and who has strayed in the last five years and joined the anti-immigration, anti-EU UKIP party. Those voters are keeping their distance from Corbynism. Traditional Labour voters want an increase in wages and economic growth, but that policy-making and rhetoric is outside both the Corbyn schtick and his competence.
Corbynism: A regressive, discredited creed dressed in 'progressive' clothes
But, just like with flared trousers, the strangest fashions revive. In any other form, such elements of this idealistic fervour would be a welcome development in the staid politics of Britain. All of us should be applauding a more energized, idealistic, socially fresh, more engaged group of people coming out of nowhere to take the lead in a new kind of determining politics who form their own party and ride to victory in the polls on behalf of working people in a far from fair society.
The problem is that it is not like that. It is a cadre of the old far left politicians, nearly all in their 60's, who have simply dressed up the old as new. Knowing the value of the Labour brand, they are attempting to steal it from a generation of those who have served Labour and its ideals for 30 years, redressing their old offer as a new form of acceptable progressive socialism, trying to hoodwink the British public into thinking that this is the way to establish an egalitarian post-Brexit Britain.
The Corbynista politics of absolutism
The public of course see through this; Labour, under Jeremy Corbyn, has never done so badly in the polls since the early 1930's. However this does not stop the ardent disciples of the Corbynista mantra from wanting to follow Jeremy Corbyn down the Yellow Brick Dead-End Road to the new Orwellian Socialist Utopia. But like "Animal Farm" there is little practicality in terms of neither operation nor achievement. Their understanding of economics extends only to expenditure; their understanding of taxation is only as a means to redistribute wealth.
This ultimately is not about Labour, it is not about Corbyn's anti-Israel stance: it is about the shape of British society, for theirs is the politics of absolutism.
What binds them is their political enemy. Not, of course, the governing right-wing Conservatives, who have overseen a decline in living standards for working-class people not seen for a century. The "enemy" here is the majority center-right of the Labour Party, despised as "Blairites", supposedly wedded to crony capitalism, imperialism and war.
British Jews' 'crime': We funded Tony Blair, so we're the Corbynistas' true enemy
The crime that British Jews like myself have committed is that they were some of the major funders of the Labour Party under Tony Blair. So I become a metaphysical threat to their political nirvana, a wealthy, conspiring, controller of capital with imperialist (Israel/Palestine) intentions. History tells me I have heard that before. In Britain, the Jewish community watches in wonderment and with some reasoned trepidation.
Since the 1930's, the British Left has been wary of Jews in government, business and banking; this emerges from what they see as a 'witches cauldron' of capital, wealth and the United States (whom they loath), and support for Israel. Corbyn's pro-Palestinian stance has so emboldened the worst elements on the far Left that, for the first time in my lifetime, Labour is seen as the party of the anti-Semite. Many emails to my political account now begin with the salutation: "Jewish Racist Scum".
Jeremy Corbyn is like a rehashed version of Superman, believing he alone in modern Britain has all the answers to be able to fight poverty, inequality, greed and capitalism; he alone has the necessary level of respect and kindness for "human rights" to tackle issues of foreign policy and the excesses of imperialism; he alone has the key on how to implement a social ideology based on a concoction of the Bible, Catholic Social Thought and Dante, and all purified and strained through the filter of Marx.
Since Corbyn came to power a year ago as Labour leader, the Jewish community has witnessed the arrogance of a man who hides behind propriety, gentleness and pacifism, but whose Praetorian Guard which colludes and threatens in order to achieve their ends by any means - and strikes down any and all whom stand in their way. History shows us that such a small cadre can only ever achieve and maintain power by intimidatory means such as these.
Corbyn is a bully, bad for democracy, for Britain and for British Jews
I oppose Jeremy Corbyn because, contrary to what he preaches, he is a bully, and thus a "bad thing" for democracy. He is a "bad thing" for Britain, and he is a very "bad thing" for British Jewry. I loathe bullies not because I am of a centre-left disposition, not because I did support Tony Blair, but because bullying in politics tends to promote militant groupings that history shows us cannot be controlled.
Momentum's Messiah – and its bullyboys
Jeremy Corbyn not only attempts to bully mostly female shadow ministers and MPs who oppose him (he did not appoint a woman to a senior position in his Shadow Cabinet, unheard of in modern Britain) but he also takes on those who cannot fight back, such as employees and colleagues within the Labour Party. When Virgin's Richard Branson spoke out against Corbyn, the left screamed to have Branson stripped of his honors. When the highest committee of the Labour Party, the National Executive Committee (NEC) disqualified arriviste Corbyn members from the electoral vote, the NEC was attacked by Corbyn's allies for "shoddy legal manipulation". When Labour MPs speak against him they are routinely threatened with being "deselected" at the next election.
He uses bullyboy tactics because behind him stands an external organization of 12,000 paid up members of Momentum, a pressure group whose sole aim is to support the leader and the policies of the leader. It is headed by a brilliant Jewish political socialist academic and activist, Jon Lansman. Whether such an organization is modelled on Augustus' Praetorian Guard, on Mao's Red Guard, on Stalin's NKVD does not matter. Only Lansman will know, since it has no written constitution.
Momentum serves only one purpose: to keep those in and out of the Party, in line. In location after location Momentum organizes rallies decrying their opponents, even organizing protests outside offices of anti-Corbyn Labour MP's. When Corbyn was shamed for his incompetence and suffered a defeat in a vote of no confidence at the hands of his own MPs, the abiding image is of Corbyn stood outside Parliament on an open top bus, preaching defiance and soaking up the adulation of his non-elected Momentum followers as if he were the Messiah.
I stand by my right to call Momentum Corbyn's Nazi stormtroopers
That UK newspaper article where I represented Momentum as Die Stumabteilung (or SA, Nazi stormtroopers) was met with cries of outrage. In concert, within 24 hours 11,000 Labour Party members signed a petition calling for my suspension and expulsion on the grounds of manipulating the Holocaust solely as a means to attack Corbyn and his cronies. The SA, of course existed a decade before the Holocaust began, but were organized in such a way to be its enablers.
Back in June, Corbyn bought himself a brief respite from internal strife over repeated anti-Semitism in his 'new' Labour Party by rewarding Shami Chakrabarti, author of the 'independent' whitewash report into anti-Semitism within Labour, with a seat in the UK's House of Lords.The essence of the report: Labour Party members should be nice to each other and references to the Holocaust were not to be used in political discussion.
Not this Jew. The Holocaust is my history, it is why my grandfather was in Dachau, why my father gave me his tallit covered in unwashed blood, recovered on the streets of Vienna during Kristallnacht. It is part of my political consciousness and vocabulary, and I will use it when I see an analogy in front of me.
The Haaretz article was wrong in saying I criticized the courts for allowing Corbyn to stand; I went to court specifically to have the law, and not Corbyn's bullyboys, adjudicate that decision. And whilst there is the rule of law in Britain, the cradle of democracy, I shall continue to do all I can to oppose Jeremy Corbyn becoming Britain's Prime Minister.
Like all tyrants, and all authoritarians, Corbyn will fall
Jeremy Corbyn calls Hamas and Hezbollah "friends", he is a man unable to say the word "Israel," who refuses to shake the hands of Labor Party members of Israel's parliament, a man who would refuse under any circumstances to take up arms against Putin, a man who proffers kindness in public but will manipulate rules, threatens to exclude all whom oppose him, and indeed uses almost any means in justification of achieving the far Left's goal of gaining complete control of Labour, a party that has always recoiled from extremism. Tolerance in its true form is a word not in their vocabulary.
On 24th September Jeremy Corbyn will once again win his plebiscite and become undisputed leader of the Labour Party. Britain, and Britain's Jewish community, will be the poorer for it. Corbyn, once the butt of jokes made by the right to tease Labour, will have considerable sway over British politics for years to come. But Corbyn, like all tyrants, and all authoritarians, will fall. The question is whether he and his colleagues will fall from power before they change much of British society for the worse.
Michel Foster is a media and social enterprise entrepreneur. In Israel he works with Shaharit, the community organizing enterprise.
Click the alert icon to follow topics:
ICYMI
Ken Burns' Brilliant 'The U.S. and the Holocaust' Has Only One Problem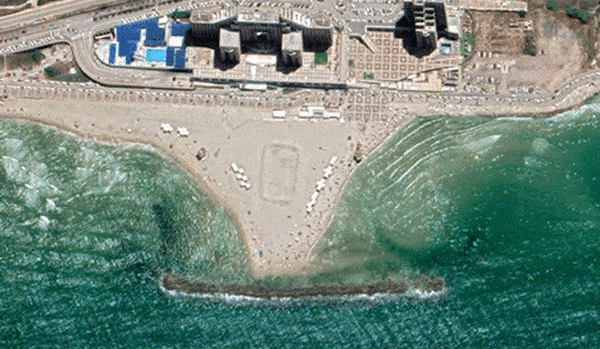 Facing Rapid Rise in Sea Levels, Israel Could Lose Large Parts of Its Coastline by 2050
As Israel Reins in Its Cyberarms Industry, an Ex-intel Officer Is Building a New Empire
How the Queen's Death Changes British Jewry's Most Distinctive Prayer
Chile Community Leaders 'Horrified' by Treatment of Israeli Envoy
Over 120 Countries, but Never Israel: Queen Elizabeth II's Unofficial Boycott