Jews Must Fight for Black and Palestinian Freedom as We Fight for Our Own
To many in the Movement for Black Lives, Jewish contributions to the civil rights and other liberation movements pale in comparison to the force Jews muster to defend Israel's indefensible occupation of the Palestinians.
Demonstrators wave the Palestinian flag and chant slogans during a march by various groups, including 'Black Lives Matter' in Cleveland, Ohio, U.S., July 17, 2016.
Credit: Adrees Latif, Reuters
The last few days have been difficult ones for the Jewish community – particularly those of us who consider social justice a central part of our Jewish identity.
The Movement for Black Lives released a visionary platform laying out the path forward for organizations in the movement. The document was hailed by many as a major achievement, but received a tremendous amount of pushback from Jewish leaders and organizations – and sparked ire – for referring to Israel as an apartheid state, formally endorsing BDS and calling the situation facing Palestinians "genocide." Some have pulled their organizational endorsement from #BlackLivesMatter and called on others to do the same.
Given Jews' history of oppression, and the experience of the Shoah, it is understandable that many in our community would be offended at the accusation. Personally, I didn't think this choice of words was accurate. While IfNotNow, the movement I am part of, has relationships with some of the organizations involved in putting together the platform, it was not consulted in the preparation of the vision. If we had been, we would have made clear that that word would hit a raw nerve within the Jewish community. Yet we also understand why some within the Palestinian community argue that the word "genocide" resonates with their experience of oppression.
While we can debate the use of the word "genocide," we cannot refute the fact that denying basic human rights to an entire people for generations is a much graver crime than many in the American Jewish establishment are willing to admit. Most American Jews have yet to grapple with the severity of the situation in the occupied territories or systemic discrimination within Israel — or what our community looking past those crimes means for our moral standing in the United States.
American Jews expect the black community in the U.S. to see us as natural allies in the struggle for liberation they are waging. But many leaders in the Movement for Black Lives see us – here and in Israel – as part of the system they are fighting against. They see white Ashkenazi Jews in the U.S. as part of white supremacy; they see Israel as a colonial project brutally subjugating Palestinians and discriminating against Jews of color; and they see our concern for the safety for our people as a mask for oppression.
To many in the Jewish community, this is a daunting challenge. We look at thousands of years of oppression and persecution, at the monstrous efforts to exterminate us, and assume that other groups struggling for their freedom will see themselves in us – as many Jews see ourselves in them. We understand the role we played in previous struggles for freedom – the civil rights movement, the labor movement, the anti-war movement – to absolve us of the sins of this country. But to many in the Movement for Black Lives, our contributions to those movements pale in comparison to the force we muster to defend Israel's indefensible acts. If we want to be seen as standing on the side of freedom, we must apply the values of our tradition to the biggest moral crisis facing our people today: the occupation.
Many Jews see the movement's description of Israel as anti-Semitic, as a refusal to acknowledge the right of Jews to self-determination or affirm our struggle for freedom. As this conversation has taken on a life of its own, I too have been angered by the response of some individuals and organizations in the movement — even ones that I deeply care for and have strong ties with. As my friend and fellow IfNotNow co-founder Yotam Marom wrote in his recent article, however, these dynamics are not surprising given the historic pattern of anti-Semitism. Jews have often been forced into the role of middlemen who are not fully accepted by the ruling class, who the marginalized can blame when things go awry. At a time of rising anti-Semitism in the U.S. and abroad, I too feel particularly hurt and scared that the Movement for Black Lives, an anti-racist movement, would not see our struggle as wrapped up in theirs.
But that's exactly why IfNotNow is calling upon the Jewish community to embrace our vision of a Jewish community that fights for black freedom and Palestinian freedom as we fight for our own. Certainly it will be difficult for the Jewish community to commit to the Movement for Black Lives before those in that movement have committed to Jewish liberation – however defined. But we stand a much better chance of having the validity of our struggle recognized when we listen to what our friends are saying and struggle with them, seeing conflict not as a mandate of increased isolation, but as an opportunity for deeper mutual understanding.
Just as with the conflict between Palestinians and Israelis, the American Jewish establishment wants us to believe our community faces a choice: either we stand for our freedom or the freedom of another oppressed people. But I believe that standing up for Jewish freedom requires more of us than making a simple choice to fight for ourselves – we must, in a very real way, fight for ourselves and others with equal fervor.
The notion of struggling for the freedom of others in order to defend your own freedom may sound odd to some, but it's an idea that is deeply rooted in the Jewish political tradition. It's called solidarity and it's never been more relevant than it is now. There is a poem that most American Jews are familiar with that explains the concept very clearly:
First they came for the Socialists, and I did not speak out— because I was not a Socialist.
Then they came for the Trade Unionists, and I did not speak out— because I was not a Trade Unionist.
Then they came for the Jews, and I did not speak out— because I was not a Jew.
Then they came for me—and there was no one left to speak for me.
In this country, they are coming for someone – and it's not yet the Jews. It's time for us to speak out for the black and brown people whose lives are being discarded in broad daylight. It's time for us to end our community's support for the occupation, which is destroying the lives of millions of Palestinians. And it's time for us to stop believing we can't do those things while standing up against anti-Semitism wherever we see it.
If we don't, who will be left to speak out for us?
Max Berger is a political organizer, trainer and writer in New York City. He is a founding member of IfNotNow.
Click the alert icon to follow topics:
ICYMI
Ken Burns' Brilliant 'The U.S. and the Holocaust' Has Only One Problem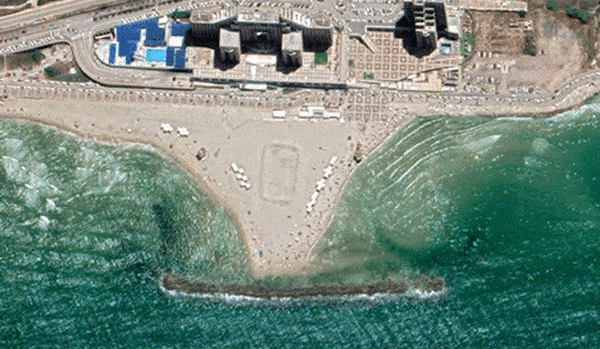 Facing Rapid Rise in Sea Levels, Israel Could Lose Large Parts of Its Coastline by 2050
As Israel Reins in Its Cyberarms Industry, an Ex-intel Officer Is Building a New Empire
How the Queen's Death Changes British Jewry's Most Distinctive Prayer
Chile Community Leaders 'Horrified' by Treatment of Israeli Envoy
Over 120 Countries, but Never Israel: Queen Elizabeth II's Unofficial Boycott