With Friends Like President Trump
The candidacy clinched, Trump is falling over himself with praise for the Jewish state. But love is no substitute for competence and in foreign policy he hasn't exhibited any.
Wall art in Vilnius, Lithuania of Trump (right) kissing Russian president Vladimir Putin.
Credit: Ints Kalnins, Reuters
President Trump. There was a time when the words would be laughed off by thinking people. Then, as Trump began racking up primary victories, they provoked loathing among some, and as he forced out one Republican rival after another, that morphed into denial, then fear.
But, like the seven stages of grief, it looks like the world is gradually coming around to realistic acceptance that he might actually be relocating from Trump Tower to the White House early next year.
What Donald Trump thinks about the prospects of President Donald Trump is another matter. My guess is that the Trump candidacy began as a publicity stunt – an opportunity to gain national attention, wreak a little havoc in the Republican Party and build the brand name: Donald Trump, real estate tycoon, best-selling author, television celebrity, husband to trophy wives, media phenomenon, really, really rich guy and presidential candidate.
Little did he know he would tap into a vein of angst suffered by a large class of Americans who had been ignored by the political class because they don't run for office, appear on "Meet the Press" or speak at important conferences.
Trump is probably just as surprised as The New York Times editorial board that he's gotten so far. But unlike The Times and the rest of the American policymaking elite, Trump is going through seven stages of glee, the last of which is trying to move past the bizarro policy pronouncements articulated in the earlier stages of publicity hunger and opportunism into his new presidential phase.
Stray remarks do not a policy make
That was evident in his foreign policy address given a month ago, in which he tried to turn a gaggle of stray remarks from earlier in his campaign into something coherent and thoughtful. The old bragging and bombastic Trump was still in evidence ("I'm the only one who knows how to fix it"), but if you followed his speech, without thinking too much about what it meant or what it lacked, the Donald came across as a passable President Trump ("a coherent foreign policy based on American interests and the shared interest of our allies").
On the surface of things, Israel and its friends should be thrilled at the prospect of a Trump presidency. In a 45-minute address, among all the countries mentioned, Israel was the only American ally cited by name and lauded as "our great friend and the one true democracy in the Middle East." All of America's other, mostly unnamed partners were accused of failing to hold up their end in the war on terror and/or of disrespecting American power.
Trump devoted an inordinate amount of time to the Middle East, but the world "Palestinian" never appeared. His concerns were on defeating the Islamic State and Islamic extremism, as well as ensuring stability, which by implication means backing the existing regimes in Egypt and the Gulf.
"We're getting out of the nation-building business and instead focusing on creating stability in the world," he said in an obvious swipe at Barack Obama's brief flirtation with promoting democracy during the Arab Spring. About Iran, Trump swore it would never get a nuclear weapon.
That's Donald Trump in his presidential stage. It's a sine qua non these for Republican candidates – and to a lesser extent, Democratic ones – to extol Israel as a loyal friend of America that deserves help and support. The presidential Trump recognizes that.
It wasn't that the old Trump was anti-Israel, much less an anti-Semite as some of his more arch critics have accused him of. But back in his earlier stages of glee he wasn't interested in appearing boring and presidential. He wasn't thinking about building a coaltion of voters but about building the brand.
Not anti-Semitism, brand-building
Thus, last December, when he infamously told some well-heeled Jewish Republican donors that "you're not going to support me because I don't want your money," that wasn't Trump railing against Jewish money but Trump building his brand as a really rich guy. The new presidential Trump hasn't gone on record as telling Sheldon Adelson to close his checkbook and keep his $100 million.
When Trump said he would be neutral in any future Israeli-Palestinian talks, he was advertising his brand as the premier negotiator, author of "The Art of the Deal." Wavering on Jerusalem as Israel's capital? That was just Trump being ignorant. After all, his foreign relations experience consists mainly of building a golf course in Scotland.
Getting past the Israel platitudes, Trump's foreign policy boils down to looking out for America's interests first, getting others to help foot the bill for Western defense and the war on terror, and building up the military but only using it as a last resort. An America that articulates its goals (while somehow also remaining "unpredictable") will win the respect of friends and foes alike.
It's coherent, as it goes. If quoted selectively, it can even sound responsible, even State of the Union presidential.
But the real world isn't reality television, and Syria is one small example where Trump's finely articulated vision will fall into endless traps.
Trump wants to defeat the Islamic State, which meshes nicely with his ideas about getting friendlier with Russia in pursuit of common interests like fighting Islamic radicalism. Fine, except defeating ISIS means propping up the Assad regime.
The problem is, the Assad regime is an ally of Iran, a country Trump has chastised Obama for because he allegedly turned it into a "great, great power." And while Assad is no friend of the Islamic State, he's buddies with other terrorists like Hezbollah, so helping Assad would be no help for Israel. Alternatively, he could help bring down Assad, but that would be engaging in the nation-building he spurns.
That's just the policy problem; then there's the nuts and bolts of how to accomplish it. Is Trump ready to send American troops to Syria? In his April speech, he said he would only if there were a "plan for victory."
Given the history of American intervention in Iraq and Afghanistan, that's a tall order. How many troops would he send, for how long and at what cost? And, hey, what about America's allies contributing their fair share? What if they won't?
And what about Iraq? Do we let the Iraqis take care of their ISIS problem in their own incompetent fashion with Iranian help? Or do we send troops there again uninvited? (Which Trump says was a mistake the first time.)
Maybe the man who built Trump Tower and hosted no fewer than six seasons of "The Apprentice" has insights and abilities that have eluded America's foreign policy establishment. If you believe that, you'll have a chance to vote for him in November. In the meantime, give me a call. I have this bridge over the East River you might be interested in buying.
ICYMI
Ken Burns' Brilliant 'The U.S. and the Holocaust' Has Only One Problem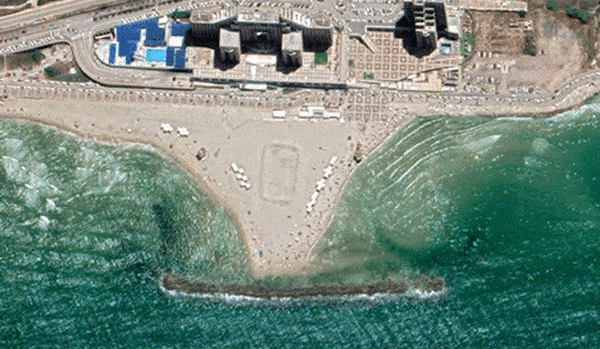 Facing Rapid Rise in Sea Levels, Israel Could Lose Large Parts of Its Coastline by 2050
As Israel Reins in Its Cyberarms Industry, an Ex-intel Officer Is Building a New Empire
How the Queen's Death Changes British Jewry's Most Distinctive Prayer
Chile Community Leaders 'Horrified' by Treatment of Israeli Envoy
Over 120 Countries, but Never Israel: Queen Elizabeth II's Unofficial Boycott