Saudi Arabia, the Mediator Israelis and Palestinians Have Been Waiting For?
Only Saudi Arabia has warm or developing relations with all three partners to the Israeli-Palestinian conflict. Will King Salman take the next step and mediate peace talks?
Saudi King Salman (R) speaks with his son and Deputy Crown Prince Mohammed bin Salman in Riyadh, Saudi Arabia, May 9, 2016.
Credit: Saudi Press Agency via Reuters
King Salman bin Abdul Aziz of Saudi Arabia has been busy recently. The Gulf monarch visited heads of state in countries including Turkey and Egypt, and sent his son, Saudi Defense Minister Mohammed Bin Salman, off to Jordan – where he may have met with Israeli officials. King Salman is trying to consolidate the Middle Eastern Sunni world to build a unified front – one with both economic and military might – against Iran's hegemonic plans.
Salman's efforts can also be construed as a bid to claim a leadership position in Middle Eastern affairs, necessarily implying a significant role in resolving the Israel-Palestine conflict. Saudi's regional influence now extends to all three major parties to the Israel-Palestine conflict – Israel, the Palestinian Authority and Hamas. When viewed in tandem with Israel's warming relations with neighboring states, could this translate into Saudi-mediated multilateral negotiations to end not only Israel's conflict with the Palestinians, but also normalize Israel's relations with much of the broader Arab world?
As strange as it may sound, Saudi Arabia may be a more trusted interlocutor than the United States, at least under the Obama administration. Saudi-led diplomacy with a multilateral thematic focus, based on either the 2002 Arab Peace Initiative or a new blueprint framework, could have a better chance to succeed than more rounds of banal U.S. or Quartet-led negotiations that failed so miserably in the past. Saudi Arabia would be better able to persuade Hamas to get on board as well as states adjacent to Israel. This could allow talks to include creative confederative options, regional land swaps and security guarantees – a more inclusive strategy that may hold the key to a final agreement acceptable to all parties.
Salman is courting Hamas, trying to end the virtual monopoly that Iran holds as the chief patron of Gaza and the Palestinian "resistance." Saudi Arabia was the main financial supporter of Hamas until 2004, when it finally bowed to U.S. pressure regarding its support. Salman knows he needs to regain an active role in the Israel-Palestine conflict as part of Saudi Arabia's regional strategy – it's the singular issue that galvanizes support in the Middle Eastern street and that provides legitimacy to lead in other areas. A leading role would hand Saudi Arabia a huge advantage in its rivalry with Iran. For years, Iran has supported militant streams within Palestine (Islamic Jihad) and Lebanon (Hezbollah) to make the case it is the only country that truly fights for Palestine.
Joining the more integrated but still loosely affiliated network of Sunni states "led" by Saudi Arabia – which includes access to the Kingdom's coffers – seems to be an option increasingly attractive to Hamas. Hamas is justly wary of Iran as the latter withdrew financial support over its initial pro-rebel stance in Syria's civil war. Hamas sent low-level delegates to the last meeting in Iran, and rejected an Iranian offer for a full resumption of ties and aid in return for Hamas' public backing of the Islamic Republic, as a sign to Saudi Arabia that it is not highly interested in rapprochement with the Shi'a power. Its silence on Saudi Arabia's execution of Shi'a cleric Nimr al-Nimr and on the GCC decision declaring Hezbollah a terrorist entity are also evidence of this strategic shift. Hamas also closed down an Iranian (read: Shi'a) charity in Gaza – perhaps finally realizing that Iranian sponsorship comes at a sectarian cost. Gaza is predominantly Sunni and thus an alliance with Saudi Arabia is more religiously palatable than its alliance with Iran, and likely more reliable given Iran's history of conditional patronage.
One potential sticking point is the bifurcation within Hamas. To the political class who reside and raise funds for Hamas in Qatar, such as Khaled Meshal, the decision is probably to side with the Saudis. To the military wing – the al-Qassam Brigades led by Muhammad Deif – which has on-the-ground control of Gaza and is in need of Iranian weapons, the issue is less clear and could present a problem when Hamas is pushed to make a final decision in what is increasingly looking like a binary choice. Having said that, the Hamas leadership in Gaza needs Egypt to recognize its sovereignty and end the stifling blockade and tunnel flooding operations along the Egyptian border – issues in which Saudi Arabia can help given its recent economic agreements with Egypt that amount to over $20 billion. Hamas' recent cooperation with Egypt, whereby Hamas sent hundreds of fighters to the Gaza-Egypt border to protect against ISIS, signals a possible willingness to play a role in a Sunni alliance.
Saudi Arabia sees Israel as a bulwark against Iranian ambitions. This shared interest has rendered Israel's relationship with Saudi Arabia closer and more public than ever before. Rumors of backroom military cooperation and intelligence sharing surfaced when Iran began sending forces to Syria and Iraq. Then in June 2015, Israeli diplomat Dore Gold publically shook hands with a retired Saudi general, Anwar Majed Eshki. Bloomberg News broke a story around the same time proving that Saudi and Israeli officials held a handful of meetings since 2014 regarding their common Iranian foe.
The U.S.-brokered nuclear deal with Iran, seen as a slight to both Israel and the Saudis, only served to solidify this relationship further as did Obama's Middle East doctrine that is based on creating a balance of power between Iran and Saudi Arabia. Saudi Arabia recently reacquired the islands of Tiran and Sanafir from Egypt and was quick to declare that it will honor past Egyptian agreements regarding freedom of passage – an unsubtle wink to Israel. In addition, on May 5, 2016, Prince Turki bin Faisal, Saudi Arabia's former intelligence chief and one-time ambassador to Washington, and retired IDF Maj. Gen. Yaakov Amidror, former national security advisor to Israeli Prime Minister Netanyahu, held a public dialogue hosted by the Washington Institute for Near East Studies.
The PA is the most overtly pro-Saudi party in the Israel-Palestinian conflict. It often speaks out against Iran and it sided with Saudi Arabia after the execution of Nimr. The PA also decided to join the Saudi-led Islamic Military Alliance. On January 6, 2016, Palestinian Authority President Mahmoud Abbas stated: "We stand with Saudi Arabia in everything." On the same day, Palestinian ambassador Basem al-Agha echoed Abbas' sentiments by castigating Iran: "The Iranian government doesn't support the Palestinian Authority, which is at the forefront of confronting the Israeli enemy The Palestinians have suffered from Iran's actions" Notably, in June 2015, the Kingdom increased its monthly aid to the Authority's budget from $14 million to $20 million. This is while other donor countries substantially reduced their aid to the PA in comparison to previous years. As the PA's budget is heavily reliant on foreign aid, Saudi influence over the Authority is strong indeed and pressure to make compromises in the context of a multilateral arrangement can be applied if needed.
Salman's recent exercise in diplomacy has effectively placed the Israel-Palestine conflict under the Saudi umbrella. For states like Egypt, Jordan, and Turkey, normalizing or advancing relations with Israel has less to do with Iran and more to do with immediate interests – such as energy needs and escape from isolation (Turkey), and much-needed military cooperation against more proximal foes like the Islamic State and Hamas (Jordan and Egypt). Notwithstanding remaining differences of opinion on issues such as the Muslim Brotherhood, these states – mostly due to financial incentives – are beginning to fall within the Saudi orbit. And as each independently improves its relations with the Jewish State, Saudi Arabia will soon be poised to lead in multilateral negotiations on the issue of Palestine and Israel's place in the Middle East. Whether Saudi Arabia assumes this mantle remains to be seen.
Nicholas Saidel is the Associate Director of the Institute for Strategic Threat Analysis & Response (ISTAR) at the University of Pennsylvania.
Click the alert icon to follow topics:
ICYMI
Ken Burns' Brilliant 'The U.S. and the Holocaust' Has Only One Problem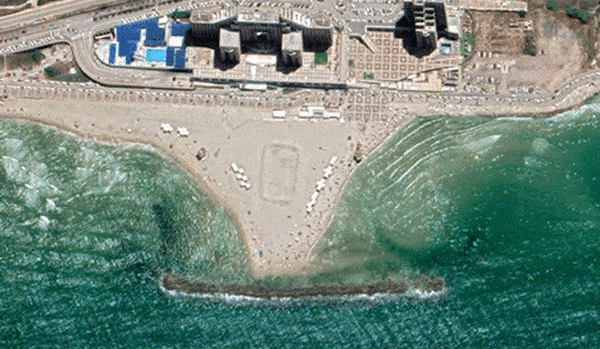 Facing Rapid Rise in Sea Levels, Israel Could Lose Large Parts of Its Coastline by 2050
As Israel Reins in Its Cyberarms Industry, an Ex-intel Officer Is Building a New Empire
How the Queen's Death Changes British Jewry's Most Distinctive Prayer
Chile Community Leaders 'Horrified' by Treatment of Israeli Envoy
Over 120 Countries, but Never Israel: Queen Elizabeth II's Unofficial Boycott