IfNotNow and the Perils of Being a 'Single-issue' Diaspora Jew
It's little wonder that those who remember they are Jews only when its time to criticize the Jewish state have zero influence on the Jewish community.
Members of IfNotNow march through the streets of Washington, D.C., April 19, 2016.
Credit: Gili Getz
A small group of young Jewish-American activists created a stir in the American media by holding "liberation seders" on Passover two weeks ago. Some even got themselves arrested by trying to do so at the headquarters of the Anti-Defamation League in New York, after demanding that the Jewish community recognize that it cannot continue to talk of freedom, as one does at the Pesach seder table, without highlighting the fact that under Israeli occupation, the Palestinians are not free.
The group calls themselves IfNotNow, quoting Hillel the Elder's words in Pirkei Avot: If not now, when?
Why now? Because apparently, as next year's 50th anniversary of the occupation approaches, the group believes that Jews in America must wake up to the reality of the deprivation of Palestinians' rights.
If not now, then what? If not now they will no longer support Israel? They will cease to be affiliated with the Jewish community? Be ashamed to identify as Jews? But why now – and why over this?
There is no doubt that for Israelis, the moral morass of the occupation is the most serious source of corruption and dysfunction hampering the country's present and future, but is it the same for Diaspora Jews?
With many major issues facing Jews in America and Europe, question marks looming over their capability to ensure continuity and enduring Jewish identity, and the worrying undercurrents of Jew-hatred contained in the rise of politicians like Donald Trump in the United States, Jeremy Corbyn in Britain and Marine Le Pen in France – is now the moment when their most burning concern is Israel's occupation of the Palestinians?
American-Jewish pundits are going through one of their periodical phases of hand-wringing over the alienation of young idealistic Jews from Israel and from Judaism itself, due to the intransigence of the Israeli government over solving the conflict with the Palestinians. This may be true, though there are plenty of other reasons why young Jews in the U.S. and other parts of the Diaspora are not interested in their Jewishness or in Israel, but it is based on the premise that the occupation is in itself both a major problem for non-Israeli Jews and that they somehow can and must act to end it. Not only is that a much harder claim to stand up, but it also runs the risk of making the occupation into the main focus of Jewish life for many young Jews. They could become single-issue Jews.
This single-issue focus could turn such a person into what British writer Howard Jacobson lampoons as an "as-a-Jew" – one of an assortment of minor D-list British celebrities whose sole Jewish identity and involvement in Jewish cultural and public life can be seen in an eagerness to sign petitions and open letters to The Guardian, saying that "as Jews," they have to condemn in the strongest possible terms Israel's treatment of the Palestinians.
Little wonder that those who remember they are Jews only when it's time to criticize the Jewish state have zero influence on the Jewish community or on British government policy.
It may be unfair to accuse the young firebrands of IfNotNow of being as-a-Jews; at least some of them are or have been active in their communities and other Jewish causes. But in the very name of their movement, there is an implied ultimatum that ending the occupation has become close to an existential issue for them as far as their Jewish identities are concerned. Is it indeed an ultimatum? What will they do next when the occupation doesn't end now?
Focusing solely on the occupation and the Israeli-Palestinian conflict has also proved to be downfall of the Israeli left. Its parties allowed themselves from the mid-1990s to be defined just by this one issue, without presenting a wider social-democratic program and engaging with the sections of the Israeli public less disposed to their single-issue agenda.
Labor has been incapable ever since then of regaining power, and as a result has lost its way and isn't even sure anymore what it stands for. Meretz is struggling just to survive and its leaders were actually worried in last year's elections that they may not even make it into the Knesset.
Surveys continue to show that a majority of Israelis are still in favor of a two-state solution in principle – they just don't see how it's possible under the current circumstances.
Israel's left-wing politicians have failed both to articulate new ways to solve the conflict, but, just as crucially, have not presented at the same time a blueprint of how to build a better and more equal Israeli society during the period in which the conflict is not yet solved. Jewish activists form the Diaspora must also learn from their mistakes.
Israel under Benjamin Netanyahu believes that it can continue pursuing a right-wing policy in which the Palestinian issue is effectively frozen, even if the president of the United States is visibly displeased.
What are the chances of Barack Obama, in the remaining months of his tenure, increasing pressure on Israel to solve the conflict? How likely is the next president to do so? And even if such pressure comes, with the diminished influence of the U.S. in the Middle East, how effective will it be? Would it evoke a pragmatic response – or perhaps the opposite response?
Netanyahu or a future Israeli prime minister might feel that the Jewish state will be served better by a multipolar set of alliances that include Vladimir Putin's Russia and Asian powers such as India and China.
Israel survived the first two precarious decades of its existence without significant U.S. support, and it is in a much better position to do so now. No one wants that to happen, but it's not unthinkable. If America's influence over Israel decreases, how much influence will the largest Jewish Diaspora community retain?
None of this means that like-minded Israelis and Diaspora Jews must give up their hopes and attempts to end the occupation. It does mean, though, that there have to be other courses of action to do so besides pressuring the U.S. administration to pressure the Israeli government. The most direct course is through the Israeli public that elects that government. In engaging with Israelis the left must acknowledge they have many legitimate concerns, not all of which are directly related to the Israel-Palestine conflict.
The right wing both in Israel and among American Jewry can claim, with at least some justification, to be more engaged with Jewish life on many levels, not just with respect to the question of occupation and settlements. This has contributed in a significant way to their success. Not only will a single-issue campaign never succeed in remedying this, it also opens the campaigners up to the accusation that they are single-issue Jews who have nothing else which connects them to Israel and Judaism.
Click the alert icon to follow topics:
ICYMI
Ken Burns' Brilliant 'The U.S. and the Holocaust' Has Only One Problem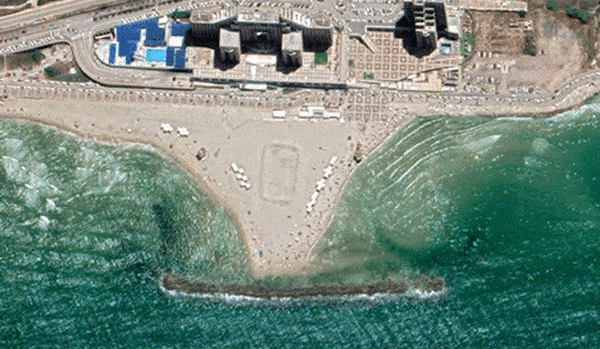 Facing Rapid Rise in Sea Levels, Israel Could Lose Large Parts of Its Coastline by 2050
Lapid to Haaretz: 'I Have Learned to Respect the Left'
The Mossad's Fateful 48 Hours Before the Yom Kippur War
As Israel Reins in Its Cyberarms Industry, an Ex-intel Officer Is Building a New Empire
How the Queen's Death Changes British Jewry's Most Distinctive Prayer