How the U.K. Labour Party's 'Zionist Problem' Started
Once a warm home for left-wing Zionists, the British left developed a campaigning language of anti-Zionism that adopted analogies to apartheid and Nazism and accusations of 'divided loyalties' whose effects are reverberating today.
Britain's opposition Labour Party leader Jeremy Corbyn, attends the opening of the "I Am The Greatest" exhibition at the O2 in London, Britain March 3, 2016.
Credit: Reuters
It is easy to forget that, for much of its history, the British Labour Party provided a welcoming political home for left-wing Zionists. Either side of the World War II influential Labour figures including Arthur Henderson, Josiah Wedgwood, Stafford Cripps, Ian Mikardo, Nye Bevan, Hugh Dalton, Richard Crossman, Manny Shinwell and Harold Wilson, brought a discernibly pro-Zionist influence to bear upon party policy. "The Party's Palestinian policy," Crossman wrote in 1946, "was the result of a profound conviction that the establishment of the national home is an important part of the Socialist creed."
Before 1967, the Palestinian Arab cause was not one which generated great enthusiasm within mainstream Labour circles and it was only with the creation of the Labour Middle East Council (LMEC) in 1969 that Christopher Mayhew, former Minister for the Navy and MP for Woolwich, established the first of what would become a network of pro-Palestinian groups within the Labour movement.
By the early 1980s, that network included the "Trade Union Friends of Palestine" (an organization noted for the flamboyant rhetoric of its ambitious General Secretary, George Galloway), a "Labour Committee on Palestine" backed by Ken Livingstone's Greater London Council and a "Labour Friends of Palestine" group that was formally established within the Party in 1986.
Mayhew and his allies developed a campaigning language of anti-Zionism which proved to be both hugely influential and, as the current Labour leadership is now discovering, deeply controversial. Mayhew himself did much to develop comparisons between Israel and South Africa. In a June 1971 article for the Fabian journal, Venture, he argued that, "support for Israel and Zionism is as difficult as support for South Africa and apartheid and for very similar reasons." The cry of "Israeli apartheid" would quickly become a staple feature of British anti-Zionism.
Likening Zionists to Nazis also emerged as a deliberate rhetorical strategy. "Germans who massacre Jews are tried and executed," Mayhew liked to observe, "Jews who massacre Arabs are elected to political leadership." Ken Livingstone's Labour Herald newspaper adopted the "Zionism equals Nazism" trope with enthusiasm in the 1980s; perhaps the most notorious example being a cartoon which, under the caption "The Final Solution," depicted Menachem Begin in SS uniform, standing atop a mound of bloodied corpses, making a Nazi salute.
The notion that British Jews possessed "dual" or "divided" loyalties, a theme with a long and problematic history, was also revived by Mayhew and his LMEC comrade, Andrew Faulds in this period. After the Six Day War, Mayhew published an article attacking the Chief Rabbi, Immanuel Jakobovits, for addressing British Jews "almost as if he and they were Israeli nationals." Faulds' pronouncements on this theme were even more forthright and, during the 1973 Yom Kippur War, he stated that the "Zionist propaganda machine" was "a fifth column in every country of the world with a Jewish community," a claim for which he was promptly sacked from the Shadow Cabinet by Harold Wilson.
Accusations against British Jews on the grounds of "divided loyalties" recurred at regular intervals thereafter, more recently in comments made by the Labour MP for Newport West, Paul Flynn, who in 2011 questioned whether a "Zionist" could serve as British Ambassador to Israel with the same effectiveness as "someone with roots in the U.K. [who] can't be accused of having Jewish loyalty."
Another disturbing characteristic of this emerging rhetoric was an emphasis on the conspiratorial nature of Zionism and its supporters. "The Jews," Mayhew observed in an ill-judged moment in 1967, "are about the world's best propagandists and pushers" and he even appears to have believed that sales of his 1987 autobiography suffered because of "Jewish pressure" as "so many Jewish supporters of Israel are literary editors, reviewers, members of library committees and so on." Faulds also reportedly complained to Tam Dalyell that the "Jewish Labour establishment" had "cost him a peerage." The conclusion that this kind of rhetoric blurred the boundaries between anti-Zionism and anti-Semitism seems inescapable.
Mayhew (who earlier in his career had helped set up Britain's Cold War anti-Communist propaganda organization, the Information Research Department) liked to present himself as someone who could "speak about the problem of left-wing take-overs of democratic organizations with longer practical experience than anyone else in the United Kingdom."
Disconcerted by the rising influence of the Labour left, he left to join the Liberal Party in 1974 and watched on as a new generation of activists flocked to his anti-Zionist networks in the name of a left-wing radicalism that he had rejected. He warned in 1981 that the pro-Palestinian movement in Britain faced a "Bennite militantly left threat" and, the following year, refused to address a rally protesting against the Lebanon war on the grounds that he was not prepared to share a platform with the General Secretary of the Communist Party.
Christopher Mayhew succeeded in his aim of transforming Labour Party attitudes towards Israel. In so doing, however, he unwittingly paved the way for an alliance between radical anti-Zionism and the far-left within mainstream Labour circles. Ironically for a politician derided by the Labour Left as a closet "Tory," Mayhew's legacy to the party he abandoned might now be said to be the deeply discomfiting views about Zionists and Jews which certain members of Jeremy Corbyn's Labour Party have recently been shown to hold.
Dr. James R Vaughan is a lecturer in International History in the Department of International Politics at Aberystwyth University. He is the author of numerous articles on British politics, diplomacy and the Middle East. Follow him on Twitter: @equusonthebuses
A longer version of this article, 'Mayhew's Outcasts: Anti-Zionism and the Arab lobby in Harold Wilson's Labour Party' appeared in Israel Affairs, Vol. 21, No. 1 (2015), pp. 27-47.
ICYMI
Ken Burns' Brilliant 'The U.S. and the Holocaust' Has Only One Problem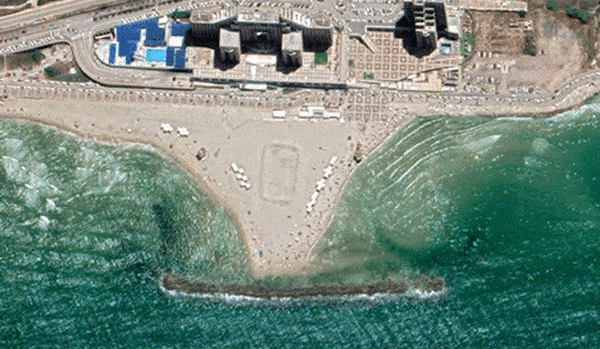 Facing Rapid Rise in Sea Levels, Israel Could Lose Large Parts of Its Coastline by 2050
Lapid to Haaretz: 'I Have Learned to Respect the Left'
The Mossad's Fateful 48 Hours Before the Yom Kippur War
As Israel Reins in Its Cyberarms Industry, an Ex-intel Officer Is Building a New Empire
How the Queen's Death Changes British Jewry's Most Distinctive Prayer