Dear Oscar Star, Say Yes to That Free Israel Trip. Then Do This.
Listen to all those people telling you not to make the trip. They have important points to make. Then go anyway.
Cast member Jennifer Lawrence poses at the premiere of 'The Hunger Games: Mockingjay - Part 2' in Los Angeles, California November 16, 2015.
Credit: Reuters
Dear major Academy Award nominee or presenter,
By now you've doubtless gotten wind of that blue card in the swag bag. The trip to Israel, all expenses paid. By now, also, people will have given you all manner of reasons not to go.
Some, your agent maybe, may tell you not to go because it's dangerous — that there are Palestinian knife attacks against Israeli and other civilians every single day, sometimes several times a day.
They're right. But it's not a reason to turn down the trip.
Others, supporters of BDS, the movement to boycott, divest from, and sanction Israel, may tell you to stay away from here because this is a propaganda stunt by an Israeli government trying to whitewash away serious allegations of violations of human rights.
They're right, too. But that's not a reason to stay away from here either.
After all, they're asking you to boycott an entire country, and all the people in it, without even having seen it for yourself.
Come. Take the trip. See for yourself.
But before you do, I, as a card-carrying Israeli, have some unsolicited advice for you.
DISCLOSURE: Just so you know, before I was a card-carrying Israeli, or ever imagined I might be such a thing, I was a native of Studio City and an employee of Universal Studios (janitorial position, serial summer hire). At some point, I took a trip to Israel, and I found out that absolutely nothing I had read about the place, seen on the news, or been told, was anywhere near what it's really like here.
What I found out — and have learned anew, year by tumultuous, troubling, soul-battering year — is that Israel and the exceptional people who live there are nothing like you think they are. Whatever you think they are.
No other place in the world inspires the passion and the havoc, the loyalties and the lies that this one does. "Feeling alive" here is not an issue. You can't know anything about it from a distance. You need to see it, feel it under your feet and before your eyes, take in the air, in order to realize that something inexplicable happens to the people who come here.
So listen to all those people telling you not to make the trip. They have important points to make. Then go anyway.
You can be a force for making this a better place. You can help heal the deep wounds from which everyone who lives here suffers. It all depends on how you approach the trip. More about that in Section 4 below.
Before that, though, why in the world would you want to want to come to a place like this?
1. It's family.
Prepare to meet some of the best people you will ever get to know.
And yes, prepare to meet some of the worst as well.
This is a family. A sprawling, fiercely loving, profoundly flawed, astonishingly dysfunctional extended family.
It is, as well, a family related by blood and scripture, by land and the many cruelties of history, to the people who are our neighbors.
This, you will come to realize, is not really a country at all. And not only because it has no recognized borders or capital city. Or because there are those who, openly or covertly, wish it did not exist at all.
It's a family, and if you spend time wisely in this place, it will become part of yours.
Prepare to fall in love. With the place, and with many of its people. And prepare not to understand exactly what this love is.
Prepare, also, to be appalled.
War does terrible things to people, and the people of this country have been at war for every moment they have lived here. In many ways their spirit is beaten to rags. They have unimaginable reservoirs of raw grief and rage.
They have terrible leaders. They know it. But they have lost the belief that they can have better ones. They feel that they only have each other, and, judging by their leaders, they're right.
Under the circumstances, leaving them alone, isolating them, hasn't helped anyone over the decades, and in many ways makes what is unendurable for everyone here, even worse.
Prepare to meet people in power who are amateurish, fat-headed, cluelessly provincial, unintentionally — or not — insulting. Starting with the tourism minister.
2. This is your chance. Learn from them. Ask them a straightforward, three word question: "What's your plan?"
Don't let them jerk you around. There are millions of Palestinians living under Israeli rule in the West Bank and East Jerusalem. They are living there without basic human rights, without the right to vote, without rights of free speech, without true freedoms of religion, assembly, movement, or professional or academic opportunity.
If government people don't answer directly, if they blame the Palestinians or blame BDS or blame Iran or ISIS or President Obama, don't take it personally. Ask them again.
"What's your plan?"
Don't let them jerk you around. Don't let anyone suggest that this is not a military occupation. Take it from an objective observer, a former resident of Studio City: Anyone in the army who was ordered to occupy Palestinians — as I was, on and off for nearly 20 years — can tell you about the rights denied, the medical services delayed, the extremists on both sides making the impossible worse.
A further word of unsolicited guidance:
3. The equation is simple. Israel - Occupation = Democracy. Israel + Occupation = Apartheid.
Which way is Israel headed?
If you meet the leaders, applaud the proposal by Finance Minister Moshe Kahlon to present a new package of economic measures to benefit Palestinians. Then ask where, exactly, this proposal stands.
Applaud, as well, the government's proposal for the largest-ever plan to advance the economic development of Israel's Arab population, which from Israel's founding has suffered from discrimination and second-class citizen status.
Then ask, where, exactly, this proposal stands.
4. Everything in Israel is either much better or much, much worse than it was intended to be. Nothing is what it's supposed to be.
There are great people, many of them, who are working to make the Israel they love a better place.
You need to be here to see them. Their work may be as quiet as the bakery down the street from my house, where the Palestinian Israeli family of bakers wears shirts in Arabic, Hebrew and English, reading "Arabs and Jews Refuse to be Enemies."
You need to be here to appreciate them.
There are schools which, in their quiet way, are making radical strides toward a future which both Jews and Arabs can live with, and well.
Ask to visit the Hand in Hand schools, where Palestinian and Jewish Israeli children study together.
Ask to meet people from the human rights, religious freedom, pro-democracy and social justice organizations sponsored by the New Israel Fund, like the Association for Civil Rights in Israel, Rabbis for Human Rights, and Breaking the Silence.
Ask to meet people from Peace Now, working for transparency in Israeli policies in the West Bank and Gaza.
Ask to meet legislators working for a better Israel and human rights for all who live in the Holy Land, people like Ayman Odeh of the Joint List, Zehava Galon and Tamar Zandberg of Meretz, Merav Michaeli and Stav Shaffir of Labor / Zionist Union.
One more thing. Israelis may seem hard headed. But they're not stupid. They know they have bad leaders. They expect nothing from them, and they're right — they get nothing from them. Their leaders know how to stay in office — and that's it.
Come to Israel. Don't let extremists have the final say. Racism thrives on isolation and separation and fear. Just as occupation thrives on darkness.
Come to Israel. Shed light.
Click the alert icon to follow topics:
ICYMI
Ken Burns' Brilliant 'The U.S. and the Holocaust' Has Only One Problem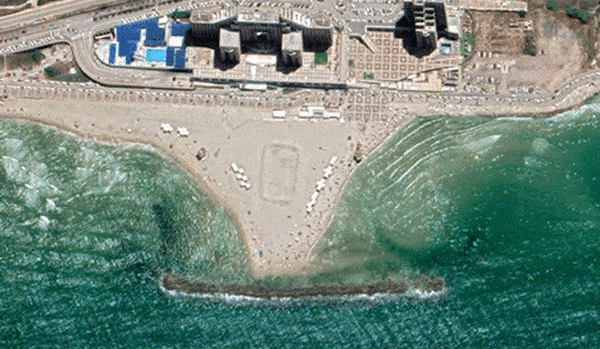 Facing Rapid Rise in Sea Levels, Israel Could Lose Large Parts of Its Coastline by 2050
As Israel Reins in Its Cyberarms Industry, an Ex-intel Officer Is Building a New Empire
How the Queen's Death Changes British Jewry's Most Distinctive Prayer
Chile Community Leaders 'Horrified' by Treatment of Israeli Envoy
Over 120 Countries, but Never Israel: Queen Elizabeth II's Unofficial Boycott