Religious War, in the Maccabean Era and in Our Time
ISIS shows that religious identity is an integral part of warfare today, but nice liberal folk can't conceive that fact.
A screenshot from a propaganda video released on July 5, 2014 shows Islamic State (ISIS) leader Abu Bakr al-Baghdadi addressing worshippers at a mosque in the Iraqi city of Mosul.
Credit: AFP
The Israel Defence Forces is about to become a lot less Jewish. According to a report by Gili Cohen this week in Haaretz, as part of the IDF General Staff's plans for reorganization and cutbacks, the Jewish Identity Branch of the Military Rabbinate is to be closed down. This decision, if it is actually enacted (religious orders, even those in uniform, have uncanny survival instincts), will be a huge relief to the generals who have a dim view of how the IDF's chaplaincy corps has been overreaching itself for years.
Instead of confining themselves to their traditional role of tidying the base synagogue and supervising kashrut in the canteens, a new generation of rabbi-warriors expropriated responsibility for the IDF's "fighting spirit," lecturing soldiers about going into battle on Jewish values and morals, enraging secular (and not a few religious) officers and supplying no end of stories of how the dati'im are taking over the army. But while cutting the military God-botherers down to size is probably a good thing for Israel's fragile democracy, is it a wise strategic move for an advanced fighting force in the 21st century?
As an army that prides itself on being on the cutting edge of high-tech warfare, recently forming a "cyber command," can the IDF allow itself to be more secular at a time like this? Religious identity is an integral part of warfare today, but even the far-sighted generals of Israel refuse to acknowledge it.
Why do Westerners hate to admit that religious wars are taking place in today's world? Is it due to their lack of imagination and disconnection from other cultures? Perhaps it's a sign of the pervasiveness of the Marxist view of history, that war is always about imperialism and dominance of economic resources, long after Marxism has been totally discredited as a political ideology. Whatever the reason, leaders such as Barack Obama who won't call terror attacks "Islamist" and David Cameron who on Wednesday at the parliamentary debate on strikes against ISIS in Syria insisted that ISIS had hijacked Islam which is "a religion of peace," and that it was now the West's duty to help Muslims "reclaim Islam." Cameron was only slightly more ridiculous as a Christian trying to define for Muslims what their religion means as Obama was earlier this year when he sought to interpret what Jewish values mean at a Washington synagogue.
In the terms of polite Western debate nowadays, if you seek to point out the obvious – that the great monotheistic religions are not predisposed to peace and brotherhood, you are immediately branded either as an Islamophobe or a militant atheist, or both. But it's not only Islam. Perhaps because we have got used to such affable popes as Francis or John Paul II, who nobody could imagine blessing Crusaders before they embark on a rampage of rape and looting, people have been lulled into thinking that religion is necessarily a force for good. But it isn't always.
Normally I wouldn't suggest we learn from Vladimir Putin but at least he gets this – no sooner had he decided to deploy Russia's air force to Syria three months ago, but a sycophantic Russian-Orthodox Church blessed his campaign as a "holy war" to save the beleaguered Christians in Syria.
Jihad isn't just for Muslims. And just to spread it out evenly, this is the point to remind that the most blatant use of Jewish religious fervor on the battlefield in recent years wasn't by the rabbis of the Jewish Identity Branch but by Col. Ofer Winter, who in a letter to his soldiers of the Givati Brigade before entering Gaza last summer directed them "to wipe out an enemy" who "curses and defames God."
Admitting that religion is a fundamental part of today's wars doesn't make you a militant atheist, hostile to all people of faith. It's just facing facts. From the individual acts of terror, Palestinians stabbing Israelis and Israelis burning a Palestinian family to death, these are much more acts of religious than political violence. It doesn't mean that religion is always a bad thing, just like political ideology can lead you to wonderful acts of social conscience or to genocide.
And anyway, what's so great about non-religious wars? The two world wars of the previous century were ostensibly irreligious affairs, as were many smaller conflicts such as Vietnam. Were they less bloody due to their secular nature?
Next week is Hanukkah, perhaps the most flexible of Jewish holidays. The eight days of candle-lighting and fried food-eating can serve just about any purpose: from a nationalistic celebration of independence from foreign colonialism to a convenient alternative to Jewish families who don't feel comfortable with Christmas but still want to take part in the winter festival of consumerism. But even before Hanukkah became a search for a healthy oil-free latke, its history had been perverted by Jewish educators and Zionist propagandists with 20th-century sensibilities.
The wars of the Maccabees were an intense religious struggle between Jewish traditionalist zealots and imperialistic Hellenizers, both Greek and Jewish. Any honest historical assessment should make us acutely uncomfortable – neither side should automatically be regarded the heroes of nice liberal Jews nowadays. But nice liberal folk can't conceive of religious war anyway.
It's pointless to insist that Islam is solely a religion of peace, just as it's deluded to cling to the belief that 2,000 years of exile transformed Judaism into a faith incapable of harming a fly or that Enlightenment totally banished cruelty and genocidal tendencies from Christianity. War and bloodshed are just as integral parts of religious faith as are peace and love. Western media doesn't give a platform to priests calling for holy war, which is probably a good thing, but the friendly rabbis and imams who do get invited to pontificate are doing us all a disservice by insisting that those killing in the name of religion are perverting their faith.
It is right and good that we chose to identify with the Maccabees' ethos of liberation from foreign dominance, but we cannot ignore that there will always be those who prefer their fundamentalist and violent intolerance. The Hasmoneans killed Jewish Hellenists before they had enough power to take on the Seleucid Empire. Religions offer both options to their adherents, and we deny that a man of faith can be both a murderer and a true believer at our peril.
ICYMI
Ken Burns' Brilliant 'The U.S. and the Holocaust' Has Only One Problem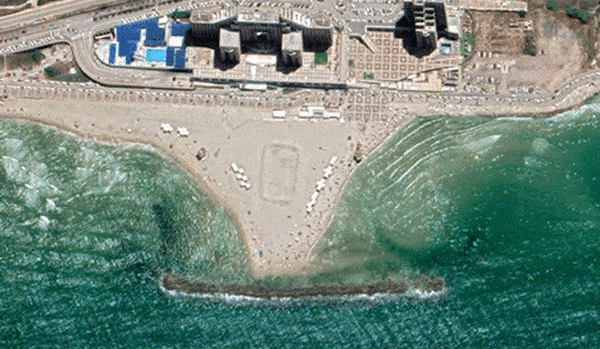 Facing Rapid Rise in Sea Levels, Israel Could Lose Large Parts of Its Coastline by 2050
As Israel Reins in Its Cyberarms Industry, an Ex-intel Officer Is Building a New Empire
How the Queen's Death Changes British Jewry's Most Distinctive Prayer
Chile Community Leaders 'Horrified' by Treatment of Israeli Envoy
Over 120 Countries, but Never Israel: Queen Elizabeth II's Unofficial Boycott