Why Did President Obama Ignore the Murder of a U.S. Teenager in a Terror Attack?
The U.S. administration's slow and lukewarm reaction to the killing of Ezra Schwartz is a worrying sign for those who believe that all victims of terrorism matter, whoever they are, wherever they are.
Hundreds of mourners gather at Ben-Gurion International Airport on Nov. 21, 2015 to part from Ezra Schwartz, who was killed in a terror attack.
Credit: David Bachar
U.S. President Barack Obama gave a press conference on Sunday in Malaysia in which he paid tribute and emotionally highlighted the tragic losses of the two Americans who had lost their lives to terrorism in recent days.
"Today, families in too many nations are grieving the senseless loss of their loved ones in the attacks in France and in Mali," Obama said. "As Americans, we remember Nohemi Gonzalez, who was just 23 years old, a design major from California State University. She was in Paris to pursue her dream of designing innovations that would improve the lives of people around the world. And we remember Anita Datar of Maryland. She's a veteran of the Peace Corps, a mother to her young son, who devoted her life to helping the world's poor, including women and girls in Mali, lift themselves up with health and education."
"Nohemi and Anita embodied the values of service and compassion that no terrorist can extinguish," Obama continued. "Their legacy will endure in the family and friends who carry on their work."
As Obama was speaking these moving words, the body of another American citizen abroad killed in a terrorist attack but unmentioned by the U.S. president was making its way to the United States after being escorted out of Tel Aviv's Ben-Gurion Airport by a crowd of hundreds of mourning Americans. The body of Ezra Schwartz, 18, who was gunned down in a car in Gush Etzion in the West Bank on Thursday while he was spending a year of study and volunteer work in Israel, was heading for Boston where he would be buried and grieved for by friends and family.
Schwartz, too, was a U.S. citizen who had lost a "beautiful wonderful life" amidst a "terrible death toll."
But, presumably, since he was killed in an attack in the politically complicated West Bank and not in one of the higher-profile attacks that was rocking the world, Obama chose to refrain from stepping into a political minefield by mentioning Schwartz on camera.
By the time the Sunday press conference took place, Obama's staff would surely have been fully aware that the omission would be noticed. Over the weekend, an online reaction by supporters of Israel - both groups and individuals - had been building against what was perceived as the lack of a swift condemnation of Schwartz's killing by the White House, and an insufficient reaction by the administration as a whole.
The sentiments culminated in a petition on the White House website complaining that the "government of the United States of America has failed to publicly acknowledge Ezra's murder and has taken no action to condemn the terror attack that took three lives. We respectfully request that President Obama publicly acknowledge the senseless killing of Ezra Schwartz."
The petition, thus far, has garnered more than 27,000 signatures.
It wouldn't be fair to claim that the death of the young Jewish American was utterly neglected by the administration immediately following his death. Journalists who sought a State Department reaction on Thursday did receive a statement: "we condemn these terrorist attacks against innocent civilians in the strongest possible terms. As we've made clear, we remain deeply concerned about the situation and continue to urge all sides to take affirmative steps to restore calm and prevent actions that would further escalate tensions."
At a scheduled State Department briefing, US State Department spokesman John Kirby mentioned the young American by name, tweeting a video of his statement with the text "@JohnKerry saddened to learn of Ezra Schwartz's death, American murdered in terror attack while studying in Israel."
The video from the briefing might have made more of an impact if Kirby had managed to inject a bit of emotion instead of racing through it monotonically in classic routine briefing style, eyes glued to the page - as if he was reading the phone book on a deadline.
A warmer message came later in the day from U.S. ambassador to Israel Dan Shapiro, who posted on Facebook just before the beginning of the Sabbath on Friday: "As Shabbat begins, we mourn with the family and friends of Ezra Schwartz z"l, an American citizen murdered yesterday in a terrorist attack. Our thoughts and prayers are with them, and with the families of the other victims of yesterday's attacks. May God bring them comfort."
Then, on Saturday night, the deputy chief of mission for the U.S. embassy in Israel delivered a message from Shapiro to those at the emotional ceremony seeing off Schwartz's body to the United States.
Finally, three days after the attack, on the day of Schwartz's funeral, in response to a query by The Jerusalem Post, a White House official offered condolences to the family. "We were deeply saddened to learn about the death of Ezra Schwartz, an American citizen from Massachusetts who was murdered in a terrorist attack," National Security Council spokesperson Ned Price said. "We extend our deepest condolences to the victim's family, friends and community as well as the family and friends of the four other people killed in yesterday's tragic events."
So while the response did not come as quickly or as emotionally as those feeling pain over Schwartz might have liked, there was, in fact, a response.
Had Schwartz's murder not occurred precisely at the time that there was an outpouring of international concern for and identification with the attacks in Paris, it is doubtful whether there would have been a groundswell of outrage. But for those feeling pain over his loss - and the other victims of terrorism in Israel - the contrast with the way the world, officially and unofficially, has embraced France has been impossible to ignore.
One Israeli-American posted a photo of Schwartz on Facebook along with the US State Department statement immediately after the attacks in France: "These are heinous, evil, vile acts. Those of us who can must do everything in our power to fight back against what can only be considered an assault on our common humanity."
She contrasted them unfavorably with the carefully measured words regarding terrorism in Israel.
"Why the different tone?" she asked. "Wasn't Ezra's murder a 'heinous, evil, vile act'? In the case of attacks on innocent Jews and Israelis, the State Department wants 'all sides' to 'restore calm' and 'prevent actions that would further escalate tensions.' In the case of attacks on innocent French people, however, the State Department wants to see everyone 'fight back' against 'evil', and is strikingly unconcerned about 'restoring calm'.
Another Facebook poster personally addressed President Obama, saying that "you have spoken out for gay rights, women's rights, and so many other things. Yet, Mr. Obama, you remain silent when Ezra Schwartz, of blessed memory, an 18 year old AMERICAN, is murdered in cold-blood in Israel by a Palestinian terrorist. That leaves me with one question, Mr. President - is Ezra Schwartz's life worth less to you than the lives of the rest of these Americans?"
In addition to the numerous posts and Tweets comparing the sympathy level when it came to the other American victims of recent attacks, the White House response was also compared unfavorably to its treatment of American teenager Tariq Abu Khdeir, who was beaten by Israeli police during a riot in 2014, saying it was "disappointed" and "profoundly troubled."
While the Obama administration reaction certainly wasn't all that it could be, the angry attacks were merely the tip of an emotional iceberg of feeling that - as Israel bleeds daily in the current wave of terror - the interest in the press and social media on the Internet has faded into near non-existence.
At best, this is attributed to the fact that the violence is happening so frequently, it has become non-newsworthy, a "dog bites man" story. At worst, it is evidence that world sentiment has turned so far against Israel that the unspoken message is that Israelis should expect this to be their fate as punishment for its government's policies.
But Schwartz was not an Israeli citizen - he was an American Jew.
The feeling that his death was not properly condemned hit U.S. Jewry harder because of their close identification with him and his family - many of them send their kids to Israel on Birthright trips and gap years after a childhood of Hebrew school and Jewish summer camp just like Schwartz.
So it wasn't a huge leap for them to imagine themselves or their child killed for being in the wrong place at the wrong time on a trip to Israel, being ignored by the U.S. president and the media, and being absent from online expressions of grief, solidarity or outrage.
Los Angeles musician Peter Himelman wrote in his blog: "Why aren't the people who changed their Facebook photos to the French flag, changing it today to the Israeli flag? Changing it to Ezra's picture? But who am I kidding? Israel isn't France is it? No, it's just a bunch of Jews over there and maybe, just maybe they deserve it, right?"
Journalist Jordana Horn noted that "within hours" of the Paris attacks, her Facebook feed was "awash" in blue, white and red, but there has never been an option available for identification of the many other countries plagued by terror, including Israel.
"It is incredibly rare that I see a non-Jewish person in my feed posting anything along the lines of "My God — that's horrible" in the wake of the most recent stabbing, shooting or car-ramming terror attack in Israel, even when it's particularly unconscionable. Why is that? Is it because people fear that expressing the arguably uncontroversial viewpoint of "People shouldn't be hacked to death with axes while they're at prayer" is to take a highly partisan step into the incomprehensibly deep, thick swamp of the Israeli-Palestinian conflict? Or is it because Jews are murdered so frequently in Israel that it just isn't as shocking as Parisians being murdered in a music hall?"
The answer, of course, is "both." And both are perfectly understandable reasons to want to shy away from the whole mess, whether one is merely a Facebook poster or the president of the United States. But that doesn't mean it isn't painful for those mourning Ezra Schwartz - and that it shouldn't be a very disturbing sign for Israelis, or for that matter, for any victims of terror or strife who want to believe that innocent lives lost to terrorism matter wherever the violence takes place.
Click the alert icon to follow topics:
ICYMI
Ken Burns' Brilliant 'The U.S. and the Holocaust' Has Only One Problem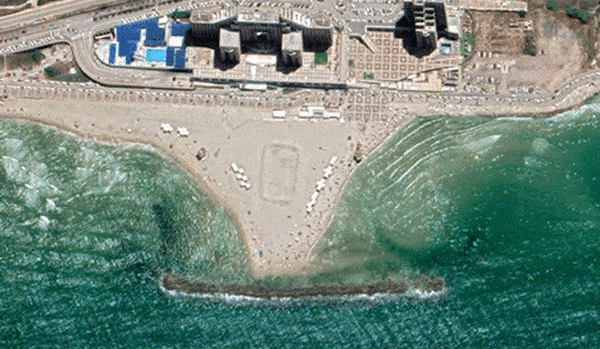 Facing Rapid Rise in Sea Levels, Israel Could Lose Large Parts of Its Coastline by 2050
As Israel Reins in Its Cyberarms Industry, an Ex-intel Officer Is Building a New Empire
How the Queen's Death Changes British Jewry's Most Distinctive Prayer
Chile Community Leaders 'Horrified' by Treatment of Israeli Envoy
Over 120 Countries, but Never Israel: Queen Elizabeth II's Unofficial Boycott