There's a Method to Netanyahu's Hitler-Mufti Madness
But bizarre Holocaust revisionism casts new doubt on past moves, including controversial Congress speech and odd silence at UN.
Prime Minister Benjamin Netanyahu addressing the 37th World Zionist Congress, October 20, 2015.
Credit: AFP
Benjamin Netanyahu is a scion of personal and political dynasties of renowned orators. His grandfather, Nathan Mileikowsky, who bequeathed his pen name "Netanyahu" to his children, preached Zionism to crowds of Polish and Lithuanian Jews a century ago. His political predecessor, Menachem Begin, mesmerized many with his soaring rhetoric. And the founder of the Revisionist movement, Zeev Jabotinsky - whose personal secretary for a brief period was Netanyahu's father - was described by disciples as a writer and speaker of truly extraordinary talent.
"Jabotinsky viewed the art of the word and of man's expression as the pinnacle of culture," according to the preface to a collection of his speeches at the Jabotinsky Institute. In his book Zion and State, Baruch College Professor Mitchell Cohen writes somewhat more acerbically that "as a political leader, Jabotinsky was not only effective with words and ritual but obsessed with them. He often mistook them for reality."
Many people believe that this is what happened this week to Benjamin Netanyahu when he invented a non-existent dialogue in the November 28, 1941 Berlin meeting between the Mufti of Jerusalem Haj Amin al-Husseini and Adolf Hitler: He talked a bridge to far and got swept away by his own rhetoric. In the process, Netanyahu further damaged his personal credibility, hurt his ongoing hasbara efforts and cast doubt on his very competence in office.
To attract the attention of his audience at the World Zionist Congress, Netanyahu concocted a conversation between Hitler and the Mufti for which there is no historical testimony, not even in the cherry-picked evidence the prime minister later offered in his own defense. "Burn them," the mufti supposedly said, and Hitler, as recounted in one of the thousands of jokes, barbs and memes that consequently engulfed the Internet, could have replied: "Now there's an idea. Why didn't I think of that first?"
Within hours, an international scandal erupted, forcing Netanyahu to backtrack and launch a counteroffensive: his critics, he claimed, were trying to whitewash the Mufti's rabid hatred of Jews and well-documented sympathy for the Nazis. Adding insult to injury, perhaps, the Prime Minister's Office made a big deal of a website editor who had photo-shopped Netanyahu in an SS uniform: It's hard to understate the cynicism of the move, at a time that Israel is marking the 20th anniversary of the assassination of Yitzhak Rabin, who was similarly draped in SS garb in the violent demonstrations against the Oslo peace process, in which Netanyahu was the main speaker.
Most of the Jewish leaders and American journalists I've spoken to in the past 48 hours weren't buying it, possibly because most of them still seemed to be in a state of shock. Although the overwhelming majority of Jewish organizations remained deafeningly silent – with the notable exception of a soft-spoken statement issued by the Anti-Defamation League – behind the scenes many officials said that Netanyahu had crossed a red line. It's one thing to compare the ayatollahs in Tehran or the politicians in Ramallah as successors to the Nazis but quite another to cast doubt on the murderous malevolence of Hitler himself. American Jews traditionally bow their heads to Israeli leaders on the country's security, but they have yet to concede the legacy of the Holocaust as well. The resemblance of Netanyahu's words to one of the principal tenets of notorious of Holocaust deniers shocked some of Netanyahu's most stalwart supporters. "What was he thinking?" one of them asked, "and why can't he let go of the Nazis?"
Netanyahu's bizarre bit of revisionism also cast a retroactive negative light on some of his previous controversial moves and statements. Perhaps Netanyahu's speech to Congress in March, which even AIPAC insiders now admit may have doomed chances to scuttle the Iran nuclear deal, was the result of similar faulty judgment? What does it say about Netanyahu's insistence that the deal was a "colossal mistake?" And what about his election day Facebook warning about the "Arabs coming in hordes" to the polling booths? And the 45-second silent treatment he recently gave the United Nations General Assembly - was that a brilliant ploy or a gimmick out of control? When you look at the video, it's hard not to be perturbed.
Netanyahu's disturbing depiction of the 1941 meeting could even be freaking out the White House, which is already on edge in advance of his meeting with President Obama next month. Despite their mutual pledge to open a new chapter in relations after the Iran deal conflict, some White House officials are said to be on guard against new surprises: For them, it is Netanyahu who "doesn't stop for red lights" as the late Prime Minister Ariel Sharon was famously portrayed. After the Mufti-Hitler incident, some may suspect that Netanyahu isn't even aware of his own reckless driving.
Netanyahu's colleagues in the cabinet and the coalition refrained from sticking up in his defense, but many of his fans on social media steadfastly maintained that he is "a magician", the adjective briefly used to describe the first part of his first tenure. Netanyahu's supposed faux pas on the Holocaust will follow in the footsteps of his politically incorrect election day exhortation to Likud voters to counter the marauding Arab hordes: "The dogs will bark, the caravan goes on," as the Arab saying goes, and Netanyahu will only gain in popularity. In the meantime, public opinion will be seared with the Nazi overtones of the Mufti and of his Palestinian successors, including Yasser Arafat and Mahmoud Abbas.
Even Netanyahu's harshest critics have to consider the possibility that "Though this be madness, yet there is method in 't", as Shakespeare's Polonius says of Hamlet. After all, his words to the Zionist Congress weren't a deviation from the storyline that he has been pushing since the start of the recent violence, but rather its crescendo. First he spoke of Abbas' "Big Lie," alluding to the term most identified with Nazi Propaganda Minister Josef Goebbels; then he sent Minister Yuval Steinitz to compare Abbas' incitement directly with Nazi agitation against Jews; finally he came in for the coup de grace, with his revisionist version of Holocaust history.
It's not even a new claim: In his 1995 book "A Place Among the Nations," published in advance of his first run as candidate for prime minister, Netanyahu wrote about the Berlin meeting, though in this earlier version Hitler was more assertive, telling the Mufti that "we both have a common target: to annihilate the Jews of Palestine." Even then, years before he became Palestinian leader, Abbas was described by Netanyahu as a direct successor to the Mufti's genocidal intentions concerning the Jews: He cites an Abbas speech criticizing Jewish aliyah to Israel and equates it with the Mufti's efforts against Jewish emigration from Europe, which may have abandoned them to Nazi annihilation.
In the book and in this context, Netanyahu describes the Nazi-inspired PLO as a "Trojan Horse" bent on destroying Israel from within. Rabin, he claimed, had "run amok" and allowed this menace to enter Israel under the terms of the Oslo Agreements; it would need to be removed, if not eradicated. Instead of a PLO-led "Islamic Palestinian State" that would pose an existential danger to Israel, Netanyahu suggests "autonomy" for the Arabs of Judea and Samaria, but only in the cities and towns, which would have authorities similar to a local council or municipality. Habayit Hayehudi's Naftali Bennet has floated similar plans.
So that the alternative to the notion that Netanyahu isn't completely there anymore is that, on the contrary, he is solid as a rock. Contrary to all the claims that his positions have changed, including his own Bar-Ilan speech on the two-state solution, they actually haven't. The Nazis may move from Tehran to Ramallah and back, Barack Obama will remain Neville Chamberlain only for the remainder of his term in office, but Netanyahu plods on, at least in his own mind, as Winston Churchill. The only thing he promises the Israelis is a future of blood, sweat and tears: many tears, and very little hope.
Click the alert icon to follow topics:
ICYMI
Ken Burns' Brilliant 'The U.S. and the Holocaust' Has Only One Problem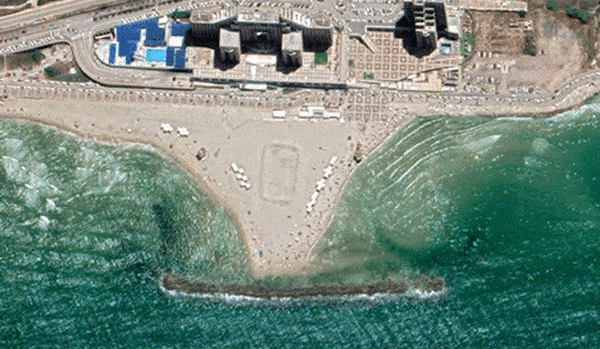 Facing Rapid Rise in Sea Levels, Israel Could Lose Large Parts of Its Coastline by 2050
Lapid to Haaretz: 'I Have Learned to Respect the Left'
The Mossad's Fateful 48 Hours Before the Yom Kippur War
As Israel Reins in Its Cyberarms Industry, an Ex-intel Officer Is Building a New Empire
How the Queen's Death Changes British Jewry's Most Distinctive Prayer