Drunk Sex: Recklessness or Rape?
Feminists condemning what they say was an incident of gang rape at a Tel Aviv club are just showing their hypocrisy – and cluelessness.
Feminists and other demonstrators calling for closure of Allenby 40, which has since been temporarily shuttered.
Credit: David Bachar
If you drink, you don't drive and now it's also clear that if you drink you don't have intercourse. Why? Because that act will be considered rape. Social media in Israel are full of harshly critical posts by women who call themselves feminists and argue that there is no chance a woman would have sex on a bar of her own free will.
The uproar was prompted by a Whatsapp video clip shown on Channel 10 a few weeks ago of a naked, intoxicated woman having sex with a number of men on the bar at the Allenby 40 nightclub in Tel Aviv in front of a crowd of patrons. The incident took place some three months ago. Demonstrations outside the bar provoked police last week to order it to be closed for a month.
Perhaps we will now admit the truth – that this case challenges our conceptions of sexuality? But is it so challenging that we need to give it a label?
People apparently come to Allenby 40 to drink, to undress and to have sex. A Google search produces pictures that allow no room for doubt: women of all ages climbing onto the bar, taking off their clothes, smiling embarrassingly – and it ends with sex, sometimes with another women, sometimes with a man. No one there is raped. I know that now you women will be cringing with disgust. This is a situation that's difficult to relate to.
Sex at a club is not a rare occurrence. In my past as a Tel Aviv partyer, I encountered exposed organs and orgasms. People like to get high on substances. Alcohol, Ecstasy. And not just at clubs: This happens at workshops and festivals too. I had occasion to spend time with a group of nice, educated people and to be exposed to sexual activity that was hard for me to digest. As I see it, it's much worse when they sell you a mass orgy in the guise of an "awareness" festival. At least when you enter Allenby 40, you know what you're getting into.
There are clubs like this all over the world and they are accepted. Why? Because there are clear codes of conduct – for example, a total ban on photography in such places. And people comply. In Israel, there is no respect for rules and that is the root of the problem. One of the videos filmed at Allenby 40 somehow gets on the news on television, and is presented in a way that leaves no doubt: A disgraceful incident occurred at a Tel Aviv club.
The woman in the video – which has gone viral on the Internet – initially said she consented to everything and had no intension of filing a complaint. For their part, after questioning her this summer, the police concluded that the sex was consensual.
And now things have gotten beyond her control. Half the country calls her reckless while the other half claims she was the victim of gang rape. If you've had sex at a club, apparently, you have to be one or the other. In any case, things have gone awry.
And speaking of "penetration," it's as if the entire country has, as it were, gotten into her panties. People say she is a whore, that her soul is damaged. They have passed judgment on her and her actions. Thousands of women condemned what they see as the gang rape of the woman "in the name of feminism," without having any idea of what went on.
Dear women, I also studied gender studies. I am also aware of the need to break down society's patriarchal structure, and actually because of that, I find the singular interpretation that you have attributed to this situation to be problematic. You have rallied in support of a woman whom you don't know. You haven't been defending her, but rather the world of values that you believe in. There is nothing feminist in what you are doing: It's an expression of hypocrisy and sanctimoniousness. Yet another opportunity to promulgate your desired standards.
In the name of public order, police officers and investigators turned up at the woman's house. It turns out that exposing oneself in public is a criminal offense. They explained to her that she was the victim of exploitation and rape. Will that not convince her? Even if there was no rape, they raped her to say there had been.
A few days ago she appeared in the media with face obscured and a faltering voice, explaining how she wasn't in her right mind at the time and was not responsible for her actions. She said a few men ordered a large amount of alcohol for her that night. "They poured it and I started drinking ... I think I had between 12 and 15 drinks before I got on top of the bar," she recalled.
As I see it, the truth has became slippery and it's doubtful if it will ever come out. There is no way of knowing what really happened. But that is also not the point I am trying to make. I just want to give you food for thought.
Uncontainable shame
Let's assume for a moment that the initial version of events that the woman gave the police was correct. Let's assume that she wasn't really raped, but rather did what she did on the spur of the moment, spontaneously or without prior thought. Have the public debate and the shaming on the Internet allowed her to continue to maintain this account of events? Even if we are to assume that the sexual act was consensual, one thing is clear: She never consented to have the clip of it appear online. (Anyone who mistakenly missed the clip has probably gotten a graphic description of its contents elsewhere.)
Moreover, the resulting shame could not be contained: After all this, could she have stuck with her first version of the goings-on, in effect claiming that she knowingly chose to get into this situation?
Neither she nor you women can bear the outcome. Anything is preferable over having her come out of this a whore. And the major absurdity is that under the auspices of feminism, you have again perpetuated the puritanical laws of Victorian society. And for what? To prevent the next rape. Are you sure this is the way to do that? What is so empowering in describing her as weak and in need of protection or as not responsible for her actions? There is nothing feminist in calling women weak and asking men to respect them. Aren't you sick of playing the same broken record over and over?
The height of all this is the video that has now appeared on the Internet in response to the events at Allenby 40. The clip shows a girl of Indian descent, thin and cowering and frightened, facing boys who are approaching her, perhaps intending to sexually harass her. And then surprisingly a chance group of men appear to protect her. What feminism!
Tell me: Have you all gone crazy? That, in your view, is women's liberation? That's how you want to head off the next rape? Educating men to protect us? Maybe the time has come to replace the record that disseminates the message about the weak and exploited woman and the strong exploitative man?
What about this: I am a strong woman. I don't need protection. I choose to be what I feel like being! And I am not waiting for any man to respect me. I respect myself, even if I choose to have casual sex or multiple partners.
We have made progress in so many ways. Now it's clear that there is not necessarily a connection between sex and gender, that there is room for more than one sexual orientation. But even today, when it comes to everything related to heterosexual relations, we are stuck in the morality of the Middle Ages. Religion is still what governs our attitudes toward sex.
It's not that, heaven forbid, I am against raising awareness over sexual assault. But I don't think that what we are seeing is how it works. Without a deep and fundamental change in our sexual attitudes, we won't get anywhere.
"In the name of feminism," the Web has been inundated with waves of hatred against men. What a surprise. They've educated us to think that we have a treasure between our legs and that we should closely guard it because someone is lurking around every corner who wants to take it.
Every girl knows that sex is supposed to happen only with your spouse. Otherwise it's dirty. What a surprise that she grows up to be a confused woman. Every boy knows that sex is out of bounds. What a surprise that he grows up to be a consumer of pornography. Every boy knows that a real man fights for what he wants. All this certainly doesn't help dismantle the connection between sex and violence.
There will always be "urges" and I suggest accommodating them. Imagine sex education of a different kind, more open and permissive, that presents and promotes human nature, without guilt or shame. Imagine men and women capable of connecting with their real sexuality and feeling empowered.
I don't mean that every woman needs to try going to orgies. They must remain true to their own limits. But there is a fundamental illness in our attitude toward sex, in the distorted perception that the man always takes and the woman always gives. Only total recovery from this illness can perhaps prevent the next rape.
Feminist women, monogamous women, modest women. The fact that you are the way you are doesn't obligate the rest of us to be that way. Maintain your own limits but advise others to follow their own path. When a woman screws around at a club, it's not always rape, unless it is filmed and gets out to the media.
Dana Goldberg is a photographer and artist, and a graduate of the Bezalel Academy of Arts and Design in Jerusalem.
Click the alert icon to follow topics:
ICYMI
Ken Burns' Brilliant 'The U.S. and the Holocaust' Has Only One Problem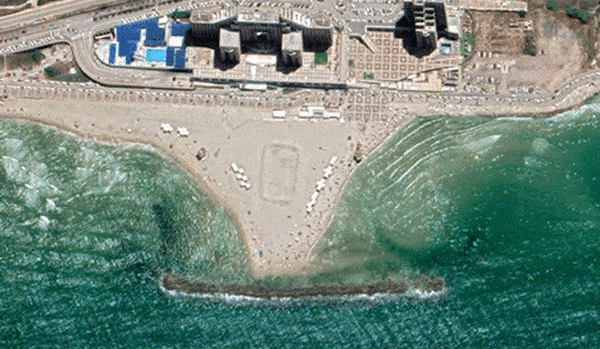 Facing Rapid Rise in Sea Levels, Israel Could Lose Large Parts of Its Coastline by 2050
Lapid to Haaretz: 'I Have Learned to Respect the Left'
The Mossad's Fateful 48 Hours Before the Yom Kippur War
As Israel Reins in Its Cyberarms Industry, an Ex-intel Officer Is Building a New Empire
How the Queen's Death Changes British Jewry's Most Distinctive Prayer