How Jon Stewart Contributed to the Decline of Journalism
In his fusion of journalism and comedy, The Daily Show host achieved the opposite of what he aspired to.
Jon Stewart on 'The Daily Show,' August 3, 2015.
Credit: Screenshot
He may have had good intentions, but by fusing journalism and comedy, Jon Stewart and The Daily Show elevated the credibility of infotainment to such a high level that they weakened both television journalism and the very political institutions he sought to hold accountable. In doing so, Stewart was a traitor to his own values.
The problem starts with this: Stewart and The Daily Show had a credibility problem – they had too much of it. A May 2015 Reuters/Ipsos poll found that Stewart was the most trusted political pundit in the United States – even 40 percent of Republicans believe he shared their worldview at least some of the time. A 2014 Pew Survey found that 12 percent of Americans got their news from The Daily Show, on par with USA Today and only 1 percentage point less than the New York Times. As Stewart himself once said, it's a sad day when "news organizations look to Comedy Central for their cues on integrity."
He said that, in fact, during an iconic admonishment of the show Crossfire in 2004, in which he laid out his manifesto for what the media should be. Berating the narrow-minded, partisan debates that shows like Crossfire facilitated – and claiming that these were "hurting America" – Stewart said what the public really needs is quality, objective journalism. Despite his proclamations that his show was merely comedy, Stewart clearly strove to fill that void of integrity. Unfortunately, however, by doing so as a comedian, he wrought something on American society that is even worse than partisan hackwork: infotainment.
Infotainment has become the new norm for news consumption in the United States, as pundits like Bill O'Reilly and Sean Hannity share the stage of political commentary with comedians like Stewart and Bill Maher. These pundits pull in large audiences and dominate the political discourse. Infotainment is a term that comes from the marrying of entertainment and information in a single broadcast – one in which the agenda is set by entertainment and advertising concerns, rather than journalistic considerations. Infotainment pushes the boundaries of fact checking and on-air civility, with its standard of accountability being lower than that of a news broadcast, and hosts who are in a constant scramble to stay on the cutting edge of provocation.
Infotainment relies on a familiar, very subjective shtick. For Bill Maher, that shtick is atheism, legalizing weed and sexual innuendo. Bill O'Reilly relies on conservatism and outrage over "the culture war" against traditional values. Stewart's shtick was not simply that of a left-leaning crusader, but "the absurdity of the system," that "provides him with the best material."
In many ways, Stewart led the charge that, over the past two decades, crushed the veneer of the American statesman. Sure, Bill Clinton's "Final Blow," as Stewart put it, and George W. Bush's rhetorical struggles helped, but it's no surprise then, that, at a time when the country's most trusted pundit can look straight into the camera and say to a Republican presidential nominee (Mitt Romney), "F*** you," that an anti-establishment, political outsider with his own lack of civility and norms, Donald Trump, can lead in early primary polls.
Disillusioned, misled and silent
Gallup's latest poll of public confidence shows that Americans' faith in most institutions remains well below historic averages. Only 8 percent of Americans have confidence in the Congress, compared with the historic average of 24 percent; only 33 percent have confidence in the presidency, compared to the historic average of 43 percent; and newspapers and television news poll at 24 and 21 percent respectively, below their historic averages of 32 and 30 percent. With so many factors at play, one can hardly hold The Daily Show and the rise of infotainment fully accountable for the decline, but there is a strong argument for saying they played a part.
Television and other media have long been shown to influence the public's expectations. Science fiction leads people to believe that technology is more advanced than it is, medical shows leave viewers believing medicine can work miracles that it most certainly cannot, and crime investigation shows have lead the public – the jury pool – to look for forensic evidence, beyond circumstantial evidence, that simply does not exist in practice. This phenomenon has been coined the "CSI effect."
Stewart's all-knowing wit and fast-paced dissection of the facts on any given issue or individual lacked any reflection on the complex realities or the human side of the matter. Stewart would simply throw up his hands, give an exasperated look and, in a matter of minutes, reduce his subject to the paragon of stupidity, shortsightedness or, in the words he chose in his final episode, "pernicious bullshit." His ability to dismantle his targets based on quick and clever use of facts gained him credibility and admiration, but also gave the public unreasonable expectations of politicians and journalists. As Stewart recently noted himself, even U.S. President Barack Obama gave him a lecture about making young Americans cynical.
Stewart may not have only helped to corrode public opinion of American institutions, but his approach to critiquing them also likely stifled debate among his viewers (rather than encouraging public discourse, as he insisted on Crossfire that the media should do). A well-known political science theory, "the spiral of silence," states that due to fear of isolation, individuals will remain silent and not voice opinions on issues in the face of majority opinion – particularly opinions voiced in the media. Ironically, the format and prominence of his show placed him at the forefront of coalescing majority opinion in the media. Any news-related show that does not include balanced debate, as The Daily Show did not, could be accused therefore of reinforcing a majority opinion through the "spiral of silence" theory.
By espousing journalist integrity as a comic, correcting factual errors and vigorously defending himself against accusations of bias, Stewart and his rising popularity over his nearly 17-year run only added to the decline of television journalism by giving infotainment an aura of integrity. Cable news has long tried to compete by upping its own entertainment value. CNN's now infamous missing plane coverage, Greg Gutfeld's satire on Fox News, and MSNBC's failed attempts at giving shows to the likes of Alec Baldwin and Ronan Farrow are all examples of cable news trying to compete in a market shaped by the likes of The Daily Show. This trend shows no signs of going away, even as Stewart leaves the air.
Alexander Griffing is the director of digital outreach at Haaretz English edition. He has a master's degree from Tel Aviv University in political science.
Click the alert icon to follow topics:
ICYMI
Ken Burns' Brilliant 'The U.S. and the Holocaust' Has Only One Problem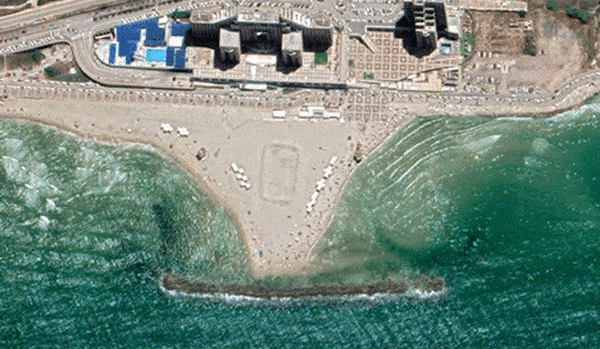 Facing Rapid Rise in Sea Levels, Israel Could Lose Large Parts of Its Coastline by 2050
As Israel Reins in Its Cyberarms Industry, an Ex-intel Officer Is Building a New Empire
How the Queen's Death Changes British Jewry's Most Distinctive Prayer
Chile Community Leaders 'Horrified' by Treatment of Israeli Envoy
Over 120 Countries, but Never Israel: Queen Elizabeth II's Unofficial Boycott