Like Truman, Netanyahu's Trying to 'Scare the Hell' Out of Americans
The Israeli prime minister has been compared to Winston Churchill, but when it comes to handling the Iranian threat, he's acting more like Harry Truman.
Winston Churchill and Harry Truman aboard the president's yacht.
Credit: U.S. National Archives and Records Administration / Wikimedia Commons
Before, during and after Benjamin Netanyahu's speech before Congress, we heard many references to Winston Churchill. There's no doubt this is an analogy Netanyahu enjoys hearing. Along with Churchill, Netanyahu is the only foreign leader to address a joint meeting of Congress three times. Netanyahu called his own speech "historic" before even departing for the United States to deliver it. House Speaker John Boehner, whose controversial invite Netanyahu accepted, even presented the Israeli leader with a bust of Churchill. Perhaps most importantly, the analogy helps Netanyahu connect Iran and the specter of the Holocaust.
Yet, for plenty of reasons this analogy is flawed. The most important reason is that Israel today cannot in any serious way be compared in its power relationship with Iran to England and its power relationship with Nazi Germany on the eve of the Second World War. Hitler spent several years before the war investing heavily in the Nazi war machine, which conquered massive amounts of territory in a quick period of time once the war began.
Iran today is relatively weak. Its air force is limited and outdated. Israel spends more, both in terms of absolute dollars and as a percentage of its GDP, than Iran does on military spending. Additionally, Israel has anywhere between 100 and 200 nuclear warheads and the capability of delivering them as first- or second-strike options, virtually guaranteeing that even if Iran did have a nuclear weapon it would not threaten Israel's existence without threatening Iran's as well.
This is not to say that Iran achieving a nuclear weapon would not be problematic; it would indeed complicate Israeli and American hegemony in the region, so long as the Islamic Republic is considered an adversary.
However, it's very hard to sell a war to the American people based on strategic complications to hegemony in a region far away. It's even harder to do this when Americans are war-weary, coming off more than a decade of entanglement in Iraq and Afghanistan. This is why Netanyahu had to present his case in "existential" terms, even if it was wild exaggeration. While the American people may not be interested in foreign adventures to guarantee continued American and Israeli influence in foreign lands, they likely would not tolerate a real existential threat to allies, especially Israel.
Thus, the more appropriate analogy for Netanyahu and his speech before Congress than Winston Churchill is one of Churchill's contemporaries, Harry Truman. From 1946 to 1947, President Truman was faced with a similar challenge to that which Netanyahu faces today. The American people were tired of war and the Truman administration was already facing resistance when trying to sell the idea of aid packages for allies to a public that was more interested in spending their tax dollars at home. In late 1946, the British, devastated after the war, began withdrawing their presence in countries around the world. Something would have to fill these vacuums of power. By early 1947, a message by British diplomats was delivered to their American counterparts that the United Kingdom would be pulling its assistance from Greece and Turkey within a month's time and the British encouraged the United States to fill the void.
Truman knew that aid to Greece and Turkey would be a difficult sell. The reason this became such a priority for Truman was that if the Soviets filled that vacuum it would give them a perch in the Mediterranean and potentially pose a challenge to American hegemony in the oil-rich Middle East. While this was a convincing reason for policy planners in the State Department and the White House to act on Greece and Turkey, it would not convince Americans on its own.
Truman met with key members of Congress in late February of 1947 to talk about how he could get their support for legislation that would give aid to Greece and Turkey. The result of that meeting was that Truman and his aides became convinced the Americans had to be moved emotionally to support such spending, or as the Republican chair of the Senate Foreign Relations Committee Arthur Vandenberg put it to the president at the time, it would be necessary "to scare the hell out of the country."
The drafts of President Truman's speech reflected the outcome of this meeting. Initial drafts, which took an economic approach, were completely adapted to assume a fear-mongering approach, replacing economic text with exaggerations about communist guerillas. When he delivered the speech before a joint meeting of Congress, he opened by saying "the gravity of the situation" necessitated his appearance and "the national security" of the United States was involved.
The speech certainly worked if changes in public opinion are any measurement. Polls prior to the speech in December of 1946 had just over 20 percent of American respondents saying that foreign problems were the most vital concerns to them. Immediately after the speech in March 1947 that number jumped significantly to over 50 percent, a level that had not been seen since the war years. The announcement of what became known as the Truman Doctrine opened the door to the Cold War and it also created the hysteria necessary for the passage of legislation to aid Greece and Turkey. However, that hysteria also led to the second Red Scare, the House Un-American Activities Committee and Joseph McCarthy, ushering in one of the most regrettable periods of political repression in American history. In fact, in his memoirs Truman wrote that he regretted the hysteria around the second Red Scare and that he never really thought Communism was a serious internal threat to the United States.
Truman's fear-mongering worked. He knew that he had to "scare the hell" out of the American people to get what he wanted, even though it had many negative consequences.
It's not yet clear that Benjamin Netanyahu's fear-mongering has worked, but he did give some advice worth listening to when he urged us to learn the lessons of history and "leaders of the world not to repeat the mistakes of the past." He'd be wise to take his own advice and stop the fear-mongering before the horrific negative consequences of his policy advice – just like the advice he gave Congress to support the Iraq War – become apparent for all to see.
Yousef Munayyer is Executive Director of the US Campaign to End the Israeli Occupation.
Click the alert icon to follow topics:
ICYMI
Ken Burns' Brilliant 'The U.S. and the Holocaust' Has Only One Problem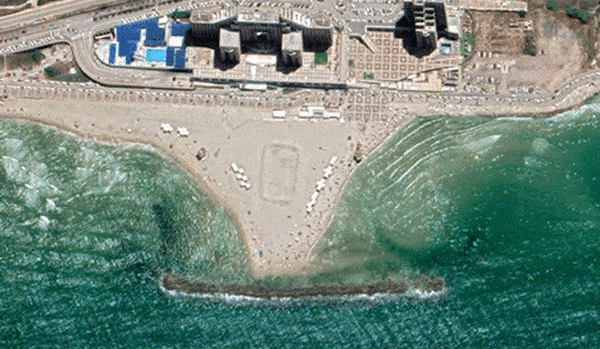 Facing Rapid Rise in Sea Levels, Israel Could Lose Large Parts of Its Coastline by 2050
As Israel Reins in Its Cyberarms Industry, an Ex-intel Officer Is Building a New Empire
How the Queen's Death Changes British Jewry's Most Distinctive Prayer
Chile Community Leaders 'Horrified' by Treatment of Israeli Envoy
Over 120 Countries, but Never Israel: Queen Elizabeth II's Unofficial Boycott