Gaza: The American Jewish Community's Vietnam
Supporting Israel's right to defend itself, while criticizing some of its actions, should not invite attack from both left and right.
Pro-Israel supporters rally at Times Square in New York, July 20, 2014.
Credit: Reuters
Jewish Americans have little capacity to hear different Jewish perspectives on the Gaza war. This is eerily reminiscent of the difficulty Americans had talking to each other during the Vietnam era. Different war, different "establishment," different "protestors," but the same competing claims on one's allegiance – in those days, to the United States itself. Then, it was the "true patriots" who believed that the U.S. could do no wrong while the anti-war protestors believed it could do no right.
Now, mainline Jewish communities and organizations, leaning to the right, insist on "Our Israel, all right and no wrong." There is no capacity to take an honest, albeit loving, look at Israel's policies and actions and speak up.
The Jewish left holds to "Not my Israel, all wrong and no right." There is no acknowledgement that, like all nations, Israel has a right to protect itself or that its geo-political circumstance is unique. Under this construct, Hamas is not accountable for its actions, and deservedly so, because all of the fault lies with Israel.
There is little space for Jews such as myself, who are deeply committed to Israel and its right to defend itself - yet abhor some of its actions and its disrespect of the U.S. and President Obama. We navigate our way through the crisis and try to maintain our morality, our passion for Israel, our sorrow for all those killed on both sides, and our continued hope for peace.
Yet, few of my fellow Jews are comfortable with where I stand. The established Jewish community is offended by my willingness to be critical of Israel. Jewish progressives are appalled at my willingness to express my love for and justification of some of Israel's behavior. I remember a similar atmosphere of condemnation during the 1960s for those of us against the Vietnam War but supportive of our troops. A situation redux.
In these times, to use examples that I have been emailed or witnessed, a major Jewish communal leader calls for a rally to support Israel, without once mentioning Palestinian suffering. A congregational rabbi leads a prayer for healing, but only of wounded Israelis. Of course, their primary allegiance and focus should be on Israel - but can we only legitimate ourselves by not mentioning or acknowledging that others are also in excruciating pain?
Do these leaders really believe that Jews and Israel have a monopoly on morality? Are they scared that acknowledgement of any Israeli responsibility for the death and destruction in Gaza reduces Hamas' responsibility or results in less support for Israel? Would it diminish Israel's unique ability to protect its citizens if we admitted that the marvelously successful Iron Dome results from President Obama's historic levels of funding and support - and not just because of "Israel's technological genius and the grace of God"?
Couldn't rabbinical leaders actually lead and encourage Jews to listen to each other, even when painful? Synagogues and Jewish communal events could become a platform for open, respectful, difficult conversations about Israel, where we can actually communicate with each other.
Then there are those Jewish leftists who criticize only Israel, often with rigidity and righteousness. Their support of Israel is transactional. It ignores the inhumanity that is Hamas. It ignores the Arab world's unwillingness to provide for their own. It ignores the sad but underlying truth that throughout the history of Israel and the Jewish people we have only been able to count on ourselves for survival. Of the utmost concern is that they knowingly make common cause with real anti-Semites and those who advocate the complete destruction of Israel.
Rarely do their writings reflect any love for or comfort with Israel. Instead, they grind away at Israel as oppressor and occupier. The writings of prominent Jewish progressives feel like scratches on a chalk board to much of the Jewish community, even people like me who often concur with their views.
Jewish leftists would be better heard and have more influence if they led with support for Israel's existence and acknowledge that they don't have an exclusive prescription for peace. This is particularly true for American Jewish audiences, who rightly see Israel as the only Jewish state amid frightening, accelerating worldwide anti-Semitism. Showing a bit of neshama (Jewish soul,) of Jewish solidarity and a push back against anti-Semitism would defuse much of the innate wariness about even listening to these Jewish critics.
I encourage my fellow Jews, on all sides of this important conversation, to recognize that one's connection to Israel is a relationship, not a transaction—one that is sustained over time, that may ebb and flow, and at various points may be very strained. At times, and sometimes simultaneously, it is unbearable and alternatively magnificent. More often than not, we Jews are not in the same place at the same time on the spectrum of support, approval or commitment.
We need to find that holy space where we can talk to each other and not at each other. We need to relinquish our need to believe we are the only side that is moral and acknowledge the sanctity of contrary positions of others who also love Israel. We can truly be a light unto the nations by modeling for the world how to be supportive of Israel, while voicing legitimate criticisms and concerns. That is the greatest gift we can provide to Israel and our brothers and sisters there as they strive for a lasting and mutually agreed peace.
Joanne Feinberg Goldstein is Associate Vice President For Workforce Development and Employer Engagement at the College of Professional Studies, Northeastern University. She was a lawyer in the private sector for several decades and previously as the Massachusetts Secretary of Labor and Workforce Development. The views expressed are her own and do not reflect those of Northeastern University.
Click the alert icon to follow topics:
ICYMI
Ken Burns' Brilliant 'The U.S. and the Holocaust' Has Only One Problem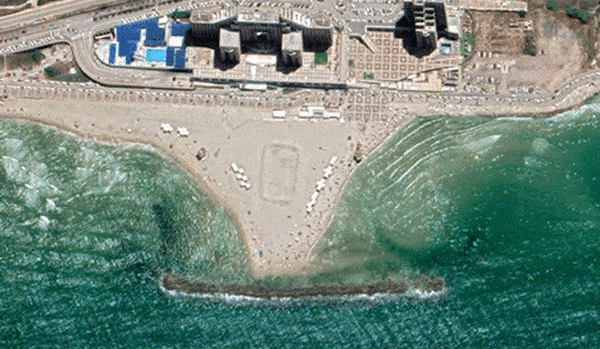 Facing Rapid Rise in Sea Levels, Israel Could Lose Large Parts of Its Coastline by 2050
As Israel Reins in Its Cyberarms Industry, an Ex-intel Officer Is Building a New Empire
How the Queen's Death Changes British Jewry's Most Distinctive Prayer
Chile Community Leaders 'Horrified' by Treatment of Israeli Envoy
Over 120 Countries, but Never Israel: Queen Elizabeth II's Unofficial Boycott