Ruth the Refugee: Destitute, Alone, and Unwanted in Israel
The story we tell on Shavuot - of an undocumented foreign worker, an unasked-for and unwanted refugee - demands we confront our uglier inclinations, and stop turning our backs on refugees in Israel.
Naomi entreating Ruth and Orpah to return to the land of Moab.
Credit: William Blake
Instead of the rioting we saw about access to King David's Tomb on Mt. Zion, just prior to the Pope's visit, and whether there should be complementary or differential access for Jews and Christians, in the belief that will 'determine' whose Messiah will arrive, we should be thinking about David's ancestor.
Shavuot celebrates both the Giving of the Law, and the "back story" to the Davidic narrative. The theme of the story of Ruth, read on the festival, can be construed as being about lovingkindness and/or about conversion - which are both true. But it's fundamentally a messy story about an undocumented foreign worker, an unasked for and unwanted refugee.
Ruth hides in plain sight, just as Israel's refugee crisis does. Actually, it is "their" crisis, and never ours, because it remains hidden. We gather refugees up, put them in faraway detention centers near the Gaza border, slip them $3,500, fly them away to some bribed, non-caring country and deny that they were ever here.
The Ruth story is the refugee story. Her obscure name implies reiut (the ability to get along), the sine qua non characteristic of a refugee who tries to make it in a new and hostile land; you better not cause trouble by asking for anything. Ruth leaves Moab having lost her husband, and heads off to Beit Lechem, for there is bread!
Ruth is no oppressed political victim – the current term for those refugees sometimes considered 'kosher' – but merely an alone and destitute woman. Her ticket is her mother-in-law Naomi ('pleasantness'), who has her own tzorot (troubles), in the face of which she renames herself Marah – a worn out, depressed, poor and – yes – bitter woman. She doesn't want her daughter-in-law Ruth to accompany her and tries to ditch her. Ruth's heartfelt plea, one that has stirred hearts for millennia – "Your people will be my people, your God my God" – doesn't move Naomi. She just sees a stubborn burden. The romantic picture reproduced in the 'Butcher's Calendar' of my Chicago youth, showing the two women leaning on each other, as they trudge along, is a lie – Naomi trudged and Ruth attempted invisibility. Naomi returns and proclaims, "I have returned, alone," discounting Ruth's presence. And this refugee, from the hated enemy state of Moab, is called now continuously in the story Rut HaMoavia (Ruth the Moabitess) – or, for our purposes, Ruth the Refugee (you may spit or recoil now).
She does what all refugees here and in Europe do – she seeks work. She works the system, taking advantage of the Biblical social safety net. Adeptly, she finds a place that won't throw her out and gleans non-stop in the fields. But this is not a protected practice – she can be thrown out or worse. Boss Boaz who comes to the fields late and notices the foreign, good-looking woman working hard, wants to know who she is. The lads in charge of the field reply that she is Ruth the Refugee, and that she works non-stop, not even pausing to eat or even use the latrine.
Why the constant effort? It is more than to simply do well. Refugee women are in constant peril. Alone, they are exploited or sexually assaulted. And who can they turn to? And even if, in some sort of "stable" situation, they can be turned around and resold into slavery.
So Ruth the Refugee is too terrified to be alone. She has a "lunch date" with her boss – a command performance – fraught with underlying sexual tension, but thankfully, he instructs the lads to leave her alone, and to let her glean. But despite distant family connections to Naomi, Boaz takes no responsibility. And this is the most that a refugee can expect – a temporary respite from danger, backbreaking labor, and short-term subsistence.
Inevitably harvests end, and no work or hope is available. Two desperate women – the Israelite and the Moabite – must turn to each other. They need to overcome that same economic rivalry for resources, and the hostile tribal enmity, that set impoverished Jews and have-nothing refugees in Southern Tel Aviv against each other in the face of an uncaring Israeli middle class who deep down desire to be done with all of them.
The women's plans are as simple as they are severe. Ruth the Refugee, in her only good, glad rags, visits the much older Boss Boaz sleeping off the end of the harvest celebration in the fields, uncovers and seizes him – begging for sanctuary. A good guy, he does not take advantage, and accomplishes what Ruth the Refugee needs: He gets her a document, marries her and normalizes her status along with that of Naomi. The Book of Ruth warns – Hey, Refugee: you better go for broke and you better find someone with connections.
Law is strict and Law is blind: "Don't recognize any face in judgment" (Deut 1:17). And with that, today Israeli law has its victories over corrupt officials, oligarchs and maybe even rabbis. Just recently the High Court has urged the Interior Ministry to employ "due process" http://www.haaretz.com/news/national/.premium-1.592088 in dealing with asylum requests. But the Law can't help the faces that are unseen. And certainly we can't help thinking inside that ugly side of our soul – is there any real loss if some 50,000 human annoyances are ignored, passed over, or conveniently cast off? No loss, unless you don't have a quick answer to the Messiah when he comes, looks over the welcoming throngs and asks, "Where's Mom?"
Rabbi Landes is Director of the Pardes Institute of Jewish Studies in Jerusalem, where he teaches the Senior Kollel Talmud class and Theology. The views expressed here are his own.
ICYMI
Ken Burns' Brilliant 'The U.S. and the Holocaust' Has Only One Problem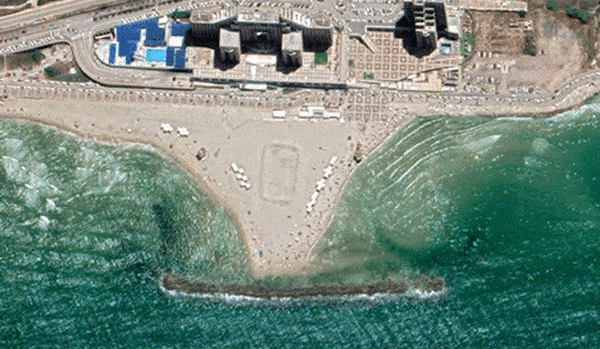 Facing Rapid Rise in Sea Levels, Israel Could Lose Large Parts of Its Coastline by 2050
As Israel Reins in Its Cyberarms Industry, an Ex-intel Officer Is Building a New Empire
How the Queen's Death Changes British Jewry's Most Distinctive Prayer
Chile Community Leaders 'Horrified' by Treatment of Israeli Envoy
Over 120 Countries, but Never Israel: Queen Elizabeth II's Unofficial Boycott