Israel's Reality Check on the 'New Middle East'
I am no blind advocate of Israeli Prime Minister Netanyahu, but accusing him of political cowardice for refusing to endanger the state is unfair and false. Jumping off a cliff is not courage but foolhardiness.
No Yom Kippur edition of the major Hebrew dailies would be worth its salt if it did not carry at least one op-ed blaming Prime Minister Golda Meir's intransigence for the outbreak of the Yom Kippur War and thousands of Israeli casualties. Intellectual honesty now dictates that this ritual should cease.
Approximately three weeks ago Israel's diplomatic archives yielded up documents revealing that a month prior to the war, Meir, then Israel's prime minister, entrusted German Chancellor Willy Brandt (her colleague in the once-relevant Socialist International) with a peace proposal to pass on to Egyptian President Anwar Sadat offering to relinquish the vast majority of the Sinai. Her peace overture to the Egyptian president was rejected outright - as were her previous overtures. True, Golda correctly balked at ceding Sinai down to "the last grain of sand" (as Menahem Begin erroneously agreed to at Camp David) but this offer should have sufficed to initiate serious negotiations and avert a war. Sadat, however, was committed to Operation Badr, as the 1973 war was known in Egypt, because he needed a military victory to restore faith in his Egyptian Free Officers government, a faith that had been severely compromised by the 1967 Six Day War. Yasser Arafat would similarly reject the profligate proposals made by Ehud Barak at Camp David and launch the Oslo War because he also wanted to go down in Arab history as a latter-day Saladin.
It would have been too much to expect Golda's critics to publicly acknowledge their mistake, but at least they could now cease and desist. To my surprise, the now thoroughly discredited charges against Golda were resurrected in Carlo Strenger's recent Haaretz blog post: "[Golda] wouldn't even listen to the proposals [by Sadat to negotiate]... The price of Meir's incapacity to open her mind was the terrible trauma of the Yom Kippur War." Strenger adds the de rigeur homily that other Israeli leaders, such as Netanyahu, by showing similar intransigence or political cowardice when difficult political decisions are needed, only invite further disasters. To buttress his case, Strenger invoked a similar warning by the half-a-million-dollar man Bill Clinton, who was here for the Peres birthday extravaganza, as well as statements by former Israeli generals and heads of the security establishment.
Clinton, of course, is no unbiased observer, and although the Oslo process was foisted upon him by Peres, he heartily embraced it and sought to breathe life into it until the dying moments of his presidency. His partisanship was most blatantly displayed in the 1996 Israeli election, when he organized the Sharm al-Sheikh summit to improve Peres' prospects against Netanyahu. Even setting Israel aside, Clinton's foreign policy record isn't laudable. Clinton lost Russia to Putinism by failing to display the same generosity to a prostrate Russia that Truman had displayed to a defeated Germany. It was Clinton who rammed through free trade with China by arguing that the fax machine alone would ensure political liberalization in China.
The Israeli security establishment is all over the political map - and that is a good thing. Avi Dichter, the ex-Shin Bet head, would undoubtedly be considered a gate-crasher rather than a gatekeeper - because he agrees with Netanyahu on most issues, rather than with the other former Shin Bet heads featured in Dror Moreh's film.
However peace, like war, is too important to be left to the generals. Our current minister of science - and former Shin Bet boss - Jacob Perry was an architect of the policy of elevating Arafat as the prime subcontractor for Israeli security. Appropriately, he once presented Jibril Rajoub, then head of the PA's Preventive Security Service, with a gift set of pearl-handled pistols. Rajoub is now the head of the Palestinian Olympics Committee, and from his Olympian heights he recently declared that if the Palestinians had possessed nuclear weapons they would have employed them a long time ago against Israel.
Where would we be if former chiefs of staff Ehud Barak or Gabi Ashkenazi had had their way and cut a deal with Syria relinquishing the Golan Heights? Syrian guns either manned by the Islamist Emirate of Damascus or the enlightened ophthalmologist-Internet surfer Bashar Assad would now be parked by the Kinneret. Our strategic geniuses argued that by this master-stroke we would splinter the Assad-Hezbollah-Iran axis. Fortunately for Israel, the Assads knew where their bread was buttered better than our aspiring Machiavellis. A bullet-riddled Bashar Assad would have already joined Muammar Gadhafi in the gutter had it not been for Iranian and Hezbollah intervention.
I am no blind advocate of Netanyahu, but accusing him of cowardice for refusing to surrender is unfair and false. Jumping off a cliff is not courage but foolhardiness. As Peres has demonstrated, it is much more rewarding to tout a New Middle East than to deal with the real one. Blessed are the peace processors because they will be invited to conferences to be fed and feted. They will be lionized at the UN like the double of Admiral-General Aladeen in Sascha Baron Cohen's film "The Dictator."
It was Golda who once remarked that she would gladly suffer UN condemnations and forego the eulogies for a vanquished and destroyed Israel which would have resulted from accepting UN resolutions. That takes courage. Netanyahu's audacity will be measured by the extent that he lives up to Golda's standards.
Dr. Amiel Ungar is a political scientist.
Click the alert icon to follow topics:
ICYMI
Ken Burns' Brilliant 'The U.S. and the Holocaust' Has Only One Problem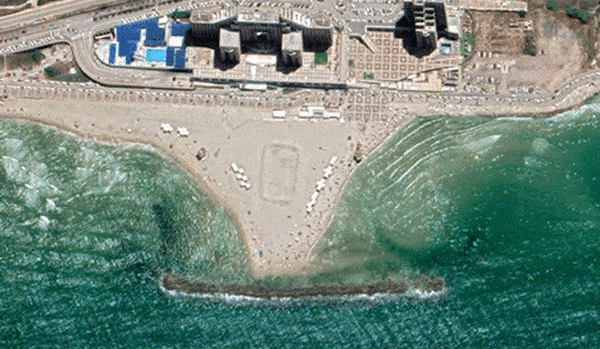 Facing Rapid Rise in Sea Levels, Israel Could Lose Large Parts of Its Coastline by 2050
As Israel Reins in Its Cyberarms Industry, an Ex-intel Officer Is Building a New Empire
How the Queen's Death Changes British Jewry's Most Distinctive Prayer
Chile Community Leaders 'Horrified' by Treatment of Israeli Envoy
Over 120 Countries, but Never Israel: Queen Elizabeth II's Unofficial Boycott