Drones Propel Hate in Pakistan for the U.S.
Israel's use of military force is scrutinized, while the U.S.'s use of armed drones in Pakistan barely registers. But these drones and their civilian casualties are strengthening Pakistani and Taliban extreme Islamism and anti-Americanism – this international footprint is how the U.S. is being judged.
As Israel's recent Operation Pillar of Defense is scrutinized internationally, it's time to examine America's own approach to militant Islamist operatives - time to look at America's drones. Despite the controversies surrounding their highly lethal effects and controversially widespread use over Pakistani civilian areas, drones are the least democratically-scrutinized mode of warfare in the post 9-11 era. To a recruiting Af-Pak jihadist in the post-Osama Al-Qaida era, drone attacks are no less a godsend than they are to opportunist vote-grabbing Pakistani politicians. Whether non-violent Islamists, fundamentalist jihadists or purported liberals, nothing sweeps Pakistanis faster into office on the crest of cheap, illiterate votes than an anti-drone and therefore anti American stance. Yet here in America drones barely enter the political and media debate.
Remarkably, President Obama's authorization of 292 drone strikes in three-and-a-half years, five times more than those greenlighted by George W. Bush, has gone mostly unchallenged, both during his first presidency and his two-year campaign for re-election. This 'free pass' still holds, even as Obama grapples with the unending dilemma of Guantanamo and the most challenging dynamics in the Muslim world that any president has previously faced.
While much was made of the Presidential order to execute Osama Bin Laden on sovereign Pakistan without Pakistani authority, most agree Bin Laden had lost both his power as inspiration and operational authority of Al Qaeda years before. But within Pakistan, drones have long supplanted Osama as potent drivers of anti-Americanism – since the first use of armed drones in 2001 - and, whether or not the American public or network pundits choose to admit it, radicalization.
Certainly, drones enhance America's efforts to eliminate high-value terrorists. Much more significantly, drones enable President Obama to bypass the legal quagmire presented by a captive terrorist. Critics describe drone- targeted killings as assassinations (prohibited by executive order). Countering this, the administration has legally secured the use of drones as judicial, positioning their use as part of the post 9-11 military action authorized by Congress who redefined this and other strategies as self-defense in response to 9-11. Yet at what cost to the United States? The view from the ground, on Pakistani soil, paints a stark reality of the real world price tag for our drone program.
This spring, I traveled to Pakistan's NorthWest Frontier Province, visiting Mingora and Malakand, the major towns in Pakistan's Swat valley, a conflict zone subject to regular incursions by Pakistani Taliban. It was in Mingora where 14-year-old Pakistani schoolgirl Malala Yousafzai was shot on a school bus by the Taliban for advocating girls' education. The Pakistan Rangers of the North West Frontier Corps are based at Malakand Fort and fought a bloody counter-insurgency in 2009, pushing the Taliban back from the same area where Malala once went to school, and they provided protection for me during my stay.
I visited the Sabaoon civilian-military project, a school to de-radicalize former Taliban child militants, aged from 10 to 20 years old. Former hardcore, cutting-edge jihadists, each of these children had been formally convicted of various acts of terrorism – whether as Taliban informants, Taliban operatives running missions, or recruits groomed specifically for suicide operations who had defected moments prior to detonation.
To my surprise, not one of these boys knew of Osama Bin Laden nor even of 9-11, which had in fact happened before some of them were even born. However, they had all been indoctrinated to hate America, and any Pakistani who collaborated with Americans or even dressed like one – in pants (standard issue for the Pakistani military), rather than the traditional shalwar khameez.
As well as death and destruction, drones have left "a wake of PTSD in Northern Pakistan of pandemic proportions," a professor of psychiatry at Ibadat Hospital , Peshawar, the largest city in the province, told me when I visited him there this spring. A recent mental health symptoms survey Professor Mufti had co-managed found around 80% of Waziristan residents had been affected, and almost 60% of Peshawar residents were in need of urgent mental health intervention.
Pushing our way through throngs of outpatients, the professor led me to ward after ward of Pakistani men and women, lying on hospital beds, largely mute. Everyone I could see was overtly clinically depressed. At each floor, he swung open the door to a six- or eight-bedded room, where, with a sweeping arm he gestured to his patients. Every bed was full. Faces cowered under the thick multicolored acrylic blankets signifying the fading Pakistani winter.
I followed the blur of his crisp white coat, struggling to keep my headscarf intact to avoid offending the many religious Muslim men and women along the way. As we climbed stairwell after stairwell, I realized that, rather than assisting with specific patients, he wanted me to see the scale of PTSD in Peshawar.
The patients were well-fed, well-dressed and well-attended, their rooms clean and well-equipped: These were those Frontier people who could afford healthcare. As the blank, joyless faces looked flatly back at me, I saw these patients were uniformly under the age of 30. According to Professor Mufti, most were admitted as a consequence of drone strikes in their community, having either witnessed the attacks or having sustained bereavements, or dismemberments, of family members in these attacks.
As I greeted everyone in each room with a salaam, I spied, hiding behind the crook of a father's round knee or the curve of a mother's hip, unusually still, wide-eyed children. Wordlessly, unblinking, they eyed me warily.
Without doubt, drone operations enhance America's counter-terrorism strategy. They target those enemies who threaten our society and, by deploying drones, the administration mitigates the loss of American life. Yet the political and moral cost of drone operations is simply too high. Even though drones in the North-West frontier region have been fully sanctioned by the Pakistan government (at least up to 2008, as confirmed by Wikileaks, our ideals as Americans are not upheld by achieving an end using means at any cost.
Nothing demonstrates more emphatically Americans' profound disconnection from foreign policy than public ignorance about drone operations, striking at a time when America has been at war for over a decade. Put plainly, America is judged not by the goodness of Americans, but by its international footprint. Acts conducted by American forces define us as a nation and a people, irrespectively of how we feel or how much we know about these acts.
Certainly Pakistan's NorthWest Frontier teems with ruthless Taliban fighters concealed within a rural population in mountainous and inaccessible territory. Drones are a good way to "get 'em." But who exactly do we "get"? According to the estimates in the September 2012 Living Under Drones, a report by a non-partisan independent journalist organization, from June 2004 - September 2012 drone strikes killed at least 2500 people, of whom at least 474 (with a higher possible total of 881) were civilian and 176 children. The number of high-level targets killed was estimated at only 2% of all deaths, an unacceptable means to reach an end.
While the drive to codify U.S. drone policy is finally gaining momentum, it may be a case of too little, too late. As long as drones remain airborne, neo-orthodox Islamist terrorists and non-violent - but extremist - anti-American ideologues gain political capital, hoarding it as fast as America loses it. As long as we allow our administration to deploy drones without accountability, Pakistani anti-Americanism is validated, the Taliban is actually strengthened, while we as Americans remain confined in an ugly reality - defined not by who we are, but by whom, how and how often, we kill.
Qanta Ahmed MD is the author of In the Land of Invisible Women (2008), a Templeton-Cambridge Journalism Fellow in Science and Religion and Associate Professor of Medicine, State University of New York. Follow her on Twitter @MissDiagnosis.
Click the alert icon to follow topics:
ICYMI
Ken Burns' Brilliant 'The U.S. and the Holocaust' Has Only One Problem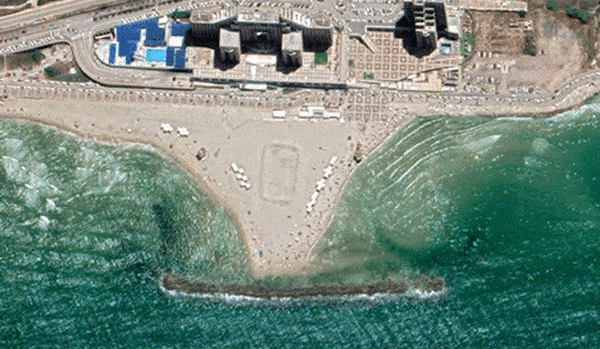 Facing Rapid Rise in Sea Levels, Israel Could Lose Large Parts of Its Coastline by 2050
As Israel Reins in Its Cyberarms Industry, an Ex-intel Officer Is Building a New Empire
How the Queen's Death Changes British Jewry's Most Distinctive Prayer
Chile Community Leaders 'Horrified' by Treatment of Israeli Envoy
Over 120 Countries, but Never Israel: Queen Elizabeth II's Unofficial Boycott