Yom Kippur's Message of Return - for Muslims
So-called 'Muslim' states have submerged Islam's values of justice and compassion. Taking the example of the Jewish concept of 'teshuvah,' or return, could assist Muslims to recover their own sense of forgiveness, which is innate to Islam - but less evident in its modern-day manifestations - to return to the straight path that was once revealed to us.
A gentle September rain fell as I drove to temple last week. My friend and mentor and his wife had invited me to attend Selichot services at Temple Sinai in Roslyn, New York. I am used to being the lone Muslim in a Jewish congregation: I have attended Shabbat services with friends before, celebrated at a Jewish wedding, mourned at two Jewish burials and even addressed several Jewish congregations myself. Yet this was my first exposure to the concept of 'teshuvah' – return, or repentance, the key theme of Yom Kippur.
A visiting speaker embodied forgiveness, describing how, after regaining consciousness after a devastating car accident caused by a reckless joy-rider, she found herself feeling compassion instead of rage and, to the shock of family, friends and prosecutors, she requested a reduced charge for the offender. Her choice lead to the development of a juvenile justice and rehabilitation program about which she has since written.
Then Rabbi Michael White began the Selichot service proper. My mentor handed me "The Gates of Forgiveness", the Reform Union selichot prayerbook, inviting me to follow in translation. As Ukranian émigré Cantor Sergei Schwartz filled the temple with his soaring appeals, I wondered of the place in forgiveness in Islam. Where, I had long wondered, was the 'Raheem' (Arabic: mercy), among Muslims?
Today, Islam is portrayed as violent, misogynistic and unforgiving. 'Muslim' brutality is best portrayed only by ourselves, Muslims - whether in the actions of our 'Islamic' governments, or their citizens. In the last two weeks, thousands of Muslims have rioted, plundered and murdered (purportedly in defense of Islam and its Messenger), from North Africa to Australia - an unforgiving self-portrait indeed.
Because of the governments of Muslim majority countries and our own actions, anyone could be forgiven for assuming that brutal Qur'anic penalties are critical components to a Muslim life. The historical reality is starkly different, as Sadakat Kadri describes in his seminal work, Heaven on Earth: A Journey through Sharia Law from the deserts of Ancient Arabia to the Streets of the Modern Muslim World.
Kadri shows Qur'anic penalties were exceedingly rare throughout history: stonings occurred only once in the extensively documented Ottoman Empire. Throughout the 15th centuries since Islam was revealed, an array of violent recourse had been available to Islamic authorities but not used: their resurrection - which now defines Muslim culture - has been a deliberate product of 20th century revivalist Islam.
The revival would begin in the southern Iranian city of Kerman in the early days of the Islamic Revolution, where firing squads executed Iranians deemed 'perverts, drug dealers and leftists', under the authority of the new Ayatollah.
Zealots determined there was a holier, more 'authentic' response than firing squads, soon stoning four men to death (a punishment recorded by The Times' correspondent, Robert Fisk). Thus brutality was introduced to Islamic Sha'ria as Islam had never been seen before. Muslim autocrats have never looked back.
Not to be outdone, Saudi Arabia quickly embarked on a 'legal reform' in 1981 that reintroduced execution (including crucifixion) not only for murder, but for all sexual abduction, armed robberies and drug offences. The Saudis had earlier mentored Pakistan's dictator General Zia as he pursued consolidated power, and advised him as he launched his 1978 Islamicization programs, which legalized four Hudood ordinances which are particularly violently exacted upon Pakistani women and Pakistan's minorities. Mauritania, Sudan and the UAE quickly followed suit. Then Libyan ruler Gaddafi attempted to outstrip clerics by enthusiastically reviving amputations: all this since 1980.
In short decades, Muslim theocracies, Muslim dictators and the rogue Muslim democracy hijacked by Islamists – Pakistan - have together exceeded the collective violence exacted on disempowered citizens since Islam's inception.
Worse was to come. Kadri explains that the liberal reintroduction of 'ta'zir' – which allowed judges to punish without explicit precedence in the Qu'ran (normally only applicable in extenuating circumstances) - stripped away the usual checks and balances to which the Quran refers when adjudicating offences. Ta'zir was thus the death-blow for the ideal of mercy as attributed to Islam, seeing off the strong Islamic tradition that private sins, in contrast to public offences, cannot be adjudicated by 'earthly judges'.
Ta'zir – engineered by men - perfunctorily stripped Muslim subjects of the clear rights that the Qu'ran upholds, not least the presumption of innocence until proven guilty; the need for at least four explicit witness testimonies in cases of adultery (rendering this 'private sin' for practical purposes impossible to prosecute ); the option for the expiation of the offense through blood monies in lieu of capital punishments; the appeal to those offended against to forgive the offender (deemed far more favorable than exacting an equivalent punishment); and, wherever possible, for one who has sinned, to be afforded the right to repentance and atonement in private (which was always preferred to public denunciation).
Instead of relying on justice based on forgiveness, and punishment only under extreme compunction, Muslims had emulated Lewis Caroll's The Red Queen- sentence first and worry about a trial later. The enraged monarch of 'Through the Looking Glass' is merciless to her enemies, her cruelty illustrated through her callous and capricious treatment of animals, using a flamingo as a mallet and a hedgehog as a croquet ball, as even the youngest readers can recount.
Following these revisions to the Islamic judicial system, the new Mullahs were just as likely to say 'Off with his/her head!' Thanks to ta'zir, now exercised by backward, unscrupulous arbiters overruling the Qu'ran, Islamic law would be adjudicated by those who would not only deny the accused mercy, but even her right to plea for mercy.
All of this is a long way from Islamic ideals. The briefest search in the Qur'an reveals over 200 occurrences of divine forgiveness and dozens of references to forgiveness that can be sought either from our fellow man or our Maker.
Keep to forgiveness (O Muhammad), and enjoin kindness, and turn away from the ignorant. (7:199)
To forgo is nearer to piety; And forget not kindness among yourselves. Allah is Seer of what ye do. (2:237)
A kind word with forgiveness is better than alms giving followed by injury. (2.263)
The Quran advocates forgiveness in a myriad of circumstances: debt and financial transactions, marital discord, disagreements with friends and family and even with an enemy who may have caused the gravest of offences. Sadly, this foundational philosophy, of Islam's commitment to mercy, forgiveness and Islam's values of both repentance and compassion (like Judaism), has been banished to the realms of archaic history by present-day Muslims who govern themselves not by Islam but by manmade Red Queens.
The Talmud says that Jews must strive to be rachmanim b'nei rachmanim, compassionate people who are sensitive to human suffering. As they approach Yom Kippur, Jews appeal both for atonement and to contribute to tikkun olam – 1.56 billion Muslims included.
Yom Kippur has an important message for Muslims, not least the need for repentance and return. Muslims in power have submerged Islam's values, mirroring not our merciful Maker, but instead our meanest spirits. Muslims also have the chance to recover their own sense of forgiveness, innate to Islam, if they are to receive the Raheem that only God can bestow, and a return to the straight path that was once revealed to us. Of everyone, I ask: please do not judge Islam by its meager followers but instead by its magnificent and fast-fading ideals to which we Muslims can still return.
Qanta Ahmed MD is the author of In the Land of Invisible Women (2008), a Templeton-Cambridge Journalism Fellow in Science and Religion and Associate Professor of Medicine, State University of New York, USA. Follow her on Twitter @MissDiagnosis.
ICYMI
Ken Burns' Brilliant 'The U.S. and the Holocaust' Has Only One Problem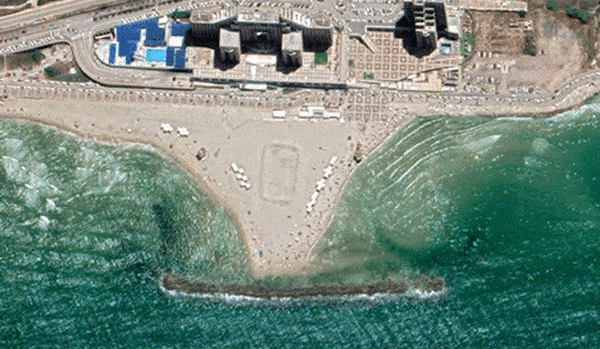 Facing Rapid Rise in Sea Levels, Israel Could Lose Large Parts of Its Coastline by 2050
As Israel Reins in Its Cyberarms Industry, an Ex-intel Officer Is Building a New Empire
How the Queen's Death Changes British Jewry's Most Distinctive Prayer
Chile Community Leaders 'Horrified' by Treatment of Israeli Envoy
Over 120 Countries, but Never Israel: Queen Elizabeth II's Unofficial Boycott