An Open Letter to Mitt Romney
I hate to burst your bubble, but if you believe that American Jews are going to vote for you in large numbers because they perceive you as more committed to Israel and more respectful of its current prime minister, you're dead wrong.
I hope you enjoyed your visit to Israel. It must have been fun playing the statesman in meetings with Israeli leaders and catching up with your old 'friend' Bibi and your new friend, Sheldon. I'm sure you told them everything they wanted to hear. How you would have Israel's back as president, and would never 'throw it under the bus' as you have accused President Obama of doing.
No doubt, you assured them that, whatever the cost, you would stop Iran from getting the bomb, and you were careful not to mention the Occupation and continued Israeli settlement-building. You certainly managed to avoid saying anything that would offend your hosts and give ammunition to your critics (I guess you learned your lesson from the stop in London). By now, you must be feeling quite content that everything went according to plan. You displayed your devotion to Israel, flaunted your friendship with Prime Minister Netanyahu, and filled your campaign coffers in the process.
Your advisors must be very happy with you right now. They're probably telling you that Obama is vulnerable among American Jews, a core constituency of the Democratic Party. The overwhelming support he received from them in the last election—winning between 74 to 78 percent of the Jewish vote - has declined to 68 percent in the latest poll and could drop some more.
They're encouraging you that you have a real opportunity to win over Jewish voters, especially in crucial swing states like Florida, Pennsylvania, Ohio and Nevada. All you have to do, they're assuring you, is be more pro-Israel than Obama, which isn't all that hard to do since Obama's relationship with Israel's Netanyahu government has been troubled and his gut-level support for Israel has always been doubted by some Jews.
I hate to burst your bubble, but if you believe that American Jews are going to vote for you in large numbers because they perceive you as more committed to Israel and more respectful of its current prime minister, you're dead wrong.
For one thing, whatever the failings of his administration's policy toward Israel and the Israeli-Palestinian conflict, President Obama's support for Israel cannot be denied. Obama is not another President Carter. The facts speak for themselves. Defense assistance to Israel under Obama has significantly increased, both quantitatively and qualitatively. The Obama Administration has repeatedly sided with Israel in international forums, above all in the United Nations, where Palestine might now be a member state were it not for Obama's threatened veto.
Sure, on a personal level there's little love lost between Obama and Netanyahu, but many Israelis also find Bibi's tendency to procrastinate and prevaricate frustrating. You probably will too if you become president.
But the real problem with what your advisors are telling you are not the facts about U.S.-Israel relations over the past four years—after all, these can easily be distorted and discarded, as so often happens in election campaigns—but rather the facts about American Jews. Two facts in particular.
Fact number 1: Israel is not the top concern of American Jews, not even close. To be sure, most American Jews, roughly two-thirds, care a lot about Israel. They don't want anything bad to happen to it, and they do want the United States to support it. But Israel is not what's uppermost in their minds when they enter the voting booth. As long as they are confident that U.S. military and diplomatic support for Israel is not in jeopardy (and they have every reason to be), American Jews will vote according to who they think will be the best president for the United States, not for Israel.
In other words, American Jews vote as Americans, first and foremost. Like other Americans, what matters to them are the economy, healthcare, education and social issues like same-sex marriage and abortion. Only a very small minority cares more about Israel than anything else, most of them Orthodox Jews who are politically conservative and right-wing about Israel.
Which brings me to fact number 2: When it comes to domestic American issues, American Jews are decidedly liberal, maybe a bit less so than they were in the past, but still pretty liberal, especially when compared to those of a similar income level. While the reasons for American Jewish liberalism have long been a subject of debate among political scientists and sociologists - and a cause for much annoyance among Jewish neo-conservatives - the Jewish commitment to liberalism in the United States, which borders on a quasi-religious zeal, has persisted over many decades. Unfortunately for you, there is no indication that it is weakening now.
Perhaps if you had remained true to your former liberal self, you might have stood a chance with American Jews, but then, of course, you would have never become the Republican candidate for president. I'm afraid you can't have it both ways. While you can woo the Republican base with your newfound, staunch conservatism, you'll alienate American Jews in the process. Trying to pander to their pro-Israel sentiments won't help you very much.
Forgive me if you know all this. I thought that your visit to Israel was, at least in part, an effort to gain American Jewish support. Perhaps I'm wrong. Maybe it was just a fundraising trip, or maybe it wasn't about American Jews at all. I'm sure it went down very well with evangelical Christians.
ICYMI
Ken Burns' Brilliant 'The U.S. and the Holocaust' Has Only One Problem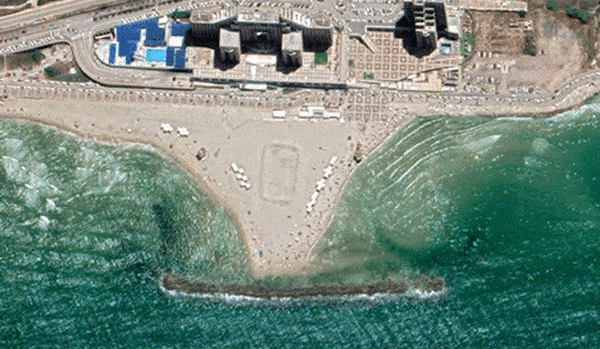 Facing Rapid Rise in Sea Levels, Israel Could Lose Large Parts of Its Coastline by 2050
Lapid to Haaretz: 'I Have Learned to Respect the Left'
The Mossad's Fateful 48 Hours Before the Yom Kippur War
As Israel Reins in Its Cyberarms Industry, an Ex-intel Officer Is Building a New Empire
How the Queen's Death Changes British Jewry's Most Distinctive Prayer