Istanbul, Queer Paradise
In the great Turkish metropolis, homophobia and gender oppression coexist with an ancient tradition of nonbinary splendor
A participant looks on as police block the way of LGBTQ+ community's march during the Gay Pride parade in Istanbul, Turkey, June 30, 2019
Credit: Bulent Kilic / AFP
At the last minute I stuffed a book into my backpack for some travel reading. On a Thursday night in Istanbul I took it out, on the sidewalk outside the building that houses Turkey's LGBT association. The book, translated from French, is about the famous Turkish author Bilge Karasu. Karasu, whose name in Turkish means black water, was born Israel Carasso. Only after his untimely death in 1995 did his faithful followers learn that he was gay.
In a diary published posthumously with the help of his good friend and French translator Alain Mascarou, Karasu documented his life in Istanbul in the '60s and '70s. He described the furtiveness, the casual sex, the illusions of falling in love, and his life with an aging mother who couldn't understand her son's inclinations.
Another book features dozens of letters he wrote to two friends, a couple in Paris, with whom he dreamed of the day when gay men in Turkey could raise the Pride banner and fight for recognition. Well, this has happened, I said to the picture on the book's cover, referring him to the flag fluttering from the balcony on the top floor above me.
"Don't tell me tales," said the smiling visage on the book. "You know very well, as I do, that things are not as they seem. Turkey remains a macho country with men not accepting that women are their equals. Being gay here is still shameful. But believe me, I've never lacked for lovers, because these machos don't think that if they occasionally want to have sex with a man that means they're gay."
I came to Istanbul with Israeli documentary filmmaker Tomer Heymann. The Pera Museum, one of the most innovative and beautiful institutions anywhere, in the middle of the vibrant Beyoglu district in the European part of the city, is holding a Karasu retrospective.
The Israeli Consulate is involved, particularly through Cultural Attaché Elazar Zinvel, who has brought freshness to Israeli-Turkish cultural relations at a time when overall diplomatic relations are far from friendly. Heymann is gay, a father of twins who joined him on the trip with their mother and grandmother, who was born in Turkey and had never visited Istanbul.
That evening, at the offices of the LGBT association, Heymann gave a lecture on his work to young members of the gay community. The two dozen young people, who had come to hear a "gay film director," met a professional who stresses that, above all, he wants to make good art. It might address the problems faced by the community, but the main interest is the person as a person whether straight, gay or anything else.
Everyone has room under his sun, he kept repeating with great enthusiasm; and Heymann has always made room in his movies for homophobes. In a clip he showed from his film "The Queen Has No Crown" – which tells the story of Jerusalem's first gay pride parade – it's clear how his camera is captivated by ultra-Orthodox Jews there to protest. He zooms in on the erotically stretched lips of a young Haredi man blowing a shofar, suggesting that maybe it wouldn't take much for that man to join the camp he's demonstrating against.
In his series "Paper Dolls," which covers a drag band from the Philippines on tour in Israel, the shocking homophobia becomes the heart of the matter when a taxi driver directs his hatred at the two drag singers who have just gotten off, with Heymann sitting beside him. Participants in the workshop weren't shocked by this; such homophobic rants are common in Turkey, they said.
Later, on the sidewalk, you could sense how much these young people were reluctant to part from Heymann. As they surrounded him, I stood to the side, admiring his personality, which lacks a shade of decadence and maintains the spirit of a counselor for Israeli street kids – about whom he made his 2001 documentary "It Kinda Scares Me." This was the spirit of someone on a mission, bearing a responsibility.
'No queer cameras'
I tried to engage some of these young people in conversation about the state of the LGBT community in Turkey, but I quickly realized I was sinking into the unconscious mire of arrogance that we Israelis so often assume.
Obviously, the state of the LGBT community is better in Israel than in Turkey, and it's clear that Tel Aviv is considered the gay paradise of the Middle East. But ironically, Istanbul is far ahead, remaining with cities like Marrakech in Morocco and the island of Mykonos in Greece a lodestone for gay people around the world, regardless of the real situation on the ground. In Istanbul there's a perfect mix of Western fantasies about the homoerotic Orient and the reality that miraculously fulfills these fantasies. In almost any area, the gap between appearances and reality happens under the surface.
One person I talked to was Mustafa. On weekends he changes his appearance and performs in drag under the stage name Kika. "Come to my show Friday," he said. "I'm at the Anahit club after midnight."
"Come on," a not-so-young woman sitting beside me at a screening of "The Queen has No Crown" scolded me as she handed me a tissue to wipe the tears I had shed when watching the movie.
"In the list of things that need changing in Turkey there are a few more important things than the problems of gay men, such as violence against women and the murder of women," she said. "You have some more important things to fix too, don't you?" She was referring to the Palestinian issue, which Tomer alluded to in his film.
The next day, Heymann was interviewed on the Turkish website Filmloverss." I joined him to help with the translation if needed. I noted a comment by him: "There are no queer cameras, no queer editing, no queer sound." He explained that the language of art was common to everyone, and that filmmakers who rely too heavily on the LGBT message they wish to convey end up making superficial and dull movies.
Maybe because his films are above all about humanism and empathy – even those with heavy homoerotic scenes – the movie theater at the museum was packed on the retrospective's opening night. There were young and old queer people from across the spectrum, artists, bohemians and Jewish community leaders. Many people had to sit on the stairs. Heymann said that at a festival in Thessaloniki half the audience left in shock a few minutes after his film began. As a veteran visitor who feels at home in Istanbul, I know why it can't happen there.
The 2015 documentary "Mr. Gaga," which opened the retrospective, is about choreographer Ohad Naharin. On the surface it isn't an LBGT film, but it is one covertly because it demonstrates the erotic mystique that exists in the unresolved blending of masculinity and femininity embodied in Naharin. Heymann probably doesn't know that two floors above the auditorium where his film was screened, in the museum's permanent collection, there's a painting by the 18th-century German painter Georg Gerhard Schröder that does the same thing the movie does. The painting is called "Mehmed Said Efendi and his Retinue."
Mehmed Said was an Ottoman ambassador to Sweden in the first half of the 18th century. He was sent by the sultan to claim repayment for a loan by the empire to the Swedes. Mehmed Said stayed in Sweden for a while to no avail, returning empty-handed. The painting is interesting for Said's feminine pose; he stretches forward a delicate foot that stands in stark contrast to his bushy beard conveying masculine gravitas. This forgotten 18th-century painter was an early recognizer of Turkish culture's affinity to gender duality, to covert homoerotic allusions. Heymann's film about Naharin fits this like a glove.
The refined man
The renowned Turkish essayist Sabahattin Eyuboglu worked in the 1930s, when attempts were being made to define what Turkishness is and what Turkish art is. He wrote about friendship between males as a characteristic that constantly hints at homoeroticism. This can be found in the writings of the mystic Jalal ad-Din Rumi, who signed his poems with the name of his friend and beloved student, Shams Tabrizi.
These features can also be found in the poems of friendship written at the Ottoman court, most of them love poems addressed to a man described with the attributes of a desired woman. There's a very important book about this love poetry that began in the Ottoman court of the 16th century, "The Age of Beloveds" by Walter Andrews. It describes Istanbul as the birthplace of the idea of a refined man not ashamed of his feminine side, at a time when Europe was immersed in total conservatism regarding sexuality. According to Andrews, this is how Istanbul's image as a sexually bizarre locale was fixed in European minds.
The person who renewed this tradition in modern Turkish culture was the singer Zeki Muren. During his career he gradually transformed from a man to a woman and an admired diva. Singer Bulent Ersoy was born a man and underwent sex-reassignment surgery in the late '70s. She was jailed during the military coup of the early '80s and was targeted by assassins in the '90s. She remains a symbol of the LGBT campaign and a model for emulation in Turkey, but her success is an exception. Few Turkish transgender people have gotten the chance to live a glamorous life as she has.
Ten years ago, I read the thriller "The Kiss Murder" by then young Turkish writer Mehmet Murat Somer. The book was about a murder in the transgender community in Istanbul. The transgender victim worked as a prostitute at a nightclub. Another prostitute sets out to solve the crime. He narrates the plot, which involves a macho taxi driver secretly in love with the protagonist, who rejects him. What emerged from the book was that Istanbul, like Venice, is a city of carnivals, of masquerades. People who seem macho may turn out to be effeminate, and someone who works as a woman by night might be quite masculine by day.
I suddenly remembered that not far from the LGBT association, on the same street that ends on Taksim Square, I once went, inspired by this book, to a transgender club in a building's top floor. I introduced myself as a journalist and interviewed the woman who was running the place, a transgender woman with firm liberal and secular opinions.
I was convinced that the beautiful girls sitting at the bar waiting for customers had life stories similar to the ones in "The Kiss Murder": beautiful gay young men from the provinces who had come to the big city dreaming of making money in this profession before returning home to a regular life. Later in the evening, the place filled with male customers who danced with the girls or joined them for a drink. Only years later did I realize that there was nothing glamorous in a community of transgender people working in prostitution, only misery.
Perhaps to make up for my past mistake, after the opening film at the retrospective I found myself walking alone in a deserted street filled with banks as a fierce wind blew cartons, plastic wrappers and uncollected garbage from store doorways. I headed to a club in the basement of a building on the edge of Beyoglu, where a fundraiser was being held for reopening a shelter for transgender women working as prostitutes.
A bit embarrassed among the young crowd drinking themselves silly and behaving wildly, I sat at the end of the bar beside a thin man who told me he was a photographer and movie director just starting out. His name is Omer Tevfik Erten. He pushed over a book of his photographs, published with the help of the Dutch Consulate, in which he documented the "house of the transgender women" in Istanbul that was closed down until further notice, its tenants thrown out onto the street.
The pictures show a house full of joy and color. Each room is named after a celebrity from that community: a Zeki Muren room, a Bulent Ersoy room, a room named after the prophet Jonah, a John of the Cross room. You see the women cooking, laughing, exposing their legs and reading coffee grounds, but also collapsing onto a mattress. You also see them bruised and bleeding after a customer vents his fury on them. Omer Tevfik Erten made a film about them and promised to send me a link.
Hope for grace
Tomer Heymann's latest film is called "Jonathan Agassi Saved my Life," probably his best and most outspoken effort yet. It tells the story of the meteoric success of an Israeli porn star and his slide into drug abuse. It's far removed from being an LGBT movie in the usual sense, It's about a family, the love of a mother and sacrifice. I thought to myself that such luxury would never befall a Turkish Jonathan Agassi, if there is one. Maybe without meaning to, the Israel portrayed in Heymann's movies is a place where even the remotest corner contains some hope for grace, empathy or pity.
I kept my promise to Kika and after midnight Friday went to the club where he was due to perform. I had never gone out in Istanbul so late. Streets that during the day looked empty or were filled with shady characters were now alive. Light streamed out of darkened doorways, with booming music and festive voices, as waiters scurried around with trays of drinks.
There was joy in the air and an opening of hearts. There, all misfits were welcome. If you stepped in the dark on a homeless person sleeping against a wall, you consoled yourself thinking that he was surrounded by music as he slept. "You're in Istanbul," I convinced myself, "the capital of the empire of complementary opposites."
At the Anahit club, Kika and her friends waited for their turn to perform. One of them, Kobra, sat excitedly in her white dress in which she would perform "Don't Cry for Me Argentina," which has become a hit in drag performances. The thick-bearded master of ceremonies, wearing a black dress, looked like an exact copy of Mehmed Said Efendi from the painting at the Pera Museum. Kika painted her mustache gold and wore a white and transparent lacy dress with a red fur collar that she threw at the audience during her show. She held a red plastic rose and wore white gloves, which she presented to my lips for a kiss.
I went up to the club's balcony to get a better look because the place was filled with young people who were cheering her every provocative move. She performed the 70-year-old Spanish hit "Quizas, Quizas, Quizas" as if playing on my nostalgia strings. Connie Francis' version of that song is what my parents and their friends danced to at New Year's parties during my childhood.
I heard two men talking in Hebrew in front of me. It was quite natural for them to be there enjoying themselves, without looking for deeper meanings, as I was, in what should be the most obvious thing: Life is wonderful unless it's ruined by slotting people into categories.
Click the alert icon to follow topics:
ICYMI
Ken Burns' Brilliant 'The U.S. and the Holocaust' Has Only One Problem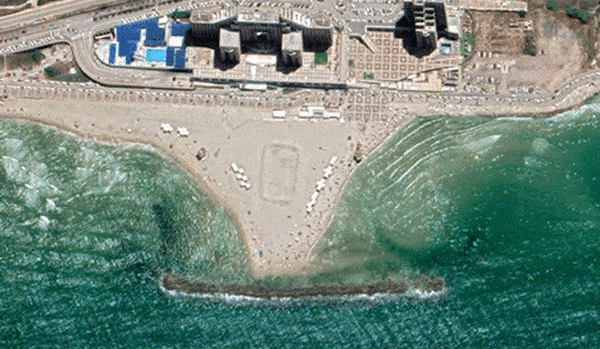 Facing Rapid Rise in Sea Levels, Israel Could Lose Large Parts of Its Coastline by 2050
As Israel Reins in Its Cyberarms Industry, an Ex-intel Officer Is Building a New Empire
How the Queen's Death Changes British Jewry's Most Distinctive Prayer
Chile Community Leaders 'Horrified' by Treatment of Israeli Envoy
Over 120 Countries, but Never Israel: Queen Elizabeth II's Unofficial Boycott