Analysis |
Turkey Referendum Victory Would Remove Erdogan's Restraints
If the Turkish President loses Sunday's referendum, he might declare new elections to obtain the majority needed to enact constitutional amendments
Turkish President Recep Tayyip Erdogan delivering a speech in Konya during a meeting prior to the constitutional referendum
Credit: KAYHAN OZER/AFP
At a rally in Bursa on April 5, Turkish President Recep Tayyip Erdogan warned voters not to jeopardize Turkey's place in the world by voting against constitutional reforms that will grant him sweeping new powers. He likened a yes vote in Sunday's referendum to a ticket to paradise, and he was not alone. Islamic scholars have called opponents of the reforms "heretics," while preachers call Turkish citizens living in Germany and warn them of what they can expect in the afterlife if they vote no in the referendum – which has been framed as a war between Gog and Magog, or patriots versus traitors.
The war of Allah and his messenger Erdogan against the Turkey haters stands at a historical precipice. According to Erdogan and his supporters, the fight to expand the president's authority is not another internal debate about status and power, but rather about the future of Turkey and all its citizens.
"Many prominent countries are trying to make things hard for us by supporting terror organizations," Erdogan said at an event in the northern city of Corum on Monday. "These countries are openly campaigning against the referendum." He also added a warning: "We are going to teach all those who are waving their fingers at us a hard lesson."
Erdogan is referring to countries like Germany and the Netherlands, whom he compared to Nazis after they prevented ministers from Ankara from lobbying Turkish citizens living within their borders. Some Scandinavian countries also feared, at least officially, riots between referendum supporters and opponents.
European opposition to Turkish political activity is rooted in deep enmity, it seems. These murky relations developed in recent years while Erdogan perfected his attacks against political rivals, journalists, judges and prosecutors, banned teachers and civil servants, put on trial pro-Kurdish political leaders and attacked everything that Europe believes it represents.
This grudge didn't start in July 2016 with the attempted military coup, which prompted one of the most widespread purges in the history of modern Turkey, but rather in 2013 and the mass public protests in Gezi Park, which Erdogan had sought to turn into a commercial center.
The truth is that letting Erdogan's representatives appear before Turkish audiences on European soil would not have led to a disaster. After all, Yair Lapid receives a public platform in Europe from which to spout his slogans. It's possible to surmise that had it been another Turkish president and not reforms to increase Erdogan's power, the Europeans probably wouldn't have been interested.
No room for opponents
On the face of it, Erdogan doesn't need to expand his powers – after all, he is already one of the strongest leaders Turkey has ever known. His Justice and Development Party has controlled the country since 2002 and doesn't give any other party breathing space. For example, Erdogan can get almost any law he likes passed; he went to war in Syria and sent troops into Iraq without any regard for dwindling opposition parties; and Turkey's foreign policy is set in the presidential palace and no one will dare object to it.
As if all that weren't enough, Prime Minister Binali Yildirim serves as the president's executive director; the army under Erdogan has turned into a docile body, battered by legal and public blows that undermined its status; the media is persecuted and running scared; and the economy, despite periodic crises, avoids collapse.
The assessment that Erdogan needs broader powers to change the character of his country – for example, turning it into a religious state – is not necessarily accurate. None of the 18 mooted constitutional reforms speak of negating the secular principles enshrined by modern Turkey's founding father, Mustafa Kemal Ataturk. Erdogan is selling religion personally and directly, not through legislation. He suggests that women have more children. At his "recommendation," Turkish Airlines stopped serving alcoholic drinks on domestic flights. His wife, Emine, appears in public wearing a hijab. And he is reforming the education system, so that religious school students enjoy the same status as high school graduates when it comes to registering for university.
Erdogan is a man of faith who was active in religious parties before forming his own party, but he is not a religious zealot. He needs the constitutional reforms to prove he can get what he wants. Polls in Turkey on Thursday predicted a narrow victory for him (with 52 percent voting yes), though close associates have already announced that if he loses Sunday's referendum, he is liable to declare new parliamentary elections in a bid to obtain the majority needed to enact constitutional amendments without a referendum.
Erdogan has no plans of giving up. Just as when serving as prime minister he obtained the amendment that created direct presidential elections (which gave him the presidency in 2014), he intends to change the method of Turkish governance from a parliamentary republic to a presidential republic.
The prevailing view is that Erdogan is striving to become a sultan (an absolute ruler), but it would be more correct to compare him to Ataturk, who was an all-powerful president who ruled through one party for many years. Both leaders built an authoritarian democracy that does not tolerate political rivals; both detested coalition-based government; and both redefined Turkish national identity. Ataturk erased ethnic and national minorities, and gave the army supreme authority; Erdogan fights against the Kurds and is making an effort to neutralize their political presence, and sees most of them as hostile and a threat to Turkish nationality.
Since the 1960s and '70s, various groups like the National Salvation Party have tried to unify the positions of prime minister and president. However, political divisions caused the Turkish parliament to fail to choose a president in 115 rounds of voting – which helped lead to a military coup in September 1980. Still, army officers who led that coup opposed merging the positions and wrote into the 1982 constitution that the president is "an ideological partner of the establishment." In other words, he should support the army, not exercise powers.
In 2005, three years after its sweeping electoral victory, the Justice and Development Party raised the idea of an executive presidency and demanded the direct election of the president. However, the constitutional court rejected that bid. The desire for a strong president derives mainly from the long-term failure of coalition governments to rule the country, with one of the biggest problems being the dual legitimacy of the prime minister and president. Ostensibly, an ideological, pragmatic approach lay behind these positions. But in fact, every time the method of governance came up for debate, it was clear that the cause was personal, based on the ambitions of leaders to concentrate power during their rule. Even now, the referendum doesn't touch on the nature of the regime but rather, the character of its leader.
The powers that Erdogan is likely to receive will turn him into parliament's boss. He will be able to become a party member, so he will be state president of a party and not the entire public, and will become largely immune from prosecution because of a complex procedure making it nearly impossible to annul the immunity of a sitting president.
Likewise, he will be able to dismiss parliament, veto laws (an authority he already has) and to control the judiciary through a council of judges and prosecutors, most of whom he will approve or disqualify. If he wins Sunday's referendum, he will kind of be like an American president – but without the checks and balances employed in the United States.
Erdogan's opponents in Turkey and the West fear – probably rightly so – for the state of civil rights in Turkey down the line. However, the violation of these human rights didn't wait for Erdogan to enjoy supreme authority, as the dozens of arrested journalists and thousands of detained soldiers and civil servants can already confirm.
On the other hand, his supporters are voting for the economic achievements and government stability he has brought. Unlike former President Barack Obama, the Trump administration sees Erdogan as a partner, and European countries will have to accept the unpleasant fact that even if they continue to oppose Turkey's joining the European Union, it is still an essential trading partner. Furthermore, the refugee agreement is vital to European countries, no less so and perhaps even more than it is to Turkey.
As a rule, Western countries don't get particularly agitated by leaders who violate humanitarian rights. Over recent decades, the West has preferred tyrants they can work with.
ICYMI
Ken Burns' Brilliant 'The U.S. and the Holocaust' Has Only One Problem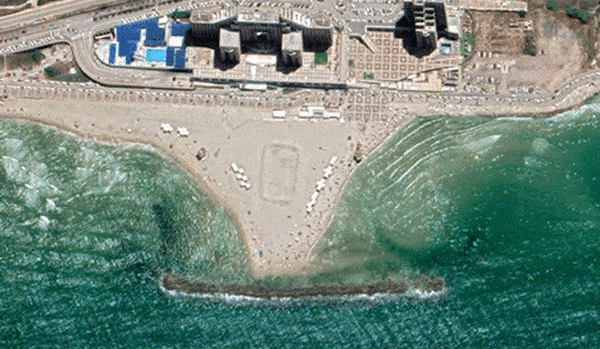 Facing Rapid Rise in Sea Levels, Israel Could Lose Large Parts of Its Coastline by 2050
As Israel Reins in Its Cyberarms Industry, an Ex-intel Officer Is Building a New Empire
How the Queen's Death Changes British Jewry's Most Distinctive Prayer
Chile Community Leaders 'Horrified' by Treatment of Israeli Envoy
Over 120 Countries, but Never Israel: Queen Elizabeth II's Unofficial Boycott