Analysis |
ISIS Women Want to Go Home, and the West Faces a Tough Dilemma
Western countries are reluctant to take back runaway citizens, partly out of fear their ISIS husbands will mobilize terror cells back home
Women carry their children as hundreds of civilians headed towards a screening point for new arrivals run by U.S.-backed Syrian Democratic Forces on March 5, 2019.
Credit: Delil SOULEIMAN / AFP
UPDATE: Newborn baby of ISIS bride denied return to Britain confirmed dead
Shamima Begum, a 19-year-old British woman who gave birth to a son two weeks ago, wants to go back home. Under other circumstances, Begum's story would stir a great deal of empathy. Women's groups would campaign for her in Britain, the government might provide a maternity allowance, her son would receive treatment by devoted nurses, and her name would soon disappear from the headlines.
But Begum ran away from home at 15 and joined ISIS in Syria, where she married a Dutch citizen. She was arrested and wound up in a refugee camp run by the Kurds in Syria. The British government revoked her citizenship.
Begum recently had to flee the camp after her life was threatened by other ISIS women, enraged over the media attention and the stories of suffering that Begum shared about her time with the group.
>> ISIS and denial: We British Muslims still aren't facing up to Islamist radicalization | Opinion ■ The rise and fall of ISIS: From organization to state ■ After ISIS loses its capital, focus turns to strengthening global terror network ■ ISIS' defeat brings al-Qaida back to the center of the terror ccene
Her current location is unclear. The British newspaper The Sun says she has moved to a refugee camp near the Iraqi border. Other sources say she has crossed the border and her whereabouts are unknown.
The storm in Britain over the revocation of Begum's citizenship is great. Politicians and pundits are debating the importance of citizenship. Some say it's meaningless, especially if it can be revoked with such ease. Others argue that the law lets Britain revoke the citizenship of anyone who commits a serious crime, as long as they retain citizenship status elsewhere (because international law doesn't allow a person to be stateless).
Many who support letting Begum return aren't Islamic State sympathizers but note examples in which fighters returned to their homelands and retained their citizenship. Gen. Francis Richard Dannatt, a former British military chief and current member of parliament, has been quoted as saying that Begum should be allowed to return to England, be granted legal rights and be judged fairly so she can resume her life. She can't spend the rest of her life in a refugee camp, he said.
Opponents cite examples of countries that strip Islamic State operatives of citizenship and keep them from returning home. For example, Australia passed a law permitting revocation of citizenship for anyone who commits a terrorist act and holds citizenship elsewhere.
The issue isn't only moral or political, it involves security concerns. The great fear is that Islamic State militants, several thousand of whom are still fighting in Syria or Iraq, might mobilize terrorist networks in their home countries if more are allowed to return.
According to rough estimates, more than 40,000 foreigners have joined the Islamic State since 2014. The London-based International Centre for the Study of Radicalisation and Political Violence estimates that around 7,400 members have returned to their home countries and that thousands more "ISIS women" remain in the camps in Syria.
The identities of Islamic State members and the so-called ISIS women are complicated. The status of women who marry Islamic State activists, people forced to work for the organization, and children born into ISIS families is unclear. In Iraq, for example, such women and children are held in special camps and await trial. The wait can last years.
Some 4,000 Russian women and another 5,000 from former Soviet states arrived in Syria and married fighters or volunteered for action. From this group, around 550 women and 1,100 children are being held in a refugee camp set up by the Kurds.
Inside the camps, Islamic State women are separated from the rest of the refugees – but there is little sisterly comradery. Syrian sites report fights between Syrian and foreign women, and between European women and Russian women or women from the Caucuses. Many of the flare-ups revolve around the question of returning to the West versus staying to continue the jihad.
Another question relates to the categorization of crimes by Islamic State women so as to develop a protocol for handling their legal issues – including whether they should be allowed to return to their homelands or even be acquitted of all charges. But establishing a specific scale for meting out punishment would require a lot of paid personnel and investigation work under near-impossible conditions.
A report by the UN committee on the war on terror says the women played a key role in recruiting activists to the Islamic State and even fought. A center in Egypt that follows religious edicts reported last month that the group continues to instruct women to recruit members and operate recruitment centers via social media. The center quotes a 2017 religious ruling stating that women have a key role to play in jihad against the enemy. Recently, religious figures have urged women to join in "family jihad."
These reports don't necessarily attest to success at drawing new women into the group, especially at a time when the organization doesn't have enough money to entice new recruits and many fighters haven't been receiving their salaries. But other reports say that some Islamic State members held in Kurdish camps have the means to bribe their captors into letting them flee and even pay intermediaries to spirit them across the border.
The proclamations of victory against the Islamic State have pushed to the forefront questions on what to do with the men and women in the camps. Russian President Vladimir Putin said that his country is willing to take in "ISIS children" but hasn't yet decided on the men. Chechen President Ramzan Kadyrov said he's willing to take in the women and children, including women who were fighters. He said he'd rather have them operating where they can be monitored by his government, rather than operating from afar.
U.S. President Donald Trump has demanded that all countries repatriate former fighters as part of the war on terror. The logic is that it's better for these Islamic State operatives to remain under permanent police and intelligence surveillance or be in prison, rather than be allowed to move around the world freely and carry out attacks. Trump has even threatened to simply free them from the camps if their home countries refuse to repatriate them.
No European or Arab countries have acquiesced to Trump's request yet, for fear that the activists will join terrorist groups already operating within their borders.
Pressure is mounting to find a solution for the Islamic State prisoners, as the Kurds have made clear they can't continue to operate the camps in the areas under their control without U.S. military backing. With the U.S. troop withdrawal from Syria looming, the Kurds are anticipating the absurd possibility that, after months of bitter fighting, major victories and thousands of prisoners taken, they may be forced to release these fighters back to the Islamic State. And the campaign against the organization is still not over.
The fighting is currently centered around the city of Baghouz on the Iraqi border, where 4,000 people have been brought to makeshift refugee camps. The Kurdish forces are expected to take the city in the coming days.
But small Islamic State pockets and especially cells that carry out serious attacks in Syria and Iraq will keep irking the governments in both countries and inspiring the eight other branches the group has established throughout the Middle East and Africa.
According to the United Nations, the Islamic State's forces number between 14,000 and 18,000 in Syria, Iraq, Africa and Asia. The report highlights the gap between Trump's statements that within days the organization will have lost 100 percent of the territory it once controlled and the reality on the ground: The organization isn't disintegrating but intends to become a "normal" terrorist group à la Al-Qaida.
The struggle against an organization scattered around the world would no longer be a war fought in cities or ISIS-controlled territory. It would be a much more complicated campaign that can't be won by an air force or artillery.
Egypt's Sisyphean war against terrorist offshoots in Sinai attests to the difficulties of a regular army fighting modest-sized groups that enjoy local logistical support.
Last month at least 16 Egyptian soldiers and officers were killed in an attack by a group affiliated with the Islamic State near El-Arish in northern Sinai, and a few more soldiers and civilians were killed in Rafah. Airstrikes by Egypt, joined by Israeli drones (according to Arab media reports), did great damage to residential buildings and killed civilians. These types of events have become a daily occurrence in a campaign with no end in sight.
ICYMI
Ken Burns' Brilliant 'The U.S. and the Holocaust' Has Only One Problem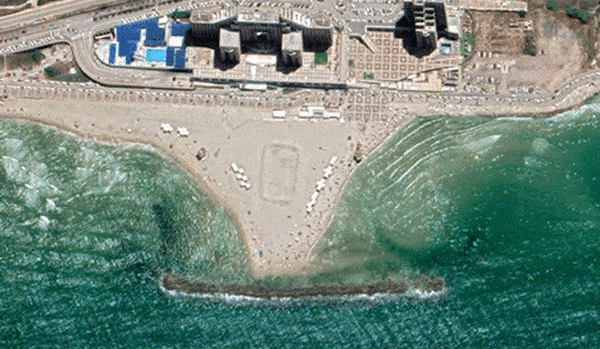 Facing Rapid Rise in Sea Levels, Israel Could Lose Large Parts of Its Coastline by 2050
As Israel Reins in Its Cyberarms Industry, an Ex-intel Officer Is Building a New Empire
How the Queen's Death Changes British Jewry's Most Distinctive Prayer
Chile Community Leaders 'Horrified' by Treatment of Israeli Envoy
Over 120 Countries, but Never Israel: Queen Elizabeth II's Unofficial Boycott