Satellite Images Show Damage Done to Syrian Facilities by U.S.-led Strikes
Meanwhile, officials say the facilities may not have been in use at the time of the Western coalition strikes, report says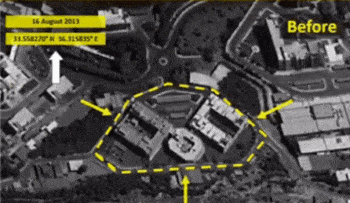 Before and after Syria strike.
Credit: ISI
Satellite images released Saturday show the extent of the damage at the sites of three facilities in Syria struck by the United States, France and the United Kingdom Saturday overnight.
>> Read more: Syria attack is a win for Assad | Jack Khoury ■ Putin may limit Israel's operations in Syria in retaliation for strikes | Zvi Bar'el ■ Attack gives instant gratification but is much ado about nothing | Chemi Shalev >>
The Trump administration said that the struck sites were centers of Syria's chemical weapons program. The photos show a research site at Barzah that overlooks Damascus as well as two weapons storage facilities in Homs.
The strikes, launched in response to a chemical attack near Damascus last week that killed at least 40 people, were said to destroy the "fundamental components" of the infrastructure used by the Assad regime to launch chemical weapons attacks.
"The three facilities are — or more appropriately, were — the fundamental components of the regime's chemical weapons warfare infrastructure," Lt. Gen. Kenneth F. McKenzie, the Pentagon's Joint Staff director, was quoted as saying by The New York Times.
One of the sites was "the primary location of Syrian sarin and precursor production equipment" while another "contained both a chemical weapons storage facility and an important command post," Gen. Joseph E. Dunford Jr., the chairman of the Joint Chiefs of Staff, said. Nevertheless, both generals acknowledged that the Assad regime likely retained some capacity to carry out chemical weapons attacks.
The report notes, however, that senior officials say it is unclear whether the sites were still central to the Assad regime's chemical program at the time of the Western coalition strikes. Officials say it is possible that activity at the sites had already been halted – the attack did not result in any casualties, indicating that the facilities had been abandoned either on the night of the attack or earlier. Additionally, there were no chemical leaks from the destroyed facilities, despite the photo evidence of the destroyed chemical sites.
The U.S. defense department maintains, however, that the development of chemical and biological weapons took place at the site. "We believe by hitting Barzah, we have hit the heart of the Syrian chemical weapons program," Lt. Gen. McKenzie said.
Click the alert icon to follow topics:
ICYMI
What if the Big Bang Never Actually Happened?
Why Palestinian Islamic Jihad Rockets Kill So Many Palestinians
'Strangers in My House': Letters Expelled Palestinian Sent Ben-Gurion in 1948, Revealed
AIPAC vs. American Jews: The Toxic Victories of the 'pro-Israel' Lobby
'This Is Crazy': Israeli Embassy Memo Stirs Political Storm in the Balkans
Israel Rewards Hamas for Its Restraint During Gaza Op