Analysis |
The Preventable War Crime: How the West Failed to Prevent One Syrian Chemical Attack After Another
In the history of war, no war crime has been so well documented and so predictable to those who had it in their power to prevent it from recurring
A child receiving oxygen following an alleged chemical attack in the rebel-held town of Douma, Syria, April 8, 2018.
Credit: /AP
What we know at this point is that late last night (April 7) in Douma, dozens of people -- the numbers are unclear but estimates range from 40 to 150 -- were killed by what was almost certainly a nerve agent or another form of chemical weapon.
To really understand Israel and the Middle East - subscribe to Haaretz
We know that Douma was one of the last remaining pockets of rebel resistance in Eastern Ghouta, the region near Damascus that has held out against the Assad regime for five years. And that, even though the enclave has been drastically shrinking, following pounding by Syrian and Russian airstrikes, the regime has targeted Eastern Ghouta chemical weapons before.
>>After Assad's chemical attack, Israel awaits Trump's next move in Syria | Analysis
We also know that April 7 is the anniversary of last year's American cruise-missile attack on a Syrian airbase, the only time during the last seven years in which the United States has directly attacked a regime target, and the lone example of the regime being made to pay for using such weapons. Apparently, it didn't have much of a deterrent effect.
>> Trump Just Did It: he drew the line against butcher Assad that Obama never did | Opinion
What we also know is that while Syrian civilian organizations are scrambling to get out evidence and samples from Douma for analysis abroad, Western intelligence agencies that have devoted considerable efforts over the last seven years to tracking the movements and use of Syrian chemical weapons already know a great deal.
They won't be saying what they know, however, because admitting knowledge means having to explain why they're not doing anything about it. Because they have known all along.
>>One day, we Israelis will ask why we did nothing | Opinion
In the early months of the Syrian revolution, as the Assad regime seemed on the brink of collapse and senior officers defected to the Free Syrian Army, then at the vanguard of the rebellion, the FSA prepared plans to secure Syria's arsenal of chemical weapons.
The massive stockpiles had been manufactured and prepared as a way to try and counter the military advantage held by Syria's neighbor and enemy, Israel. In 2011, even as the regime's forces were firing at protesters and killing thousands, the use of the chemical weapons, by the Syrian army, against Syrian civilians, still seemed a step too far.
>> The West's Leftist Male 'Intellectuals' Who Traffic in Genocide Denial, From Srebrenica to Syria | Opinion
Even for Bashar Assad. The main concern, among both the FSA and Western governments, was of losing track of the chemical weapons, having them fall into the hands of Islamist groups. The FSA claimed to know where the main storage facilities were situated, and said that with the downfall of the regime, their teams would be on hand to secure them.
They weren't the only ones who knew these details. The Syrian chemical-warfare program had been in place long enough for Western intelligence agencies and presumably Israel too to also have a pretty accurate picture of what it entailed.
>>Can Syrian carnage be compared with the Shoah? U.S. Holocaust Museum insists it must
In late 2012, when the first reports emerged of isolated cases of the use of such weapons against rebel-held areas, those intelligence services were hardly surprised. President Barack Obama had already issued his "red line" warning in August 2012, based on the fact that the U.S. and its allies already had credible intelligence on preparations by the foundering regime, and a willingness by it to use, those weapons. He warned that any such use would change "my calculus." But there were reports of additional use of chemical weapons, including the Khan al-Assal attack in March 2013 when Syrian soldiers and civilians were killed by a missile carrying sarin, which was almost certainly fired by the regime, and missed its intended target.
The fact that it was not until August 21, 2013, when the worst attack to date, at Ghouta, was carried out, that the West was finally on the brink of attacking the regime, had nothing to do with failures of intelligence. Rather, it was the sheer scale of the hundreds of dead, the footage of children being carried lifeless from their homes, and the fact that finally, more than two years after the fighting began, that an atrocity of the Syrian war had finally become headline news around the world.
Nothing had changed -- Obama and his allies had already known that the regime was prepared to use these weapons on its civilians. They just didn't realize how brazenly he was willing to do so. But Assad had their measure. Ultimately, Obama dithered, Britain's David Cameron carelessly held a vote in parliament over whether to respond militarily, and lost, and France's Francois Hollande waited for either Britain or the U.S. to join it before it would retaliate.
And nothing happened. Assad agreed to join the international treaty on the prohibition of chemical weapons, and the Organization for the Prohibition of Chemical Weapons teams did dismantle a large part of the Syrian chemical arsenal, perhaps more than 90 percent of it, but it had been built to fight a full-out war with Israel, and more than enough remained in the regime's hands to be used occasionally to break the will of civilians holding in the remaining rebel enclaves.
The type of weapons used, the convoys transporting them from depots, deployment of the artillery batteries firing the rockets and the flight-patterns of fighter-bombers dropping the bombs – all of these have been tracked and monitored in real time. There was no need for too much analysis, as it was clear within hours what had happened and who the perpetrators were.
If Assad and his partners are ever put on trial, the evidence has already been assembled, and it will point to the fact that the leaders of the West, and of Israel, knew and did nothing about it. Which is probably why that evidence will not be revealed for decades.
A number of other chemical attacks by Assad have barely even been reported in the West, because they were carried out against areas held by ISIS, and no one cares about them. When dozens died in the chemical bombing of Khan Shaikhoun on April 4, 2017, by which time it was Donald Trump calling the shots in the White House, the U.S. had no trouble finding the airbase from which the Syrian air-force Sukhois had taken off and targeting it with cruise missiles in a very short three days It wasn't some intelligence breakthrough or an asset that the U.S. had suddenly acquired.
It was just a president making an isolated gesture to show he was not his predecessor. But Trump changed nothing. Beyond that one-off missile strike, he has stuck to Obama's policy of ignoring the regime's chemical attacks. One more chemical attack does not change the interests of any of the players in Syria. Russia and Iran are still both invested in keeping the Assad regime afloat. The United States -- and as far as Syria is concerned, there is absolutely no difference between the policies of the Obama and Trump administrations -- is steadfast about not getting involved in Syria beyond fighting ISIS, which is now largely a sideshow.
The same goes for other Western nations, which are still suffering along with America from a collective trauma over costly and disastrous interventions in Afghanistan, Iraq and Syria. And the interests of Syria's two most powerful neighbors, Israel and Turkey, won't have changed, despite this weekend's atrocity.
Turkey is focused on its immediate corner of Syria, where it is engaged in a punishment campaign against the Kurds in Efrin. Israel is targeting only Iranian and Hezbollah assets in Syria, and trying to make sure they don't go near the Golan border. Both countries now look to Russia to help them maintain those interests and won't do anything to anger the Kremlin.
At any point during the last seven years, Israel or Turkey could have carried out air strikes to take out the main storage bases of chemical weapons, and the artillery units and air bases from which they are launched. Both countries have large air-forces sufficiently equipped with stand-off missiles (which can be fired at a distance without exposing the attacking aircraft excessively), to carry out such missions, and they know which targets to hit.
The same is equally true of the U.S. and its British and French partners, which have even more land, sea and air-based missiles for such a task.The excuse everyone now has, that since September 2015, Russia has deployed forces to Syria, and attacking those targets would be provoking a global showdown, didn't exist in the first four years of the Syrian war. It didn't prevent the single attack by the U.S. last April after Khan Shaikhoun. And from a military perspective at least, it doesn't hold water now, as the handful of fighter jets Russia has deployed to Syria, and its air defense system there could not hold off an attack carried out by long-range missiles and stand-off munitions fired from afar.
In the history of war, no war crime has been so well documented and so predictable to those who had it in their power to prevent it from recurring. They haven't prevented these attacks to date, and they won't do so in the future, because it is not in their interests to do so.
Click the alert icon to follow topics:
ICYMI
Ken Burns' Brilliant 'The U.S. and the Holocaust' Has Only One Problem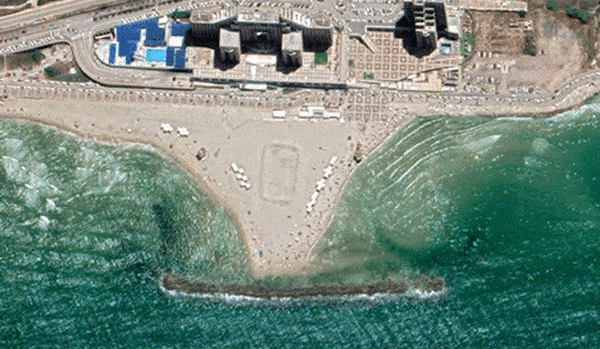 Facing Rapid Rise in Sea Levels, Israel Could Lose Large Parts of Its Coastline by 2050
Lapid to Haaretz: 'I Have Learned to Respect the Left'
The Mossad's Fateful 48 Hours Before the Yom Kippur War
As Israel Reins in Its Cyberarms Industry, an Ex-intel Officer Is Building a New Empire
How the Queen's Death Changes British Jewry's Most Distinctive Prayer