Analysis |
Trump's Comprehensive Demolition of Putin Propaganda Trying to Cover Up Assad's Chemical Attack
White House report and briefing show the Trump administration is preparing to follow up on the missile strike against Assad targets. But can you take anything they say seriously?
A screenshot of Vladimir Putin on RT.
Credit: YouTube screenshot
White House Press Secretary Sean Spicer's stupid and ignorant remarks Tuesday comparing Syrian President Bashar Assad and Adolf Hitler are naturally dominating the news agenda right now. Which is a huge pity because just before Spicer's unfortunate briefing, the White House released a four-page backgrounder summarizing the U.S. intelligence community's assessment of last week's chemical attack on Syrian civilians in Khan Shaikhoun. The paper, along with the transcript of a background briefing given by "senior administration officials" provide not only a detailed explanation of why the Trump administration is convinced that the Assad regime, at its highest levels, directed the attack in which eighty civilians were killed by a sarin nerve agent, but also a comprehensive demolition of Russian propaganda trying to cover it up.
>> Get all updates on Trump, Putin and Syria: Download our free App, and Subscribe >>
There are a number of very interesting points in the assessment. It combines both painstaking summaries of the open-source intelligence on the attack – reports and videos made by local Syrian civilians which were posted on social media and reports from international organizations and NGOs – along with the declassified results of U.S. intelligence gathering, confirming and adding new details. This includes both signal intelligence and geospatial intelligence. The available information, along with the timing of the strike, reports on the ground from the affected area, the identity of the Syrian aircraft and personnel involved and the medical details of the casualties, leave no doubt that this was a sarin attack launched by the Assad regime.
The White House naturally didn't divulge many details of its own intelligence gathering. However, one quote from the briefing regarding the bombs carried by a Syrian Sukhoi Su-22 bomber is particularly revealing: "We have one particular munition that we've seen via overhead that we think is a munition that contains sarin." In other words, American intelligence claims to have footage, either from a satellite or a reconnaissance aircraft of the Syrian plane it believes carried out the attack being loaded with a bomb containing sarin. That indicates an intelligence or military service, either of the U.S. or an allied nation, had been intensely surveilling the Shayrat airbase even before the chemical attack.
The White House report also claims that "personnel historically associated with Syria's chemical weapons program" were known to have been at the Shayrat base in the days leading up to the attack. This is another indication that the information came from sources which had studied Syria's chemical warfare closely. This is purely speculative, but it makes sense to surmise that two such sources could be Israeli intelligence, which has naturally been focusing for decades on the Syrian chemical arsenals which were originally produced to target Israel, and former Syrian military officers who formed the rebel Free Syrian Army in the early years of the civil war. In the past, senior rebel commanders said that they were keeping tabs on the known storage bases of chemical weapons. Israel of course shares much of its intelligence with the U.S. ,and hours after the attack last Tuesday senior Israeli intelligence officials were already saying that the Khan Shaikhoun bombing looked like a "textbook chemical attack" and that there was no question that it could only have been carried out with authorization from the highest levels of the Assad regime.
The U.S. administration officials also supplied what is the most detailed analysis to date of the reasons for the regime's use of sarin at this place and time. They said that the Assad regime was concerned that an ongoing offensive by rebel forces from the Idlib region – where Khan Shaikhoun is located – towards the city of Hama was endangering another important Syrian airbase and that the bombing of Khan Shaikhoun was intended both to hit a civilian area seen as providing support to these rebels and "to create pressure in what was deemed a rear area for those opposition forces that were fighting".
No less important than details on the attack are the political and diplomatic implications of this White House report and its timing. For a start, while it's still unclear whether the administration has any intention of following up its missile attack on Shayrat, the report has already posed a direct challenge to Russia. Not only does it justify the strike, it takes apart the Russian narrative of events – that the casualties in Khan Shaikhoun were the result of a hit to a chemical warehouse controlled by the rebels. As one of the officials said in the briefing, "it's clear that the Russians are trying to cover up what happened there". The report goes further, noting that the Kremlin's propaganda channels have used false evidence repeatedly in the past to accuse rebels of chemical attacks, including footage from the regime's sarin attack on a Damascus suburb in 2013 and even images from a video game.
The White House didn't go as far as claiming that Russia knew in advance of the Assad regime's plans to use sarin last week, leaving that question open. But one of the administration officials said in the briefing that "these two militaries operate very closely, even down to an operational and tactical level" and that Russian personnel were "co-located with the Syrian forces that planned, prepared, and carried out this chemical weapons attack at the same installation".
It is significant that the White House briefing on Tuesday took place only hours after Russian President Vladimir Putin doubled down on the narrative exonerating the Assad regime of the chemical attack and warned that "we have information that a similar provocation is being prepared" in order to give the U.S. a pretext for staging further attacks. It certainly doesn't look like the Trump administration is interested at this point in de-escalating tensions with Russia over Syria. This was reinforced by a remark made by Secretary of State Rex Tillerson before leaving for Russia on Tuesday that "it's clear to all of us that the reign of the Assad family is coming to an end." What is still far from clear is what Trump does intend to do.
In an interview with Fox Business Network on Tuesday, Tillerson said bluntly that "we're not going in to Syria," though it wasn't clear whether he was referring just to ground troops or to further missile or airstrikes. Defense Secretary James Mattis insisted in a briefing of his own that the administration's policy in Syria hasn't changed, though he wouldn't rule out further strikes in response to chemical attacks. Neither did he say whether chemical attacks using the less-deadly chlorine, which the regime has done repeatedly, would also qualify a response.
However, the White House briefing does include a few intriguing hints. In it, the officials mention that since the first sarin attack in August 2013 on the Damascus suburb of Ghouta there have been around 200 allegations of the regime's use of chemical weapons, usually chlorine and that "many of these are credible" (this also looks like a discreet jibe at the previous Obama administration which took pride in "dismantling" Syria's chemical arsenal and failed to act when it was clear that the regime still held chemical weapons). Going further, the officials say that "we are working with our intelligence community to understand every piece of information they have about where such munitions might be located, who might be ahold of them, and I can tell you that that's going to be part of what we try to figure out and where we go from here" and that "our clear goal right now, and the goal of this strike, was, in large part, to deter further chemical weapons uses by the Syria regime." Given the current level of rhetoric from both Washington and Moscow, it doesn't look like that will be possible without a further escalation.
The final paragraph of the report contained another hint, where it noted that "it is an embarrassment that Russia has vetoed multiple UN Security Council resolutions that could have helped rectify the situation". So it doesn't look as if the lack of any UN backing will deter the U.S. in the future from acting on this issue. This may be the start of an actual administration policy regarding Syria and Russia. That is, if you can take seriously any policy of an administration that has a fool like Spicer explaining it.
Click the alert icon to follow topics:
ICYMI
Ken Burns' Brilliant 'The U.S. and the Holocaust' Has Only One Problem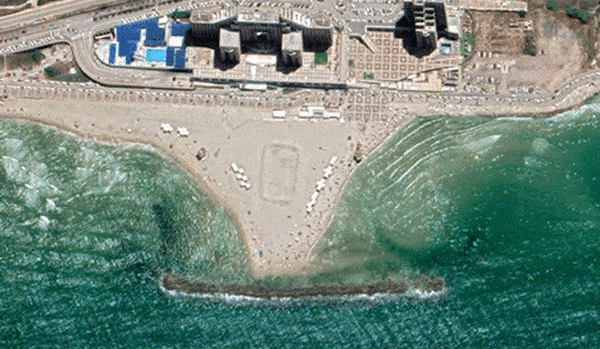 Facing Rapid Rise in Sea Levels, Israel Could Lose Large Parts of Its Coastline by 2050
As Israel Reins in Its Cyberarms Industry, an Ex-intel Officer Is Building a New Empire
How the Queen's Death Changes British Jewry's Most Distinctive Prayer
Chile Community Leaders 'Horrified' by Treatment of Israeli Envoy
Over 120 Countries, but Never Israel: Queen Elizabeth II's Unofficial Boycott