Fatah on Verge of Split Ahead of Palestinian Election That Might Still Be Nixed
Nasser al-Kidwa – a longstanding critic of Abbas' leadership – revealed the open secret of an alternative slate in the works and called on the jailed Marwan Barghouti to join him
The jailed Palestinian leader Marwan Barghouti on a mural alongside Yasser Arafat
Credit: AHMAD GHARABLI / AFP
March 31 is the last date to submit the lists running for the election to the Palestine Legislative Council scheduled for May 22. Presumably in that time the magician, Palestinian Authority President Mahmoud Abbas, and his loyal associates will do everything to prevent what has seemed inevitable for the past weeks: a split in Fatah into two if not three parts that will compete with each other against a united Hamas slate.
Nasser al-Kidwa – a senior politician whose name has been associated with reports of a faction contesting Abbas' leadership – revealed the open secret, in an on-line symposium in which he took part, organized by Bir Zeit University. Kidwa, a member of the Fatah Central Committee, has in recent years been an internal critic of Abbas' authoritarian control of Fatah and the PA. Last week he was absent from the Central Committee meeting, which was viewed as a forerunner to official confirmation that he is involved in an initiative to form another slate.
And indeed, he did confirm this for the first time, publicly, on Thursday. He also called directly on Marwan Barghouti, who is held in an Israeli prison, to support the competing slate and not to "flee from responsibility," in making do only with his intention to run for president. Close friends of Barghouti and other Fatah activists identified with the generation of the first intifada have been in talks toward the establishment of this slate. Although they said that a slate should be formed only after developing a platform and working plan, the search for candidates has already begun.
Kidwa's remarks drove Abbas to invite him for an urgent meeting on Friday night. According to Al-Araby Al-Jadeed, Kidwa told Abbas that he wouldn't backtrack, as he has grown tired of any attempts to reform Fatah.
Those involved in preparing the slate hoped at first that Barghouti would head it. Kidwa – Yasser Arafat's nephew and formerly the Palestinian Liberation Organization's representative to the United Nations – is an important figure in Fatah, but he is less well known to the general public. Therefore, Barghouti's support for the roster now being formed is considered essential to attract more candidates, to persuade the fence-sitters and to galvanize voters. Kidwa said in the symposium that the slate is not only for Fatah breakaways, but also for independent activists, members of former leftist parties, patriotic businessmen. and members of civil society (non-governmental organizations). It is not a reform of the Palestinian regime that is needed, he said, but change.
Kidwa's public appeal to Barghouti not to flee responsibility suggests disappointment in Barghouti's delay in announcing his intentions and fear that he may succumb to pressure. About 10 days ago Barghouti was visited in prison by Hussein al-Sheikh, the PA minister for civil affairs, who is also a member of the Fatah Central Committee and very close to Abbas. Senior figures in the official Fatah implied that Barghouti agreed to support a united Fatah slate. Barghouti's close associates told Haaretz that nothing had changed in his position following the visit, and that he has not budged from his intention to run for president, which is not official but was declared before Sheikh's visit.
Barghouti's circles believe that official Fatah will recycle its paternalistic message that it is understandable why its most famous prisoner will seek any means to get out of prison – that is, that his motives are personal. Barghouti and his associates do not have illusions regarding the power of a presidency to release him.
And yet, the possible contest between Abbas and anyone who decides to run against him makes the presidential election, which is to take place on July 31, especially fascinating. The election of a security prisoner as president could change the rules of the game and promote an unfamiliar dynamic in the balance of power with Israel. This could be a creative and subversive move, of the type foreign to the calcified Fatah leadership – but only if it is made at the same time as part of a basic change intended by the creators of the new slate. Because the problem is not only in Abbas and the internal dictatorship he has fostered, but also in the structural problems of Fatah and the PA as a product of the Oslo Accords, which made this dictatorship possible.
The planned roster is not a personal matter stemming from anger over candidates not appointed to the Palestinian legislative council (as it was in 1996 and 2006) but rather a manifestation of basic differences of opinion. "They hijacked the movement from us," a number of supporters of the new slate. told Haaretz. The slate, they said, is meant to offer strategies of a return to the struggle for freedom and independence instead of the illusion of government and entrenchment in the status quo that provides salaries for government officials, and administers the enclave under Israeli occupation. A number of supporters also mentioned that the roster must ensure the end of the corruption associated with Fatah as a ruling movement and bring back the spirit of pluralism and patriotic devotion in Fatah "that they knew." But from Kidwa's remarks at the symposium it may be concluded that the alternative slate is not a fait accompli; the challenges, simply put, are still very great.
The mantra of Abbas' representatives is "a united Fatah slate." That is – one whose makeup, now being decided by a committee, will be accepted by everyone. To this end, the West Bank (including East Jerusalem) and the Gaza Strip have been divided into five districts and a few members of the Central Committee from each district sort through names and decide who the candidates are. Barghouti and his friends in Fatah say that "the democratic process must be ensured" in making up the slate, and that if their wishes are met, they will support a united list. They propose that a wider forum of hundreds of members of the movement that have been elected to its institutions and councils in various civil bodies (such as the student council, the bar association, the local councils, NGOs, etc.) meet and elect the official candidates or most of them. The well-founded concern is that the committee arranging the slate will operate according to Abbas' instructions, and that he will have the last word.
In the meeting of the Fatah Revolutionary Council about three weeks ago, Abbas threatened anyone who intends to establish a separate slate. "Shoot them, kill them," he said, according to Fatah members. He undoubtedly meant this metaphorically, but he certainly made his attitude clear toward potential "separatists." They say he also directly threatened Kidwa. In that same meeting, Abbas declared that he forbade members of the supreme Fatah institutions (the Central Committee and the Revolutionary Council) to submit their candidacy for the roster. Even his supporters were surprised because parliamentary activity requires political and professional experience and because the movement has long been preventing advancement of and greater prominence to younger and popular activists.
Meanwhile it was reported that this order is being re-evaluated and there might be some "exceptions." The cynics say that they are certain that the exceptions will be from among the president's loyalists. A new amendment from January of this year to the election law (in fact, a presidential order from 2007) is also raising concerns among Abbas' adversaries: like the original order, anyone who signs on as a candidate on any slate must resign from their place of employment. Now, according to the amendment, those who become candidates must receive the consent of their workplace to resign. The conditions of the resignation in and of itself could deter people in research, teaching and leadership positions in academic institutions, NGOs and companies. The head of the general election committee, Dr. Hanna Nasser has already expressed his reservations about it. Some in Fatah fear that the need to obtain permission from a potential candidate's workplace will allow exertion of pressure to reject the resignation of people Abbas doesn't want to run.
According to a report by Al Jazeera, in a meeting between the Jordanian and Egyptian intelligence chiefs with Abbas about a month ago, they tried to persuade him to make his peace with Mohammed Dahlan – whom Abbas removed from Fatah in 2011 – so that a unified Fatah list would run against Hamas. Abbas refused. A number of those involved in creating the roster to compete against Fatah told Haaretz that Abbas does not realize that the slate identified with him will lose the election. Senior figures around him also have the illusion that a Fatah win is assured. Supporters of Dahlan (the former head of Gaza's Preventive Security Force) hoped that he and his people would join a roster led by Kidwa and Barghouti's associates – but what had been said previously in closed conversations, Kidwa said aloud at the symposium: There is no place for Dahlan himself on the slate. There are already reports from Gaza of the organizing of a group of Dahlan's supporters from the Democratic Reform Bloc, which he leads, to establish their own slate.
Although 93 percent of franchised voters have already registered with the election committee as required (2.6 million out of 2.8 million people) – which shows the great desire to take part in the democratic process – there is still talk of cancelling the election. A veteran senior figure in Fatah told Haaretz that Fatah's General Intelligence Service objects to the election because it believes that the results will be negative for Fatah. And in fact, Kidwa said at the symposium that it is not at all certain that the election will take place, although he preferred not to go into detail about the reasons for this concern. Perhaps that will be "the solution" to the inevitable split.
Click the alert icon to follow topics:
ICYMI
Ken Burns' Brilliant 'The U.S. and the Holocaust' Has Only One Problem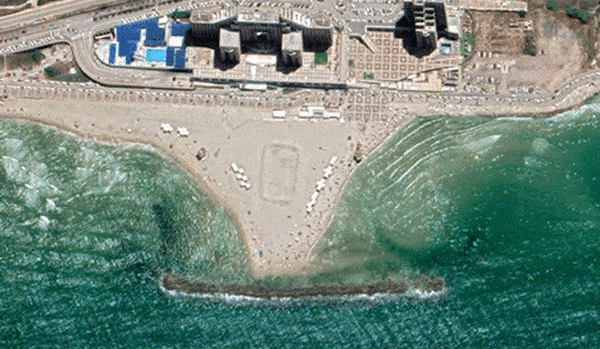 Facing Rapid Rise in Sea Levels, Israel Could Lose Large Parts of Its Coastline by 2050
As Israel Reins in Its Cyberarms Industry, an Ex-intel Officer Is Building a New Empire
How the Queen's Death Changes British Jewry's Most Distinctive Prayer
Chile Community Leaders 'Horrified' by Treatment of Israeli Envoy
Over 120 Countries, but Never Israel: Queen Elizabeth II's Unofficial Boycott