Palestinians Hit by COVID-19, but They Have Greater Things to Worry About
West Bank and Gaza residents have chalked up relatively low rates of illness and death, hence the noticeable complacency. But the toll the pandemic and Israel's tough policies is taking on their pockets seems incurable
A Palestinian police officer being tested for COVID-19, in the Gaza Strip. Fake news and false rumors about the coronavirus are circulating on Palestinian social media.
Credit: Adel Hana/AP
The cries of joy from the building next door left no doubt: There was a party going on there, presumably a wedding. It's a small hotel whose banquet hall holds about 100 people. In the pandemic era, a celebration involving a few dozen people or more is prohibited in the Palestinian enclaves of the West Bank just as it is in Israel.
Every day some Palestinian village, refugee camp or certain area is placed under a 48-hour lockdown by the head of the governorate in question, due to a rise in cases of COVID-19, in order to help trace infected individuals and place them in quarantine. Mosques are open for prayer only in areas where rates of infection are low, and only in accordance with social-distancing guidelines.
Public, private and UN Relief and Works Agency schools have been experimenting with different techniques combining caution and learning: smaller groups of pupils that learn alternately at school and at home, zooming and going into the classroom when possible. Universities have reopened, with classes being taught via Zoom, for now.
Government employees have returned to their offices. If a worker tests positive for the coronavirus, his or her department closes down and all its workers are sent into quarantine. Cabinet meetings are held on Zoom, as are the lectures and meetings of various organizations.
Nearly every day there are reports of a wedding somewhere that police stopped. More than half of the over 65,000 Palestinians who have tested positive since the outbreak erupted some eight months ago were infected at some sort of social gathering – usually an engagement party or a wedding, but also after large funerals or receptions for released prisoners.
And despite it all, these events continue to be held in the occupied territories, as in Israel. Here is a neighbor who says he went to a friend's wedding in the Jalazun refugee camp; there, a friend is making stuffed grape leaves for the hundreds of guests from East Jerusalem who are expected at a wedding in Bethlehem. And also, it shouldn't happen to us, there's the friend who is rushing from Ramallah to Tul Karm – for a funeral.
A different friend was invited to a wedding due to be held in a church. He got upset with his incautious relatives and "snitched" on them to the police, beforehand. But the wedding went on as planned. There are people who hold their parties in some village or other in Area B, which is under Palestinian civil authority but where Israel controls security and forbids the Palestinian police from operating and enforcing the law.
The people renting out the halls can feign innocence and point to an announcement that made the rounds on social media early last month, according to which these venues would be permitted to reopen October 10.
The announcement appeared on the Facebook page of a previously unknown organization called the Association of the Event Sector in Palestine, and it looked completely professional: It listed seven requirements that must be met, including maintaining physical distance, wearing face masks, washing hands before and after the gathering, having one's temperature checked at the entrance and prohibiting entry to old people. It also called on banquet hall operators to reduce their prices due to the situation.
On October 8, however, the Palestinian Health Ministry published an announcement saying it never lifted the ban on holding mass events. The denial was posted on the page of a Facebook group called Kashif (Arabic for "detector"), established by the Palestinian Journalists Syndicate to uncover instances of fake news and rumors on social media and to serve as a platform for reporting its findings.
Kashif has, for example, revealed instances of fake news being circulated regarding the condition of PLO Secretary General Saeb Erekat, who is hospitalized with COVID-19 in Jerusalem's Hadassah University Hospital, and a rumor from September 9 that a vaccine for the coronavirus had been found and that mandatory immunization for elementary school-age children was to begin the following Sunday. That item, which appeared on a website called Nablus News, actually warned the public against these vaccinations, describing them as serving secret and powerful international forces and their special interests.
The number of false rumors about the coronavirus on local social media has declined since March, but one can still hear people talking, in all seriousness, about "shadowy international forces" that seek to frighten the public or to take over the world either by inventing its existence or spreading it.
One can also hear the absurd claim, put forward no less seriously, that case numbers are being inflated "because the World Health Organization pays the Palestinian Authority such-and-such an amount for every fatality."
In fact – and I say this without minimizing the suffering of every patient, or the pain and loss experienced by every family that has been affected – the number of deaths among Palestinians due to complications of COVID-19 has been relatively low, at 34 in the Gaza Strip, 455 in the West Bank and 72 in East Jerusalem, a total of 561, as of Sunday evening, out of a population of about 5 million.
Distancing? Are you kidding?
Palestinian society, especially in the Gaza Strip but also in the West Bank, has experienced the cruelty of mass death following Israeli military strikes. After the uncertainty during the beginning of the pandemic and the understandable panic, the cases of illness and death over a period of several months have not greatly affected the Palestinian psyche. PA government spokesman Ibrahim Melhem even says that the overall, average monthly death rate has declined – due largely to a drop in the number of traffic accidents as a result of a decline in vehicular travel.
The relatively small number of deaths from the coronavirus is one explanation for the lax compliance with pandemic rules by most West Bank Palestinians. It's very easy to forget about the virus. The crowding in the streets, maskless cashiers in supermarkets and grocery stores, the rather amused looks attracted by anyone wearing a mask on the street or in a store, the huge numbers of young people (including many from East Jerusalem) who gather in the trendier cafes on Thursday night – there is nothing about this behavior that suggests panic, or even caution. This holds true for the crowded refugee camps, on one hand, and the more spacious villages on the other.
Last Thursday the complacency was particularly noticeable: It was the birthday of the Prophet Mohammed, a paid holiday that is usually a day of rest and family outings. In response to the remarks made by French President Emmanuel Macron, which were seen as an attack on all Muslims, mass protests were held that day in many cities in the occupied territories, in the form of festive street processions.
The strict March-April lockdown proved effective. Up until mid-June, the pandemic numbers were very low, with 507 cases of infection and two deaths in the West Bank, and 72 infections and one death in the Gaza Strip. A steep rise began then, and has not yet tapered off.
A 60-year-old woman – we'll call her Abir – was one of the first cases of the second wave of infection, in July. She and her family have experienced the capriciousness of the virus. Five of the 10 family members living in her home tested positive: Two became very ill, two were very mildly ill and the fifth, a 12-year-old grandson, tested positive but had no symptoms.
In the West Bank, a few quarantine centers were set up and a few hospitals were delegated to treating COVID-19 patients. One of them is the Hugo Chavez Ophthalmic Hospital, named for the late Venezuelan president, in the village of Turmus Ayya, northeast of Ramallah. Abir was there for a week, her daughter was in the hospital in Ramallah and the other relatives were in isolation at home. Despite the general laxness when it comes to abiding by the regulations, it turns out that in some places coronavirus patients are stigmatized: Abir relates sadly that neighbors still avoid her family.
Good news first
The Palestinian Health Ministry is conscientious about reporting new cases, the spread of the disease and the number of recoveries and deaths every day. The ministry's announcements in the media always start with the good news: the number and rate of people who have recovered (typically about 88 percent), before moving on to the data concerning active case – 7,098 as of Sunday evening – and deaths.
The Health Ministry is that of "the State of Palestine," and this state comprises the West Bank and the Gaza Strip on the eve of their capture and occupation in June 1967. And so, as of Sunday, there were a total of 65,802 cases among Palestinians within these boundaries, which include East Jerusalem: 11,742 in East Jerusalem, 47,730 in the remainder of the West Bank and 6,730 in Gaza and a total of 12,979 individuals are in isolation at home. (The ministry website also publicizes the numbers of those ill with COVID-19 among the Palestinian diaspora around the world and refugee camps, albeit separately: 6,599 as of Friday evening, and 275 deaths.)
It can be assumed, however, that the real number of infected persons is much higher, and that it includes many people who are asymptomatic or have very mild symptoms as well as others who don't bother to get tested.
A total of 522,831 tests have been administered in the areas in question until today. The average number of tests conducted each day in the West Bank is 2,000-2,500, PA spokesman Melhem says. A similar number of tests is being carried out daily in the Gaza Strip.
Last week a contact-tracing app was launched that informs West Bank residents if they were in the vicinity of a confirmed COVID-19 patient.
At first there were many complaints about the poor organization of the testing process and the need for to use one's connections in order to get tested. There were complaints about false results, about the medical staff being ignorant, uncaring or lacking initiative. The number of centers in Palestinian cities – where tests are provided at no cost – has increased since then, as has the professionalism of their staffs.
The process now sounds simple enough: A woman named Salma, for example, was supposed to teach a class of around 20 pupils and in keeping with the directives she was tested. The result was positive, but she had no symptoms. That particular week she had spent a lot of time with Dalia, a colleague, who went immediately to a testing center in Nablus: All that was needed for her to be administered a test was to say she had been with a confirmed patient. The results came back the next day: Dalia, as well as her partner, were positive. Their parents subsequently tested negative for the virus. Salma, Dalia and her partner went into quarantine for 14 days.
The largest number of Palestinians in the West Bank and Gaza who have tested positive for the virus since March – almost 20 percent – are those aged 18 to 29. The next group, from 29 to 39 years old, show a 15-percent positivity rate. But the mortality rates for those age groups is low: 1 percent and 3 percent, respectively, of all deaths. As in the rest of the world, the death rate among older adults is higher – about 28 percent were in their 70s, a quarter were in their 80s and one fifth were in their 90s.
These figures also explain some of the indifference to maintenance of social distancing and other coronavirus rules: Palestinian society is very young, more than 35 percent are under age 14, and about 30 percent are age 15 to 30. Even if they do contract COVID-19, they will probably be only mildly ill. An apathetic response to the danger of infecting older adults is common here as among young people in other countries.
'We have natural immunity'
Elsewhere in the world, the tendency to take precautions grows in direct proportion to one's place on the socioeconomic ladder. But while the Palestinian Health Ministry's coronavirus statistics do not relate to one's socioeconomic background or precise place of residence (only district), everyone has noticed that among residents of the refugee camps – among the poorest population in the territories, and one which, after the outbreak of the pandemic, particularly worried Palestinian health care workers – the mortality rate is particularly low.
For example, Melhem, who himself was born in the Deheisheh camp near Bethlehem, says of the refugee communities: "We have natural immunity," Maybe it's because of the fish oil the UNRWA schools forced youngsters to take every day, some people say. Or maybe it's due to the unsterile and stark conditions under which these people are compelled to live, or the fact that the life of refugees and their economic plight is always so tough and that makes people stronger.
But refugees or not – the deterioration of the Palestinians' economic situation is more frightening to people than the coronavirus, and also for now than the weakness of the Palestinian political position. Death might be in the hands of heaven, as many believe, but unemployment and poverty – not so much.
Indeed, "the declining economic situation" has been a permanent fixture of Palestinian reality, since well before the outbreak of the virus. The reasons for this are Israeli restrictions on Palestinian freedom in the realms of manufacturing and commerce; the ban on development and investment in Area C, which is under full Israeli control; and Israeli control over taxes and duties that its government levies on merchandise destined for the PA enclaves – which makes for a situation where Israel can deduct whatever it wants without oversight or transparency.
To all this can be added the cessation of civilian and security cooperation between Israel and the PA since May and with it, a halt in the transfer by Israel of the tax and duties payments it is deducting for items destined for PA enclaves. About two-thirds of Palestinians' monthly income comes from those sources, and the rest is from taxes and fees levied on economic activities within the West Bank and Gaza. That activity has become very limited there during the pandemic, as elsewhere in the world.
Domestic and foreign tourism has also been hard hit, of course. Small hotels are closing or are being sold, thousands of salaried employees have lost their jobs, tour guides have found themselves without work and bus companies want to sell their vehicles but there are no buyers. Thousands of taxi and bus drivers are without work today, especially because the Karameh border (with Jordan) is closed most of the time, and only opens after special arrangements are made and to a small number of travelers.
The number of passengers in public taxis and minibuses in the West Bank is restricted due to the virus crisis, and therefore the price of a ride has gone up. Everyone complains about the extra half-shekel (about 15 U.S. cents) of a cost of a short ride (from 2.5 to 3 shekels). Drivers complain that they are being taxed as usual and are requesting their passengers to pay 4 shekels.
Public sector employees are receiving only half their monthly salary (which is around 3,000 shekels to begin with, if not less). Many of these workers once worked another part-time job to make ends meet, but have probably lost that extra job as well. Teachers, who are working much harder because of Zoom lessons and catering to capsules have launched partial sanctions. Moreover, doctors are also saying that their salaries are not commensurate with the scope and importance of the work they are doing now. Food prices have gone up and people are accusing merchants and store owners of exploiting the situation.
What will be the end of this ever-declining state of affairs? That is the question constantly being asked. The answer, and a way out, are not on the horizon, for now.
Click the alert icon to follow topics:
ICYMI
Ken Burns' Brilliant 'The U.S. and the Holocaust' Has Only One Problem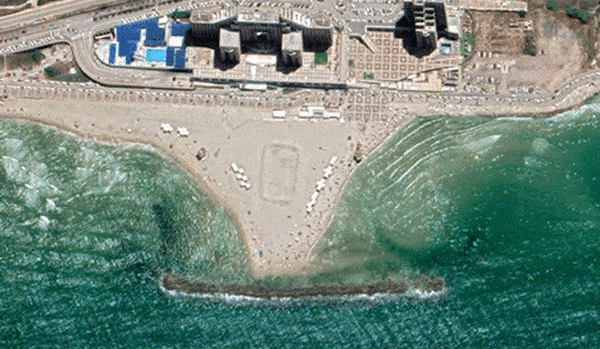 Facing Rapid Rise in Sea Levels, Israel Could Lose Large Parts of Its Coastline by 2050
As Israel Reins in Its Cyberarms Industry, an Ex-intel Officer Is Building a New Empire
How the Queen's Death Changes British Jewry's Most Distinctive Prayer
Chile Community Leaders 'Horrified' by Treatment of Israeli Envoy
Over 120 Countries, but Never Israel: Queen Elizabeth II's Unofficial Boycott