Opinion |
Inside Saudi Arabia's Campaign to Cancel the Palestinians
From trolls to TV, Riyadh is rewriting history to undermine the entire Palestinian struggle, softening up the Arab world for its pending normalization with Israel
Former Saudi intelligence chief and ex-ambassador to the U.S. Prince Bandar bin Sultan during an interview, one of three in the Al Arabiya TV series on Israel, Palestine and normalization
Credit: Screenshot
"Liars, cheats and ungrateful." That was the assessment of one of Saudi Arabia's most senior royals, Bandar bin Sultan, on decades of Palestinian leaders. It is also curiously close to the language employed for decades by Israel's right-wing peace rejectionists.
Why would a Saudi royal who's a former intelligence chief and ambassador to the United States, and once acclaimed as "the key figure in Middle Eastern diplomacy," invest hours of his time in a tireless, televised attack on Palestinians past and present, not least when Riyadh's official line is to accept normalization only when Israel agrees to "a sovereign Palestinian state with Jerusalem as capital," in the recent words of another senior Saudi royal?
The answer, of course, is to that Saudi Arabia is now the foremost protagonist of the ongoing regional normalization frenzy, and is engaged in an all-fronts media campaign to not only legitimize the UAE's accords with Israel, but to embed a revisionist Mideast history in time for Riyadh to abandon decades of Arab consensus and establish relations itself with Israel.
The trigger for Bandar bin Sultan's three-episode appearance on Saudi TV channel Al Arabiya, in which he unleashed this barrage of attacks, was what he framed as "shocking statements" from "the Palestinian leadership" in response to the UAE and Bahrain's accords.
While premature normalization has evidently blindsided and frustrated Palestinian leaders, they have mostly conserved a cautious tone in their entirely reasonable criticism of a unilateral move that sacrificed core leverage for their rights.
Palestinian Authority officials called it a betrayal; that the UAE and Bahrain have rewarded Israel for nothing; Hamas called it a "stab in the back."
In the immediate aftermath of the news breaking in August, UAE flags were burnt at the Al-Aqsa mosque compound, but Palestinian President Mahmoud Abbas stamped it down, prohibiting insulting "national symbols of Arab states," including those of the UAE.
Ironically, Abbas has been eager to appease Saudi rulers, in particular. Despite the normalization storm, Abbas sent King Salman a telegram emphasizing Palestinians' appreciation of consistent Saudi "support and solidarity." He has likewise been keen to disavow and rebuke Palestinians who have loudly questioned or criticized the Saudis.
Clearly, Saudi Arabia could not have expected zero response from the Palestinians to the UAE's normalization project. But Palestinians have good reason to wonder about Saudi Arabia's core policy towards them.
During the Trump presidency, Saudi Arabia has been drawing closer to Israel, exposing a contradiction in its approach to the Israeli-Palestinian conflict. King Salman and his government have periodically reiterated rhetorical support for the Palestinian cause and their continued adherence to the Arab Peace Initiative, most recently three weeks before Bandar's interview.
Only two weeks before Bandar's Al Arabiya broadside, his cousin, Prince Turki Bin Faisal, declared on the U.S. TV channel CNBC that his late father would have been "disappointed" by the normalization deals, and called Trump a "dishonest broker"; a month earlier, Turki attacked the Emirates for not having asked for a high enough price for their change in policy.
But at the same time, Crown Prince, Mohammed Bin Salman has commanded his vicious troll army to systematically praise Israel and bash Palestinians. And the UAE has jumped into the trolling business, with its shills calling on loyal subjects to rat on online critics of normalization to the repressive UAE government.
Indeed, Bandar's interview was quickly paraphrased on the UAE-based Sky News Arabic, presenting the same message discipline: "The UAE's always supported Palestinians, but they don't want to support themselves."
But a Saudi prince of Bandar's stature trolling Palestinians is a major escalation on MBS's part. Since Bandar's interview aired, countless senior Saudi commentators and royals have flooded Twitter with praises for the interview as the beginning of a new era.
Bandar didn't have a sudden change of heart. He's been a key advocate of normalization at least since 2007. What changed, however, is that his rhetoric has gone far beyond promoting normalization to casting Palestinians as the new enemy of the Saudi people – instead of Israel.
The core message of Bandar's interviews resembles the rhetoric of none other than Benjamin Netanyahu. Consider his three conclusions: Palestinians never miss an opportunity to miss an opportunity; the Palestinians – rather than Israel – are the key cause of much of the disorder and conflict in the Arab world today; and Saudi Arabia have done everything possible to help Palestinians, but they don't want to help themselves, so we should instead prioritize our own interests.
How does Bandar get there? He unabashedly goes against the very official history that Saudi Arabia has always pushed, in order to reframe and rewrite history in a way more favorable to current Saudi policies. His method is grey propaganda; mixing half-truths, decontextualized historical incidents and made up narratives.
Bandar starts by fixating on two incidents whose inferences he reiterates throughout all three episodes. The first incident is PLO chairman Yasser Arafat's visit to Saddam Hussein during Iraq's 1991 invasion of Kuwait; Bandar declares that Palestinians leaders "always bet on the losing side, and that comes at a price."
Despite Abbas' official apology to Kuwait in 2004, and the fact that Kuwait is now the Gulf's most vocal opponent of unconditional normalization, that doesn't stop Bandar from constantly invoking this incident to contrive an image of the treasonous, ungrateful Palestinians.
The second event Bandar centers is the intra-Palestinian division ever since Hamas' hostile takeover in Gaza in 2007, only weeks after Saudi Arabia brokered a unity deal between both sides: "How can we speak in the name of all Palestine, and convince others to support our cause…when the Palestinians are divided amongst themselves?"
Bandar cites this division repeatedly to portray Palestinians as inherently conspiratorial, so obsessed with stabbing each other in the back that their struggle is rendered hopeless.
He takes the Palestinian example as a warning to the Arab world writ large: "We [shouldn't] allow [them]…to impose…their way of dealing with each other on us," he concludes, stating that Gulf states must instead "pay attention to our [own] national security and interests."
But Bandar ignores the fact that his close friend, the UAE-backed Palestinian dissident Mohammed Dahlan, ignited this intractable saga by organizing a U.S.-backed coup against Hamas that the militant group violently preempted. He equally and consistently overlooks Israel's role in this outcome, or in any of the incidents he invokes, including how Netanyahu has openly fueled this division to prevent Palestinian statehood.
Establishing this image of Palestinians as reckless losers, utterly disloyal to their Arab supporters, and inherently incapable of presenting a united front makes it easier for Bandar to go on to make the most bizarre claims.
He portrays Jordan's 1970 Black September as an attempt by Arafat to "liberate not Palestine, but Jordan." But Bandar ignores President Nixon's view of these events as "war by proxy," and neglects the role of Iraq and Syria in fueling these bloody events, including Syria's attempted invasion of Jordan.
Palestinians, in Bandar's account, are the ubiquitous force wreaking havoc on the region. He blames the Palestinians for jihadist terrorism in Egypt's Sinai Peninsula. He blames the Palestinians for trying to overthrow Jordan's monarchy in 1970. He blames the Palestinians for the Lebanese civil war.
He makes no mention of Israel's provocations aimed at igniting and then intensifying war between Lebanese Christian Phalangists and the PLO, from car bombs to assassinations to facilitating the Sabra and Shatila massacre.
With such methodological reductionism, oversimplification and deliberate inaccuracies, Bandar then aims to weave a meta-narrative of Saudi selflessness, generosity, and blind loyalty to the Palestinian cause, that's only been repaid by blunders, lies and betrayal.
In Bandar's account, Saudi Arabia has been the prime mover behind successive U.S. administrations, who have all generously embraced the Palestinian struggle and the pressing need to solve the conflict. But while Israel's been amenable to peace proposals, it's the Palestinians who've consistently squandered those golden opportunities.
To pick this apart with two examples: Bandar points the finger at Palestinian leaders who rejected King Fahd's 1981 Peace Initiative. But he overlooks that Arafat had supported it, Egypt was absent from the summit, Syria preemptively rejected it and Israel called it "a plan to destroy us in stages," hand, to show just how little it then regarded both the initiative and peace, subsequently invaded Lebanon in 1982.
Interestingly, Bandar makes no mention of the Saudi Peace Initiative of 2002, which Palestinians wholeheartedly support, and which is now the core of the ongoing dispute over premature normalization.
Bandar claims that in December 2000, Israel accepted the Clinton Peace Parameters which "could have changed the shape of the whole map," but Arafat rejected them. That both sides accepted the parameters with some reservations is already a well-documented fact. Bandar claims that the Palestinians were advised to wait until the next president, H.W. Bush, assumed office because he was likely to make a better offer.
What he chose to omit is that it was the Saudis themselves who provided this advice, citing their close relations with the Bush family, according to a former senior PA adviser.
So what does Saudi Arabia want from its media theatrics pushing a comprehensively revisionist narrative of the Israeli-Palestinian conflict?
First of all, to announce a new official line for Gulf states, if not the wider Arab and Muslim worlds. At the same time, to signal a threat to Palestinians: You're on your own. Mind your own business and don't make trouble for us. There's a nod to Dahlan as the ideal "loyal, grateful" next leader for the Palestinians. And a warning to Sudan and other Arab countries to get on board, or be the next target for no-holds barred reckoning.
The Palestinians are now caught in a catch-22. They don't have their own international TV channels to push back against their own demonization, and they have depleted leverage to influence the Saudi giants. They can't afford to respond to deliberate Saudi provocation, and they don't want to risk gratifying the online trolls thirsty for any retaliatory comments by Palestinian leaders that can be spun as yet more ingratitude and hostility.
That's why, after the interview aired, Abbas ordered Fatah, PA and PLO leaders to keep quiet about Bandar's remarks. PLO secretary general, Saeb Erekat – whom Bandar referred to dismissively as a young "junior PLO employee" who almost blew up the Madrid conference by "wearing a Palestinian keffiyeh" – tweeted that "The Kingdom and [its kings] have always been loyal to Palestine and its people."
If Arab regimes feel the need to convince Israel of the purity of their intentions then there is no need to sink this low.
To invest this enormous effort into turning Palestinians into the enemy shows that they want not only to abandon the conflict with Israel, but rather to cancel Palestinians altogether. And it's not just the Saudi people that they want to drag into this swamp, it's the entire region.
The UAE-Saudi axis has moved on from throwing the Palestinians under the bus, to actually driving that bus over them. By doing so, they have realized Netanyahu's dream, effectively doing the bidding of Israel's hard right: They are erasing the Palestinian cause from the minds of the Arab public.
Muhammad Shehada is a writer and civil society activist from the Gaza Strip and a student of Development Studies at Lund University, Sweden. Twitter: @muhammadshehad2
Click the alert icon to follow topics:
ICYMI
Ken Burns' Brilliant 'The U.S. and the Holocaust' Has Only One Problem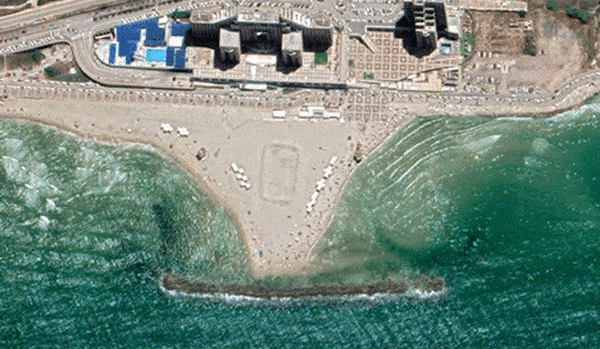 Facing Rapid Rise in Sea Levels, Israel Could Lose Large Parts of Its Coastline by 2050
As Israel Reins in Its Cyberarms Industry, an Ex-intel Officer Is Building a New Empire
How the Queen's Death Changes British Jewry's Most Distinctive Prayer
Chile Community Leaders 'Horrified' by Treatment of Israeli Envoy
Over 120 Countries, but Never Israel: Queen Elizabeth II's Unofficial Boycott