'Our Hearts Are Dying': The Palestinian Doctor at the Epicenter of Italy's Coronavirus Catastrophe
Anesthesiologist Talal Soufan is on the front line against the pandemic in the world's hardest hit region, and has an urgent message for his compatriots back home in the West Bank
A medical staffer, part of a special unit performing house calls in the coronavirus-stricken city of Bergamo, northern Italy, March 25, 2020.
Credit: Claudio Furlan/AP
Talal Soufan, a Palestinian doctor at the forefront of the fight against the coronavirus pandemic in northern Italy, has a stark message for the Middle East: "Do whatever it takes for this inferno not to come to you."
Soufan, 66, is an expert in anesthesia and resuscitation, and has found his services in constant demand in the province of Bergamo – which has seen almost 2,000 COVID-19 deaths in little over a month. And the official death toll is likely to be much higher still: Many people have died in their homes before even being tested for the disease, their death notices filling pages and pages of the local daily newspaper, L'Eco di Bergamo.
"We also considered it a Chinese problem at the start, and when we took it seriously it was already too late," the Nablus native says, speaking to Haaretz by telephone. "In the Middle East, with the health systems way less advanced, it would hit a hundred times harder," warns the anesthesiologist, who has spent almost three decades working at the San Marco hospital in Zingonia (about a 25-minute drive from the city of Bergamo).
Soufan is in charge of the most critically-ill coronavirus patients who are in need of intensive care at his hospital, which has just under 300 beds. The only way they can survive is by being intubated – an invasive procedure that involves inserting a tube down the throat and airway.
The physician estimates that some 40 percent of the patients he currently sees in his intensive care unit end up passing away. "We lose one patient every half an hour," he says.
Northern Italy's problems are starting to be mirrored in places like New York with a disproportionate number of patients requiring ventilators to breathe, meaning that some patients are unable to receive the necessary care immediately.
Doctors have faced such dilemmas before, Soufan says, as intubation is a highly distressing procedure for the body to endure – but never under these circumstances. "We are forced to prioritize some patients over others based on age, pre-existing medical conditions, their real chances of survival," he says.
He is also concerned that places like Nablus and the West Bank are completely unprepared for the battle that may lie ahead.
"I once visited the ICU of Al-Watani Medical Hospital in Nablus, and it looks like the warehouse of the one here," he says. "They have no personnel, no material, no instruments to face the coronavirus – and you know how complicated it is to import stuff over there," he adds, referring to Israel's control of the Palestinian Authority borders.
"The only hope is for people to prevent it from spreading. Then, if it hits less forcefully, the population might be more resilient because it is much younger than here," he says. According to the European Union's statistical office, Italy's population is the oldest in the EU, with almost one in four people being age 65 or older – a totally different situation to the West Bank.
When asked about the Gaza Strip, Soufan uses the popular saying "Non tutto il male vien per nuocere" – the Italian equivalent of "Every cloud has a silver lining" – in reference to Israel's blockade of the Palestinian coastal enclave. "Let's hope the long-standing siege is protecting them from the coronavirus, for otherwise it would be a disaster," he says.
There's a sura from the Koran Soufan likes to quote to try to persuade his relatives in Nablus to stay at home: "O ants! Enter your dwellings, lest Sulaiman and his hosts should crush you, while they perceive not." The prophet "ordered his army to change course, thus sparing the ants," he explains.
As someone who has lived in Italy since the 1970s, Soufan's interpretation is also in the spirit of the Italian saying "Aiutati che Dio ti aiuta" ("God helps those who help themselves"). "Palestinians and everyone else in the world must take all the necessary measures and then hope for the best," he says. "This virus has crushed the most advanced health systems in Europe. If it spreads as much in poorer countries, it would be the apocalypse."
Over 100 Palestinians had tested positive for the coronavirus in the West Bank as of Tuesday morning, with one fatality, while over 4,800 tested positive in Israel, where there have been 17 deaths. Gaza officially has 10 cases, a low number that could partly be explained by the limited testing capacity.
Sense of dread
When he spoke to Haaretz on Saturday, Soufan was already fearing the night shift that lay ahead at the hospital a few hours later.
"I know there are no beds in intensive care left, and I dread the moment when I'll have to make a decision on a new critical patient on my own," he says. "During the last night I worked, I had a man in his fifties who was going to die and no space in the ICU. In the end, I put him on two portable ambulance ventilators, which are less effective but kept him alive. In normal times, we would put people in their nineties in intensive care, but now it's like a war," he says.
This is a really hard subject for doctors to discuss, he admits. "Friends and family ask me, 'Is it true that at times you cannot intubate people in need?' But what would you do if you have one 50-year-old patient with no other conditions and a 70-year-old with little chance to survive – and only one intensive care bed left?" he asks.
However, Soufan is at pains to emphasize one point. "Make no mistake: no one is abandoned. Those not getting ventilators still get all the noninvasive treatments we can offer to save their lives. We do not let our elderly patients die," he asserts.
Since the crisis began in Italy in February, the country has almost doubled the number of its intensive care ventilators – from 5,000 to 8,900, the count still increasing by the day. But Soufan says only two have reached his hospital. "We are still swamped," he says.
In a recent letter to Haaretz, Italy's ambassador to Israel, Gianluigi Benedetti, noted that there is "a specific system … for the rapid transfer of sick people from one region to another." Soufan confirms that some patients have indeed been transferred, but notes that there's only so much this system can do.
"These patients are in need of immediate care, and resuscitation specialists are in such short supply that we can't afford having them accompany them hours away," he says. "If the overall number of coronavirus patients were distributed more evenly across regions, then the ventilator problem would be less severe," he explains.
Another issue contributing to the ICU squeeze is that in places like Bergamo, the authorities' recommendation that people only seek medical assistance when they are suffering severe symptoms means patients who would benefit from treatment at an earlier stage end up needing intensive care by the time they finally reach the hospital.
In happier times, San Marco's hospital was best known for treating soccer players from Atalanta – the local Serie A team whose training fields are situated nearby. The club was experiencing the most successful season in its history, which has had a tragic knock-on effect: On February 19, while COVID-19 was spreading silently across northern Italy, some 40,000 supporters from Bergamo – a province of about 1 million people – traveled 50 kilometers (about 30 miles) to Milan, to attend a crucial Atalanta match against Spain's Valencia. The game is now considered to have been a strong accelerator for the disease, being labeled a "biological bomb."
Although the confirmed number of coronavirus cases in Italy recently topped 100,000 with almost 11,600 deaths as of Monday, the local media has been reporting that the exponential growth of the pandemic may be slowing, both nationwide and in the northern regions most badly hit. That's little comfort currently to Soufan. "At the hospital it's still the same hell," he sighs.
Next year in Nablus...
Talal Soufan left Nablus when he was in his twenties. After studying medicine in Catania, on the southern Italian island of Sicily, he landed the job in Bergamo – and never left. "Every year I would say: 'I'll do another year and then I'll move back home in Nablus.' But then I got comfortable, became an Italian citizen and ended up never going back," he relays.
He visits his hometown regularly, though. "I have a brother who studied in Jordan and moved to Saudi Arabia for work, but most of my family is still in Nablus," he says. "Even after becoming an Italian, I'm not allowed to fly straight from Bergamo to Tel Aviv and drive one hour to Nablus. For the Israelis, my Palestinian ID is what matters, and I have to travel a much longer way through Amman."
The only upside, he says, is that the border control between Jordan and the West Bank has become much more relaxed than when he first moved to Italy. "The Israelis used to be very aggressive – they once stripped me completely naked; now they are more respectful," he recounts. "And it's rarer that they take people's IDs away because they have been abroad for too long," he adds.
But it's his adopted home of Bergamo that preoccupies Soufan at this time. "I'm worried the medical personnel is also shrinking. As colleagues test positive for the coronavirus, we're understaffed for this kind of intake of patients," he says.
Physicians are forced to ration protective gear such as masks and vests, "like wives ration food supplies in times of famine," he notes. Doctors and nurses also have to support patients emotionally as much as they can, as relatives are not allowed to visit in order to avoid contamination.
"Unless there is an emergency, we only call families once a day for an update. It's very sad on a human level," Soufan says. "We speak to the patients and we try to be supportive. But inside, our hearts are dying. I put patients I spoke with to sleep, and never saw them alive again." He pauses for a second. "And we don't know when all this will end."
Click the alert icon to follow topics:
ICYMI
Ken Burns' Brilliant 'The U.S. and the Holocaust' Has Only One Problem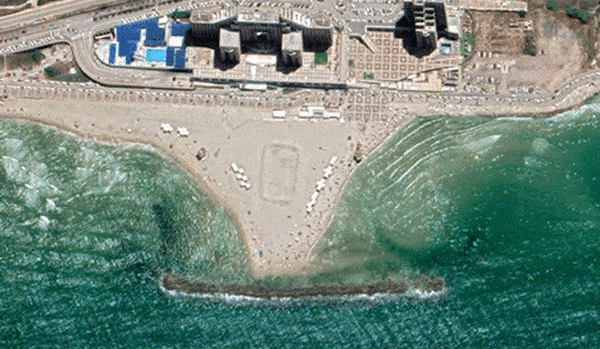 Facing Rapid Rise in Sea Levels, Israel Could Lose Large Parts of Its Coastline by 2050
As Israel Reins in Its Cyberarms Industry, an Ex-intel Officer Is Building a New Empire
How the Queen's Death Changes British Jewry's Most Distinctive Prayer
Chile Community Leaders 'Horrified' by Treatment of Israeli Envoy
Over 120 Countries, but Never Israel: Queen Elizabeth II's Unofficial Boycott