Hollywood Hills, Corner of West Bank: Meet the Palestinian Villagers Living Out the American Dream
The Palestinian village of Turmus Ayya is empty for most of the year, until its residents return in the summer from the U.S., where they moved to make the big bucks. The Western influence sets them apart from other West Bank communities, but doesn't help solve many challenges
A villa in Turmus Ayya, September 10, 2019.
Credit: Patricia Nieberg
Halfway between the West Bank cities of Ramallah and Nablus, the road gives way to an exit unlike any other along Israel's Highway 60. At first glance, this route — lined with palm trees and polished sidewalks that lead up to lavish stone villas — looks like a well-funded Jewish settlement. But a closer look reveals that unlike other typical settlements, there is no security gate at the entrance to the community and its houses are not lined up in rows along the hilltops.
The expensive homes scattered on slopes among olive trees, reminiscent of the famous Hollywood Boulevard, are actually a window into the Palestinian diaspora. The majority of their dwellers are dual American-Palestinian nationals who live in the United States for most of the year and treat the village of Turmus Ayya as their summer home.
>> Read more: Meet the Chilestinians, the largest Palestinian community outside the Middle East ■ The West Bank terror you never heard about | Gideon Levy
Turmus Ayyans are not only based in the United States. These Palestinian villagers are spread throughout the world, with members of the community living in Spain, Panama, Cuba and Brazil. According to the village's municipal office, there are some 11,000 Turmus Ayyans in total; 4,000 are permanent residents, while 7,000 made their home abroad.
Unlike the majority of Palestinians living in the diaspora, Turmus Ayyans are not refugees of the 1948 war. Rather, they are economic immigrants who chose to leave this West Bank village in pursuit of better financial opportunities. Residents told Haaretz that the first villager to immigrate was Odeh Abdel Qader, who left for the United States in 1909 and worked in Manhattan's Little Syria (where the Financial District is situated today). Local Wadi Abu Awad recalls Qader's return to the village: "He was the guy who came from America," he says. Throughout the 20th century, Qader's legacy became an inspiration for other Turmus Ayyans who wished to chase the American Dream.
Abla Al-Kuk, who served on the village's local council for 17 years, breaks the waves of immigration from Turmus Ayya into decades. According to her, six members of the village immigrated to New York in the 1910s — a period that saw a rise in an anti-immigration sentiment and eugenics-inspired ideologies in America. In the '20s, villagers took off for Cuba. In the '50s, Turmus Ayyans favored South America and Spain; in the '60s Puerto Rico became a popular destination; in the '70s it was Panama.
Ever since, the residents of the village focused their relocation efforts on the United States, where a significant population currently lives in major metropolitan areas such as New York and Chicago, as well as states like Arkansas and Tennessee. Many American Turmus Ayyans obtain citizenship through the naturalization process, usually by marrying U.S. citizens.
One example is the story of Abu Awad. Originally from the village, he has homes in both Turmus Ayya and Little Rock, Arkansas. He got his citizenship from his wife, who received hers through her brothers. Awad's family is a model of the Turmus Ayyan way of life: His six children were raised and married in Turmus Ayya, but now work and live abroad. One of his daughters lives in Panama, another in California, a third in Arkansas, one son resides in Florida and another is back home in the West Bank. "I believe my grandchildren will marry in Turmus Ayya as well," he says.
'They see us as the rich Americans'
About half of the Turmus Ayyan diaspora comes back to the village every summer. Or, as the locals put it: "From the apricot season till the olive harvest." They build homes, buy and sell lands, and reconnect with family. But what they are perhaps most notorious for is the wedding season: An empirically proven method that over the decades has kept identity and tradition alive — no matter how far away from the homeland.
Turmus Ayya boasts typical limestone buildings and a central square like other Palestinian villages, but some peculiar aspects attest to the foreign influence that has shaped the community over the decades. One such site is a specialized eye hospital near the entrance, which serves the entire West Bank. It was donated by the Venezuelan government and is named after its late president, Hugo Chávez. Among the local establishments, one can find an equestrian club and a few small businesses with telling names like Yalla Shopping and Peet's Coffee.
The most obvious signs of wealth are the extravagant villas adorned with iron gates and lush gardens, a hallmark sight in Palestinian villages that often indicates someone local who made it big in the city, or even abroad. In Turmus Ayya, the majority of these villas are empty, and only come alive for a few months every summer.
Sitting on 20,000 dunams (about 5,000 acres) of land, the village is sprawled over an area larger than the city of Ramallah. Those who work Turmus Ayya's agricultural fields often come from the surrounding villages, making the town an economic center where they know they can find employment opportunities.
"They see us as the rich Americans," says Said Hussein Taleb, a Turmus Ayyan who lives in New York but regularly returns to invest in the community. Nonetheless, he notes that his town has a good relationship with neighboring villages and many send their children to study at Turmus Ayya's schools.
Taleb says he started in America with a supermarket, and ended up owning gas stations. "Whatever it is, you get money. That's America, you know."
The wealth Turmus Ayyans accumulate abroad is infused into the village in cash and through projects such as public infrastructure, educational institutions, private investments and business. "We have money and we don't like to sell our grandfathers' land. We like to keep our land," Taleb explains.
Much like other villagers, his children were raised in Turmus Ayya while he was working abroad, because "when you raise your kids here, it means that they belong here." With a strong sense of identity, Turmus Ayyans have maintained this tradition, which brings them back year after year. "Instead of going on vacation somewhere else, we go back to our homeland," says Taleb. "Texas or Washington, it doesn't matter where you're from — we come back to our town."
He returns regularly to visit family and friends. Taleb says that previously he was obligated to renew his residency permit annually with the Israeli military's Civil Administration. If he didn't do so, Israel would strip him of his right to visit and live in the West Bank.
Those regulations changed after the Oslo Accords were signed between Israel and the Palestine Liberation Organization in the '90s, and Taleb no longer has to return out of necessity. When he comes to visit, it's by choice. "We belong there [the U.S.] more than here," he says, "but this is our homeland."
Political activity abroad
The Palestinians of Turmus Ayya are notable for their political involvement in the United States, promoting the Palestinian cause far from home.
Former councilwoman Kuk says Turmus Ayyan expats "talk to senators and organize on the city, state and federal level. Turmus Ayyans know how to appeal to the American mentality." As an example, she cites Alham Jbara, the former Arab and Muslim American outreach director of Bernie Sanders' presidential campaign.
Another Turmus Ayyan who recently made headlines overseas is Suha Jbara, a New Jersey-based mother of three and social justice activist involved with Islamic charities. In December 2018, she was arrested by the Palestinian Authority in her Turmus Ayya home on allegations of distributing money unlawfully and "collaboration with the enemy." Jbara claims she was tortured and threatened with sexual violence while in PA detention, and after a 27-day hunger strike and intervention by Amnesty International and the nonprofit Council on American-Islamic Relations — who wrote to officials in the U.S. Embassy in Israel — she was released.
Perhaps the most famous political figure in Turmus Ayya is Zia Abu Ain, who was also the first Palestinian to be extradited by the United States to Israel in 1981. Abu Ain was imprisoned and released by Israel several times, and eventually became a senior PA minister. In 2014, he died in an altercation with Israeli soldiers during a protest march to plant olive trees in Turmus Ayya. Palestinians claim his death was caused by beatings from Israeli soldiers and the inhalation of tear gas, while Israel says he suffered a heart attack. His memorial stone stands where he died, in an olive grove not far from Abu Awad's grove.
Educating the next generation
Much like Abu Awad, many Turmus Ayyans choose to raise their children in the village with the men working abroad while the women stay behind.
Kuk, who was also the principal of the local girls' school, estimates that nearly half the students in the village's schools are returnees — a fact that poses a unique set of challenges for local educators. The girls' school is facing this hurdle with the help of a special program it developed in coordination with social workers, to help the girls integrate into Palestinian society and learn Arabic after years of growing up abroad. Kuk explains that students who come from American cities with large Arab populations usually speak Arabic and have an easier time assimilating into the village because they attended Islamic schools there.
But students who return from South America usually come back with no knowledge of Arabic, the educator says. "We had one girl who only spoke Portuguese, not a word of English or Arabic. We talked to her in sign language. We used to draw a clock, to indicate to her what time to come to school until she learned."
The children's difficulty is also caused by the absence of their fathers, Kuk believes. Some families even send their kids to study in private schools in Ramallah because the lifestyle there is closer to what they were used to in big Western cities.
The limits of U.S. privilege
The benefits of American citizenship can only go so far in the West Bank. Turmus Ayyans who have an American citizenship and official Palestinian papers are the only Americans in the world who cannot travel through Israel's Ben-Gurion Airport. Instead, like other Palestinians in the West Bank, they must enter through the land crossing in Jordan and apply for permits if they wish to enter Israel.
Like other Palestinians in the West Bank, the villagers say they suffer from Israeli policies that limit nearly every aspect of their lives. Restricted freedom of movement, land theft, settler violence and unequal access to water are some of the issues they bring up in conversation with Haaretz.
At least four Jewish settlements and outposts currently exist on land privately owned by Turmus Ayya residents: Shiloh, Shvut Rachel, Amichai and Adei Ad.
One incident that highlights these tensions took place during a visit of U.S. Consulate staffers in 2015. Settlers from the illegal outpost of Adei Ad hurled rocks at the consulate vehicle, and residents reported that 5,000 olive saplings were torn down. Four years later, Turmus Ayyans still didn't manage to return the ruined fields back to their original state. Every time they replant the saplings, settlers come and cut them down again, residents of the village say.
The issue of land grabs is another serious concern. Businessman Taleb claims that settlers took 1,000 dunams from their village. He says that another 3,000 dunams of land adjacent to the settlements can only be accessed twice a year in coordination with the Israeli army. "Against the Israeli government, the benefits of an American citizenship are zero," Taleb laments.
Arkansas-based Abu Awad takes Haaretz on a drive around the village's olive groves. Pointing at the lush agricultural fields under the settlement of Shiloh, he compares them to the yellowing Palestinian crops in the foreground. He calls the bizarre juxtaposition "nature apartheid."
With limited access to water — Awad says it is only available to residents one day a week — Turmus Ayya's crops are also at risk. "We don't have enough water to drink, and they [settlers] have water for irrigation," Awad says. It's another problem that being American can't solve.
As U.S. citizens, Turmus Ayyans can use resources from the U.S. Embassy in Jerusalem, but there is a limit to the resources it can provide. In Awad's case, he continuously requests the help of the U.S. Consulate to protect private lands from seizure and repeated vandalism of the olive groves, which he blames on the nearby Amichai and Adei Ad settlements.
"The Israeli soldiers protect the settlers, and the Americans protect the Israeli government," says Awad. "As Palestinians, even if we are Americans, we don't expect the U.S. to protect us."
Click the alert icon to follow topics:
ICYMI
Ken Burns' Brilliant 'The U.S. and the Holocaust' Has Only One Problem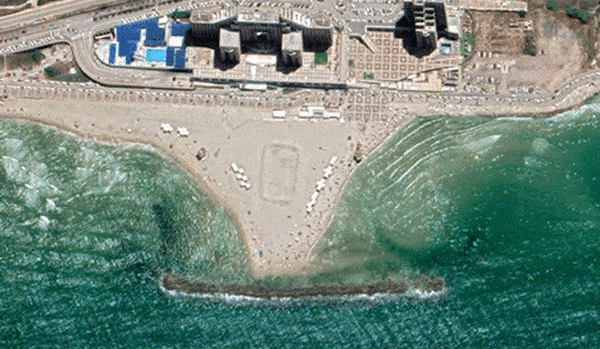 Facing Rapid Rise in Sea Levels, Israel Could Lose Large Parts of Its Coastline by 2050
As Israel Reins in Its Cyberarms Industry, an Ex-intel Officer Is Building a New Empire
How the Queen's Death Changes British Jewry's Most Distinctive Prayer
Chile Community Leaders 'Horrified' by Treatment of Israeli Envoy
Over 120 Countries, but Never Israel: Queen Elizabeth II's Unofficial Boycott