Real Madrid Hosts Ahed Tamimi, Palestinian Teen Jailed for Slapping IDF Soldier
The 17-year-old received a personalized soccer jersey from the team in a visit to the Spanish capital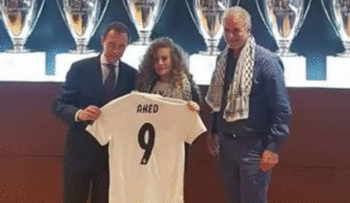 Ahed Tamimi, center, receiving a Real Madrid soccer jersey from Emilio Butragueño, August 29, 2018.
Just hours before their Madrid derby against Atletico Madrid, Real Madrid found time to host Palestinian teen Ahed Tamimi, who served eight months in prison for slapping an Israeli soldier and became a symbol of the Palestinian struggle.
Tamimi, accompanied by her father, came to Spain to participate in various political events. But at Real Madrid's invitation, she visited the team's home stadium, Santiago Bernabeu.
>> Ahed Tamimi and her family: Israel's ongoing PR disaster | Analysis
There, she met with Emilio Butragueño, the former forward and a current senior manager of the club. Tamimi was also given a Real Madrid soccer jersey with her name on it.
Israeli Foreign Ministry Spokesman Emmanuel Nahshon blasted the club on Twitter. "The prestigious soccer club of Real Madrid embraces a terrorist inciting to hatred and violence. Shameful," he tweeted. "What does this have to do with the values of soccer?"
Click the alert icon to follow topics:
ICYMI
What if the Big Bang Never Actually Happened?
Why Palestinian Islamic Jihad Rockets Kill So Many Palestinians
'Strangers in My House': Letters Expelled Palestinian Sent Ben-Gurion in 1948, Revealed
AIPAC vs. American Jews: The Toxic Victories of the 'pro-Israel' Lobby
'This Is Crazy': Israeli Embassy Memo Stirs Political Storm in the Balkans
Israel Rewards Hamas for Its Restraint During Gaza Op