How a West Bank Skate Park Offers Palestinian Youth a Safe Haven From Occupation
The heroes of the nascent Palestinian skateboarding community aren't yet the kids; they're the organizers, both locals and foreigners, and the families cheering them on
Kenny skating in the streets of Jayyous.
Credit: Daniel Zvereff
Four boys of various heights and hues converge on the small wooden ramp in the West Bank city of Qalqilyah, armed with brightly colored skateboards. They line up and slide down the ramp in formation, squealing as they try not to bump into one another – and amid the applause and laughter for anyone who winds up on his bottom.
'The Israeli authorities confiscated the nail gun because it was 'a dangerous weapon,' Othman says. 'We had to tell Kenny that he was going to build the whole ramp with a hammer.'
Dense heat rises from the ground and three of the boys – Aboud, Murad and Afif – go to drink some water from a metal spigot sticking out of a corner of a stone wall. In their absence, a visitor uses English to address 12-year-old Hamoudi from the village of Jayyus. Hamoudi, the youngest and most skillful of the group, calls out to his friends in anxious Arabic: "Come here. Don't leave me alone with the foreign woman."
The ramp is located inside a closed area in the center of the Qalqilyah Zoo. From time to time, shrieks and laughter emanate from a playground, along with the sound of water burbling in the nearby kiddy pool.
"The giraffe died of fright when he heard the [Israeli] army's explosions one day," says the man who operates the site. Gesticulating enthusiastically, the children tell how they visit the site to ride their skateboards as much as they can during the school year each day after school.
The man behind the skateboarding project is Mohammed Othman, a well-known political activist in the area. On a sweltering morning in the garden of his home in Jayyus, he explains how for the past 10 nights he hasn't slept well. "I have to obtain funding for the skateboarders' summer camp," he says. "It's terrible. I know that I need to take care of myself better, but there's so much to do."
With his natural ease, he explains how he was among the first to support the boycott, divestment and sanctions movement, and Israel even put him under administrative detention – without trial – for 95 days. Before that, for a number of years he lived and worked in Tel Aviv, but the second intifada propelled him back to the village of his birth. He wound up working for political organizations in Ramallah and guiding tours of the West Bank. "I was the guide for Jimmy Carter when he was here," he says proudly.
In the spring of 2011, on one of these tours, he met Adam Abel, an American artist working with photography, video and film who was visiting the region with his wife. Abel, whose stepmother is of Palestinian origin, says via Skype from New York that he was looking to launch a project that could help the place.
"Just by sheer coincidence, I was introduced to a skater in Qalqilyah, and my first reaction was 'are you kidding me?'" he says. "I couldn't believe that there was someone skating in Palestine. And then within 24 hours after I met him I realized 'what's wrong with me? Why wouldn't there be a skater in Palestine?'"
As Abel puts it, "jumping off positions and points of view clearly describes the kind of work that I've been wanting to do in Palestine, which is helping transport people through art work to this place and help them recognize that these stories and experiences, while very unique, are also extremely universal."
'I started this as a new political message: We are normal children and normal people. Even though the world sees us as terrorists'
Othman became good friends with Abel, who convinced him to help him make a documentary about the local children who are into skateboarding and street art. At first, Othman had reservations.
"I said to him, 'Listen, I'm an activist, I don't mess around with cameras and things like that.' But he said to me: 'It will be something special because you won't find things like that everywhere in the West Bank. You'll just be with me.' So I replied: 'Yallah' – and went for it."
An escape from the political world
Despite the hesitant start, Othman threw himself into the work on the film, which is slated to be released next year. But he gradually discovered that the main thing he connected to was the educational work with children. Thus the filming morphed from a documentary project into the establishment of a nonprofit group called SkateQilya, aimed at teaching children to skateboard. The 40-year-old political activist found himself educating children on skateboards after years marked by arrests and protests against the separation barrier.
"My intention was just to film and nothing more, but I got very close to [the children] during those three years. I saw how in the lives of the children here, there are two possibilities: getting married and working all day long, or ending up in an Israeli prison," Othman says.
"I realized that they stirred up something inside me, and I wanted to protect them. I got attached. Somehow I entered this world, which is a good world," he adds, gesturing toward the beautiful view of the coastal plain from his home in Jayyus.
"I remember my own life at that age. There was nothing, and no one said to me: 'Come, I'll help you and I'll develop your hobby or skill.' I felt I had a responsibility to do that for these kids because I had the connections and the ability."
Othmans says he felt that the talents inherent in the children would fade if he didn't launch a project that focused on them. "We have a lot of arrests here and soldiers coming in. I thought that if the children continued to roam around here they would end up in prison, they would lose their lives, and I would feel guilty," he says.
Abel adds: "Here they are in a city that's completely circled by a wall, and they're choosing to do a form of sport and art .... So to me, even though I'm not a skater, I found that to be a powerful metaphor."
At some stage their vision was joined by Kenny Reed, a star in the skateboarding world known as the Traveler for his efforts spreading the sport to the developing world. Othman, Abel and Reed say Israel hindered the importing of skateboarding equipment, but still the project is flourishing and expanding.
Othman tells how SkateQilya is now operating summer classes and camps. "Last year we had 22 kids in the camp," he says – and now the group plans to build a huge concrete park near Qalqilyah. They still need the funding, and the three men say they'd rather raise the money in an online campaign than via government agencies.
"Skateboarding is a new language for us, a language to show their talents. The Palestinian children are isolated and their voice isn't heard enough, but every organization and civic association uses them for its own needs," says Othman, adding that large organizations tend to worry about how their contribution is presented on websites and the like instead of about the educational work itself.
"As an activist, I started the whole skateboard thing as a new political message: We are normal children and normal people, like everyone in this world. Even though the world sees us as terrorists and as violent, we have skills in our lives. The skateboarding and hearing the words from the children themselves have reached many people around the world – even people who weren't interested in Palestine before."
Moreover, Othman says, skateboarding is also a refuge. "Skateboarding is an escape from the political world," he says. "It's not something that's normal to do in Palestine. The Palestinians usually have day camps run by the Ministry of Education and they are more like school, not fun. And they cost money. Our camp is for free."
Girls & boys skating together
SkateQilya isn't alone. In the Palestinian town of Asira Shamaliya near Nablus there's the group SkatePal, which began as a one-man project and has become a skateboarding empire, with additional parks in Ramallah and Zababdeh (near Jenin).
'The boys and girls are skating here together. There is probably a higher percentage of girls skating in Asira than in most parks in the world,' Davis says
This empire aims not only to normalize the lives of the local children but also to promote gender equality. In a thick Scottish accent, the founder Charlie Davis explains how right at the start of the project in 2013, he made sure to bring in female instructors as well. The organization was pleasantly surprised by the interest.
"In places like Asira, like Nablus, the boys and girls are skating together, and that rarely happens in more conservative areas. In Asira, which is pretty conservative ... there is probably a higher percentage of girls skating in the park than in most parks in the world," Davis says.
"Skating is obviously a very new thing in Palestine. Obviously there are a few people who are apprehensive, or more conservative people who might see it like you shouldn't be doing this. But on the whole, because it's not really seen as a sport, more like a hobby or something, they don't know how to see it, so it's been received quite well," Davis adds, noting that with the Palestinians, skateboarding has become a family pastime, something unique compared with the rest of the world.
Davis, 30, who began his social activism teaching music and English in Palestinian schools when he came to the region, noticed that unlike in Israel, across the Green Line there were virtually no skateboarders. Still, he managed to find two Palestinian aficionados who helped him build a wooden ramp in Ramallah.
"We built the first mini-ramp in 2013, and people read articles and saw videos and stuff," Davis says. "More people heard about it, so more volunteers wanted to come and get involved in a new scene in a new place, so we built another park in Zababdeh. And then in 2015 we built a park right next to Nablus in Asira Shamaliya, and we'll be doing another park this year at the end of the year. It's not so difficult to make people come because there's really not a lot to do in the West Bank. Especially in small villages."
Of course the activists found it difficult to obtain the funding locally, so they launched an internet campaign, held fundraising events throughout Europe and published ads in skateboarding magazines with requests for help. On its website, SkatePal sets forth the rationale for its operations: More than half of all Palestinians in the occupied territories are under 21.
"Yet for many young people across the West Bank and Gaza, cultural, educational and sporting opportunities are severely limited," SkatePal adds on its home page.
'Skateboard hero'
Davis currently prefers to manage SkatePal from afar and visit Palestine occasionally. He lives in Granada, Spain, from where he manages a large network of volunteers operating in the field. On June 17, activists from the organization held a fundraiser in memory of Ignacio Echeverria, a 39-year-old Spaniard who lived in London and was murdered in the London Bridge terror attack, this June.
Echeverria was interested in Davis' project, and his smiling face appeared on posters throughout the world under the caption "Skateboard Hero" after he tried to protect a woman with his skateboard and was stabbed in the back and killed.
The people at SkatePal see skateboarding as a way to create a community and connect Palestinians to the world and one another. "So we're just trying to connect all the skaters in the country .... The scene is slowly coming together," Davis says.
He says people at SkatePal know skateboarders in Israel and have friends in Haifa and Jerusalem. "In the future it would be great if people skated together, but that's not going to come from me or SkatePal, that's going to come from them," Davis says.
"Skating can bring anyone together .... In Jerusalem there's a park close to the wall; it's quite a good place for people to come together, but obviously the skaters from the Qalqilyah area or Asira, they can't get to Israel."
Othman, who lives in a society where any relationship with Israelis is considered taboo, says: "In the summer camp in Qalqilyah last year a number of Israeli activists volunteered. I'm not against the people, I'm against the occupation and the system that operates it. If you're with me on that, I have no problem with you."
In any case, before the future era of skateboarding together, the nonprofit groups are grappling with two main difficulties: raising funds and importing skateboarding equipment to the West Bank.
"When we built the ramp in Qalqiyah, the authorities in Israel held our container up at the Haifa Port," Othman says. "Then they went through all the equipment and confiscated the nail gun we had imported because it was 'a dangerous weapon.' We had to tell Kenny that he was going to build the whole ramp with a hammer," Othman adds, laughing.
Davis talks about similar problems. "The most difficult thing is the importing of skate equipment, because obviously it's pretty difficult to import stuff into Palestine and getting all the Israeli paperwork done. We had a shipping container abroad waiting to come, but the Israeli paper is taking like a year before it's able to go anywhere. Buying stuff in Israel, there are skate shops, but it's kind of expensive – a lot more expensive than in Western Europe or America."
In any case, he says, the main goal is to get the local scene moving. In the meantime, the guys at SkatePal have come up with a charming solution: a tiny shop in Asira.
"Welcome to Palestine's skate shop," says a 22-year-old blond man named Jack as he points to a small, moldy cellar down the steps of an ancient stone house in the town's old quarter. "Here a used skateboard will cost you 100 shekels [$28] and a new board 150 shekels. Of course this is a subsidized price," he smiles once downstairs, happily pointing to the colorful boards leaning against the damp walls.
From London suburbs to an ancient stone house
Davis, who from Spain follows the events and arrangements for the volunteers in the West Bank, explains the visitation strategy. "The biggest amount of time you get in Israel is three months; we recommend people coming for one or two so they're still fresh, because there's quite a lot of work to be teaching every day in the village," he says. "So you come first for like a month and then maybe stay for eight weeks or longer."
Many visitors make friends and come back two or three times. "So we try to make people come back again, and also to find new volunteers," Davis says. "They're usually between 20 and 30, we have some people who are like 40 and 50. The youngest that we have are 18."
In addition to Jack, who is blond, there's a brown-haired Jack and a John: the three volunteers who operated the park in June. After jokingly apologizing about their names, they invite a visitor to eat some baklava left over from the day before. Each came from a different part of the London suburbs to travel around the West Bank and Israel; they've been to Jerusalem, Haifa, Bethlehem and Tel Aviv.
They all live in the ancient stone house, which has been partly renovated. At the entrance there's an old well blocked with an iron sheet; a bent and moldy bucket that has been tossed to the side hints that the well was recently in use.
"We have to fix up a lot more things here. We don't have a shower at the moment, but the house is very beautiful. I assume we'll have to help with the renovation of this well. In any case we've come to volunteer," says blond Jack.
John, a man with delicate features and tattooed arms, warns: "Legend has it that the Devil lives inside this well. I'm not certain it's a good idea to renovate, because he could run away."
Actually, John won't be helping with the renovating. He came to Asira a month ago and was due to go back to London the following day. "Now I have to go back to England to find a job. I think maybe I'll do something in the police," he says. Blond Jack says this is his first time outside Europe, but he came with knowledge about the Israeli-Palestinian issue.
"I studied history and I'm interested in this region," he says, adding that his father at least was worried about his decision to come to the West Bank and volunteer. His father did a bit of research, but his mother "hardly knew anything about this place. So she didn't know that supposedly there was a reason to worry."
John then performs an impressive series of skateboarding maneuvers on one of the ramps. "This is an amazing country, but I have the freedom to move around in it, not like the Palestinians," he says. "We met with Israelis to hear both sides. I simply did not know about the political situation before I came."
Brown-haired Jack smiles: "Davis prefers that we keep the activity very clean of politics. We don't get into the sides of the conflict." Blond Jack says that volunteering at the park has given him the chance to form a relationship with a local family.
"They have two sons and one daughter and they all come together to skate. This is really great. The girl is really good at it but she didn't have a board of her own. We thought that was a pity because to improve you really need a board of your own. So we brought her a used one that was a bit worn down. We were at their place for the iftar meal in the month of Ramadan. The parents thanked us and told us how meaningful this was for the kids; how happy they were that they had something like this to do that they enjoyed a lot," he says.
"For me this was very moving. Often you understand from people that you're doing something good for them, but it's rare that they express this right in front of you in such an explicit way. Before I came here I was concerned that they might treat us with suspicion and think that we were trying to impose Western culture or some kind of worldview on them," he adds.
"I wondered whether I had any right at all to work here as a volunteer who comes from a foreign country with a different culture. I'm very glad they welcomed us so warmly. They've really been very friendly towards us. The people who live here know what we're doing. They recognize us in the street and they say hello."
Click the alert icon to follow topics:
ICYMI
Ken Burns' Brilliant 'The U.S. and the Holocaust' Has Only One Problem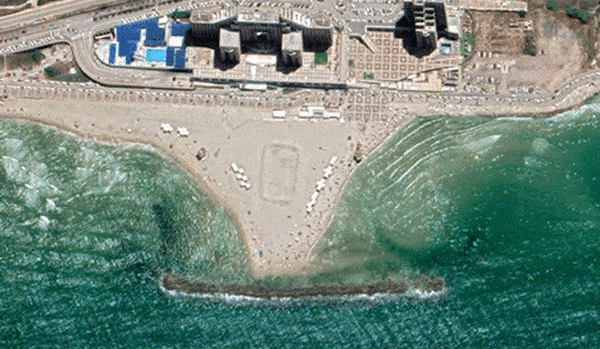 Facing Rapid Rise in Sea Levels, Israel Could Lose Large Parts of Its Coastline by 2050
As Israel Reins in Its Cyberarms Industry, an Ex-intel Officer Is Building a New Empire
How the Queen's Death Changes British Jewry's Most Distinctive Prayer
Chile Community Leaders 'Horrified' by Treatment of Israeli Envoy
Over 120 Countries, but Never Israel: Queen Elizabeth II's Unofficial Boycott