Analysis |
A Photo Op With Trump Is Nice, but What the Palestinians Really Need Is Money
On the Syria front, meanwhile, the arms race between Israel and Hezbollah is ongoing
U.S. President Donald Trump meets with Palestinian Authority President Mahmud Abbas in the Oval Office of the White House on May 3, 2017 in Washington, DC.
Credit: MANDEL NGAN/AFP
Palestinian President Mahmoud Abbas squeezed in at the end of U.S. President Donald Trump's crowded schedule of meetings on Wednesday. Abbas was a guest in the White House more than two months after Prime Minister Benjamin Netanyahu and just two-and-a-half weeks before Trump's planned visit to Israel.
Trump has more urgent problems than the Israeli-Palestinian conflict, which is no longer of primary concern to the international community. But judging from the statements made by Jason Greenblatt, Trump's envoy for Israeli-Palestinian negotiations, and the number of times Trump himself has reiterated his desire to make a "good deal" between Israelis and Palestinians, it seems the president and his aides are still toying with the thought of what achieving a breakthrough could do for his image as an international statesman. A Nobel Peace Prize, however, apparently isn't in the offing.
His predecessor, former U.S. President Barack Obama, didn't have to try so hard; he was awarded a Nobel immediately after he was first elected. But at least with regard to the Middle East, Obama didn't justify the prize jury's hopes.
The main importance of the Trump-Abbas meeting lies in the fact that it took place. The Palestinians evidently did their homework with regard to their host's love of flattery. But beyond the photo op and the aspiration for peace, Trump isn't a detail man. The Palestinians know even less than Israel does about how or even whether he will leverage his upcoming visit to Israel to present a new peace initiative.
The Palestinians' main concern now revolves around economic support. America's direct and indirect financial support for the Palestinian Authority amounts to about $500 million a year. Last week, Netanyahu demanded that the PA stop paying salaries to terrorists jailed in Israel and the families of slain terrorists. At the same time, Republicans in Congress are cooking up a bill to condition further American aid on halting all payments to terrorists, and perhaps to their families as well.
The PA would have trouble ending these payments, especially while Palestinian prisoners in Israel are on hunger strike. Nor is this an immediate Israeli interest, because it could inflame the atmosphere around the strike. So for now, the parties will look for an indirect method of payment that will enable the U.S. government to pose as standing firm against terror without pulling the carpet out from under the PA.
But any discussion of resuming the peace process is still hypothetical. The more burning problem is what's happening in the Gaza Strip, which has received little attention in Israel. The various external pressures on Hamas – the Israeli blockade, tense relations with Egypt, punitive steps by the PA and worsening infrastructure problems (not just the limited electricity supply, but also a severe shortage of potable water) – have become too severe for it to maneuver among them.
Ever since Yahya Sinwar was chosen by Hamas as its leader in the Gaza Strip, policy has largely been set by the organization's military wing. The possibility that Sinwar will try to extricate himself from his problems by heating up the border with Israel isn't inconceivable. It could be almost an exact replay of the deterioration that led to the last war in Gaza, in the summer of 2014.
This week, Maj. Gen. Yoav Mordechai, Israel's coordinator of government activities in the territories, announced an expansion of the area in which Gaza fisherman are permitted to fish. For years, Mordechai has done his best to postpone the next military conflict, under difficult circumstances. On his recommendation, Israel has quadrupled the number of trucks delivering goods to Gaza since the last war ended.
But Mordechai can't produce miracles. Increasing the fishing catch won't save Gaza, even if it will help its economy.
Brig. Gen. (res.) Assaf Orion, who was the army's head of strategic planning when the last Gaza war erupted, wrote on the Institute for National Security Studies' website on Thursday that the likelihood of another military conflict between Israel and Hamas has risen. He advised the government to take vigorous steps to ease Gaza's economic and humanitarian distress: asking the Gulf States to solve the crisis over the PA's salary cuts to its Gaza employees, removing barriers to exports from Gaza and making it easier for people to leave Gaza.
Have any of these ideas been raised in the security cabinet by ministers who complained to the state comptroller of having been left out of the loop before and during the last war? Not yet. Israel is evidently still recovering from its Independence Day hangover.
Tactical tail, strategic dog
An old political law holds that you can say absolutely anything on Israel's Russian-language media outlets, since their audience ostensibly cares less about whether the information is new or accurate, and the Hebrew media pays no attention to them in any case. Netanyahu has given very few media interviews since being reelected last year, preferring to go over the media's head and address the public via social media. But this week, he gave an Independence Day interview to Channel 9, a Russian-language television station.
"Russia is here. That's a fact," he said. "From the moment President Putin decided to bring the Russian army to Syria, it took a few days. I flew to Moscow and told him the following: 'We're acting in Syria to prevent transfers of very dangerous weapons from Iran via Syria to Hezbollah in Lebanon. I'll continue to instruct the Israel Defense Forces to work against these transfers. There are two possibilities – either we'll coordinate between our armies or we'll clash with each other.' I told him, 'I'd prefer that we deconflict.' He told me, 'I agree.' Since then, we've had to tighten the screws every few months, and we're working to prevent conflict."
In this interview, Netanyahu continued to disperse the cloud of ambiguity over airstrikes in Syria which he himself has generated for more than five years. Just a week ago, defense officials railed at Intelligence Affairs Minister Yisrael Katz for indirectly confirming, in an interview with Army Radio, that Israel was behind a major strike near the Damascus airport.
Between Netanyahu's interview, Katz's hints and the IDF's official statement after a Russian anti-aircraft missile was fired at Israeli warplanes in Syria in late March, the secret is already out of the bag. When it comes to attacks on arms convoys, Israel no long bothers to hide behind doubletalk.
The one who's continuing to play a double game is Russia, which, despite its good relations with Israel, isn't just turning a blind eye toward these arms shipments, but is apparently encouraging Syria to take a more aggressive line. The impression left by the last two months is that Russia doesn't care that the Assad regime has abandoned its policy of restraint toward Israeli airstrikes, and that Russian President Vladimir Putin wasn't exactly shocked when the regime used chemical weapons in Khan Sheikhoun in early April.
Trump won justified praise for launching a missile strike at the Homs airport to punish that chemical weapons attack. But so far, his strike hasn't affected the course of the war.
The Washington Post reported this week that since the American bombing, Russia and Syria have intensified their airstrikes on rebel areas, though they haven't used chemical weapons again. Patently civilian targets like hospitals are being systematically bombed. Bunker busters, no less, were used to attack a hospital built into a hillside near Khan Sheikhoun. The Russians also make sure to bomb the medical workers who come to rescue the wounded after each airstrike.
Israel's interests in Syria have been clearly defined: preventing the transfer of sophisticated weaponry to Hezbollah, preventing Hezbollah and the Iranians from setting up shop near the border in the Golan Heights, and responding immediately to any fire into Israeli territory, even if it was unintentional.
The plethora of reports about Israeli airstrikes shows that the arms race between Israel and Hezbollah is still going on, in preparation for the next war. Israel announced last month that the David's Sling antimissile system — the middle layer of Israel's three-layer missile defense system, between the Arrow up above and Iron Dome down below — went online. Hezbollah's response, with Iranian encouragement, has been to expand its store of rockets (apparently on the theory that Israel's systems can't easily handle barrages) and significantly improve their accuracy.
This is where the war between Israel and Hezbollah is taking place now, largely in secret. So far, the Netanyahu government seems to have managed its offensive efforts with praiseworthy caution and intelligence. But to use a somewhat archaic metaphor, the question is how many more times this bucket can be taken to the well before Russia's patience ends. Or as Orion put it, it's whether the tactical tail – the need and the temptation to exploit operational opportunities – hasn't already started to wag the strategic dog.
Click the alert icon to follow topics:
ICYMI
Ken Burns' Brilliant 'The U.S. and the Holocaust' Has Only One Problem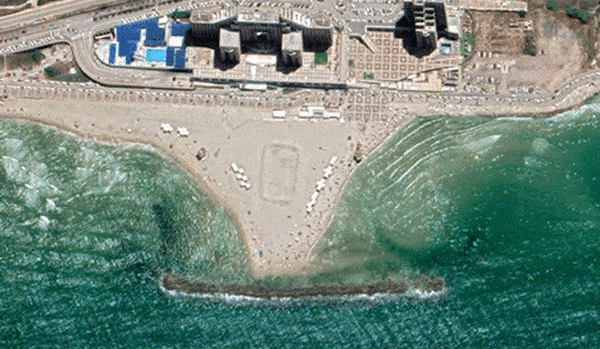 Facing Rapid Rise in Sea Levels, Israel Could Lose Large Parts of Its Coastline by 2050
As Israel Reins in Its Cyberarms Industry, an Ex-intel Officer Is Building a New Empire
How the Queen's Death Changes British Jewry's Most Distinctive Prayer
Chile Community Leaders 'Horrified' by Treatment of Israeli Envoy
Over 120 Countries, but Never Israel: Queen Elizabeth II's Unofficial Boycott