Analysis |
King Abdullah Is Caught Between Jordan's Protests and Jerusalem's Tensions
Demonstrations against corruption, rising unemployment and reports that the U.S. will support giving the Saudis and Moroccans a say on the Temple Mount are threatening the king's throne
People marching from Aqaba to Amman demanding more employment opportunities, Jordan, February 20, 2019.
Credit: Muhammad Hamed / Reuters
"Over the years you've been sent letters and pleas from every segment of Jordanian society asking you to make reforms and fix the situation, but all these calls have gone unheeded. Moreover, you've ignored them deliberately while continuing to follow a political and economic system that rests on corruption and tyranny, which negate the people's interests, threaten the state's security and stability, and bring it to the brink of the abyss."
These words were sent to King Abdullah last month by 84 Jordanian public figures, including a former cabinet minister. Its exceptional harshness is the climax of a public battle that has gradually intensified since January 2018, when the government approved a budget that slashed subsidies, raised taxes and sent fuel prices soaring.
Stormy demonstrations in Amman achieved some of the protesters' goals but didn't calm tempers. Last June, in a routine step meant to serve as a tranquilizer, Abdullah fired Prime Minister Hani Mulki and replaced him with a leading economist, Omar Razzaz, who put together a new cabinet.
But changing the government didn't really help. Over the past three months, hundreds of young people from cities throughout Jordan have held sit-ins near the royal palace in Amman every weekend. They put up tents, build bonfires to warm the cold nights, and swear not to go home until jobs are found for them.
In media interviews, they say they haven't been able to find work for months, sometimes years. And those who do have work run out of money before the end of the month.
Only the lucky few receive permits to work in Israel; they'd rather work in Jordan, but they commute daily to Eilat. Yet Israel grants permits to only 2,000 Jordanians, while the kingdom has more than 300,000 jobless people. Jordanian businesses can't solve the 18 percent unemployment rate, which reaches 30 percent among young people and residents of small towns.
Some 450,000 Jordanians live in Saudi Arabia, which has promised to hire even more people from Abdullah's kingdom. Qatar has made a similar promise.
But the economic distress, the huge class differences, the million Syrian refugees who have replaced many Jordanian and Egyptian workers in agriculture, services and industry, and the fact that the Syrian border was closed until recently have all intensified feelings of despair and powerlessness.
Earlier this month, members of Jordan's largest tribe, the Bani Hassan, published an online petition calling for a change to the constitution. They also called for an open-ended sit-in and a million-man march throughout the kingdom.
"Jordan has a genuine crisis requiring a shedding of the illusion of demands for reform; it requires a change to the entire system of government," the petition said. It proposed a one-year national unity government comprised of 31 carefully chosen members representing all segments of society.
Jordan's deep corruption
Such a petition is a new development, and worryingly, it comes from the heart of the king's tribal support base. Granted, the tribe's leaders quickly denounced it, saying that it was written by a handful of people who don't represent the tribe, and that the Bani Hassan will always be loyal to the king and the kingdom. Still, the impression can't be ignored.
Soon enough, letters leaked from government agencies were posted on social media. These reported the appointment of three new senior Justice Ministry officials at enormous salaries of $2,800 to $4,500 a month, all without a bidding process.
This combined with the revelation that legislators had appointed relatives to plum positions, so the king took to Twitter. There he expressed his dissatisfaction with both the lack of transparency in the appointments and the leaking of official documents. He froze the Justice Ministry appointments, but nothing has been done about the jobs for parliamentarians' relatives.
Jordan's deep corruption is expressed not only in the bribes to bureaucrats to obtain permits or further interests. It's also seen in the closed circle of senior officials, ministers and advisers to the king, who enjoy a revolving door. They periodically trade positions, but all of them come from the same in-group.
The official media, which is wholly or partly owned by the government, doesn't report on the protests in full. That job is done by social media, which has become a kind of "street parliament" scrutinizing government excess. There one can find juicy stories about senior officials' behavior, like one from last year that recently reappeared.
According to this story, one of Abdullah's advisers, Issam Rawabdeh, the son of former Prime Minister Abdelraouf Rawabdeh, stopped a bus driver whom he thought was driving recklessly. The adviser summoned a police officer, who fined the driver more than two months' salary. The leaders of the driver's sizable tribe then contacted the king's court and got the adviser fired.
As stories like this feed the public conversation and the efforts to organize a major protest on May 2, Abdullah is trying to scrounge additional foreign aid to finance the country's debt, which exceeds $40 billion. A conference of donor states in London last month produced pledges of $2 billion. But if even if this money arrives, it will be spread over three to five years.
Last June, Saudi Arabia, Kuwait and the United Arab Emirates promised $2.5 billion, but Riyadh transferred the first $340 million just this month, and it's not clear when or even if the rest will arrive.
Moreover, Saudi aid usually comes with diplomatic conditions. Once it was a demand to let Saudi planes operate in Syria from Jordanian airfields; when Abdullah refused, the aid was frozen. This time Riyadh will apparently seek to become a partner in running Jerusalem's holy sites.
Haaretz reported this demand several months ago, but it has now apparently become more concrete. According to leaks whose accuracy is unclear, U.S. President Donald Trump's "deal of the century" will include Moroccan and Saudi participation in managing sites like the Temple Mount, Israeli sovereignty over them and Palestinian participation in maintaining them.
Appeasing the hard-liners
This is a red line for Jordan, which previously received an Israeli commitment to let it run the mount via the Waqf religious trust. This week, Abdullah visited Washington and discussed Jerusalem with Secretary of State Mike Pompeo, special envoy Jason Greenblatt and Trump's son-in-law, Jared Kushner. According to Jordanian sources, he said he would not agree to share management of the holy sites with Saudi Arabia and Morocco.
The Temple Mount's status and Jordan's responsibility for it aren't just diplomatic issues, they lie at the heart of Jordan's political fight at home. Any concession to Israel on the Mount could inflame public opinion and put the king in conflict with parts of the public.
The power of this domestic pressure was evident in October, when Abdullah announced, without even offering to negotiate, that he would stop leasing territory in the Jordan Valley and the Arava to Israel later this year, when the relevant clause of the peace treaty expires. His harsh statements about the latest conflict on the Mount, in which Israel opposes the Waqf's decision to reopen the Golden Gate, are also part of his effort to appease his rivals at home, who are demanding an end to normalization with Israel and even the expulsion of Israel's ambassador.
At a conference of Arab parliamentarians in Amman this month, the speaker of Jordan's parliament, Atef Tarawneh, declared, "The Arab peoples utterly reject rapprochement and normalization with Israel." He even supported a clause in the final communique that demanded an end to normalization – in contrast to Egypt, Saudi Arabia and the UAE, which all opposed this clause.
Abdullah isn't happy about the conflict on the Temple Mount and is trying to reach agreements with Israel on it. But he completely rejects Israel's proposal to close the Golden Gate for a long period of renovations and demands that Israel let the Waqf run the site unhindered.
According to Jordanian sources, he recently met with Mossad director Yossi Cohen to discuss a formula that would give Jordan control of the gate alongside its existing control of the Al-Aqsa Mosque. Abdullah told Cohen that the issue of the Temple Mount threatens Jordan's internal security, and that Israel must understand how explosive it is for Jordan.
It's hard to guess when a storm of protest might erupt in Jordan or what might ignite it – the young men sleeping under bridges in Amman, the wage earners who can't support their families, or perhaps the Temple Mount.
Like their counterparts in Jerusalem and Ramallah, Jordanian officials are tensely awaiting the result of Israel's election next month, after which Trump is expected to publish his peace plan. There have already been reports in Jordan that it will include huge investments by the United States and other countries from which Jordan could benefit, including plans to build a railway linking Haifa and Baghdad via the Jordanian city of Irbid. The Israeli dream of eating falafel in Damascus will apparently be replaced with dreams of eating it in Baghdad.
The Jordanians already have excellent falafel. But they'd be happy to put real food on their tables.
Click the alert icon to follow topics:
ICYMI
Ken Burns' Brilliant 'The U.S. and the Holocaust' Has Only One Problem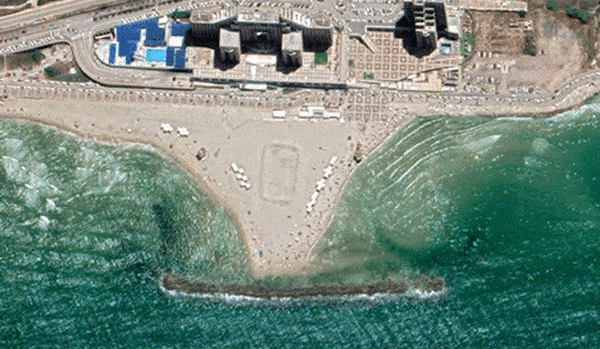 Facing Rapid Rise in Sea Levels, Israel Could Lose Large Parts of Its Coastline by 2050
Lapid to Haaretz: 'I Have Learned to Respect the Left'
The Mossad's Fateful 48 Hours Before the Yom Kippur War
As Israel Reins in Its Cyberarms Industry, an Ex-intel Officer Is Building a New Empire
How the Queen's Death Changes British Jewry's Most Distinctive Prayer