Jailbreaks, Shattered Dreams (And Bones) and Coronavirus: Inside the World's Largest ISIS Prison
Some 5,000 ISIS militants are being held in a school-turned-jailhouse in northeastern Syria. A riot there on Sunday has raised new fears about the facility, where social distancing is definitely not a priority
ISIS detainees in the hospital wing of Hasakah prison, northeastern Syria, December 2019.
Credit: Thibault Lefébure
HASAKAH, Northeastern Syria – As the clamor grows in the United States for inmates to be released from overcrowded prisons due to the coronavirus pandemic, thousands of miles away in Syria, prisoners took matters into their own hands on Sunday and staged a mutiny.
But this is no ordinary lockup, and these are no ordinary detainees. The school-turned-jailhouse in the northeastern Syrian city of Hasakah holds some 5,000 ISIS militants. Most were captured last spring during the Battle of Baghuz, where the Islamic State group made its last stand.
The prison riot and attempted jailbreak took place on the night of Sunday, March 29, when inmates managed to remove cell doors and punch holes through internal cell walls, taking control of part of the prison facility after overwhelming their Kurdish guards. Aircraft from the U.S.-led coalition assisted in surveillance overnight and into Monday. But although some detainees managed to escape, they were later picked up by the police, according to local reports.
In security camera footage broadcast by a local TV station, men in orange jumpsuits can be seen holding a banner to the camera demanding that their human rights be respected. It is not clear whether the mutiny was explicitly linked to fears over COVID-19. But given the facility's extreme overcrowding and lack of access to health care, an outbreak there could be devastating.
"We asked Kurdish forces weeks ago if they had a contingency plan in regard to the coronavirus and ISIS prisoners. They said it was not on their agenda," one European security official told Haaretz on Monday.
And when Haaretz visited the prison in late December, potential jailbreaks were already concerning officials. "As with any prison or detention facility, there is a risk of jailbreak," a spokesperson for the U.S.-led coalition said at the time. "Most of the facilities are makeshift and not fit for long-term detention. Addressing the long-term solution for this 'ISIS army in waiting' should be a top priority for the international community," the spokesperson said.
Sunday's prison revolt resurfaced a problem that most of the international community would seemingly prefer to ignore: What to do with the thousands of foreign ISIS fighters being held in Syria.
'We die like flies'
More than 10,000 male prisoners from 50 different nationalities (mostly Syrians and Iraqis) are believed to be detained inside 25 Kurdish-run "pop-up" prisons in northern Syria. In addition, tens of thousands of women and children are being kept in squalid camps. No one seems to know what to do with them. Stuck in limbo, detainees say they are waiting for trial or death, their situation muddied further by the Turkish incursion into Kurdish-held parts of Syria last year.
Even three months on, a visit to the Hasakah prison refuses to fade from the memory. This Haaretz correspondent's first encounter with the detainees was inside the prison "hospital," witnessing about 300 of them crawling around barefoot.
"Allah, Allah," one prisoner said to no one in particular. There were a few coughs and the thumping echo of clutches on the floor. Yet for such an overpopulated room, it was surprisingly silent. A mix of languages could be heard: French, English, Arabic, Russian. Someone whispered: "We die like flies."
The weather had turned cold when Haaretz visited. The sick and injured wore sweaters, hats and socks, carefully knitted from blankets to cover their emaciated, sun-starved bodies. Their standard-issue orange uniforms are an exact replica of the jumpsuits ISIS used to dress victims in before gruesome executions. The group itself was imitating the uniforms jihadists had to wear at U.S.-run camps in Guantanamo Bay and Iraq's Abu Ghraib. "Ironic, isn't it?" one jihadist said with a smile.
The cells offered a sight just as harrowing: Hundreds of suspected terrorists held inside what used to be a classroom. There didn't appear to be enough room for all of them to lie down at the same time. One Moroccan inmate popped his shaved head out a little hatch on a metal cell door and inquired: "Please tell me, does the Islamic State live on? We haven't lost the war, have we?"
Before we entered the prison, a Kurdish warden had cautioned us: "They have no idea what has happened outside of these walls. Please do not tell them about the death of Abu Bakr al-Baghdadi – we want to avoid an uprising," he said, referring to the death of the ISIS leader during a raid by U.S. special forces in northwestern Syria last October.
Perhaps it was only a matter of time before an uprising took place, coronavirus or not.
Unrepentant militants
Speaking to detainees at the prison, many remained unrepentant for their actions, referring to the victims of terrorist attacks worldwide as mere "payback" for the U.S.-led airstrikes in Iraq and Syria. "It's war. Did you think we would send you a box of chocolates?" asked one British inmate, Shahan Choudhury.
Another jihadist, his young face now wrinkled with scars, agreed to speak on condition that we went to a room where other prisoners could not listen in. His left leg was injured during the fighting, but the broken pieces of bone were never reset so his limb was bent at a 90-degree angle. Unable to walk, two other inmates had to carry him out.
"We have been here for 10 months and don't know anything about the situation of our families. I don't know if my wife and kids are still alive," the inmate, Adel Mezroui, a 23-year-old Belgian national, told Haaretz. "My wife was pregnant last time I saw her," he added, patting his broken leg.
His children are indeed still alive. Unbeknownst to Mezroui, last December, a Belgian court ordered the government to facilitate the repatriation of 10 children being held in Syria, including Mezroui's. However, the judge ruled that Mezroui himself was not eligible for such a move, having traveled to the Middle East willingly.
However, repatriating Mezroui's children proved more challenging than initially thought. Sources told Haaretz that the Kurdish authorities – which had previously stated they opposed the repatriation of minors without their mothers – have been uncooperative. Now, the coronavirus pandemic has forced Belgian authorities to "freeze" the mission.
Risky venture
Many security experts agree that, from a security perspective, repatriating the jihadists is the least-worst option. But most governments seem reluctant to go against many of their own countrymen's wish – which is that the militants remain locked away where the crimes took place.
Repatriation is not risk-free either. Prosecuting these individuals in domestic trials could prove particularly challenging for lack of evidence tying them to crimes committed thousands of miles away. This means that in some countries, individuals could be prosecuted solely for membership of a terrorist organization and be freed after a few years, thus posing a potential security threat on home soil.
"The domestic detention and post-penitentiary management of jihadists is a particularly sensitive issue, and the various 'deradicalization' initiatives have hardly been convincing, whatever the formula tested – which explains why political powers have been resistant to repatriation," says Julien Théron, a senior fellow at the Norwegian Institute for Defence Studies.
In February, Syria's Kurdish authorities announced they would start to hold trials for foreign ISIS militants, with or without international support. They had previously hoped that governments overseas would either repatriate their own nationals or help set up an international court inside their de facto autonomous region. But neither materialized, so they decided to take matters into their own hands.
On a previous trip to northeastern Syria last July, Haaretz spoke with one of the judges who may soon be facing ISIS prisoners in a courtroom. We met the female judge, who we cannot name, at a heavily guarded vacation resort outside the town of Amuda, where the Kurdish administration had organized a conference to promote the establishment of an international court – an idea Western officials labeled "unfeasible."
"Reason and logic dictates that [the foreign fighters] be judged here, because the crimes were committed here, and the victims and witnesses are here too," she said, seated next to a swimming pool. She was sporting bright blond hair, high heels, scarlet lipstick and a healthy appetite for trying religious fanatics who don't dare look her in the eye.
Thousands of Syrian ISIS suspects have already been tried in local Kurdish courts. Sentences varies but the death penalty is prohibited under the Kurdish administration's legal system, which prides itself on respecting the highest international criminal justice standards. However, it remains unclear whether such a non-state actor can organize trials without the support of either the Syrian government or the international community, which does not officially recognize the Kurds' autonomous administration.
Syrian Kurds may have a vested interest in maintaining custody of high value foreign nationals, because they could be used as leverage in any future negotiations with the detainees' home countries. However, keeping the jihadists in Syria indefinitely may prove hazardous – as was just demonstrated at Hasakah.
And Sunday was not the first time ISIS militants had managed to break free from Kurdish jails.
Turkish incursion
Last October, Turkey launched a military operation in northeastern Syria to drive Kurdish forces – which it sees as an extension of the outlawed Kurdistan Workers' Party, or PKK – away from the border. The offensive resulted in weeks of fighting, displaced tens of thousands of Kurdish civilians and jeopardized the prisons holding ISIS detainees.
According to a confidential U.S. intelligence memo in November, obtained by Haaretz, some 100 ISIS detainees managed to escape after the Turkish incursion – chiefly because the prisons they were being held in were damaged during clashes.
When Ankara started its offensive, almost 80 percent of the "top 50" foreign ISIS prisoners were held in centers vulnerable to Turkish cross-border operations, according to the memo. The majority of them are individuals who have plotted attacks or have technical expertise in bombmaking or weapons production, and several are mid-level leaders or experienced media operatives.
The U.S.-led coalition asked at the time that high-value detainees be relocated to facilities away from the front line. However, Kurdish officials denied those requests, citing resource constraints. Several dozen leading jihadists were eventually removed from the Kurdish-run prisons by the U.S. military as Turkey began its invasion.
Ultimately, the number of successful jailbreaks has been quite limited in relation to the total number of jihadists held in northeastern Syria. But the recent crisis initiated by the partial U.S. withdrawal and Turkish incursion shows just how volatile the region can be, and that entrusting a local militia with such a huge task was always a perilous bet.
Caliphate in a cage
The Hasakah prison is the region's – and therefore the world's – largest detention facility for ISIS militants. Sunday's revolt will surely not be the last time a prison break is attempted. After all, one of the final audio messages the group's now deceased leader Baghdadi released last September called on followers to "do your utmost to free [detained members] and tear down the walls restricting them."
"Sometimes, Daesh's sleeper cells roam around outside the building and fire shots. They want to send a message to the prisoners that Daesh still exists," the prison warden told Haaretz in December, using the Arab acronym for the group. He paused briefly before adding: "We simply cannot handle the situation on our own."
The U.S. intelligence memo considered this detention facility a "key target" for ISIS "because of its size and the benefit of releasing prisoners from there."
In many ways, the prison at Hasakah is a caliphate in a cage. There is despair and fear, regret over what happened and what did not happen. There is hatred, too. Not so long ago, these men probably felt invincible as they conquered territories and peoples, launched terror attacks worldwide and inspired fear in billions. Now, their frail bodies tell a different story. Merciless men are begging for mercy.
"I realized about three years ago that we were losing the war. Everything started to collapse, it was chaos. We had to retreat from everywhere, people were running away, leaders disappeared, and die-hard fighters started to hide in the desert in Iraq and Syria," a Belgian prisoner in his twenties, Abdellah Nouamane, told Haaretz. His sunken cheeks and hollow eyes bear witness to years of conflict.
Nouamane had threatened his homeland in a 2015 audio recording: "Libraries, schools, hospitals … there are no innocent victims anymore," he said. Five years on, all hubris gone, he said he is now waiting for repatriation or death.
Indeed, death seems the surest way out for these militants. While it is impossible to independently verify how many inmates have died in detention, as many as several hundred are believed to have passed away in less than a year. Ill-treatment, malnutrition, previous injuries and lack of access to health care are believed to be the main causes of death.
But even in death, their ultimate destination remains unknown: The location of the cemetery for ISIS detainees in northeastern Syria is a secret and the graves unmarked.
Click the alert icon to follow topics:
ICYMI
Ken Burns' Brilliant 'The U.S. and the Holocaust' Has Only One Problem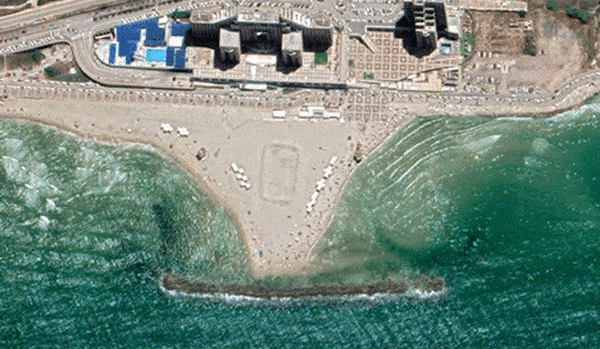 Facing Rapid Rise in Sea Levels, Israel Could Lose Large Parts of Its Coastline by 2050
Lapid to Haaretz: 'I Have Learned to Respect the Left'
The Mossad's Fateful 48 Hours Before the Yom Kippur War
As Israel Reins in Its Cyberarms Industry, an Ex-intel Officer Is Building a New Empire
How the Queen's Death Changes British Jewry's Most Distinctive Prayer