Analysis |
To Stop Iran, America Needs an Iraqi Cleric Fighting It
Muqtada al-Sadr, the head of the largest party in Iraq's parliament, opposes both Tehran and Washington, but his status as a kingmaker isn't guaranteed as Iran tries to unite the Shi'ites
A poster of Shi'ite cleric Muqtada al-Sadr in Baghdad on Sunday.
Credit: Ahmad Al-Rubaye / AFP
The construction workers busy renovating the central bank branch in Mosul this week were astounded by the money that showered on their heads. Packs of banknotes rolled up in 175 black plastic bags had been stashed in the ceiling and even the Islamic State fighters who took over the city in 2014 and stole hundreds of millions of dinars from the bank couldn't find them.
The money wasn't discovered after the city was liberated in 2017 either, and it's not clear whether it was hidden by a manager or a teller who hoped to return one day to retrieve it. The incident is another example of the way billions of dollars have disappeared from the state's coffers since Iraq was occupied in 2003 by the U.S.-led coalition.
It wasn't disclosed how much money had been stashed in the bank's roof, or whether it was in dinars or dollars, only that it was in small bills. Maybe now the government will dig and drill at every central bank branch to find money that could help it fill the gaping $20 billion hole in its budget.
About two weeks after the general election, Iraq badly needs a miracle, or at least a magic wand that will appoint a prime minister to form a government after only around 40 percent of eligible voters went to the polls. It's also clear that the Shi'ite blocs will get the important ministries like defense, oil, treasury and foreign affairs, but it could take months to put the puzzle together.
Iraqi politicians predict that the government won't be formed this year; the realistic ones say March is a reasonable date for clinching the coalition talks. Others believe that parliament will only be able to approve a cabinet next summer.
Until then the state will be run by a caretaker government headed by Mustafa al-Kadhimi, who was appointed after the previous government fell following the huge demonstrations and violent clashes last year.
As in the previous election in 2018, the big winner was the Shi'ite cleric Muqtada al-Sadr, whose bloc won 73 of parliament's 329 seats. Behind him, at 34 seats, came the bloc headed by the previous prime minister, Nouri al-Maliki, followed by the Fatah bloc in which the pro-Iranian militias are partners. This bloc suffered a harsh blow when it won only 17 seats, compared with 48 in 2018. Independent candidates captured 40 seats thanks to the new election law.
These results have been widely interpreted as a defeat for Iran, whose standing in Iraq was predicted to shrink dramatically. This interpretation is based on the assumption that al-Sadr, whose anti-Iranian and anti-American stances are well known, will crown the next prime minister and dictate the cabinet's makeup. Al-Sadr has already announced that the next prime minister will be his choice, but to realize his vision he still needs a solid coalition.
The mighty Mahdi Army
The main disagreement now is who will be tapped to form the government – the party or bloc that won the most votes or the leader who can put together the largest coalition. Al-Sadr insists that the largest party, his, must appoint the prime minister, while rivals say the largest bloc must. Al-Sadr, 47, a member of a privileged religious family, isn't a senior enough cleric to issue binding decisions.
But he's a charismatic leader who in the two decades since the Iraq War has mobilized millions of Iraqis, letting him form the Mahdi Army militia that fought relentlessly against the U.S. occupation. Its fighters can rally hundreds of thousands of followers out onto the streets. Al-Sadr has a hand in every ministry; his people are judges, project managers, oil company officials, university lecturers and bank executives.
He's basically the great enemy of the Shi'ite militias and of Iran's involvement in Iraq. After the election he said that "from now on, weapons must be exclusively in the government's hands. The use of weapons will be banned outside the government. It's time that the people lived in peace without occupation, terror, militias, abductions and fear."
He didn't mean his own militias, of course, but al-Sadr has changed his tone several times in his career. From 2006 to 2008 he cooperated with Iran in the campaign against the United States; his fighters attacked U.S. soldiers and targets, as well as Sunni ones, and became Iran's executive branch in Iraq. But when Iran started taking his men to form new militias competing for control of the streets, he acted against Iran's activists in the country.
In 2018 he again changed tack when he cooperated with the leader of the Shi'ite militias to get then-Prime Minister Adil Abdul Mahdi to resign. In the mass demonstrations of 2019 he claimed to support the public's demands. He sent his loyalists to join the protesters, put up protest tents and provided demonstrators with food and medical supplies. But the protesters, most of whom were young middle class people, were suspicious of him; they set up separate protest camps and didn't let al-Sadr's people join them.
Their suspicions were justified. By the end of the year al-Sadr had changed his stance again and following a meeting with Qassem Soleimani, the Iranian Quds Force commander who was assassinated by the Americans in January 2020, al-Sadr started attacking the demonstrators. His troops took down the protesters' tents and engaged in armed clashes with them, wounding hundreds and killing many.
But al-Sadr's display of violence didn't do him any good. Despite Iran's wish to keep Adil Abdul Mahdi in power, he was ousted.
Objecting to Shi'ite unity
Now al-Sadr is again speaking out against Iranian involvement and the Shi'ite militias. As he put it, "Any country may open an embassy in Iraq as long as it doesn't interfere with the state's internal affairs." That is, even the United States can have a mission there, though al-Sadr forbids his people to meet with American and British diplomats.
Still, it's too early to conclude that al-Sadr's election victory will give him the power he seeks. Former Prime Minister al-Maliki, the leader of the Dawa Party and head of the State of Law Coalition, is already negotiating with possible partners to form a coalition that he would lead. Al-Maliki is a pro-Iranian politician who will probably be joined by the leaders of the Shi'ite militias and Shi'ite independents as part of a strategy to unite all the Shi'ite factions in one bloc, except for al-Sadr.
Al-Sadr objects to the Shi'ite unity idea promoted by Iran because that could erode his power and influence, both of which are also based on non-Shi'ite entities like the Barzani faction in Iraqi Kurdistan and part of the Sunni leadership he recruited with generous promises, not all of them kept. Those blocs and coalitions could unravel and merge in different constellations in the talks to form a government and appoint a prime minister.
So the joy over the pro-Iranian militias and parties' loss of power is premature. Tehran still controls a few economic and religious levers that could help it dictate the next Iraqi government.
Iran is a major electricity supplier, and Iraq's southern provinces depend on it for their water supply. It's Iraq's most important trade partner, its ties with the Kurdish Talabani faction are solid, and the Shi'ite militias are well equipped to rock the Iraqi boat.
Iraq's 40 million citizens are largely concerned with the economy – including unemployment, inferior services and power outages – as well as education and their personal safety. It's not clear how long the frustrated Iraqis will wait for the new government to form, or how much they'll trust the government's reform plans.
Movements, tribes, clans, militias and organizations that see politics going the wrong way may take to the streets again and clash with the army and rival militias – and even unleash a civil war, with Al-Qaida and the Islamic State still active in the background. Such a development would play into Iran's hands, and Tehran has proved it knows how to exploit internecine conflicts. In this situation the election could turn out to be the beginning of a much wider struggle whose repercussions would spill over the country's borders.
ICYMI
Ken Burns' Brilliant 'The U.S. and the Holocaust' Has Only One Problem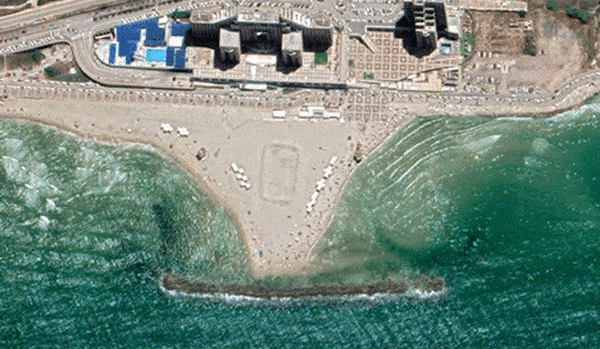 Facing Rapid Rise in Sea Levels, Israel Could Lose Large Parts of Its Coastline by 2050
As Israel Reins in Its Cyberarms Industry, an Ex-intel Officer Is Building a New Empire
How the Queen's Death Changes British Jewry's Most Distinctive Prayer
Chile Community Leaders 'Horrified' by Treatment of Israeli Envoy
Over 120 Countries, but Never Israel: Queen Elizabeth II's Unofficial Boycott