Threats Forced This Iraqi Politician Into Exile – but He's Still Calling for Ties With Israel
Tallal al-Hariri has big hopes for Iraqi politics if he gets to stand in this October's parliamentary election, including the right of Iraqi Jews to return to their historic homeland
Tallal al-Hariri speaking at a meeting of the October 25 Movement he founded.
Credit: Dahfer Faisal Badr
After over a year of subdued demonstrations against government corruption and ineptitude, thousands gathered in Baghdad's Tahrir Square on May 25, only to be violently dispersed by the regime – a scene all too reminiscent of forceful crackdowns at the height of the protests in 2019. Once a familiar face among the crowd, protester-turned-politician Tallal al-Hariri watched events unfold in the Iraqi capital from afar, in the Kurdish-controlled city of Erbil.
Hariri went into exile last year, shortly after launching his new political party, the October 25 Movement, which aspires to establish a secular, nonsectarian, anti-corruption government.
Remarkably, Hariri's party seeks to normalize relations with Israel. Not only that: He also dreams of repatriating Iraq's Jewish community, which immigrated to Israel en masse between 1950 and 1952.
"I want to renew this relationship and find a new way of developing relations between Iraq and Israel," Hariri told Haaretz in a phone interview recently.
The idea came about when he learned about the Farhud, Hariri explains, referring to the 1941 Nazi-inspired pogrom in which about 180 Iraqi Jews were murdered. The rampage is widely seen as the turning point that ended centuries of peaceful coexistence. Nowadays, the country's once-thriving Jewish population has virtually ceased to exist.
Hariri himself hails from Nasiriyah, once a religiously diverse city hosting Muslims, Mandaeans and Jews along the banks of the Euphrates. Now the area is predominantly Shi'ite Muslim.
His party is not the first to put forward the idea of normalizing ties with Israel, says Rachel Kantz Feder, a lecturer of Middle Eastern History at Tel Aviv University. "Numerous [Iraqi] journalists and prominent individuals have visited Israel and expressed favorable views of relations, but the price for doing so has always been high," she explains.
Iraq does not currently recognize Israel, and the two countries have never had any formal diplomatic relations. Furthermore, Iraq continues to be a strong supporter of the Arab League boycott of Israel, and does not allow its citizens to visit Israel (and vice versa). Such visits by Iraqi figures have been conducted through significant and discreet coordination with Israeli authorities.
"Mithal al-Alusi, a former member of parliament and founder of the liberal, secular Umma party, continues to promote ties with Israel, even though his two sons were murdered during an attempt to assassinate him in 2005," Kantz Feder tells Haaretz.
Alusi was expelled from the Iraqi National Congress after a 2004 visit to Israel and indicted by the Central Criminal Court of Iraq for "having contact with enemy states." His sons were killed in an ambush attack on his car months after he participated in a conference at the Interdisciplinary Center Herzliya and after he praised Israeli democracy and suggested that Iraq should establish diplomatic ties. Though the attack cannot be directly linked to Alusi's activities surrounding Israel, some have framed the murders in this way.
Last November, Alusi divulged that on the sidelines of Iraqi Prime Minister Mustafa al-Kadhimi's trip to London to discuss Iraq's economic problems, normalization with Israel was also considered, Kantz Feder reports.
Kantz Feder points to leaks in the media that same month, noting that Kurdish and Sunni officials also began considering relations with Israel and the possibility of establishing a consulate in Erbil during talks in the United Arab Emirates. However, those talks did not occur within the echelons of mainstream Iraqi channels. Kurdish officials further rejected the idea, making it clear that, despite being pro-normalization, they wouldn't make any moves without Baghdad's approval. At a meeting in Erbil, where normalization with the UAE was discussed more broadly, the possibility of opening a virtual Israeli embassy was also debated.
Unrest in Baghdad
Human rights organizations say that at least 80 activists and journalists, in addition to over 500 protesters, have been murdered since the anti-government protests began in Baghdad in late 2019. Many activists and protesters say the culprits are obvious: Iran-backed militias who have launched a campaign of intimidation aimed at crushing the protest movement. However, few suspects have been arrested and they were later released due to "lack of evidence."
"The many killings made me leave Baghdad. I saw what was coming for me if I stayed," Hariri says.
While there is no data on how many people have fled, hundreds of protesting Iraqis have received threats, says Belkis Willie, a senior researcher with the Conflict and Crisis division at Human Rights Watch. "It's quite astounding to see the number of people who are no longer in their hometowns," she relays.
The October 25 Movement was recognized as an official party last year – and the campaign against it began immediately afterward, Hariri recounts. He believes that, fundamentally, "democracy in Iraq ceased to exist due to the control of [Iranian] militias on state offices and all factions of the state." He says he receives threats from the Iranian-backed militias on a near-daily basis: via WhatsApp, Twitter, phone calls and even in the media. Hariri says he has also been threatened directly by Iraq's former prime minister, Nouri al-Maliki, Hezbollah and the Muslim Brotherhood, to name but a few. Yet he insists that he's not "afraid of being killed or of any kind of threats, but I am afraid for the movement, which I dedicated so much to."
"Iraq is first and foremost a social community," he continues. "Because of the [Iranian] militias, Iraq transformed into a country controlled by Islamist politics. This is not the real dream of Iraq. We have to separate religion from politics," he says.
Despite Iraq's long history of sectarian conflict, separation of religion and state in Iraq is seemingly no pipe dream of isolated ideologists. "There definitely are many young people who think that this sectarian lens to politics is really at the heart of a lot of problems," Willie says.
According to a recent Iraqi opinion poll slated for publication in the coming weeks, around 80 percent of Iraqis, mostly the younger generation, support separation of religion and state, says public opinion expert Munqith Dagher, a board member of Gallup International.
But how do they feel about relations with Israel?
A Jewish return to Iraq?
Hariri isn't hiding his party's call for the right of Iraqi Jews to return home. It's there on the October 25 Movement's party platform, which explicitly calls for "supporting the return of all Iraqis … who have been subjected to displacement, extermination and deportation campaigns ... especially religious minorities including Yezidis, Christians and Jews."
The October 25 Movement anchors much of its political and cultural conception of Iraq in "Mesopotamian national identity," which aims to cultivate a pluralist society that historically included Jews. The aim of this vision, Hariri says, is to see a return of Iraqi populations who were forced out due to their religion, including the country's Jews.
"Jews were living in Iraq for thousands of years. I want to stand with whoever wishes to return to Iraq," he says.
While normalization is not explicitly stated in the party platform, it has become a well-known tenet of Hariri's agenda.
Kantz Feder, for one, is dubious that it could happen in the foreseeable future. "In the absence of robust international support for the preservation of state authority and basic freedoms, meaningful anti-corruption measures are not feasible, let alone something as contentious as normalization," she explains.
However, she also notes that, prior to Israel's latest round of fighting with Hamas, several Iraqi officials and mainstream politicians noted shifts in the Iraqi street, with some even conceding that the issue is far from consensus.
"In a matter of months, some Iraqi analysts came to regard relations with Israel as a question of when, not if," she says.
Dagher, who conducted Iraq's first-ever public opinion poll in 2003, isn't so sure. There are no statistics reflecting Iraqi attitude towards Jews, he points out. "I do believe that a good percentage of Iraqis respect the Jewish religion. Yet the percentage of Iraqis who refuse to have a relationship with Israel has jumped slightly, from 87 percent in 2016 to 90.5 percent in 2020," he says. Also, most of those naysayers are aged under 40. And Iraqis still top the list of Arab people who refuse to recognize Israel as a state, he says.
Yet Hariri is optimistic about the prospect of ties, and not just for economic reasons. "The new generation of Iraq is more open-minded and I believe they accept this idea of normalization," he says. "I want to be with this new generation."
However, he admits that, right now, normalization is far from the top of his priorities. With a parliamentary election set to take place in October, it is unclear if it will even be safe for Hariri to run. But despite all of the threats and natural obstacles that many new parties in Iraq face, he remains hopeful.
"I am concentrating on change and peace," he says, adding that he will continue efforts to mobilize protesters as well as calling for Iran, through its proxies, to stop interfering in the region.
Dagher for one believes the protests will continue, despite the oppression reducing the numbers from tens of thousands two years ago to the several thousand that turned up two weeks ago.
He is less optimistic that the slogans chanted on the streets can be turned into action. Hariri doesn't disagree. "The road to a new start politically in Iraq is getting more and more difficult," he says. "But my party is a serious movement that stands with the revolution. And I believe I'm the one who can bring a new life for the new generation."
Click the alert icon to follow topics:
ICYMI
Ken Burns' Brilliant 'The U.S. and the Holocaust' Has Only One Problem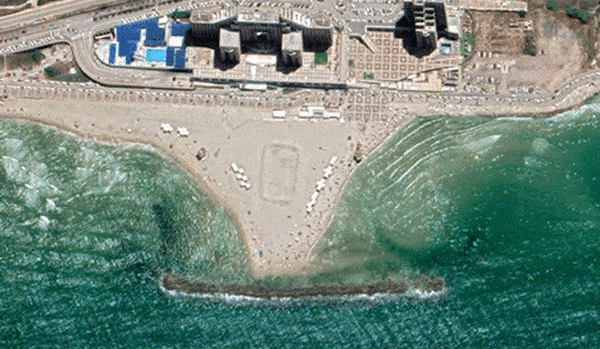 Facing Rapid Rise in Sea Levels, Israel Could Lose Large Parts of Its Coastline by 2050
Lapid to Haaretz: 'I Have Learned to Respect the Left'
The Mossad's Fateful 48 Hours Before the Yom Kippur War
As Israel Reins in Its Cyberarms Industry, an Ex-intel Officer Is Building a New Empire
How the Queen's Death Changes British Jewry's Most Distinctive Prayer