Israeli Diva Rita Revisits Her Iranian Childhood
As she approaches 59, the renowned Israeli singer is daring to open old wounds in her new memoir: from a childhood in Iran that included a five-story fall that nearly ended with a kidnapping, to her struggle for survival in Israel as she was forced to start working at the age of 10
Rita at her home in Tel Aviv. Some of the critiques she received over the years today sound misogynistic.
Credit: Shai Franko
The acclaimed Israeli singer Rita Yahan-Farouz, known simply as Rita, burst onto the scene in the 1980s. But her first stint of fame came shortly before she turned two year old. Granted, it was merely a local notoriety, restricted to the inhabitants of her Tehran neighborhood, but the tale continues to to this day.
The Yahan-Farouz family's home on Farvardin Street in northern Tehran was on the fourth floor of an apartment house, with direct access to the roof, which the residents enjoyed as a patio. On it stood the edge of a square concrete shaft, enclosed with glass, that provided sunlight to the apartments on every floor of the building, down to the basement. Little Rita used to lay on her stomach and look down through the glass.
One day, a few days before Passover, one of the panes of glass broke. Until it was repaired, the shaft was covered with burlap and no one was allowed to go near it. But in the pre-holiday tumult, Rita found herself on her own for a moment. She remembers how she skipped through the air and how she intended to land on the burlap. She remembers how, in the blink of an eye, she was pulled down so fast that it took her breath away, until she fell to the ground. She remembers trying to call weakly for help; her body did not obey her, it was paralyzed.
Miraculously, despite having fallen five floors, she was almost unhurt. She was bruised, but no bones were broken. She showed the doctor at the hospital how she could dance "The Twist." When she returned home in good health, the neighbors streamed to her house and asked her parents for a piece of her clothing. To meet the demand, her mother had to cut up old sheets and handed them out to neighbors who sought an amulet as a blessing. All of this, Rita describes colorfully, richly and in good humor in one of the early chapters of her new book.
"I remember everything except for the moment I touched the floor," she says now. "That is, I remember the whole journey, from the roof down, except for the moment of landing. I thought of that when I was writing and I went around with it for a day or two, and then I went to bed at night. Apparently it was in my thoughts and in the middle of the night it landed on me, this feeling. What a feeling that was at that moment, to fall five stories, and the touch of that moment. People repress things like that, but apparently it was important for me to describe it, to go back and feel it. I got up." Rita grabs her throat, indicating choking. "In dreams about falling you don't dream about the moment you hit the ground, you wake up before. Apparently that memory is somewhere in my mind."
"Rain-soaked Chador" (published by Modan in Hebrew), Rita's first book for adults, is a hybrid creation, something between prose and a short autobiography. It consists of individual stories. In the first part, they are based on the family stories she was raised on. The second part consists of fragments from her life. She writes about the house she grew up in, her memories of the first time she sang before an audience, and at age 4, announced to her mother that she would be a singer.
She also writes about Tehran during the time of Shah Mohammed Reza Pahlavi, and coming to live in Israel in 1970, when she was 8 years old. From there, she describes parts of her childhood and teenage years in the shadow of immigration and the difficulties of assimilation. "It's not exactly an autobiography, but the book was written according to family stories and my stories," she explains. "I interviewed my mother and my sisters. My father is no longer alive but I remember many things he told me, it was always etched in my memory. Any time I didn't know what had happened in the past, Tzruya [Lahav, the book's editor] told me 'make it up,' and then I understood the depth of it. I have to disconnect from the precise and start to float there. To close my eyes and fly to the places that perhaps I myself had not seen, I can only guess and imagine what was here and what was there. But from the moment I was born, the aromas, the tastes – all those things are completely tangible."
Not afraid to be different
It took Rita 22 years from that first brush with fame at age 2 to break through. "B'gida" ("Betrayal"), her first single, composed by Rami Kleinstein to the lyrics of Yael Tevet, was played on the radio for the first time in 1985. She was then unknown, a student at Beit Zvi School for the Performing Arts, a few years out of the army's entertainment troupe. But the song and she immediately caught the public's attention.
Her performance a few months later, at the 1986 pre-Eurovision song contest – which would decide who would represent Israel at the international competition – turned her into an icon. She sang "Shvil Habricha" ("The Escape Path"), also composed by Kleinstein. She only won fourth place, but her different look, her yellow jacket, which she tried so hard to keep on as it kept falling from her shoulders, and the dramatic, extroverted song was a memorable moment for Israeli pop. The responses were resounding: Some tried to copy the way she looked at the audience while others thought her style was too bombastic.
"I think that until then, it was more common to sing smaller and more politely," she says. "I know they talk about 'drama' and 'the dramatic' [style], but I can connect this to the place I come from, to my mother, to my three sisters. I don't know. To me what I did seems very ordinary," she says, bursting out laughing.
Rita is modest and ignores the old insults. But some of the critiques she received over the years today sound misogynistic, and it's impossible not to make an ethnic connection considering that she found herself standing out among the white and Israeli-born residents of Ramat Hasharon, just north of Tel Aviv. All that hair, the thick, black eyebrows, the unapologetic temperament. The Israeli singer Ilanit, wildly popular from the '60s to the '80s, also knew how to sing bombastically, but it goes without saying that she looked completely different in her Maskit designer dress.
"I remember all the time they were putting on my makeup and they said, 'What about these thick eyebrows? Do you come from some village? Pluck them!'" She says. "I would say, 'I'm not going to pluck them, I'm going to be authentic.' They would tell me, 'Lighten your hair, streak it.' I would say no. I want to be black, I want black hair, my eyebrows. That was a real struggle. I look back with you and I say that being a Persian woman, that ethnicity was ridiculed, and I came with that whole thing, with my mom and dad, to [TV host] Rivka Michaeli's program and I asked my mother to sing. I decided that every album would have a song in Persian. I couldn't go back and say what led me to do that. Somewhere inside my roots might have been painful, but they are deep. I wasn't ashamed of them. That's what it was."
You write in the book about when you came to Israel, when you were 8 years old. We know the story of immigration, we know that children usually assimilate quickly, become as local as possible and are ashamed of their parents' accent, their foreignness. It's imperative for kids to toe the line with their surroundings. And the story you tell is different.
"I was not embarrassed by my parents and nobody managed to turn me around. They tried to put me in a box in the way people reacted to me, and it could be that sometimes, unfortunately, it did succeed, but basically I don't know how to be anything different."
The joy of orphans
In a few days Rita will be 59, and it seems that an attempt to summarize her career would be pointless. Rita – who will finally return to performing with a show at the Shuni Amphitheater in Binyamina on April 28 and 29 – has her own status. It's more complex than the total of her 11 studio albums, various collections and live concerts, plays and musicals (among them "My Fair Lady" and "Chicago"), movies and TV series. As befitting a person whose career spans four decades, she seems to have grown up with her audience.
She wrote "Wedding," the first story in "Rain-soaked Chador," six years ago. It tells of the wedding of a young orphaned woman and a man who has fallen in love with her. His mother, who first welcomed the match, comes out strongly against it. The details in the story are heartbreaking: poverty, hunger, orphanhood, alienated and violent men, women compelled to use trickery and other ones who are scheming.
And while it sounds like a folktale, in fact it is a clear reverberation of a family reality or a variation of it: of Rita's mother, orphaned at the age of two and a half, married at 15 to a much older man – her father. Of the aunt of her mother and her younger brother, who had to escape from her violent husband and lie to him to come check on them every few weeks. Of her grandmother, her father's mother, who tried to separate the young couple.
This story also symbolizes something of the spirit of the book in general. Rita writes about terrible subjects and events, but the tone of the book is joy and celebration, a passion for life. "If you ask, for example, my sisters, our childhood was not simple at all," she says, nodding.
"We grew up in a loving home, we were very loved, but besides that everything was chaos. Dad was sick; he could have died at any moment. The economic situation was not good. My parents who didn't get along with each other, quarreling. We were different, this helplessness of the parents vis-à-vis the environment.
Everything against all odds. But the love of our parents, when parents love you, you can overcome anything. When I think about this, when I talk about this with my sisters, I understand that this place where you know that someone loves you unconditionally, that is something that allows you to go through this life. Not to feel alone. All the other things were not so great." She falls silent, then bursts out laughing.
"I think because my mother was orphaned at an early age, she remained a child her whole life. There's still something childlike about her, in a good way – she is enthusiastic about everything, she has a joy for life, optimism and a kind of vitality, she's on fire. I'm sure that this brought a great deal to our lives. To an extreme, my father was more serious, shy, pessimistic. Toward the end of his life it changed a little, but my parents were very different in their character. My father fell very much in love with her. She was very young and beautiful to die for."
What led you to decide to write about your family?
"All writers are motivated by their experiences, the culture they grew up in, the places, the stories they heard. These stories, I walk with them. They are a part of my DNA. The stories I heard from my mom and dad, I walk with all those grandmothers and grandfathers, I walk in my mother's footsteps, it's in me all the time. In any case, it expresses itself through me in everything I do."
You started writing about your past, not about your life.
"I started to write the stories of the past because I realized how much I had lived in two very, very different cultures. The Persian mentality is layers and layers of scarves, one on top of the other. You remove one, you're sure that the truth is there, but it isn't. There is another layer and another. Everything is terribly mysterious and terribly dramatic, polite and unclear. When I came here, I realized how different this place was. It's freedom. In the school I attended, the body language of all the students was freedom. Everything was allowed, not like at home. Outside you could jump, go wild. Everything was immediate, cheeky, straightforward. This contrast between the two cultures was interesting. I wanted to write about that [Persian] culture, about the women in it. That's also the reason for the name of the book. The chador is what women wrapped themselves in to hide when they went out of their house. But it doesn't succeed in hiding them. Persian women are also full of libido, but everything is always guarded and conservative and polite. Sensuous but guarded and disciplined."
You write about life in Iran, women who knew violence, girls – what girls, you – abducted in the street by men and exploited almost by chance. You wonder in the book whether you would have become a servant, a sex slave, or raped and murdered.
"Women were beaten, it was allowed, [a woman was] a kind of creature that anything could be done to. When I talk about that with my mother she says that it was allowed there. Allowed to harass, to sexually harass. All the men did it and all the women experienced it. It wasn't 'something that happened to some woman.' It was common."
A different kind of life
The conversation with Rita flows easily. It's almost surprising considering her long, high-visibility career, which tends to make a person self-aware and closed off. Rita, who hosts me in her kitchen in her socks but wearing makeup, her hair a cascade of black curls, is more accessible than expected. She lives in a neighborhood between Ramat Hasharon and Tel Aviv, in a spacious, pleasant apartment. Ostensibly, her biography is well known, but through the years she has maintained her privacy. The public knows about her marriage, her daughters and her divorce, the crisis of the separation from her label, Helicon Records. She was characterized by the radio silence of someone who has departed from ordinary daily life, at least until recent years.
In her book, she only hints at what she hasn't talked about: people who betrayed her confidence, her attempts to patch up rifts and salvage some joie de vivre, and about how she took care, "like a nun," to avoid anything that, in her words, could drain her brimming energy and libido, and mainly, tax her voice.
"My career involved many concessions. At the age of 46, I was dealing with what I'd gone through with Helicon, the disappointment I experienced there, the heartbreak. I'd gone through many years of very intense work, with an intense career during which I had to give up many things in my private life, my personal one. I'm not referring to family or children, but to other things, even spending time with friends. It was all about staying away from smoky venues so as not to waste my voice, about not celebrating or going to parties so that nothing would happen to my voice. There were lots of calculations that an ordinary person would not be making. I did this to myself; no one could have demanded this of me."
Was this something that changed?
"My perspective changed. I allow myself more today, I enjoy myself more, I touch more, not just in regard to fulfilling dreams but in relation to day-to-day reality. For many years I closed myself off inside a bubble in order to excel. I didn't live the kind of life other people lived, a life that also contained earthly delights. I lived something that was less than that."
You have a way of sidestepping mines, just as you don't like talking about pain. But I do want to ask you about it, even if it is an old pain you've been carrying around since childhood.
Rita maintains a long and reflective silence, mumbling a bit. "It's not just me. It's everyone's lot. Everyone has difficulties, everyone has their own baggage. What saved me, I believe, from dark and painful places, was my dreams. You want to sing, to dance. I constantly lived in the world, but half of me wasn't really there.
"Half of me lived in a fantasy. When my parents quarreled, and they did do in a horrible way, I'd go down to the [building's] shelter or to another entrance of our apartment block and start to sing. I'd fold into myself and sing: "What's important today, what? What was important yesterday, what? How is all of this important, how? If we want to continue, how?" She sings, demonstrating how she sat, enfolded into herself. "I'd sit like this and sing and sing. I remember how one day our neighbor Anita came out of her apartment and said: 'Is that you Rita? I thought it was a wailing cat,'" she says, exploding into an almost infectious laughter. "It sounded like a cat's meowing to her."
Click the alert icon to follow topics:
ICYMI
Ken Burns' Brilliant 'The U.S. and the Holocaust' Has Only One Problem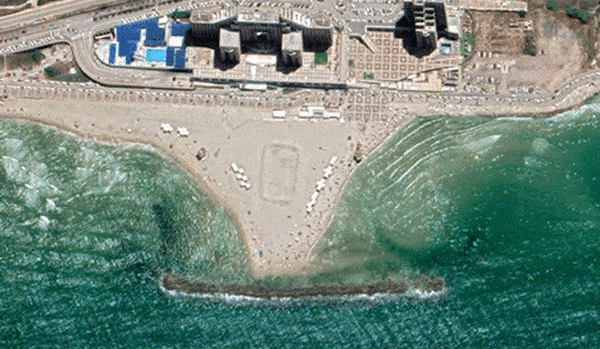 Facing Rapid Rise in Sea Levels, Israel Could Lose Large Parts of Its Coastline by 2050
As Israel Reins in Its Cyberarms Industry, an Ex-intel Officer Is Building a New Empire
How the Queen's Death Changes British Jewry's Most Distinctive Prayer
Chile Community Leaders 'Horrified' by Treatment of Israeli Envoy
Over 120 Countries, but Never Israel: Queen Elizabeth II's Unofficial Boycott