Opinion |
A Desperate Erdogan Prepares to Blow Up Turkey's Relations With the West
Erdogan's new agenda covers cratering the economy, busting terror-financing sanctions, unjustified jailing, declining in the polls – and now, provoking an unprecedented rift with NATO allies, with a touch of antisemitism
Turkish President Recep Tayyip Erdogan listens to Russian President Vladimir Putin during their meeting in Sochi, last month
Credit: Vladimir Smirnov, Sputnik, Kremlin Pool Photo via AP
Turkey's president, Recep Tayyip Erdogan, sent shock waves through the world from a Saturday afternoon rally, by declaring he was ordering his foreign minister, Mevlet Cavusoglu, to declare ten foreign ambassadors persona non grata for their call to release the jailed philanthropist Osman Kavala.
He offered the crowd a taste of the tone in which the order was given, saying he'd told Cavusoglu, "You will sort it out immediately."
It came just days after the Turkish Foreign Ministry summoned those ambassadors – representing United States France, Canada, Finland, Denmark, Germany, the Netherlands, New Zealand, Norway and Sweden, to express its dismay over what they describe interference in their courts.
It's not yet clear if Erdogan will make good on his very public threat to representatives of key trading partners, seven NATO allies and four G-7 powers, and how far the backlash could go, but what is clear is that this altercation could not come at a worse time.
The Kavala case has placed the EU at loggerheads with Turkey, due to Ankara's refusal to recognize the European Court of Human Rights' call two years ago to release Kavala, accused of instigating the 2013 Gezi Park protests. He was jailed over four years ago, acquitted once and then immediately rearrested awaiting trial.
According to Erdogan, Kavala was aided in his attempt to subvert the stability of the Turkish state by none other than George Soros, whom the president mentioned again on Saturday, accusing Kavala of being Soros' stooge in Turkey. This has been a consistent (groundless) contention: He accused the "infamous Hungarian Jew" Soros of masterminding both the Gezi protests and, for good measure, the 2016 attempted coup.
Last month, the Council of Europe threatened Turkey, a member of both the ECHR and the Council, that it would start infringement procedures against Turkey if Ankara does not release him by their next meeting in November.
All of this comes as Turkey is now experiencing the worst economic crisis the country has seen since Erdogan's AKP came to power in 2002. The Turkish Lira last week hit a new low, 9.60 TL to $1 as Erdogan's obedient Central Bank governor, Sahap Kavcoglu, surprised investors by cutting interest rates by 200 base points to a repo rate of 16 percent, despite fears of rampant inflation on the horizon.
So far this year, the Lira has tumbled 23 percent, causing steep price increases for consumers in goods and gasoline. In 2010, at its peak, the Turkish minimum wage was worth $430 a month. As of last week, it had plummeted to under $300 a month.
Just as the Lira was dropping, Turkey also received two other doses of bad news. First, earlier in the week, the Financial Action Task Force (FATF) graylisted Turkey for failing to head off money laundering and terrorist financing, a move which threatens already falling foreign investment.
According to the president of the financial watchdog, "Turkey needs to show it is effectively tackling complex money laundering cases and show it is pursuing terrorist financing prosecutions...and prioritizing cases of U.N.- designated terrorist organizations such as ISIL and Al Qaeda."
This last Friday, Turkey also was informed by a U.S. appeals court that its key state-owned bank, accused of helping Iran evade U.S. sanctions, can indeed be prosecuted in U.S. courts. While Halkbank denies money laundering and fraud, U.S. prosecutors accuse the Turkish bank of involvement in an illegal network dedicated to converting oil revenues into gold and then cash to benefit Iran, transactions amounting to billions of dollars.
Erdogan had invested high hopes and massive lobbying efforts to get the U.S. to quash the case, including former President Trump's reported assurances while in office that he would intervene personally, but to no avail. While Halkbank will appeal, if it's found guilty of sanctions violations it could face multimillion dollar fines and extraordinary reputational damage.
Since his election with new presidential powers he delineated in 2018, Erdogan and his government have seen a sustained decline in support from the Turkish electorate, increasingly frustrated by the economic woes for which the government, despite setting policy, refuses to take responsibility. Poll after poll show that if elections were held today, Erdogan certainly would not be able to conjure up a majority.
The same warning signs started flashing on a local level when, in 2019, the AKP lost control over a number of major municipalities, including Istanbul and Ankara, to a newly united opposition, which since has shown a surprising capacity to keep unified and with its eye on the prize.
While Erdogan's strategy has been to concentrate power into his own hands and into the hands of a small ultra-loyal coterie, this may now be turning into his Achilles' heel.
That small group of politicians, who loudly prop up Erdogan in the public sphere in an attempt to capture both nationalist fringes and maintain his pious base, are now escalating their rhetoric to demonize the opposition. But at the same time, they're self-identifying as targets of popular dissatisfaction, and for Turkey's remaining capacity to investigate high-level corruption.
The strong Interior Minister, Suleyman Soylu, continues to publicly trash declared 'enemies' of Turkey, regularly includes the LGBTQ community in his broadsides as "deviants" debasing Turkey's Muslim morals; he even blamed Turkey's FATF graylisting on its pushback against such "debauchery" and "perversions" common to the West.
The Head of the Religious Affairs ministry, Ali Erbas, portrays himself as Turkey's Chief Imam, even accompanying Erdogan on international visits. Both Soylu and Erbas portray themselves as Turkey's moral gatekeepers.
The cultivation and amplification of Erdogan's own public image is the work of the head of his communications directorate, Fahrettin Altun, who leads a huge machine pumping out material to prop up Erdogan. The overall framing is to present Erdogan as a top-flight world leader, a worthy and necessary leader of the Muslim world, who nonetheless is dedicated to serving the oppressed and downtrodden.
One could argue that while Altun has been less successful spreading the good news about Erdogan at home, between the recent history of Turkish proxies in Libya and Azerbaijan, his recent trip to Africa, and the dedicated Erdogan army on social media, this portrayal resonates well among many outside of Turkey.
Inveigling oneself into this new political elite is a must if one wants to succeed, or even get a job.
This was revealed as fact earlier this month when a pro-government foundation was shown to be a determining feeder of government jobs. The conservative Muslim Turkey Youth Foundation, on whose advisory board Erdogan's son Bilal sits, matched its members to government jobs, as a list uncovered by an enterprising journalist proved. This came as reports emerged of the same foundation's leadership receiving extravagant salaries from the Istanbul municipality during the period it was controlled by the AKP.
The flip side to this concentration of power is that for the disillusioned, hungry and hopeless, it's clearer than ever that Erdogan and his clique are to blame. Many of Turkey's younger voters see Erdogan's days as numbered, and are joining new opposition parties.
The nationalist Iyi Party, led by the sharp-tongued Meral Aksener, is a chief beneficiary; the ranks of the much smaller Deva party, led by the popular former AKP economy minister, Ali Babacan, and the party of former AKP Prime Minister Ahmet Davutoglu, are also being bolstered.
Meanwhile, the centrist CHP party is maintaining its support base and basking in the continued popularity of the mayors of Ankara and Istanbul, Mansur Yavas, and Ekrem Imamoglu, both CHP candidates.
Yavas, a former member of the nationalist MHP party that is currently in a coalition with Erdogan, has the best chance now of leading a consolidated anti-Erdogan opposition. His nationalist credentials strengthen the scope and strength of his base, advantages he brings to the CHP apparatus.
For the first time since the AKP came to power, Turkey is actually able to imagine a country, and a future, without Erdogan.
Erdogan is in uncharted waters. The louder the president's core circle of support raises its voice to blame others, it only reflects back on the increasingly desperate state the government finds itself in.
The only way of recapturing majority support would be a genuine pivot towards good governance, but self-dealing patronage has been one of Erdogan's key strategies to embed his political project. There is no way a clean, professional governing class can emerge from his current set of politicians.
Change is needed and if Erdogan can't do then in 2023 someone like Mansur Yavas, or the Istanbul mayor, Ekrem Imamoglu, might just be able to sweep the carpet out from under his feet. But no one should imagine that, after so many years of grandstanding, corruption and mismanagement, an opposition win would be a magic bullet for Turkey.
If the opposition does take the reins of the state, in free elections, they will find a mess that will take years to clean up, with the potential to open up divisions in a once-united opposition, leading Turkey into more years of instability.
In the meantime, Erdogan has plenty of time to consider what tactics, both traditional and unprecedented, to adopt to undermine the opposition and ensure his own victory. The stakes have never been higher for Erdogan, or for Turkey.
Louis Fishman is an associate professor at Brooklyn College who divides his time between Turkey, the U.S. and Israel, and writes about Turkish and Israeli-Palestinian affairs. His latest book is "Jewish and Palestinians in the Late Ottoman Era 1908-1914." Twitter: @Istanbultelaviv
Click the alert icon to follow topics:
ICYMI
Ken Burns' Brilliant 'The U.S. and the Holocaust' Has Only One Problem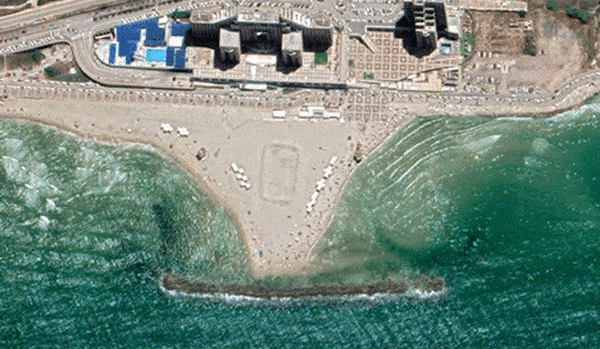 Facing Rapid Rise in Sea Levels, Israel Could Lose Large Parts of Its Coastline by 2050
As Israel Reins in Its Cyberarms Industry, an Ex-intel Officer Is Building a New Empire
How the Queen's Death Changes British Jewry's Most Distinctive Prayer
Chile Community Leaders 'Horrified' by Treatment of Israeli Envoy
Over 120 Countries, but Never Israel: Queen Elizabeth II's Unofficial Boycott