Analysis |
A Crumbling Lebanon Demands a Lifeline, Not War, and Hezbollah May Have to Change Course
Conditions for international aid that would lift Lebanon out of a severe crisis include reining in Hezbollah and enacting reforms the government isn't ready for. Meanwhile, Nasrallah learns the limits of his power
Anti-government demonstrators burn tires to block a road in Beirut, Lebanon, July 28, 2020.
Credit: Bilal Hussein,AP
"Help us help you, dammit," French Foreign Minister Jean-Yves Le Drian urged during a state visit to Lebanon last week. But the word "help" means one thing in Lebanon and another in France.
Le Drian left his diplomatic lexicon in Paris and didn't refrain from castigating the Lebanese government, which has proven incapable of reaching an agreement on the vital economic measures needed to save the country from the deep crisis in which it has been mired for months.
"I can say clearly that what has been done until now in this field is not encouraging," Le Drian scolded. "What is striking to us is how passive the authorities of this country are."
France, he promised, is willing to help Lebanon and to mobilize all its partners to do so. But for this to happen, Lebanon must carry out four main reforms. It must resume negotiations with the International Monetary Fund, from which it hopes to obtain a $20 billion loan; conduct a thorough audit of its central bank; pass legislation to regulate the capital markets; and reform the Lebanese electric company, which has become a bottomless pit that has lost around $50 billion since the 1990s.
One may have expected Lebanese Prime Minister Hassan Diab to tell his guest that he plans to make an effort to implement these reforms, that he accepts France's suggestions, or at least that he will propose setting up a joint committee to draft a roadmap for rescuing Lebanon. Instead, the 61-year-old Diab, who has a doctorate in systems engineering from the University of Bath in England and spent four years as education minister, lost his temper.
He had been convinced that Le Drian would arrive with a generous aid package. When he discovered that France would give him just $58 million for welfare and education, and that any other aid would have to come from the IMF, he could not contain his anger.
"Le Drian arrived unprepared for the meetings," he said. "He doesn't have enough information about the reform plans we have implemented and that we're planning to implement."
According to the opposition website Al Janoubia, the conversation between Diab and Le Drian was even more vitriolic than that. Diab, referring to his predecessor, told his visitor, "I'm not Saad Hariri, and you won't tell me what to do."
Le Drian replied that he hadn't come to give orders, but to help Lebanon. He added that France's ties with Hariri, "who represents a broad segment of Lebanese society," have been and will remain strong for the sake of Lebanon's interests.
In reality, no real reforms have been implemented since Diab was appointed prime minister in January. And negotiations with the IMF are stuck because Lebanon's leadership can't agree on how to carry out the reforms the agency demands.
Initially, it wasn't even clear that the government would be able to apply to the IMF, because Hezbollah opposed doing so, fearing that the agency would impose political conditions on its aid that would lead to Hezbollah's ouster from the government. This was a justified fear, since the United States opposes giving Lebanon any aid so long as Hezbollah remains part of the government. And without U.S. approval, it's unlikely that the IMF could accede to Lebanon's request.
Meanwhile, the streets continue to burn. Violent demonstrations, which include blocking main roads with burning tires and pieces of furniture, have become daily sights, especially in Beirut and Tripoli. So has the spectacle of the army and police dispersing the demonstrations with great force, using batons, tear gas and sometimes live fire.
The demonstrators' demands have not changed since December. It was these protests that led Hariri to resign.
Unemployment has risen above 35 percent. There is galloping inflation, and the cost of living has soared by hundreds of percent. On top of all this is a gasoline shortage that has resulted in long lines at gas stations, especially in southern Lebanon.
The country's fuel supply depends on the importers having foreign currency. But foreign currency is allocated to them in dribs and drabs, if at all.
The oil tankers waiting in Beirut's port can't unload their cargo because the suppliers haven't received payment, or even government guarantees that payment will arrive. And anyone who can obtain dollars, or who can pay to import fuel out of his own pocket, is hoarding the gasoline in his warehouses, creating huge demand that drives up prices.
In southern Lebanon, Hezbollah controls most of the gas stations, as well as the way the gas is allocated. This creates an important source of income for it, while leaving consumers completely dependent on its sales agents.
In other parts of Lebanon, there are supply mafias. Each mafia controls distribution in a different area and holds the residents by the throat. The same goes for the supply of crude oil, which is used to operate power plants and thousands of generators.
Last week, one of Beirut's main power plants shut down because of a technical problem, causing a blackout in the city that lasted for hours. But even after the problem was fixed, Beirut residents get only a few hours of government-supplied electricity per day, since the electric company has run up huge debts and can't pay for the oil it uses.
Private hospitals also have huge deficits totaling hundreds of millions of dollars, due to the Health Ministry's long delays in remitting payments. And the Education Ministry still doesn't know how the upcoming school year will look – not only because of the coronavirus, but primarily because teachers and administrators haven't been paid in full, sparking fears that schools will go on strike in another month.
People who have dollar accounts in banks or are paid in dollars recently discovered that banks won't let them withdraw their money in dollars, or alternatively will let them withdraw only 80 percent in dollars. The rest must be withdrawn in Lebanese pounds at the exchange rate set by the government, which is almost twice as low as the rate set by money changers.
This week, the international aid agency Save the Children reported a worrying figure: Around half a million Lebanese children are expected to suffer from hunger if they don't receive immediate aid. According to the organization's report, many families can't afford to buy basic food products, pay their utilities bills or eat three meals a day.
Hezbollah's woes
The suffering of the poor hasn't passed over regions and neighborhoods controlled by Hezbollah. This week, there was a vocal demonstration in Beirut's Dahiyeh neighborhood, where Hezbollah's officers are located and where most of the population is Shi'ite.
"Hey, master of the resistance, is there electricity in your house?" asked a large banner hanging on one Dahiyeh apartment building, referring to Hezbollah leader Hassan Nasrallah. Meanwhile, Hezbollah members were descending on people filming the demonstration and dispersing them forcibly to prevent the footage from being disseminated.
This isn't the first time demonstrations have taken place in Dahiyeh, nor is it the first time Nasrallah has been criticized. But these incidents are happening much more frequently now.
The role Hezbollah operatives played in violently dispersing the demonstrations that took place early this year, allegations about the wealth the group amassed, which it uses only for its own people, and the obstacle it poses to international aid by the very fact of being part of the government have all become part of the public conversation, and this has been reflected in the media.
On top of all this was the recent verbal spat between the organization and the leader of Lebanon's Maronite Christian community, Cardinal Bechara Boutros al-Rahi. Al-Rahi asserted that Lebanon should be neutral, and "neutrality means that Lebanon shouldn't be involved in regional or international wars, because that's not its nature."
Neutrality is a sensitive and controversial term, because it's aimed at Hezbollah, which has involved Lebanon in Syria's civil war, the Israeli-Palestinian conflict and internal battles in Iraq, as well as granting Iran influence over Lebanese policy. Talking about neutrality, in Hezbollah's view, is like demanding that the organization disarm. Because if Lebanon were neutral and the Lebanese army were responsible for national security, Hezbollah would no longer have any pretext for keeping its arms. Hezbollah could not remain indifferent to the cardinal's statement.
The left-wing, pro-Hezbollah newspaper Al-Akhbar swiftly published a long, acerbic article that called the Maronite church to account for what the author, journalist Lea El-Azzi, termed the church's hypocrisy. El-Azzi – who, in her bio, wrote that she aspires to work in Cuba because it "symbolizes the pure revolutionary experiment and standing firm against the cruel world" – claimed that the church had never been neutral, citing incidents from the early 20th century, the 1960s, the 1980s and, finally, the anti-Hezbollah stance of its previous cardinal, Nasrallah Sfeir.
At the conclusion of her indictment, she wrote that the call for neutrality ought to come from the government, not the church. But El-Azzi, like every Lebanese politician, knows very well that the government is incapable of agreeing on any such thing, since it would require wrangling with Hezbollah.
It's hard to know how much this religious/political conversation, the underground currents that divide Lebanese society and the public demonstrations influence Hezbollah's tactical considerations, and in particular its immediate plans for military activity against Israel.
Nasrallah couldn't have predicted the scope of the economic crisis caused by the coronavirus, though its roots go back to long before the outbreak began. But now he must adapt himself to the chants and posters springing up in the streets. He must also contend with the collapse of Iran's position in Syria and the reduced financial aid it is giving Hezbollah due to American sanctions.
Hezbollah can no longer portray itself as Lebanon's savior, because the enemy isn't Israel, but a shortage of bread and gasoline. And the main threat to it is likely to come from below, from neighborhoods in Beirut, Sidon and Tyre, rather than from politicians. It's unlikely that the latter could or even want to twist its arm and demand that Hezbollah abandon its political power centers so that Lebanon can receive the oxygen it needs.
True, Israel is threatening the Lebanese government and demanding that it stop Hezbollah from conducting military operations against it. But it is more likely that villages in the south will be the parties that actually show Hezbollah the limits of its power.
ICYMI
Ken Burns' Brilliant 'The U.S. and the Holocaust' Has Only One Problem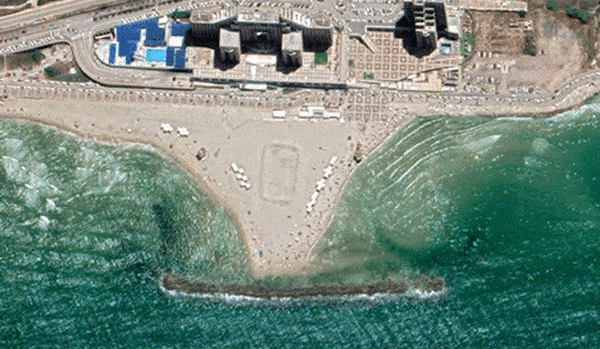 Facing Rapid Rise in Sea Levels, Israel Could Lose Large Parts of Its Coastline by 2050
As Israel Reins in Its Cyberarms Industry, an Ex-intel Officer Is Building a New Empire
How the Queen's Death Changes British Jewry's Most Distinctive Prayer
Chile Community Leaders 'Horrified' by Treatment of Israeli Envoy
Over 120 Countries, but Never Israel: Queen Elizabeth II's Unofficial Boycott