As Qassem Soleimani's Megalomania Grew, He Became Less Grounded in Reality
The late commander of the Iranian Revolutionary Guards' Quds force believed he was capable of creating a Shi'ite empire in the Middle East
Demonstrators hold placards depicting Soleimani during a protest, outside U.S. Consulate in Istanbul, January 5, 2020.
Credit: MURAD SEZER/ REUTERS
Qassem Soleimani, the commander of the Iranian Revolutionary Guards' Quds force, who was killed Friday in Baghdad in an American operation, earned respect for his courage and his close ties to Iran's supreme leader, Ali Khamenei. He commanded some 15,000 men, a relatively small component of the Revolutionary Guards, and was actually subordinate to the Revolutionary Guards commander, Gen. Hossein Salami.
But in practice, he was his country's No. 1 general, because Khamenei treated him as his adopted son and appointed him his special adviser.
The personality cult and public relations that Soleimani cultivated played a role in molding his image and led to talk of him as a potential future president if and when he hung up his uniform. Soleimani was intoxicated by the waves of admiration for him at home and abroad.
His self-confidence grew to such an extent that he thought of himself as omnipotent – daring to go behind Khamenei's back and sending 4,000 fighters to Idlib province in northwestern Syria. The supreme leader put him in his place, forcing him to backtrack, but also forgave him.
Israel also had praise for Soleimani, depicting him as a daring and talented commander, despite the considerable number of mistakes in his assessments and failed operations in the course of his career. Most of the attacks that he planned against Israel in cooperation with Hezbollah's attack network abroad following the assassination of senior Hezbollah figure Imad Mughniyeh failed.
That was the case in Azerbaijan, Thailand, India and the Republic of Georgia. He chalked up his only success in Burgas, Bulgaria in 2012, when six people (including five Israelis) were killed in a terrorist attack carried out by a Lebanese suicide bomber.
The Israeli army, the intelligence community and Prime Minister Benjamin Netanyahu would mention Soleimani's name and personal involvement in attacks against Israel and note that every Iranian riyal that Soleimani was spending on his adventures in the Middle East came at the expense of ordinary Iranian citizens.
According to foreign sources, that was an attempt made to drive a wedge between Soleimani on one hand, and Khamenei, the other Revolutionary Guards' top brass and the Iranian people on the other. Although the campaign didn't yield results, Israel persisted with it. The most significant product of the efforts was counterproductive – a boost to Soleimani's image.
In Israel, there were a number of times that the idea of killing Soleimani came up as a result of his involvement in anti-Israeli terrorism and attacks to encircle the country on all fronts. According to American reports, on January 31, 2008, Soleimani met at a safe house in Damascus with Mughniyeh and Syrian General Mohammad Suleiman, who was responsible for the secret construction of Syria's nuclear reactor. Israel's Mossad espionage agency and the CIA had a joint plan, according to those reports, to kill Mughniyeh with a bomb at that meeting.
Spared assassination in the past
After the Syrian general, Suleiman, departed, Mughniyeh and Soleimani left the building together and were talking near their cars. Mossad chief Meir Dagan, Israeli army Chief of Staff Gabi Ashkenazi, Intelligence Corps commander Amos Yadlin and Prime Minister Ehud Olmert were assembled at the Mossad headquarters outside Tel Aviv, where they were joined by a CIA representative. They were just waiting for the word "go." But the word never came.
U.S. President George W. Bush refused to authorize the operation. Several minutes later – although it seemed like an eternity to those in the room – the Iranian, Soleimani, left the scene. The bomb was then detonated, targeting only Mughniyeh, who was killed.
Soleimani's life was spared several times after that. This was because both Bush and his successor, Barack Obama, adamantly refused to authorize it. In addition, during Obama's presidency and for the first two years of Trump's term, the U.S. administration considered Soleimani an ally in the fight against the Islamic State group.
Soleimani was quite an easy target and easy to spot. At the height of the Syrian civil war, according to the reports, Israeli intelligence had at least three other opportunities to kill him. It didn't happen, despite the deliberations.
Soleimani continued to appear in public, conducting himself in Syria as if it was his home turf. He met with his soldiers, took pictures with them, attended funerals and frequently flew on private planes and took commercial flights. It was on one such plane that he arrived in Baghdad Thursday. After he got off the plane and as he was heading toward his car, he was killed in a missile strike.
No formal education
Although he had lacked a formal education, Soleimani was a talented military commander who was also politically savvy on both a tactical and strategic level. Speaking to the New York Times, former Mossad director Tamir Pardo remarked that the Quds commander's professional life could be divided into two parts: "Until the Arab Spring, he is commander of a force that has branches in various parts of the world, active mainly in Syria, Lebanon and Iraq, but at the end of the day is a secret operational organization whose main purpose is terrorism."
According to Pardo, following the upheaval in the Middle East and the rise of ISIS, Soleimani became a regional policeman of sorts, who very skillfully exploited the secret infrastructure that he had established over the years, now carrying out operations in the open and scoring achievements for Iran.
The shift also planted the seeds that led to his death. From being a shadow operative, he surfaced and began to behave like a politician. Because of that, he thought he was immune.
In 2015, he flew to Russia for meetings coordinating Russian President Vladimir Putin's moves in Syria. With Soleimani's encouragement, Al Quds force fighters and the Shi'ite militias under his control deployed throughout the Middle East, and he was overstretching and losing.
Despite Iran's severe economic crisis and the unhappiness of tens of millions of its citizens, he poured billions of dollars into wars in the region and deluded himself into thinking he could realize a vision to establish a Shi'ite empire that would control the Middle East from the Indian Ocean to the Mediterranean.
Losing his hold on reality
And then, as happens with megalomaniacs, his hold on reality unraveled. Soleimani did not understand America's quiet and sometimes unseen power. President Trump's unpredictable and conciliatory policies toward Iran just contributed to that, particularly when the president failed to respond to provocations and acts of aggression. Trump ignored the downing of an American drone, an attack on Western oil tankers in the Persian Gulf and in the Arabian Sea and a widescale cyberattack on Saudi Arabia.
Soleimani thought he could continue to act with impunity, and his excessive time in his position – 22 years – may have also contributed to his sense of invincibility.
Iran's response
There is broad consensus in the United States and Israel, and in fact in most of the Western world, that Iran will have to respond to the killing of Soleimani and avenge the assault on Iranian honor and national pride. Iran too thinks about deterrence and is now seeking to reestablish it.
The task will fall first and foremost on the shoulders of Gen. Ismail Qaani, who for the past 22 years has been Soleimani's deputy and partner in terrorist acts, plots and special operations. Qaani may have worked in Soleimani's shadows, but his skill and capacity to inflict harm should not be underestimated. What's more, Iran is not a country with just one military commander, no matter how skilled.
The magnitude of the Iranian response depends first of all on Khamenei. He and his advisers have a number of options at their disposal. The most far-reaching would be to close the Strait of Hormuz, which would send world oil prices soaring and, in the process damage the U.S. economy. It is assumed that Trump (and China) can't permit this to happen.
If Khamenei would order such a step, it will mean all-out war. If he orders the downing of an American plane, or the blowing up a U.S. embassy, (which is not easy and requires time and preparations under the observant eyes of U.S. intelligence), he would also be in for a very severe response.
But despite his hatred for the United States and his uncompromising rhetoric, Khamenei is a leader whose actions come from his head, not his gut. He considers his moves carefully, and his perception of time is entirely different than that in the West.
Iranians in general have long historical memories. One need only recall that the Iranians waited for the last day of Jimmy Carter's presidency in 1981 to release the American hostages seized in Tehran in 1979. Iran's supreme leader at the time, Ayatollah Khomeini, did that in an effort to exact revenge and to humiliate Carter.
So it's reasonable to assume that Iran will try to retaliate resoundingly – but not necessarily immediately. Iran has acted on more than one occasion according to the saying "revenge is a dish best served cold."
It could, for example, focus its attention on actions that would hurt Trump's reelection prospects. It could expand its efforts to take over Iraq and bring about the complete withdrawal of American forces there. It could continue to poke holes in its international nuclear agreement; or carry out extensive cyberwarfare against American or Saudi institutions.
Or it could do all of them while constantly attempting to take advantage of every opportunity for a terror attack against the United States and perhaps also here in Israel. But since Israel is a secondary target of Iranian anger these days, it can be assumed that it is not in Iran's interest to drag Hezbollah and Syria to the front.
Click the alert icon to follow topics:
ICYMI
Ken Burns' Brilliant 'The U.S. and the Holocaust' Has Only One Problem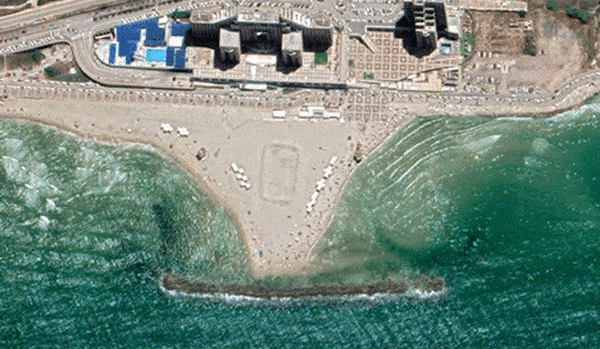 Facing Rapid Rise in Sea Levels, Israel Could Lose Large Parts of Its Coastline by 2050
As Israel Reins in Its Cyberarms Industry, an Ex-intel Officer Is Building a New Empire
How the Queen's Death Changes British Jewry's Most Distinctive Prayer
Chile Community Leaders 'Horrified' by Treatment of Israeli Envoy
Over 120 Countries, but Never Israel: Queen Elizabeth II's Unofficial Boycott