Analysis |
The Arab 'Savages' Search for Their Culture
Intellectuals are tackling the subject of the Arab world's alleged 'backward culture,' while Israeli Jews' contribution to the debate hasn't been very helpful
An elementary school in Giza, Egypt.
Credit: Anadolu Agency
Maurice Sendak's classic children's book "Where the Wild Things Are" was published in 1963. It took 20 years before it was translated into Hebrew by Uriel Ofek and published by Keter. In 2012, the book was translated into Arabic in Sweden, and two months ago another translation was published by Hasbani, with Arab Israeli journalist Nabil Armali as the translator.
Television journalist Yaron London probably wasn't influenced by this book when he described Arabs as "savages who even murder each other" and stressed that he was referring to Arab culture as a whole, "which endangers itself." But Armali, who had only just finished translating the book, wasn't amused.
"What was the last book in Arabic that London read?" Armali asked in an article on Haaretz's Hebrew website. "Which Arab thinker does he admire? Which Arabic news portal does he keep on his favorites list?" In other words, does London really know Arab culture, which he accuses of backwardness and savagery?
"With each question, I see how the hole in our education about Arab cultural affairs is expanding, and this hole has become a black abyss," Armali lamented, and rightly. It's not just London at whom Armali's indictment could be aimed. It's true of most of Israeli Jews, intellectuals and non-intellectuals alike.
Still, he can't ignore that discussions on the backwardness of Arab culture stem from more than ignorance; they also stem from the brainwashing that Israelis undergo at the hands of "experts and Arab affairs analysts," in Armali's words. And backwardness is a critical issue that preoccupies Arab intellectuals both in Israel and in Arab countries – people who do read Arabic and are very familiar with the secrets of its culture.
In the last issue of the monthly journal published by the Beirut-based Arab Thought Foundation, an international institute set up in 2000 by Saudi Prince Khalid Al-Faisal, one can find articles with headlines like "Why are Arabs having trouble while others are progressing?" and "The crisis in Arab thought – a critical view" and "Will the Golden Age return?" These are among the pieces that discuss the deterioration of Arab culture and education in the modern era.
A month ago, the important literary magazine Al Jadid published a long interview with the Egyptian author, thinker and journalist Gaber Asfour on "the culture of backwardness," part of a title of a book he published in 2008. Since then, this work has become a cornerstone of intellectual discussion about the identity and substance of Arab culture.
Asfour, who twice served as Egypt's culture minister, attributes the backwardness of Arab culture to the lack of separation between religion and state, the disappearance of democracy and the decreasing power of the civic state.
"The development of religious discourse into a discourse of terrorism is one of the signs of the culture of backwardness," he said. "This is a culture that doesn't seek debate and doesn't tolerate differences of opinion. Anyone who believes in it believes that he possesses the truth, while the other is wrong and is therefore a heretic who must be destroyed."
Iraqi author Ali Mohammed al-Yousef has a different explanation for the waning of Arab education. In an article published in the Iraqi literary journal Al-Mothaqaf ("The Educated Man"), he accused intellectuals of apathy toward the problems of Arab society. These intellectuals, he said, want to publish solely to make a name and money for themselves; they feel no need to influence social affairs and culture.
Dramatic retreat
This is a familiar accusation, but it's largely disconnected from reality. How can an Arab intellectual get published and make money from the fruits of his labor when the average Egyptian reads a quarter of a page a year, according to a committee on publishing affiliated with Egypt's council for higher education?
This is a dramatic retreat from statistics published by UNESCO in its 2003 Arab Human Development Report. That report said that one book a year is read for every 80 Arabs, whereas in Europe, 35 books a year are read for every person. The report added that no more than 5,000 books were published in the Arab world each year, compared with about 300,000 in the United States.
Since that report was published, the numbers haven't changed much, and the information and erudition gap has only increased. A report by the Arab Thought Foundation eight years ago concluded that the average Arab spends six minutes a year reading, compared with around 200 hours for the average European.
Granted, there are differences among the Arab countries; the amount of reading in Egypt or Jordan is high compared with that in Sudan or Libya. But these differences, which can be seen in publishing and distribution data, say nothing about the quality of the material being read, and sometimes the numbers don't distinguish between magazines and books.
Extremely harsh descriptions of the state of education and culture in Arab countries could also be found in the Arab Thought Foundation's 10th annual report, which came out a year ago. It examined a broad range of issues, from the status of women to published research and technological development in which the Arab world lags significantly behind the West.
The report noted the low level of teaching in schools and universities and the lack of motivation for studying technology. And it urged Arab governments to allocate more resources to technology education and encouraging innovation.
But it didn't discuss religion's role in holding back the development of knowledge. After all, the institution's founder is a Saudi prince, and its trustee council includes religious scholars.
Finding the people guilty for the backwardness of Arab culture has been a preoccupation of many intellectuals for decades. About 80 years ago the Egyptian intellectual and writer Taha Hussein asserted that "our need for foreign languages will remain the situation for many years because, as everyone knows, Arabic is still far from satisfying the demands of modern culture and education."
This statement is an integral part of the idea of Westernization that he championed also when he was appointed education minister. His starting point was that the Arabs, the Egyptians in particular, both Muslims and Christians, are permitted and even obligated to see themselves as an integral part of European culture. The separation of religion and state was therefore crucial for bringing Egyptians closer to the West, but this demand naturally led to attacks on Hussein by clerics and traditionalists who saw his secular ideas as a threat to Arab culture, not only Muslim culture.
The clerics preferred to attribute the backwardness to a deviation from the path and the loss of devout adherence to Islam, while secular intellectuals linked the problem to the colonial occupiers, Ottoman rule and finally the despotic regimes that restricted education and research for fear of an ideological revolt that would spill out onto the streets in a demand for democracy.
Shame builds faith in idols
One of Hussein's strongest critics in recent decades was the Egyptian economist and sociologist Galal Amin, who died about a year ago and blamed a "theory of humiliation" for Arab backwardness. In his 1999 Arabic-language book "False Enlightenment," he said "you are backward only to the extent of the humiliation that you feel toward anyone considered advanced."
He accused the "false" intellectuals who nurtured the shame that doesn't improve the Arabs' situation and doesn't create competition or a genuine desire for cultural development. Shame builds faith in idols and turns Arab intellectuals into worshippers of the idols of Westernization. To him, "Progress and Backwardness," the name of one of his books, are false criteria because they rely on Western diktats and don't explore the power and richness of local culture.
Along with the search for the people to blame for the Arabs' backwardness, Arab intellectuals seek to confront what is described as "advanced societies," and mainly globalization and Americanization. They believe that these phenomena crush local identity, the sense of nationality and Arab culture. Islamic scholars too, such as Yusuf al-Qaradawi, who is considered the Muslim Brotherhood's contemporary spiritual leader, acknowledge the power of modern technology and the need for scientific research to advance society. But they warn of "the perfect imitation" that will serve the West's colonialist objectives.
Technology can and must serve religion by helping to disseminate it; according to Qaradawi, only what serves the Muslims may be imported. A similar idea is presented by secular thinkers such as left-wing Egyptian novelist Sonallah Ibrahim. In his 2003 book "Amricanly," he came out against the imitation and adoption of American culture without filtering and choosing.
These ideological battles aren't confined to newspapers and books. They've spilled over into acts of murder, like the 1992 assassination of Egyptian writer and human rights activist Faraj Foda, who called for the separation of religion of state, and the serious wounding in the assassination attempt against Nobel Prize laureate Naguib Mahfouz. But these incidents haven't deterred the standard-bearers of progress, liberalism and democracy in Arab and Islamic countries.
The strata of the Arab discussion on progress and backwardness aren't well known in Israel, and not only here. The search for the right path and the confrontation between the restrictions of society and the demands of modernity are subjects that preoccupy not only intellectuals but also millions of young Arabs who are demanding a revolution in education, the encouragement of creativity and less political and cultural censorship.
The answer to Yaron London doesn't lie, as Armali suggests, in recognizing the glories of Arab culture or the study of Arabic. It requires a reexamination of the stereotypes that form the worldview of Israelis and the West in general toward Arabism and Islam. But when Israeli society is still crafting its identity and adopts race and religion as the frameworks shaping its culture, it can't seriously examine the dilemmas of another culture – especially when that culture's backwardness serves as the basis of Israeli pride and arrogance.
ICYMI
Ken Burns' Brilliant 'The U.S. and the Holocaust' Has Only One Problem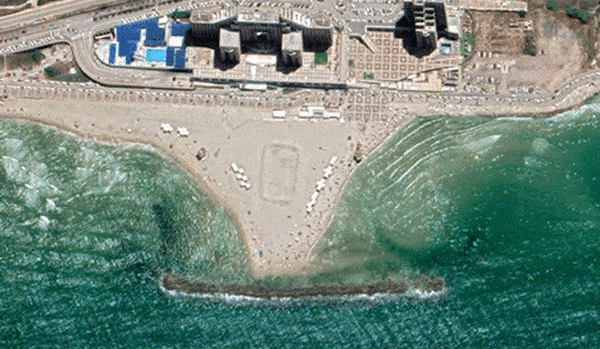 Facing Rapid Rise in Sea Levels, Israel Could Lose Large Parts of Its Coastline by 2050
As Israel Reins in Its Cyberarms Industry, an Ex-intel Officer Is Building a New Empire
How the Queen's Death Changes British Jewry's Most Distinctive Prayer
Chile Community Leaders 'Horrified' by Treatment of Israeli Envoy
Over 120 Countries, but Never Israel: Queen Elizabeth II's Unofficial Boycott