Opinion |
Why Hamas Is Mourning the Downfall of Sudan's Dictator
Omar al-Bashir's ousting is good news for Sudan, but very bad news for Hamas. For years, its leaders have mentored, aided and helped arm Hamas. Could Israel end up being the big winner of Sudan's uprising?
Sudanese demonstrators paint a mural in Khartoum, Sudan April 14, 2019
Credit: \ UMIT BEKTAS/ REUTERS
There has been complete silence from Hamas in Gaza about Sudan's revolution.
There was silence, too, from Sudan's natural allies – Turkey and Qatar, with Iran simply dismissing the entire popular uprising as "a coup." There was an equivalent dearth of response from the opposing block - Saudi Arabia and the UAE.
>> In the Mayhem After Bashir's Ouster, Sudan May Find an Unlikely Ally in Iran
Their tendency was to take now ex-President Omar al-Bashir's side, mainly out of fear that his successor would be worse, that the country might descend into chaos and civil war, or that it would all blow over quickly with Bashir crushing the revolution in its infancy.
Almost no Arab state officially backed the masses rising up against al-Bashir's dictatorial rule, even after he was finally ousted. Instead, the Gulf offered praise, support and generous donations to those residual elements of Bashir's corrupt, ruthless regime who have taken over the country in the form of a military transition council.
But the silence from Hamas - who wholeheartedly supported al-Bashir – is particularly deafening. Hamas leaders have been tightly crossing their fingers, hoping that his successors won't undermine the movement's strategic interests in the country - most importantly its role in the crucial weapons supply route from Libya and Iran to Gaza.
The Sudanese "Kandaka revolution" has been perhaps the most peculiar uprising in the region. For the first time since the outbreak of the 2011 Arab Spring, there were neither proxies supporting the people, nor adequate international media coverage for such historic events.
For decades, al-Bashir's Sudan has been a vital and crucial supporter of the Palestinian cause in general, and of Hamas in particular – to an intimate degree.
Sudan's late ideological leader, Hassan Al-Turabi, played mentor to several prominent Hamas founders; the country has kept its doors wide open for Hamas militants to operate small training posts, including training bomb-making "engineers" and granted numerous scholarships to selected Hamas members to join Sudanese colleges to study medicine and law and even trained Hamas operatives in the police academies in Khartoum. With such a friendly regime, other senior Hamas officials effortlessly obtained graduate and post-graduate degrees from Sudanese universities - without even stepping a foot there.
Al-Bashir's most significant contribution was opening and facilitating a weapon supply route for Hamas from Iran - and more recently, from post-Gadhafi's Libya. The weapons - mostly rifles, ammunition, anti-tank missiles and Syrian-made M-302 unguided artillery missiles - were first grouped and stored in Sudan, then carefully smuggled to Egypt, from where they reached Hamas through the smuggling tunnels in the Sinai peninsula.
In return, Hamas has been an eager adherent of al-Bashir, such as when he decided to apply Sharia law in Sudan in 1991. Hamas has occasionally played an intermediary role between Khartoum and Tehran whenever things got overheated between the two regimes.
In 2016, al-Bashir decided to cut ties - officially - with Tehran, and joined the Saudi-Emirati war on Yemen, hoping to receive, in return, financial support and to appease Washington, in an attempt to lift U.S. sanctions on Sudan. Nonetheless, Hamas' weapons smuggling route continued, and al-Bashir continued to turn a blind eye to it.
Israel has worked tirelessly to block and undermine this route, through military assaults, occasional airstrikes and navy raids. In 2009, Israeli warplanes targeted a 17-truck weapons convoy in Sudan on the pretext that it was on its way to Gaza. In 2010, Egypt complied with an Israeli request to intensify its security forces on Sudan's borders to prevent suspected weapon supplies to Hamas.
In 2011, Hamas' Qassam Brigades leader, Abdul-latif Al-Ashqar, survived an Israeli airstrike on his car in Port Sudan. In 2012, Israel bombed the al-Yarmouk Military Factory in Khartoum in attempt to thwart an Iranian weapons convoy, presumably destined for Hamas. Two months later, Israel officially accused Sudan of smuggling weapons to Hamas, as two Iranian ships anchored in Port Sudan.
In 2014, the Israeli navy intercepted a vessel carrying Iranian supplies to Gaza, in the international waters between Sudan and Eritrea. In 2015, the regime claimed it had downed an Israeli military drone hours after another Israeli airstrike on a weapons facility in Omdurman.
Al-Bashir's regime has repeatedly denied all accusations related to facilitating weapon supplies to Hamas.
Eventually, diplomacy seemed more appealing to Israel than airstrikes. In 2016, Israel resorted to asking Washington to pressure Sudan to shut down the Hamas weapons route, according to Hamas officials. A growing pro-normalization current in Sudan became undeniable in the year after, as Sudan's Minister of Investment, Mubarak al-Mahdi, publicly supported normalizing relations with Israel - and even, somewhat grossly, sowed anti-Palestinian sentiment, declaring: "The Palestinian issue has held back the Arab world."
In 2018, as Netanyahu expanded his diplomatic outreach through the African continent, while his Mossad chief spearheaded Arab-Israeli normalization efforts, Israel's Channel 2 reported that Netanyahu's next stop would be Sudan. Two days later, Channel 10 revealed that Israeli diplomats had met secretly with influential Sudanese officials in Istanbul, some of whom were very close to Sudan's then-head of intelligence and now ambassador to Washington, Mohammed Atta.
By November, after the president of Chad, Idriss Deby, visited Israel after 46 years of diplomatic divorce, rumors that Sudan's leader would be the next to shake hands with Netanyahu were rife.
Hamas was deeply concerned that its interests in al-Bashir's Sudan were in critical danger. It hastened to denounce all normalization efforts with Israel, without naming Sudan. Sources close to Hamas met with al-Bashir afterwards, who reiterated that he regarded himself as the strongest, most stubborn block in the path of normalization. Al-Bashir cited his eternal resentment at Israel's arming and training South-Sudanese rebels who had split Sudan in two in 2011.
However, the consequences of al-Bashir's ouster on Hamas will certainly be severe. The rise of the Military Transition Council will essentially come at the expense of the Muslim Brotherhood influence in Sudan. The army generals, now in charge of the civilian government, are desperate to gain popular support by offering economic, if not political, progress. They are even more desperate for international support and legitimacy.
Khartoum's corrupt new rulers may reason that it would be more strategically efficient to gain that legitimacy by selling out, and boosting Israeli-Sudanese normalization at the expense of Hamas' presence in Sudan.
As the uprising was beginning four months ago, Hamas already began recalling some of its activists from Sudan, while seeking alternative friendly shelters and routes around the Red Sea. But it's unlikely that Hamas will find an ally in its immediate neighborhood as close as the Sudanese dictator Omar al-Bashir ever again.
Muhammad Shehada is a writer and civil society activist from the Gaza Strip and a student of Development Studies at Lund University, Sweden. He was the PR officer for the Gaza office of the Euro-Med Monitor for Human Rights. Twitter: @muhammadshehad2
ICYMI
Ken Burns' Brilliant 'The U.S. and the Holocaust' Has Only One Problem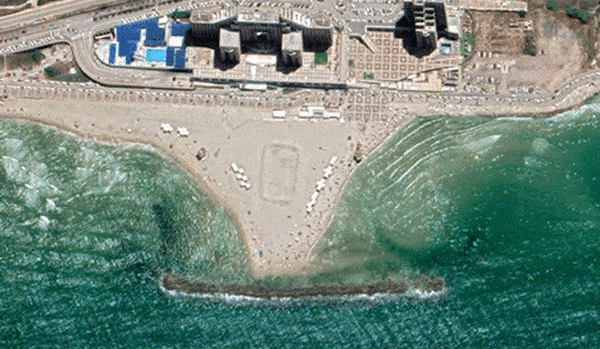 Facing Rapid Rise in Sea Levels, Israel Could Lose Large Parts of Its Coastline by 2050
As Israel Reins in Its Cyberarms Industry, an Ex-intel Officer Is Building a New Empire
How the Queen's Death Changes British Jewry's Most Distinctive Prayer
Chile Community Leaders 'Horrified' by Treatment of Israeli Envoy
Over 120 Countries, but Never Israel: Queen Elizabeth II's Unofficial Boycott