Jerusalem Embassy and Gaza Protests: 59 Palestinians Killed by Israeli Gunfire at Border
Over 770 wounded from live gunfire ■ 40,000 protesting at border ■ Israeli army bombs seven Hamas targets ■ U.S. embassy officially opens in Jerusalem ■ Israel to open Kerem Shalom crossing for transport of goods
Palestinians run for cover from tear gas during clashes with Israeli security forces near Gaza border, May 14, 2018
Credit: MOHAMMED ABED/AFP
>>UPDATE: Follow the latest developments on the second day of Gaza protests, hours after 59 were killed and more than 2,200 were wounded on the border
Dozens of Palestinians were killed and thousands more wounded in clashes with Israel in Gaza Monday, sparking condemnations from across the world, as dignitaries convened in Jerusalem for the official opening of the U.S. Embassy.
Meanwhile, Palestinians throughout the West Bank and Jerusalem were urged to turn out en masse to protest the embassy move and take part in Tuesday's 70th anniversary of the Nakba, or "catastrophe," as Palestinians term Israel's creation.
Follow Haaretz's live updates as these three events develop:
9:28 A.M. Funerals for 59 Gazans killed expected to ratchet tensions on border
Funerals of Monday's casualties are expected to take place in Gaza on Tuesday, with the question remaining whether Hamas will call the masses to the fence as it did yesterday, or keep the rallies as a spontaneous initiative of the people. Rallies are expected in the large West Bank cities, as well as a general strike.
8:10 A.M. Israeli army deploying forces in Gaza Envelope communities
The Israeli army is deploying soldiers inside communities along the Gaza Envelope as part of the regional defense scheme. (Almog Ben Zikri)
07:59 A.M. Members of Congress condemn 'shocking' Gaza death toll
Five members of the U.S. Congress condemned Israel's use of live fire against unarmed protesters in a statement released Monday overnight.
Signed by Mark Pocan, Pramila Jayapal, Keith Ellison, Henry C. Johnson Jr. and Raul Grijalva, the statement said they were "shocked and dismayed by the lethal force used by Israeli troops against mostly unarmed protesters" at the Gaza border, and urged soldiers to abide by international law and refrain from live gunfire.
The statement commended Israeli human rights groups and civil society leaders for doing the same. It held President Trump's "provocative decision" to relocate the U.S. embassy reponsible for emboldening Israeli reactions to the protesters, saying it culminated "in some of the highest levels of violence experienced in the area in weeks."
"We ask that Netanyahu's government show utmost restraint," concluded the statement, "allow for unfettered medical attention for those who have been wounded, and ease a 12-year blockade on Gaza, which has contributed to grave food insecurity, unemployment and a humanitarian crisis for Gaza's two million inhabitants. We believe the people of Gaza must be shown compassion and relief, and we remain steadfastly committed to ensuring Israel's security." (Noa Landau)
7:55 A.M. 8-month-old baby dies from gas inhalation
An 8-month-old infant, Lila Anwar, died from gas inhalation in the eastern Gaza Strip, according to the Gaza Health Ministry. Her death raises the protest death toll from Monday to 59. No further details were given. (Jack Khoury)
6:37 A.M. U.S. blocks Security Council statement calling for investigation into Gaza violence
The Trump administration on Monday blocked a UN Security Council statement that was intended to call for an investigation of the events on the Israel-Gaza border.
The statement, circulated by Kuwait, was supposed to include an expression of rage and sorrow on behalf of the Security Council over Monday's death toll. However, the U.S. blocked it from being adopted and published.
The Kuwaiti statement also included a call for the creation of an "independent and transparent investigation" into Israel's actions on the border. It wasn't the first time that the U.S. has blocked an action at the Security Council related to Israel's actions in Gaza, but was notable in light of the high death toll yesterday in Gaza – the highest since the end of the 2014 war between Israel and Hamas. (Amir Tibon)
12:58 A.M. Health Ministry in Gaza says the death toll in protests has risen to 58
11:52 P.M. General strike called in Arab communities throughout Israel
The Higher Arab Monitoring Committee says a general strike has been called for Wednesday in Arab communities throughout Israel. The strike will include educational facilities. (Jack Khoury)
11:49 P.M. Israel to open Kerem Shalom crossing starting Tuesday
Defense Minister Avigdor Lieberman has approved the IDF's recommendation to re-open the Kerem Shalom crossing between Israel and the Gaza Strip to vehicles transporting goods. The crossing was recently closed after it was set alight by protesters. (Yaniv Kubovich)
11:03 P.M. Netanyahu ends consultation with top security officials
Prime Minister Benjamin Netanyahu has ended a consultation with Defense Minister Avigdor Lieberman, Public Security Minister Gilad Erdan, IDF Chief of Staff Gadi Eisenkot, Police Commissioner Roni Alsheich, the head of the Shin Bet security service, and the head of Israel's National Security Council. (Noa Landau)
10:59 P.M. Erdogan accuses Israel of 'genocide'
Commenting on Gaza violence, Turkish President Recep Tayyip Erdogan says "what Israel is doing is a genocide" and accuses it of being "a terrorist state." He adds that a "big rally" will be held in Istanbul on Friday. (Haaretz)
10:51 P.M. Turkey calls for emergency meeting of Organization of Islamic Cooperation
Turkey has called for an emergency meeting of the Organization of Islamic Cooperation to be held on Friday over the killings in Gaza, Deputy PM Bekir Bozdag tells the state-run Anadolu news agency. The Turkish Foreign Ministry plans to call for a UN General Assembly meeting on the issue, Borzsag also said. (Haaretz)
9:34 P.M. Messianic U.S.-Israel axis at embassy opening is gut-punch for most U.S. Jews
The horrendous Gaza casualty count marred Netanyahu and Trump's historic day of glory, writes Chemi Shalev.
9:41 P.M. Gaza border protests death toll rises to 55, Gaza's Health Ministry says
9:20 P.M. The White House blames Hamas leaders for the deadly violence in Gaza on Monday and says Israel has a right to defend itself
The White House said on Monday that the responsibility for the deaths of dozens of Palestinians on the Gaza-Israel border "rests squarely with Hamas," and added that the demonstrations on the border are "cynical." The comment came after a bloody day on the border during which the IDF shot to death more than 52 Palestinians. White House spokesman Raj Shah added that the Trump administration fully supports Israel's "right to defend itself." (Amir Tibon)
9:10 P.M. South Africa recalls ambassador to Israel over Gaza deaths
South Africa said Monday that due to the death toll in Gaza, the country would be recall its ambassador to Israel.
"Given the indiscriminate and grave manner of the latest Israeli attack, the government has taken the decision to recall Ambassador Sisa Ngombane with immediate effect until further notice," a statement said. (Noa Landau)
7:51 P.M. Netanyahu: Israel has right to defend itself against Hamas
Addressing violence in Gaza, Prime Minister Benjamin Netanyahu said that "every nation has the right to defend its borders. Hamas clearly says its intentions are to destroy Israel and sends thousands to break through the border for that end. We will continue to act with resolve to defend our sovereignty and our citizens."
Netanyahu will also hold a meeting with defense officials on the events in Gaza later today. (Noa Landau)
6:59 P.M. 'Thus says the Lord': Religious tune at Jerusalem embassy opening drowns out protests
Only mobile notifications notified one of the rising death toll at Gaza's border, with the U.S. Embassy's opening ceremony taking on a festively religious tune suited to please attending Jews and Christians alike.
>> Read Noa Landau's full coverage of the embassy opening >>
6:52 P.M. Death toll in Gaza protests climbs to 52
Gaza's health officials say a total of 52 Palestinians have been killed and more than 1,200 wounded by Israeli fire on Gaza's border, 1,113 from live rounds. (AP, Jack Khoury)
6:20 P.M. UN rights chief condemns 'shocking, outrageous killing' of Gaza protesters
5:59 P.M. Abbas to convene the Palestinian leadership on Monday night
Palestinian Authority President Mahmoud Abbas ordered a meeting of the Palestinian leadership council, the PLO acting committee and the Fatah central committee to discuss the situation in Gaza. (Jack Khoury)
5:52 P.M. 2238 Palestinians wounded in Gaza border protest, says Gaza's Health Ministry (Jack Khoury)
5:45 P.M. Ultra-Orthodox Jews join protest against U.S. Embassy
About a dozen members of an ultra-orthodox anti-Israeli group joined the protest outside the embassy. They held signs that read "Jews worldwide condemn Israeli bloody brutality" and "Authentic Jewry never recognized the State of Israel." (Judy Maltz)
5:39 P.M. Palestinian Authority: U.S. Embassy in Jerusalem creates instability
Palestinian President Mahmoud Abbas's spokesman said on Monday that the opening of the U.S. embassy in Jerusalem would create incitement and instability in the region and ruled out Washington as being a mediator for Middle East peace.
"With this step, the U.S. administration has cancelled its role in the peace process and has insulted the world, the Palestinian people and the Arab and the Islamic nation and it has created incitement and instability," said Abbas spokesman Nabil Abu Rdeineh. (Reuters)
5:35 P.M. Al-Jazeera says its reporter wounded in Gaza
The pan-Arab satellite news network Al-Jazeera says one of its reporters has been wounded while covering demonstrations in Gaza.
Qatar-based Al-Jazeera reported Monday afternoon that journalist Wael Dhadouh was "injured by live ammunition from Israeli forces." It did not elaborate in a tweet announcing Dhadouh's injury. (The Associated Press)
5:31 P.M. France tells Israel to show restraint, disapproves of U.S. Embassy move
France's foreign minister called on Israeli authorities to exercise restraint after 41 Palestinians were killed on Monday and said the U.S. decision to move its embassy to Jerusalem flouted international law.
"France calls on all actors to show responsibility to prevent a new escalation," Jean-Yves Le Drian said in a statement. "France again calls on the Israeli authorities to exercise discernment and restraint in the use of force that must be strictly proportionate."
Le Drian disapproved of the U.S decision to move its embassy to Jerusalem, which he said "violated international law and in particular U.N. Security Council resolutions." (Reuters)
5:26 P.M. 14 arrested in U.S. Embassy protest
Ten people were arrested during a protest outside the new U.S. embassy in Jerusalem. According to Police, the protesters shouted "With our blood and tears we will redeem you, Palestine" and began waving Palestinian flags, which police officers deemed inciting. This led them to disperse the crowd forceully, during which one person fainted. He was treated by MK Ahmad Tibi, who was present at the protest.
Those arrested grossly violated order, confronted the officers and ignored their instructions, according to Israeli Police. (Nir Hasson)
5:00 P.M. Netanyahu at embassy opening: 'Trump, by recognizing history, you have made history'
In his address at the opening, Prime Minister Benjamin Netanyahu said of the embassy's opening "this is history" and, addressing the U.S. president, said: "Trump, by recognizing history, you have made history."
According to Netanyahu, "you can only build peace on truth and the truth is that Jerusalem has always been and will always will be the capital of the Jewish people, of the Jewish state."
Netanyahu thanked Israeli security forces for their services and said "we are in Jerusalem and we are here to stay." Speaking to U.S. Envoy to Israel David Friedman, Netanyahu said "you're privileged to become the first American ambassador to serve your country from Jerusalem."
Netanyahu started his speech by welcoming the Israeli and U.S. officials present at the ceremony, saying "we have no better friends in the world, you stand for Israel and you stand for Jerusalem, thank you."
Speaking directly to Ivanka Trump and Jared Kushner, Netanyahu said "your presence here today is a testament to the importance of this occasion, not only to the Trump Administration, but in a very personal for you, for the pursuit of peace."
4:47 P.M. Kushner at embassy opening: 'those provoking violence part of problem, not solution'
Jared Kushner, Trump's son-in-law and senior adviser, said in his address that "those provoking violence are part of the problem and not part of the solution." Kushner continued by saying that "We believe, it is possible for both sides to gain more than they give – so that all people can live in peace – safe from danger, free from fear, and able to pursue their dreams."
"Jerusalem must remain a city that brings people of all faiths together," Kushner said. He kicked his speech off by saying that the truth has finally been recognized: "that Jerusalem is the capital of Israel." According to Kushner, "by moving our embassy, we have shown the world once again that the U.S. can be trusted." (Haaretz)
4:46 P.M. Israel Air Force strikes five Hamas outposts in northern Gaza
The airstrikes came in response to recent terrorist activities along the border fence by Hamas, according to the Israeli military, including throwing firebombs at Israeli soldiers. (Yaniv Kubovich)
4:38 P.M. Public Security Minister: Like Nazis, number of dead Gazans doesn't indicate anything
Public Security Minister Gilad Erdan said on Monday that the death toll in the Gaza protests "doesn't indicate anything – just as the number of Nazis who died in the world war doesn't make Nazism something you can explain or understand. There is one truth." He said Israel doesn't seek bloodshed and placed the blame on Hamas leadership and its "cynical and malicious use of bloodshed." (Jonathan Lis)
4:33 P.M. It's official: Mnuchin reveals U.S. Embassy plaque
Treasury Secretary Steve Mnuchin pulled off the curtain covering the embassy's plaque followed by remarks by Ivanka Trump, the U.S. president's daughter and top adviser. (Haaretz)
4:32 P.M. Egypt condemns Israel's 'targeting of Palestinian civilians' in Gaza
Egypt on Monday strongly condemned what it said was Israel's targeting of Palestinian civilians in the Gaza Strip, where at least 41 have been killed while demonstrating at the border, the foreign ministry said.
"Egypt rejects the use of force against peaceful marches demanding legitimate and just rights, and warns of the negative consequences of this dangerous escalation in the occupied Palestinian territories," the ministry said in a statement. (Reuters)
4:30 P.M. Trump congratulates Israel for embassy as it officially opens
U.S. President Donald Trump said the U.S. Embassy move has "been a long time coming" and that as a sovereign nation, Israel has the right to determine the location of its capital. Trump added that the U.S. "remains fully committed to facilitating a last peace agreement" between Israel and the Palestinians. (Haaretz)
4:28 P.M. Iran condemns U.S. embassy move to Jerusalem
Iran's foreign minister is calling today's opening of the U.S. Embassy in Jerusalem "a day of great shame."
Mohammad Javad Zarif on Monday wrote on Twitter: "Israeli regime massacres countless Palestinians in cold blood as they protest in the world's largest open air prison. Meanwhile, Trump celebrates move of U.S. illegal embassy and his Arab collaborators move to divert attention."
Zarif likely was referring to Gulf Arab countries, which so far haven't commented on Israeli fire killing at least 37 Palestinians during mass protests along the Gaza border as officials marked the opening of the embassy. (The Associated Press)
4:18 P.M. Death toll rises to 41, Gaza Health Ministry reports (Jack Khoury)
4:16 P.M. Police clashes with protsters at embassy demonstration
Israeli police officers stormed into a crowd of Palestinian and Israeli left-wing activists, grabbing Palestinian flags and detaining several protesters. A total of 200 protesters was reported.
There scuffle took place between police and a group of protesters who were waiving Palestinians flags and anti-Trump signs, while chanting slogans like "With our blood and tears we will redeem you, Palestine" (in Arabic) and "Netanyahu you will see, Palestine will be free." Officers shoved their way through the about 200 protesters, mostly Israeli Arabs bused in from the north of the country and Jewish anti-occupation activists, and forcibly removed the flags and signs. At least one protester was detained by the police. (Nir Hasson, Judy Maltz)
4:07 P.M. Ambassador David Friedman welcomes dignitaries as U.S. officially relocates embassy to Jerusalem
U.S. Ambassador David Friedman said that seventy years after America was the first nation to recognize Israel, it now becomes the first nation to move its embassy to Jerusalem.
4:05 P.M. Israeli army calls protest 'unprecedented'
Israeli army spokesperson Brig. Gen. Ronen Manelis said Monday's number of protesters at the fence is "unprecedented," yet still lower than what Hamas wished for and predicted. He also confirmed Israel struck Hamas targets in the north of the Strip after several incidents where Palestinians opened fire on Israeli soldiers.
Despite intel that Hamas intends to breach the fence, said Manelis, this has yet to happen. (Yaniv Kubovich)
4:00 P.M. UN security council to convene on Gaza today or tomorrow at Kuwait's initiative
3:53 P.M. Israeli left-wing activists and Palestinians protest U.S. embassy in Jerusalem
Israelis and Palestinians are protesting the U.S. embassy opening in Jerusalem, carrying signs and chanting "Free Palestine" and "Mexico and Palestine: Segregation is a crime." (Nir Hasson)
3:47 P.M. Turkey: U.S. and Israel equally responsible for Gaza 'massacre'
The U.S. and Israel are both responsible for the "massacre" taking place against Palestinians in the Gaza Strip, Turkish government spokesman Bekir Bozdag said, as the toll of those killed during protests there continued to climb.
Bozdag was quoted by Anadolu as saying Turkey does not recognize recent moves by Israel and US, in an apparent reference to the decision to recognize Jerusalem as Israel's capital. (DPA)
3:36 P.M. Israeli army bombards Hamas outpost in northern Gaza Strip, Palestinians report (Jack Khoury)
3:34 P.M. Israeli army prepares for rocket fire from Gaza
The Israeli army is preparing for a secnario in which Hamas is unable to restrain itself in light of Monday's death toll and will launch rockets at Israel. Considering these assessments, Iron Dome defense systems have been deployed in several locations. (Yaniv Kubovich)
3:29 P.M. Gaza death toll rises to 37, says Gaza Health Ministry (Jack Khoury)
3:26 P.M. Netanyahu meets with U.S. Congress members
Prime Minister Benjamin Netanyahu met Florida Governer Rick Scott, along with a delegation of senators led by Lindsey Graham and a delegation of congressmen headed by Joe Wilson.
In the meeting, Netanyahu said this was a historic milestone for the Israeli people, state, and the joint alliance with the U.S. (Noa Landau)
3:17 P.M. Israeli Police stops bus of Arab protesters from East Jerusalem headed for U.S. embassy opening
Israeli Police arrested a bus full of protesters from East Jerusalem near the Damascus Gate in the Old City. The bus was reportedly headed for the U.S. embassy opening ceremony. (Nir Hasson)
3:11 P.M. Protest death toll rises to 28, Gaza Health Ministry reports (Jack Khoury)
2:44 P.M. Israeli Arab lawmaker condemnds Gaza 'bloodbath'
Joint List chairman Ayman Odeh condemned the rising death toll in Gaza, calling it a "bloodbath."
"Within just a few hours, 18 people have already lost their lives. Every shot fired and every person killed aggravate the violence ... Gaza has become a pressure cooker under which Israel stokes the fire," said Odeh, urging Israel to claim responsibility for Gaza. "It (Israel) shut the door, leaving behind a humanitarian crisis - and threw the keys to sea." (Jack Khoury)
2:31 P.M. Gaza Health Ministry: 918 wounded, 448 from live gunfire
918 have been wounded so far in protest along the border, with 448 being from live gunfire, the Gaza Health Ministry reported.
584 Palestinians were evacuated to Gazan hospitals, the rest were treated in local clinics. 11 of the wounded are in critical condition, 39 are seriously wounded and 411 are in moderately wounded.
According to the report, 320 were wounded from tear gas inhalation, 64 from shrapnel and 83 from blunt force trauma. 3 were wounded from rubber-tipped bullets. 118 of the wounds are to the upper body. (Jack Khoury)
2:23 P.M. Hamas outpost bombarded in northern Gaza Strip, reports say
Reports from Gaza claim a Hamas outpost was bombed near a cemetary outside the town of Jabaliya. (Jack Khoury)
2:18 P.M. Death toll in Gaza protests rises to 18, Gaza Health Ministry says
2:12 P.M. Israeli jets strike Hamas post, thwarts attack
The Israeli military says it thwarted an attempt by three armed militants to place explosives near the fence not far from the Rafah Crossing. The statement said that the three were killed by the soldiers.
Also, the military said that Israeli jets struck a Hamas post near Jabaliya in the Gaza Strip after gunfire from the area. (Yaniv Kubovich)
1:57 P.M. Four more Gazans reported killed from live gunfire
The death toll rises to 16 Palestinians killed by Israeli army live gunfire and more than 900 were wounded, Gaza's Health Ministry reports. Israeli army reports of 12 clashing points along the fence, with Karni and Rafiah crossings being the largest two. Some 35,000 Gazans are protesting at the border, according to the Israeli miltiary. (Jack Khoury, Yaniv Kubovich)
1:52 P.M. Five more Palestinians reported killed from live gunfire
Five Palestinians were killed by live gunfire, The Gaza Health Mnistry reported, raising the protest death tally up to 12. (Jack Khoury)
1:18 P.M. Seven Palestinians reported killed in protests
Seven Palestinians were killed by live gunfire, the Gaza Health Ministry reported. One of those reported killed is Az-Adin Asamak, aged 14. Another 512 were reported wounded from various causes, including rubber-tipped bullets and tear gas inhalation. A Reuters report quotes Gazan health officials saying "at least 35" were wounded from live gunfire.
The Israeli army reported 15,000 Palestinians were participating in the protest. (Jack Khoury, Yaniv Kubovich)
12:45 P.M. Clashes erupt in West Bank
Clashes erupted between Israeli security forces and Palestinian protesters marching from Ramallah towards the Qalandiyah security barrier near Jerusalem. Israli Army is also confronting dozens of protest marchers in the north of Bethlehem. (Jack Khoury)
12:41 P.M. Second Palestinian killed in Gaza protest, 69 reported wounded
A Palestinian, 29, was killed by Israeli live gunfire east of Jabaliya, the Gaza Health Ministry reports. This is the death reported from Monday's protest.
According to a report by AP, 69 Palestinians have been wounded from various causes. The number wounded from live gunfire is undetermined. (Jack Khoury)
12:35 P.M. Hundreds attend Nakba Day commemoration in Tel Aviv University
Lawmakers from the Joint List joined hundreds of students and participents commemorating Nakba Day in Tel Aviv University on Monday. (Jack Khoury)
12:21 P.M. Palestinian killed in protest, says Gaza Health Ministry
Anas Hamdan, 21, was killed from live gunfire east of Khan Yunis, according to the the Gaza Health Ministry. 22 Palestinian have been reported wounded from live gunfire thus far. (Jack Khoury)
12:18 P.M. Erez Crossing opened for humanitarian purposes only
The Erez Crossing on the northern end of the Gaza Strip, through which goods and merchants enter Gaza, is open only for Humanitarian purposes on Monday in light of the protests. (Almog Ben Zikri)
12:12 P.M. Israeli Army: 10,000 protesters amassed at Gaza border
Israeli Army spokesperson said 10,000 protesters are gathered along several flashpoints, with several thousands more at the tented area 500 meters away from the fence. "The IDF is responding with riot control measures and in accordance with open-fire protocols," said the statement.
The statement says that according to Hamas declarations and intel obtained by the Israeli Army, a massive breach of the fence will be attempted.
The army said it santionced the Gaza border fence as a closed military perimeter, but no settlements and communities have received special instructions thus far. (Haaretz)
11:50 A.M. Orthodox Union, Conference of Presidents kick off embassy celebrations
The U.S. embassy relocation festivities got off to an early start Monday, with an 8:30 A.M. bagel breakfast celebration by the Israeli office of the Orthodox Union and the Conference of Presidents of Major American Jewish Organizations.
On hand for the bagels and the speeches: Trump White House negotiator Jason Greenblatt, Israel's Education Minister Naftali Bennett, Opposition Leader MK Isaac Herzog (Zionist Union), Treasury Secretary Steve Mnuchin and former Chief Rabbi Yisrael Lau. Gifts were handed out: U.S. ambassador David Friedman got a mezuzah - presumably for the new embassy, Mnuchin received a Roman coin.
The event went smoothly until the closing singing of the two country's national anthems - the singer singing the U.S. anthem, stumbled significantly following "O Say Can You See" - despite the fact that the lyrics were projected on the wall next to him. (Allison Kaplan Sommer)
11:41 A.M. Arab League to meet over 'illegal' U.S. embassy move
The Arab League will hold an extraordinary meeting to discuss the United State's "illegal" move of embassy to Jerusalem, state news agency MENA reported on Monday, citing an Arab diplomat.
MENA said the meeting will be held on Wednesday at the level of permanent representatives to the Arab League "to counter the illegal decision taken by the United States of America to transfer its embassy to Jerusalem." (Reuters)
11:35 A.M. Israeli Arab lawmaker: 'Today is a dark day'
MK Yousef Jabareen (Joint List) says his party will protest in front of the new U.S. Embassy in Jerusalem. "Today is a dark day for seekers of justice and peace - transferring the embassy to Jerusalem is a spit in the face of the international community, and crtically impedes the chance for peace in the entire region," said Jabareen.
Jabareen called East Jerusalem "occupied territory since 1967," and its annexation a violation of international law. He added that the alliance between "pyromaniacs" Trump and Netanyahu is dangerous and leading the region to ruin. (Jack Khoury)
11:29 A.M. Al-Qaida leader calls for Jihad over embassy move
Al-Qaeda leader Ayman al-Zawahri released a video on Sunday addressing the U.S. embassy move to Jerusalem, calling on Muslims to wage jihad against the U.S..
In a five-minute video entitled "Tel Aviv is also a land of Muslims," the Egyptian doctor who took charge of the global terror group after Osama bin Laden was killed in 2011, referred to the Palestinian Authority as the "sellers of Palestine" while urging followers to take up arms.
The U.S. decision to move its embassy to Jerusalem, he said, proves that Palestinians have failed in their policy of negotiations and 'appeasement.' (Reuters) Read full story
11:18 A.M. Palestinian Red Crescent: 22 Palestinians wounded from live gunfire, thousands march at fence through tear gas
According to the report, 22 Palestinians have been wounded from live ammunition and shrapnel since protests began Monday. So far, no dead or seriously wounded reported.
Thousands of young Gazans are reoprtedly marching at the fence through massive tear gas fire. (Jack Khoury)
11:14 A.M. Turkey's Erdogan condemns U.S. Embassy move
Turkey's president has once again condemned the U.S. decision to move its Israel embassy to Jerusalem.
In a statement published late Sunday, President Recep Tayyip Erdogan said the U.S. disregarded "rights and justice," ignoring the international community. The new embassy is to be officially inaugurated on Monday.
Erdogan says the move serves to "reward" the Israeli government despite it undermining efforts to resolve the decades-long conflict, while it "punished" Palestinians. Erdogan says: "History and humanity will never forgive the injustices done to our Palestinian brothers." (The Associated Press)
11:12 A.M. Gaza protests wounded tally stands at five
Five Palestinians were wounded lightly from Israeli live gunfire during Monday's protests. According to report, all five were shot in the legs. (Jack Khoury)
10:57 A.M. Hezbollah says U.S. embassy move in Jerusalem 'worthless'
The Iran-backed Lebanese group Hezbollah on Monday dismissed the U.S. decision to move the U.S. embassy to Jerusalem as a "worthless" unilateral step, Hezbollah's al-Manar TV reported.
Sheikh Naim Qassem, in a televised speech in Beirut, also said attacks on Israeli positions in the Israeli-occupied Golan Heights last week had affirmed "the balance of deterrence" between Israel and its adversaries. (Reuters)
10:53 A.M. Palestinian news correspondent wounded from live gunfire
A Palestinian News Network correspondent was shot in the leg east of Gaza City during protests. (Jack Khoury)
10:48 A.M. Iran speaker: U.S. embassy move will stoke tension
The speaker of Iran's parliament is reportedly warning that moving the U.S. Embassy from Tel Aviv to Jerusalem will inflame tensions in the Middle East.
Iran's semi-official ISNA news agency on Monday quoted Ali Larijani as saying: "Definitely their measures on moving their embassy from Tel Aviv to Jerusalem and Iran's nuclear issue will not go unchallenged. These sorts of actions will increase tension in the region and the world."
Larijani urged Muslim countries to take more serious measures in response to President Donald Trump's "wrong and unwise decision" to move the embassy to Jerusalem. (Reuters)
10:30 A.M. Two Palestinians reported wounded from live gunfire as thousands gather at border
Two Palestinians were wounded from live gunfire east of Bureij in the Gaza Strip, the Gaza Health Ministry reported Monday. Thousands are gathering at the fence and have begun torching tires along the border. Palestinian news agency reports dozens of Gazans sending incendiary kites towards Israel.
The Lebanese Al-Akhbar newspaper reported that Egypt presented a plan to open the Rafiah Crossing for regular service to allow goods and electricity into the Strip in exchange for a calm at the fence. Cairo is adament about halting protests at the border, fearing they may lead to military confrontation, the report said.
Khalil al-Hayya, deputy chief of Hamas diplomatic bureau, said the meeting with Egypt went well, with several reliefs for the blockade being discussed. He did not mention any concrete agreements and clarified that the protests will continue, maintaining their non-violent nature, according to him. (Jack Khoury)
10:28 A.M 'Don't Go Near the Fence': Israeli Military drops leaflets warning Palestinians to avoid Gaza Border ahead of mass protests
The Israel Air Force has begun dropping leaflets over the Gaza Strip warning Palestinians not to approach the Israeli border or take part in any violent activity aimed at damaging the fence along the border. (Yaniv Kubovich) Read full article
12:30 A.M. Baptist pastor who said 'all Jews will go to hell' to speak at U.S. embassy ceremony
Dallas-based pastor Robert Jeffress, a Christian leader with a large following in Texas and a history of hateful comments against Muslims, Mormons and gay people will be speaking at Monday's ceremony.
Jeffress once said that "the dark dirty secret of Islam" is that "it is a religion that promotes pedophilia" and that Islam is "a heresy from the pit of hell." (Amir Tibon and Noa Landau) Read full article
10:18 P.M. Palestinians in West Bank and Jerusalem urged to hold mass protests
Palestinians throughout the West Bank and Jerusalem are being urged to turn out en masse to protest Monday's transfer of the American Embassy to Jerusalem and Nakba Day. It's still not clear how many Palestinians will answer this call, or to what extent the Palestinian Authority is willing to allow clashes with Israel. (Jack Khoury) Read full article
9:12 P.M. 26-year-old Palestinian woman critically wounded in eastern Gaza Strip, health ministry in Gaza says
8:41 P.M. Israeli military drops leaflets warning Gazans ahead of mass protests
The air force has begun dropping leaflets over the Gaza Strip warning Palestinians not to approach the Israeli border Monday or take part in any violent activity aimed at damaging the border fence or harming the soldiers deployed along it.
"The Israel Defense Forces is determined to defend Israel's citizens and sovereignty against Hamas' attempts at terrorism undercover of violent riots," the leaflets say. "Don't get near the fence and don't take part in Hamas' show, which endangers you."
Air force planes dropped the leaflets all over Gaza on Sunday. (Yaniv Kubovich) Read full article
7:44 P.M. The Prime Minister's Residence will host a dinner at 9 P.M. for the U.S. delegation in Israel
7:28 P.M. Three wounded, one critically, by IDF fire in eastern Gaza, health ministry in Gaza says
7:07 P.M. Sheldon and Miriam Adelson tell Haaretz: 'We are euphoric' over embassy move (Noa Landau)
7:05 P.M. As Jared and Ivanka return to Israel, the once golden couple has lost its shine
What a difference a year makes. When Jared Kushner and Ivanka Trump came to Israel in May 2017, joining U.S. President Donald Trump on his first overseas trip, the future looked shiny with possibility.
Ivanka and Jared descended from Air Force One as the newly anointed power couple of the Jewish world. Parts of the media had even dubbed the first daughter the "most powerful Jewish woman"in the United States – presumably Ruth Bader Ginsburg and Elena Kagan needed to make way for the newly appointed senior adviser to the president. (Allison Kaplan Sommer) Read full article
6:50 P.M. Mnuchin: U.S. will use financial tools to cut funding of terrorism
U.S. Treasury Secretary Steve Mnuchin said the U.S. uses financial tools to combat illicit activities and stopping the flow of funds that support them, adding that the U.S. will use tools to cut off terrorists from financial systems to the max.
Mnuchin added that these tools work, which is why Trump withdrew from the Iran nuclear deal. "Iran's destabilizing actions can no longer be enabled," Mnuchin said, adding that they "threaten security of both countries, the region and the world." (Noa Landau)
6:40 P.M. U.S. deputy secretary of state: U.S. embassy move a long overdue recognition of reality
U.S. deputy secretary of state John Sullivan called the move "a long overdue recognition of reality," calling the move "essential for creating a roadmap for peace in the region." (Noa Landau)
6:25 P.M. Netanyahu addresses foreign dignitaries honoring U.S. embassy move to Jerusalem
Netanyahu opened his remarks by addressing Israel's victory in the 2018 Eurovision content, saying "those who didn't want Jerusalem in the Eurovision will get Eurovision in Jerusalem next year."
The prime minister hailed Trump for "making history," telling the 32 foreign representatives in the crowd to "move your embassies to Jerusalem because it's the right thing to do" and "because it advances peace." (Noa Landau)
6:24 P.M. Jerusalem soccer club that has never hired an Arab adds 'Trump' to official name
The Beitar Jerusalem soccer club announced Sunday it intends to change its name to "Beitar Trump Jerusalem" in honor of the U.S. president and his decision to move the U.S. embassy to Jerusalem. (Haaretz) Read the full article
6:10 P.M. How Trump has intensified America's immoral support for Israel's alt-right government | Opinion
6:05 P.M. Adelson, Natan Eshel, Yossi Cohen in attendance Jerusalem embassy gala
American business mogul and philanthropist Sheldon Adelson, Natan Eshel (Prime Minister Benjamin Netanyahu's former chief of staff) and Mossad chief Yossi Cohen are attending the gala ahead of the official opening of the U.S. embassy in Jerusalem. (Noa Landau)
6:00 P.M. Opinion – West Bank Palestinians protest Trump - but abandon their Gazan brothers
"Not only have Palestinians never been weaker, more divided and more helpless, but they've never been more abandoned, even by those closest to them, and even by their own leadership." (Muhammad Shehada)
5:15 P.M. Israeli flag march passes through Palestinian parts of Jerusalem
Tens of thousands of teenaged Religious Zionists are taking part Sunday in the annual Flag March in Jerusalem, which marks the anniversary of the 1967 merger of West and East Jerusalem. As usual, the march's route is taking participants through the Old City's Muslim Quarter.
In previous marches, participants shouted racist anti-Palestinian slogans while Palestinians and left-wing activists held protests. (Nir Hasson) Read full story
5:00 P.M. In Jerusalem, Michele Bachmann apologizes for remarks about converting Jews
Former U.S. presidential candidate Michele Bachmann delivered an emotional mea culpa on Sunday for previous statements that caused great offense to the Jewish community. In an interview with a Christian radio program in November 2015, the former Republican congresswoman for Minnesota – who is a devout Christian – had suggested that mass conversions of Jews be undertaken in order to expedite the second coming of Jesus. (Judy Maltz) Read full story
4:45 P.M. Israel enlists amateur drone racers to stop 'kite bombs' from Gaza
Israel has begun enlisting amateur drone racers to deal with the onslaught of burning kites being flown from Gaza into Israel, where they usually start brush fires. The hobbyist-operated run racer drones, which can reach speeds of up to 110 mps and were first deployed on Friday, either fly through the kites to shred them or down them with the help of fishhooks. (Yaniv Kubovich) Read full article
2:30 P.M. Jared and Ivanka to join representatives from 32 countries in embassy gala
These are the countries that will attend tonight's event together with a U.S. delegation that includes U.S. President Donald Trump's daughter Ivanka and son-in-law and adviser Jared Kushner, who landed earlier today: Albania, Angola, Austria, Cameroon, Congo, the Democratic Republic of the Congo, Ivory Coast, Czech Republic, Dominican Republic, El Salvador, Ethiopia, Georgia, Guatemala, Honduras, Hungary, Kenya, Macedonia, Burma, Nigeria, Panama, Peru, the Philippines, Romania, Rwanda, Serbia, South Sudan, Thailand, Ukraine, Vietnam, Paraguay, Tanzania and Zambia.
Netanyahu met with Kushner. The official U.S. delegation is headed by deputy secretary of state, John J. Sullivan, and will also include Treasury Secretary Steve Mnuchin and 12 members of Congress. The event will be boycotted by most European Union ambassadors in Israel. (Noa Landau) Read full article
12:47 P.M. Israel braces for escalation in Gaza, West Bank as Iran tensions to ease
After a satisfactory outcome, for the time being, that ended the round of clashes with Iran in Syria, Israel's defense establishment will have to focus this week on events in the territories. The main risk of escalation spiraling out of control will come from the major protests planned along the border fence with the Gaza Strip on Monday and Tuesday. But in the north, too, the massive strikes by the Israel Air Force and thwarting Iranian action were not the end of the matter — and at this point there is no hint that Iran is considering putting a stop to establishing itself militarily in Syria.
Hamas-sponsored demonstrations were held at the Gaza border Friday for the seventh consecutive week. One Palestinian was killed and hundreds were wounded, some by live fire, representing a decline in casualties. Hamas' latest action — sending kites with incendiary devices into kibbutz and moshav fields near the Gaza border (which the media has dramatically dubbed "kite terror," to the displeasure of Israel Defense Forces officers) — seems to have met its match. (Amos Harel) Read full analysis
12:03 P.M. Record number of Jews visit Temple Mount
Violent clashes erupted on Sunday morning between the Jerusalem Waqf and the Israel Police at the entrance to the Temple Mount in Jerusalem as hundreds of Jews visited the compound. During the confrontation, a policeman slapped a young Palestinian who shouted at Jews praying there, causing a violent riot.
The riots erupted after police removed a number of underage Israelis who had been praying in the compound, against regulations. Jewish Temple Mount groups said that 1,620 Jews visited the site before noon on Sunday – apparently a record daily number of Jewish visitors since 1967, when Israel occupied the Old City during the 1967 War. (Nir Hasson) Read full article
7:30 A.M. Weekend of violence: Airstrike hits Gaza tunnel
The Israeli military said the air force struck an attack tunnel in Gaza Saturday evening. Explosions were heard in the Strip's north. According to the Israel Defense Forces, the tunnel was located a few meters from Israeli territory and, upon completion, would have led to the Israeli community of Kibbutz Erez.
Gaza's Health Ministry reported Saturday evening that a 15-year-old Palestinian died of wounds he sustained during Friday's protests along the border. The ministry identified him as Jamal Abu Arahman Afaneh. (Yaniv Kubovich and Jack Khoury) Read full article
ICYMI
Ken Burns' Brilliant 'The U.S. and the Holocaust' Has Only One Problem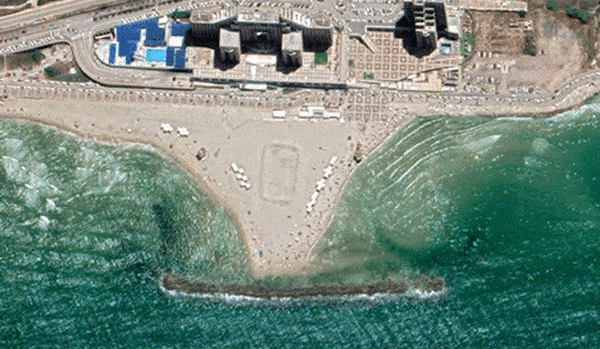 Facing Rapid Rise in Sea Levels, Israel Could Lose Large Parts of Its Coastline by 2050
As Israel Reins in Its Cyberarms Industry, an Ex-intel Officer Is Building a New Empire
How the Queen's Death Changes British Jewry's Most Distinctive Prayer
Chile Community Leaders 'Horrified' by Treatment of Israeli Envoy
Over 120 Countries, but Never Israel: Queen Elizabeth II's Unofficial Boycott