Analysis |
The Saudi Prince and Israel: There's Good News, and There's Disturbing News
Mohammed bin Salman has one aim: to be the most powerful figure in the Middle East in the coming decades. But that goal didn't end so well for Nasser and Saddam
Saudi Crown Prince Mohammed bin Salman shakes hands with U.S. Secretary of Defense James Mattis at the Pentagon, March 22, 2018.
Credit: Bandar Al-Jaloud/AFP/Saudi Royal Palace
Two events last week excited mainly aviation geeks but really should have received much wider attention. On Thursday, the first Air India flight from New Delhi to Ben-Gurion Airport landed after flying over Saudi (and Omani) territory. This was the first direct scheduled flight to Israel taking the much shorter route through Saudi airspace.
To really understand Israel and the Middle East - subscribe to Haaretz
Former senior U.S. diplomat Aaron David Miller recalled recently how even at the peak of the Oslo process, when Israel and the Palestinians seemed close to reaching a peace deal, the Saudis refused American entreaties to make such a gesture to Israel. It's happening now, when the diplomatic process has never been so stagnant and hopeless.
At the same time, in the skies above Greece, another very public affirmation of the Gulf kingdoms' new attitude toward Israel was on display as Mirage 2000 fighter jets from the United Arab Emirates and F-16s from the Israel Air Force flew together in an international exercise. Israel's participation wasn't officially mentioned on the Greek air force's website, but no efforts were made to hide the jets with blue Stars of David from the photo lenses of the plane spotters. Just business as usual.
A week earlier, senior Saudi, Emirati, Qatari and Omani officials all sat around the table with Israeli counterparts at a one-day summit in the White House to discuss ways of alleviating the humanitarian situation in Gaza. What was more remarkable here – that they were openly sitting with Israelis or that the Palestinian Authority, which has been boycotting the Trump administration since the recognition of Jerusalem as Israel's capital, was absent?
Open cooperation between Israel, the Saudis and other Gulf states, at the expense of the Palestinians, has so quickly become the norm that we've barely noticed the transformation. Only last year there were attempts to keep under wraps the fact that both the Israel Defense Forces' chief of staff, Gadi Eisenkot, and his Saudi counterpart Abdul Rahman bin Saleh al-Bunyan had met at a conference in the United States for commanders of U.S.-allied armies. Today this would seem unremarkable.
But has the policy of the Saudis and their Gulf neighbors toward Israel really changed that much? On Thursday, during an appearance at the Brookings Institution in Washington, Saudi Foreign Minister Adel al-Jubeir, who is accompanying Crown Prince Mohammed bin Salman on his two-week visit to the United States, insisted that it hadn't. He said the Saudis were sticking with their original peace plan and that "incentives" in the shape of diplomatic ties with the Saudis would only come at the end of a peace deal with the Palestinians. He also called Donald Trump's recognition of Jerusalem as Israel's capital a "setback."
Friendly Saudi airspace
So which incentives are the Saudis prepared to give today and what are they holding back on? Can Jubeir be taken seriously when it seems obvious right now that the Saudis are barely taking the trouble of putting up the appearance of caring about the Palestinian issue?
Here's another interesting thing Jubeir said at Brookings – "Commonality of interests doesn't mean we have to have diplomatic relations." Israelis, like Shimon Peres, who dreamed during the heady Oslo days of a "New Middle East," fantasized about opening Israeli embassies in Riyadh and Dubai.
Benjamin Netanyahu may have begun his public career as a diplomat but he's much more interested in other kinds of relationships with the Saudis. At Sunday's cabinet meeting he mentioned the direct flights through Saudi airspace as an event that "without a doubt, with perspective of time, will be noted as historic."
When Mohammed bin Salman came on the scene three years ago, the Israelis believed that despite his youth and inexperience, he was serious about pushing through reforms in the kingdom and that he'd be interested in doing business with Israel, but would still wait for some significant shift on the Palestinian front before doing so openly. MBS wasn't the first Saudi leader to quietly engage with Israel. According to previous media reports, this has been happening for years amid the two countries' concerns about Iranian policy in the region. So what has changed?
The main change is the election of Trump as president. If there is one constant in the current administration's erratic, almost nonexistent foreign policy, it's Trump's unflagging courtship of the Saudis. All you have to do is take a look at the video of his meeting with MBS last Tuesday where Trump lauded the fact "we've become very good friends over a fairly short period of time" and the "hundreds of billions of dollars" in Saudi money coming to America in arms deals.
"That's peanuts to you," Trump said to an obviously embarrassed MBS as he brandished placards with details of the American weapons systems headed in the Saudis' direction. It's clear what the president and crown prince want out of the relationship. Trump wants all those big numbers to translate into his claim of being the greatest "jobs president" in American history. MBS wants to decisively roll back any remnant of Barack Obama's attempt to create more of a balance in U.S. foreign policy between the Saudis and Iran.
Sure, he wants those arms, but arms deals aren't just about the hardware. They take years, often decades, to be fully supplied, and then there are follow-on deals for training, spare parts, maintenance and upgrades. The Saudis are playing a long game here and want to ensure that Trump's successor realizes what's at stake for the U.S. economy if Washington in the future considers shifting back to Obama's policy.
Israel and the Palestinians aren't part of that equation. MBS has already realized that this administration isn't interested in founding a Palestinian state and he isn't that bothered. But he will have been told by his advisers that four years before he was born, the kingdom's first major arms deal with the United States for the sale of AWACS aircraft was jeopardized by Israel mobilizing its supporters in Washington against it. Ronald Reagan dug in and got the deal through Congress, but why risk any such unpleasantness again?
Keeping Trump's advisers happy
Another thing the Saudis remember is that Iran may be Israel's sworn enemy today, but for the first three decades of Israel's existence, until the Islamic Revolution of 1979, Iran was Israel's only strategic ally in the region. And when the followers of Ayatollah Khomeini are finally ousted in Tehran, Israelis and Iranians will once again have a lot in common, but the enmity between the Saudis and their Shi'ite rivals across the Gulf will remain.
At 32, the crown prince plans to rule Saudi Arabia for the length of many more U.S. presidencies. As he consummates what he believes will be a decades-long strategic relationship, he wants to minimize any discordant tones in the background and keep Israel and its supporters happy; a no-brainer for him. His biggest rival in the Gulf after Iran, the Qatari leadership, have cottoned on quickly and in recent months have embarked on their own charm offensive with American Jewish leaders, which has included mothballing an Al Jazeera investigative series on the Israel lobby in Washington.
But for now all these shifts are tactical. Yes, the Saudis share an enemy in common with Israel – Iran. And while the vainglorious Trump remains in office, they will placate him – and more importantly, the pro-Israel advisers around him – with concessions like overflights. But it's misguided to see this as an actual alliance between Israel and the Saudis. The Arab nations have always cynically held on to the Palestinian card, and MBS isn't letting go of it quite yet.
The only clear conclusion is that Saudi Arabia's next king is doing everything he can to establish the kingdom as the region's hegemonic power. That didn't end well when Nasser tried to do it with Egypt and Saddam Hussein in Iraq, and now hundreds of thousands of Syrians have been sacrificed, without an end in sight, to a large degree because of Iran and Recep Tayyip Erdogan's Turkey having similar aims. The crown prince may appear to be the most pro-Western and open-to-Israel of all these would-be masters of the Middle East, but a bit more wariness is called for in assessing his ambitions.
Click the alert icon to follow topics:
ICYMI
Ken Burns' Brilliant 'The U.S. and the Holocaust' Has Only One Problem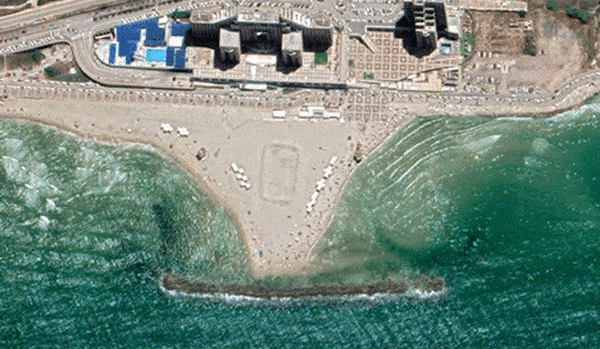 Facing Rapid Rise in Sea Levels, Israel Could Lose Large Parts of Its Coastline by 2050
As Israel Reins in Its Cyberarms Industry, an Ex-intel Officer Is Building a New Empire
How the Queen's Death Changes British Jewry's Most Distinctive Prayer
Chile Community Leaders 'Horrified' by Treatment of Israeli Envoy
Over 120 Countries, but Never Israel: Queen Elizabeth II's Unofficial Boycott